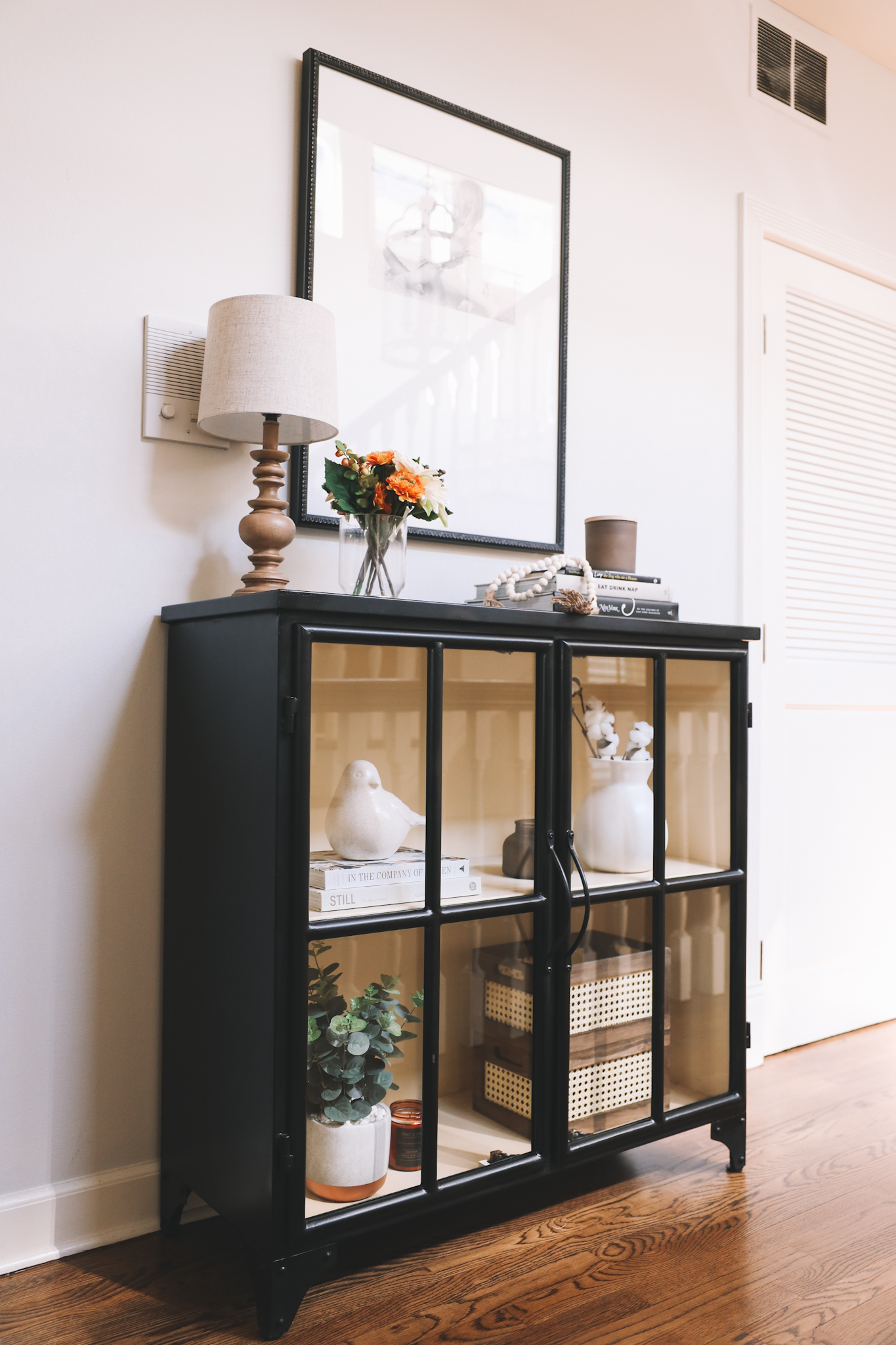 This is the old console table/cabinet I was telling you about! (Similar here.) Up until recently, it had been empty since we'd moved in; last on my decorating list because it wasn't part of some larger project. Needless to say, it needed some attention. :)

Something I've learned this year, in terms of design, is that coffee table books really warm up a space. They stack great and add depth and dimension, and they're a fun display of one's likes and interests. They also make for a great starting point or base for those who don't know where to begin. (Me!) And I was delighted to learn that Walmart—my partner for this post—carries so many that are on my list.
(Walmart is a go-to retailer because of its incredible supply, shockingly low prices, and super quick free shipping. Returns are also a breeze… and free! And I should note that Walmart Home—specifically the Fall Home Lookbook and the Wow & Now section—is fantastic. So many gems! Looking for inspiration? Check out what other influencers have done here!)
I picked up Highbrow, Lowbrow, Brilliant, Despicable: Fifty Years of New York; In the Company of Women; Still: The Slow Home; Eat Drink Nap: Bringing the House Home; and Lump: The Dog Who Ate a Picasso. Once I got those titles in the cabinet, filling in the spaces with other decor was fun and easy!
First up was fall-ish greenery. I'm a huge fan of Nearly Natural, carried by Walmart, for extremely lifelike artificial plants, and I knew immediately that this beautiful dahlia and mum arrangement would add some great seasonal color to the cabinet. (Btw, the Nearly Natural olive trees are stunning.) I also loved this artificial eucalyptus plant because it would work for year-round decor. Oh, and then I picked up this simple white ceramic vase to put these cotton branches in.
After that came some lighting. The can lights are kind of harsh, but this turned wood table lamp provides much softer light, making the hallway feel far cozier and more welcoming for fall. Note that you can buy the lamp with or without the bulb. Big fan of this because I'm definitely the kind of person who would take a year or two to getting around to finding and screwing in a lightbulb, haha.
On top of one stack of books, I placed this ceramic bird figurine, and I draped this wood bead garland—all the rage these days!—atop another. And then I moved these cane crates from my office into the cabinet for some storage. I have a few things I'll likely put out for the holidays that'll fit nicely in them!
The last piece of the puzzle was candles, the best way to decorate for the seasons. My favorite is this pumpkin & chai candle, which is why it's front and center in the photos. (Smells SO good!) And I've long loved this leather-scented candle and this soft cashmere amber candle, which both remind me of fall but can definitely work year-round, too.
In the future, I'd like to add more books to fill out the cabinet—but I like the idea of doing that slowly over time. Besides, I have a lot of reading to do before I'll be in the position to do that ! ;)
Happy fall, y'all. (Had to do it. 😜)
Shop the post:

This post is sponsored by Walmart; all opinions are my own. As always, thank you so, so much for supporting the partnerships that keep Kelly in the City up and running!