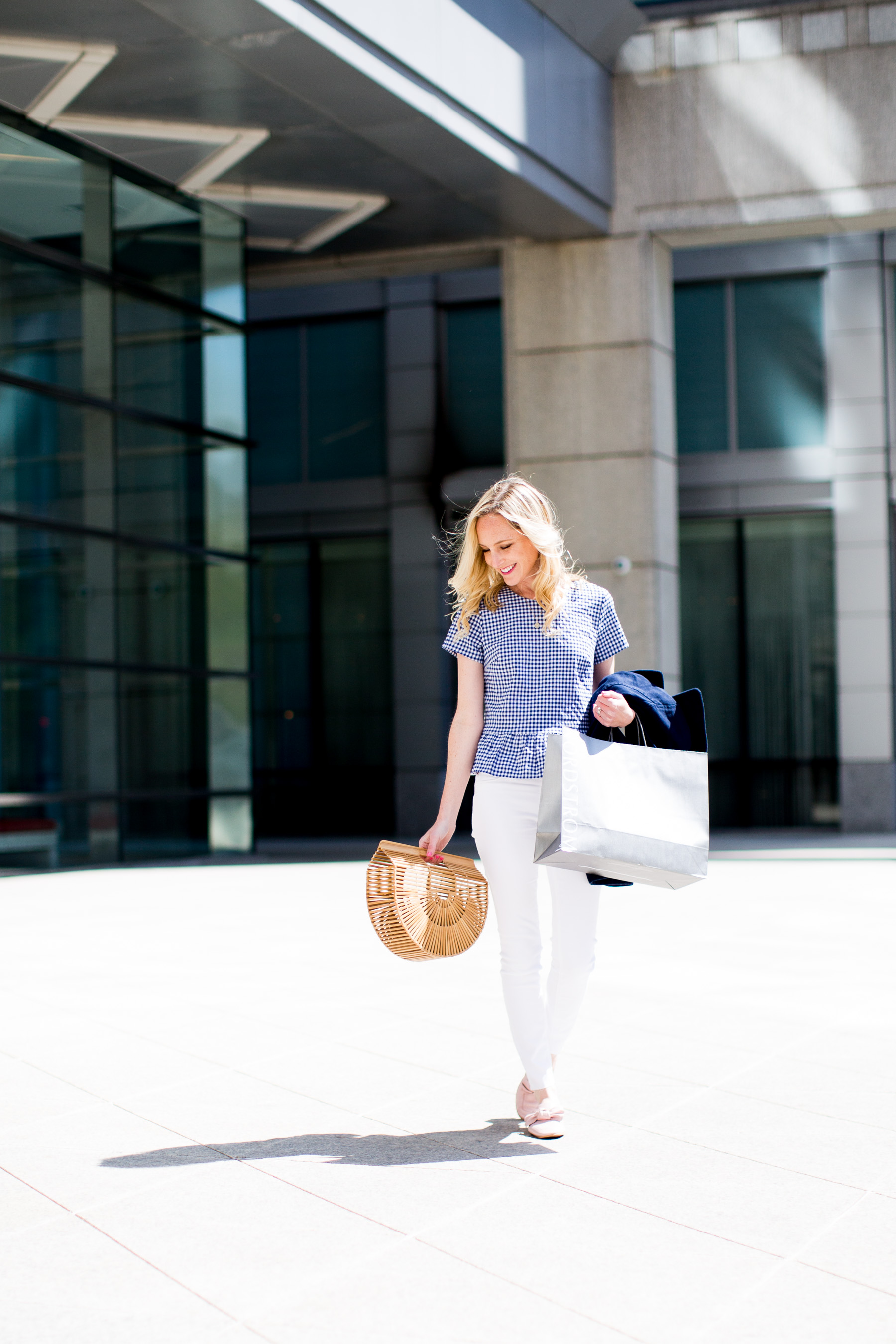 Gingham Peplum Top (On sale!) / Navy Trench (Also love this one and this one, which is lined! And #omg) / Hudson Jeans (On sale! Also love this pair.) / Bow Mules (GUYS. They come in white now! They sell out quickly; order now! Here's my full review on 'em. This palm print pair is also great.) / Woven Bag / Initial Necklace
Guys, this is real-time blogging right here! Or as close as it's going to get. ;) Couldn't get my act together last night to get a blog post up today–long story; it involved installing automated light switches, haha–but I thought I'd throw these pics up from earlier this afternoon, since Emma and I had a BIG day in the city! (And because my gingham peplum top is currently on sale AND the bow mules are now available in WHITE. Woo! Here's my full review on 'em.)
Anyway, I kind of can't believe that we came out of today unscathed. Mitch had to be at school by 6:30 a.m. this morning for his flight to New York, and Emma and I needed to be at the Park Hyatt at 8:30 a.m. for brunch with my friend Jenn and one of our favorite jewelry companies, Monica Vinader. (This is the bracelet that I wear all the time!) I really can't tell you how nervous I was about makin' my way downtown, baby in tow, that early in the morning without Mitch… but it worked out! I was somehow able to shower; get dressed; get Emma up, clothed and fed; walk Noodle; get into a Family Uber; and arrive at NoMI in the Park Hyatt ON TIME. Nothing short of a miracle, people.
The event was so much fun, too. A bunch of my favorite ladies were in attendance, and I loved chatting with the Monica Vinader team. At one point, I didn't need to excuse myself for a quick diaper change and a "snooze cruise" around the lobby, but it worked out far better than I could have hoped! :)
Afterward, we headed over to Nordstrom with Jess and Arin for a Charlotte Tilbury event. We had our makeup done, and I fell in love with the new Wonderglow Instant Soft-Focus Beauty Flash–a new "hybrid primer" that turns around dull and dehydrated skin VERY quickly. (Perfect for me, as that's my #1 complaint with my skin!) I'll be sure to share some really cute snaps in tomorrow's "Life Lately" post. :)
Jess and I snapped these pics after the Charlotte Tilbury event, and then we jetted home for all the naps. This Newbie Mom (who messes up on the reg) is feeling like Super Mom today! Tomorrow, though, we're hangin' in our pajamas and recovering. And maybe walking to the zoo. We'll see.
Happy Friday Night, guys! Anyone else watching Sesame Street with a glass of Chardonnay? ;)
A big thank you to Jess for ALL her help today. Couldn't have done it without her. LOVE YOU, Jessica!
Shop the post:
Gingham Peplum Top (On sale!) / Navy Trench (Also love this one and this one, which is lined! And #omg) / Hudson Jeans (On sale! Also love this pair.) / Bow Mules (GUYS. They come in white now! They sell out quickly; order now! Here's my full review on 'em. This palm print pair is also great.) / Woven Bag / Initial Necklace

SaveSave
SaveSave