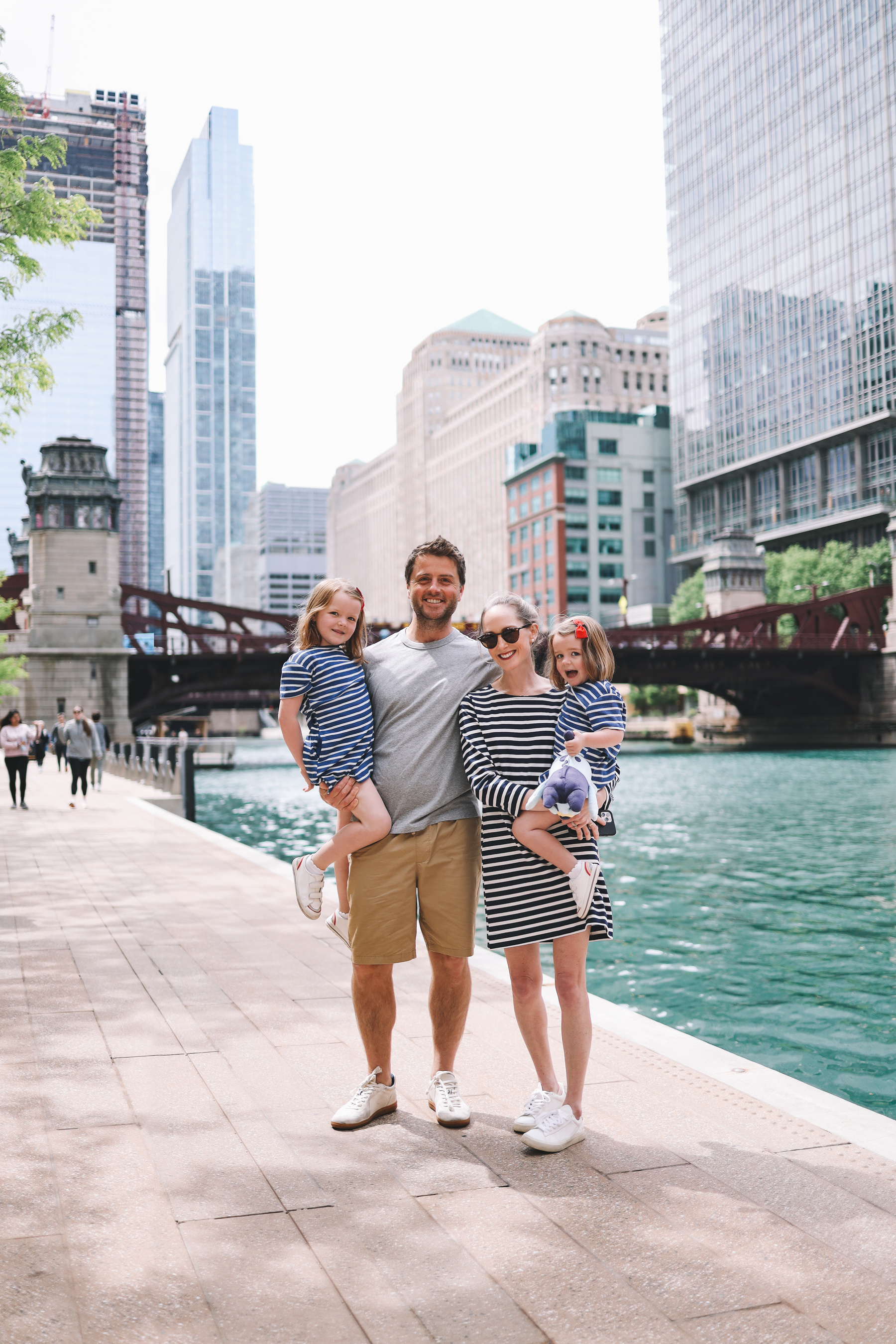 Striped Dress / Shorts / T-Shirt / Girls' Dresses / Girls' Sneakers
Yesterday, Mitch and I took the girls down to Chicago's River Walk for the first time this year. Emma's been learning about the city's skyscrapers, and was desperate to get downtown and photograph them. This meant a lot to us, as Mitch as always been passionate about city planning and architecture, and I've always loved photography. ♥️ The sun was shining, Emma was snap-happy, Lucy was giddy with delight, and our legs were bare. It was a great day. 😉
We all wore Free Assembly, which is a sustainable line carried at Walmart. Everything is cute and classic; made to mix and layer; and affordable yet really, really nice. Emma and Lucy own a lot of FA, because of how cute, affordable and well-made everything is. (We highly recommended these leggings, btw! Nicer than ANY other leggings we own.) But I especially loved that this time, we got to outfit the entire family in the brand.
A few details:
Striped Dress: Is there anything more classic? This one has a bit of stretch in it, which makes it wonderfully comfortable and a bit resistant too wrinkles. I love how easily it pairs with simple white sneakers, too. Sizing: Generous. Go with your normal size or one size down for a more fitted look.
Girls' Dresses: Emma was so cute about this one! She loved the little slit in the back, which she said helped cool her down. Not sure how she is my child; I'm constantly freezing and she's constantly overheating. ;) The dresses are so soft, and I adore the color.
Mitch's Shorts + T-Shirt: Okay, both Mitch and I said that the t-shirt felt like a $50+ t-shirt from some expensive brand known for softness. The t-shirt is both soft and substantial, and we probably need five more considering they're only $9 and there are zillions of colors. Major men's score!
Shop the post:
Striped Dress / Shorts / T-Shirt / Girls' Dresses / Girls' Sneakers

This post is sponsored by Free Assembly; all opinions are my own. As always, thank you so, so much for supporting the partnerships that keep Kelly in the City up and running!