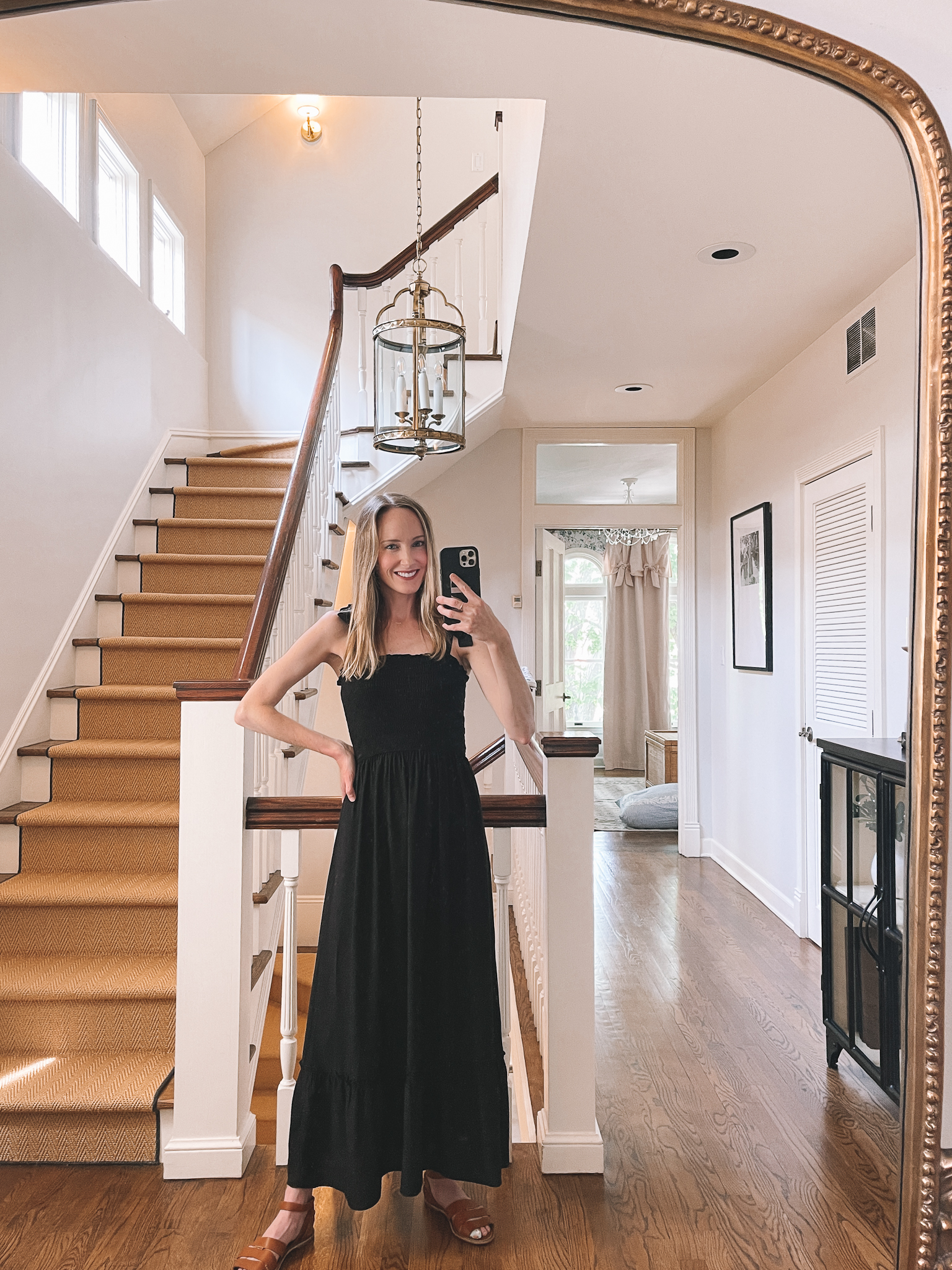 The Best Amazon Dresses / Similar Sandals
Keeping today's post short and sweet for once. ;) Here are only 10 things that come to mind today:
We had a full house over the weekend. I'm writing this in advance but we had our neighbors, their kids, and my brother-in-law stay over, and I know it was super hectic but a whole lot of fun! Unfortunately the bottom floor of our house was under construction, which made for some cramped quarters, haha. But it undoubtedly made me excited about future sleepovers with everyone.
Our best friends moved to Florida on Saturday, and it was/is hard. I feel like I've talked about this ad nauseam, but too bad for you. 😆 IT'S MY BLOG AND I'LL CRY IF I WANT TO, CRY IF I WANT TO, CRY IF I WANT TO… 🎶
Emma was home sick last week. Luckily, she was negative for Covid, which means no long quarantine. The poor girl had a 103-degree fever, though, which scared me! She's all better now and happy as a clam, but lots of couch/snuggle time was had.
My family celebrated my wicked smart cousin, Brenna, over the weekend out on Long Island. Brenna is amazing and is graduating from law school at the top of her class. I'm SO proud. She worked her butt off for years and there's no one who deserves this more!
I added new products to my Amazon Storefront. I am having so much fun with it. It's become a little bit of an obsession. 😆 It's just really satisfying to finally find an exact or similar product that I own and love, and filing it into its designated folder is perhaps even more satisfying. Do I need help? Probably…
It's time to buy the famous Isle of Paradise Tanning Drops. OH, YES. Listen, it's the best self-tanning product out there, and it comes in a super light shade for those of us who are secret vampires. Just make sure to get this applicator mit. I'm JUST doing my legs as that's really the most embarrassingly pale part of me at the moment.
I found a way to share videos on my blog, and I have big plans! I LOVE making videos for fun. Mitch and I actually did it long before I had this blog, and I have tons of them stored on my computer. So I want to start sharing them and telling stories. I'm not the most tech-savvy so I handed this over to Mitch and my awesome web developer, and they totally nailed it. Thanks, guys.
Mitch's office glow-up is ALMOST done—I documented the whole thing + can't wait to share! We are installing a whole lot of storage for all his products and business stuff, and it's going to be great. (Kira David Design is doing it, so duh, haha.) The added bonus is that it's going to function as a flex guest room as well. We don't currently have one, so that'll be very nice for family and friends!
The verdict is in, and these new padded (non-thong) Jack Rogers are the comfiest sandals I own, which is MIND-BLOWING. I've tried a lot of "comfort" Jacks, but because there is nothing between the toes on this padded version, they make me feel like I'm walking on clouds. I'm so excited to bring them to Nantucket! Hoping they come out with a little girls' version soon. (You can also shop via the Jack Rogers website.)
One Home Project Every Day:

I cleaned the heck out of the house. Okay, but seriously, it needed it. Our home became a disaster zone from construction; I'm not sure why losing our playroom made me give up on everything, but it did. I finally threw up my hands and said "enough is enough," though, and I tackled it head-on. Took about an hour but by the end of it, I felt so much better.
I made a guest room welcome bin. I'm really proud of this! I've wanted to do it for a while, and the weekend's guests inspired me. The little wifi sign is my favorite part.
I replenished the bathroom cleaning supplies. With Public Goods cleaning supplies! Look into it. It's kind of like Amazon, but with only a few essential mostly natural products to minimize decision-making fatigue.
I washed ALL of Lucy's bedding. Potty training is tough, man. And time-consuming. 😜
I switched the girls' closets over to summer and donated quite a bit in the process. With the girls now in uniforms, they really don't need most of their fall, winter and spring clothing. So we wanted to get that to kids who could make use of it. :)
I stocked the patio and deck with sunscreen, bug repellant and other outdoor essentials. We just keep it in the deck boxes for easy access. Makes things a lot easier.
I Windexed the interiors of our windows in anticipation of Bubbles (window washing company) coming. I always undervalue the loveliness of perfectly clean windows.