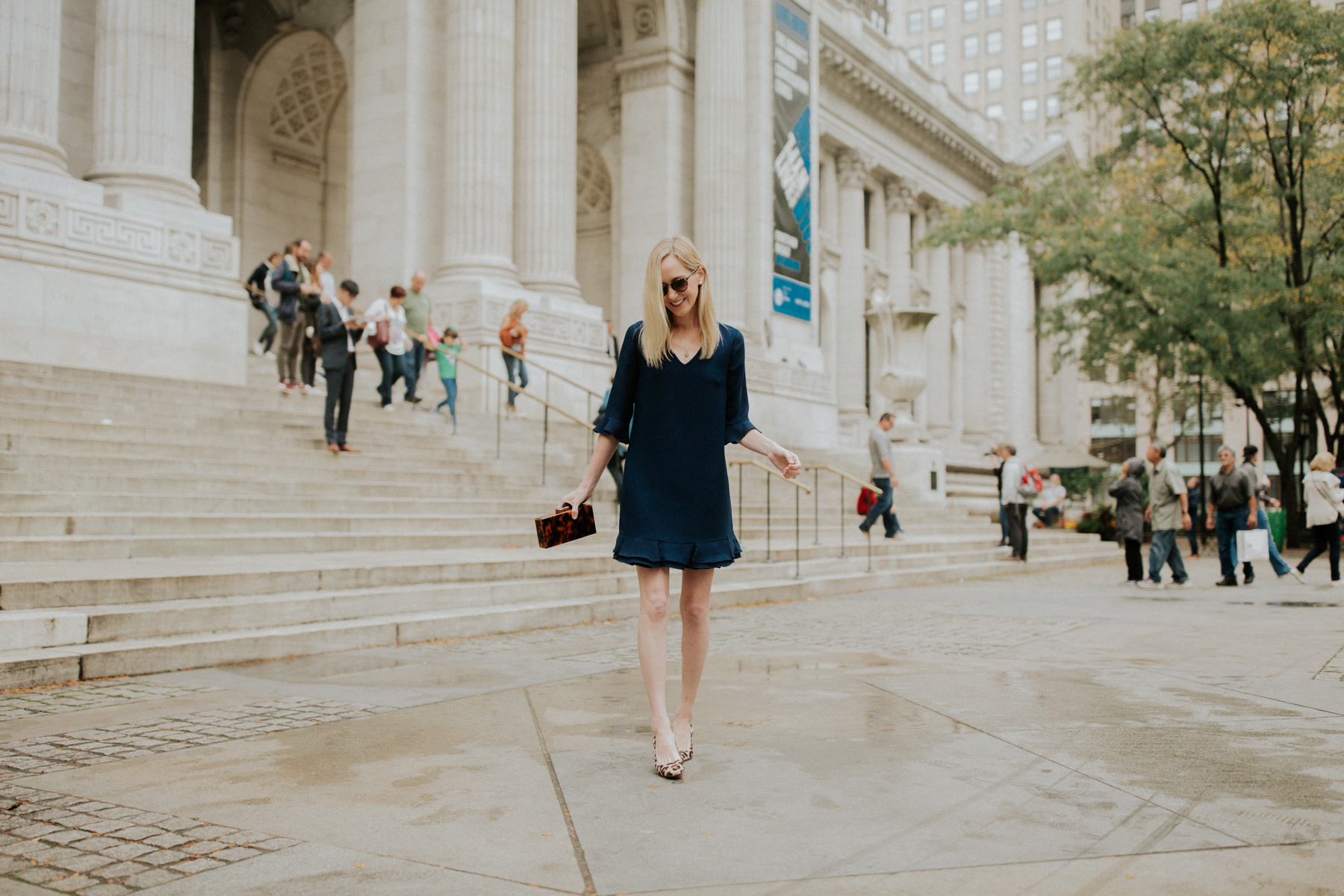 Navy No-Wrinkle Ruffled Dress (Same dress in black, red and green here. Also love the velvet version!) / Leopard Block Heels (More affordable here, here, here and here.) / Tortoise Clutch c/o / Emma's Fall Wardrobe / Mitch's Barbour Shirt and Tweed Blazer c/o
Finally! A post about Gram's 85th. But first things first:
If you travel a lot, I'm about to rock your world.
Let me introduce you to the prettiest navy dress that doesn't wrinkle in a suitcase. It's not advertised as that, but I shoved it into my bag for NYC, and when I took it out, it was perfect. Like, zero ironing. It's also machine-washable, and holds up great in the rain, haha. I wore it to Grammie's party in the city, and as you can see, I got totally drenched at the New York Public Library right before the big event. (Forgot to bring along an umbrella. Fail.)

I'm obsessed! I adore the ruffle detailing around the hem and the arms, and I think it would be the perfect dress for Thanksgiving, since it travels so well. (I know not everyone flies for the holiday, but most people spend some time in the car… and seatbelts always seem to wrinkle my outfits!) The dress—which also comes in black, red and green–runs completely true to size, in case you're wondering. (I'm wearing a size 0 here, which is what I usually take in dresses. For reference, I'm almost 5'5 and I'm somewhere between 105 and 110 pounds.) Oh, and I love the velvet version, too. (The Christmas sidekick to the original navy number?!)
And the shoes! I'm wearing my go-to leopard block heels because I can walk miles in 'em without pain, but I also wear this similar pair all the time, and they're just as comfy. You can find other great options here, here and here.
Anyway, I forgot to ask all my family members if it was okay to post photos of them, so I don't have too many snaps to share. But if you scroll down, you can see a few of some familiar faces. ;) It was the BEST celebration, and I wish I could have captured the love and thoughtfulness my aunt put into planning it. (I was chasing Emma around during the event, which I suppose is why I forgot to snap detail pics. 😂) But everything–from the menus and the cookies to the cake and the gift–was themed… and absolutely beautiful.
Since the party, I haven't been able to stop thinking about how grateful I am to belong to such a special unit. My aunt, uncle, mom and dad act as parents for all of us; the "kids" are more like siblings than cousins; the husbands and wives and boyfriends and girlfriends seem like they've been with us since the beginning; Emma is bringin' up the rear; and Grammie is the glue that binds us. :) We are so, so lucky. And boy, do we have fun.
Happy birthday, Gram! You are one fabulous lady, and we love you to pieces!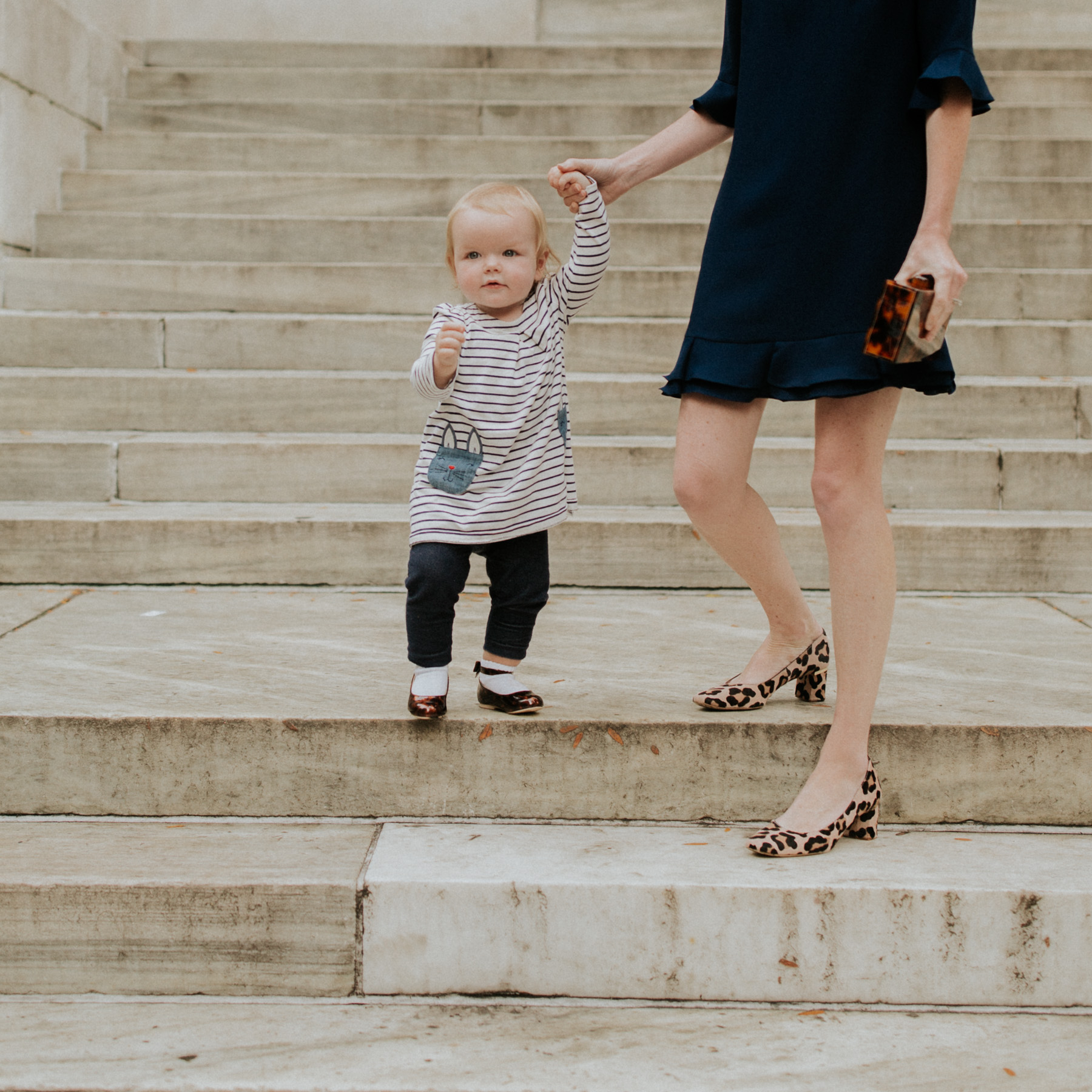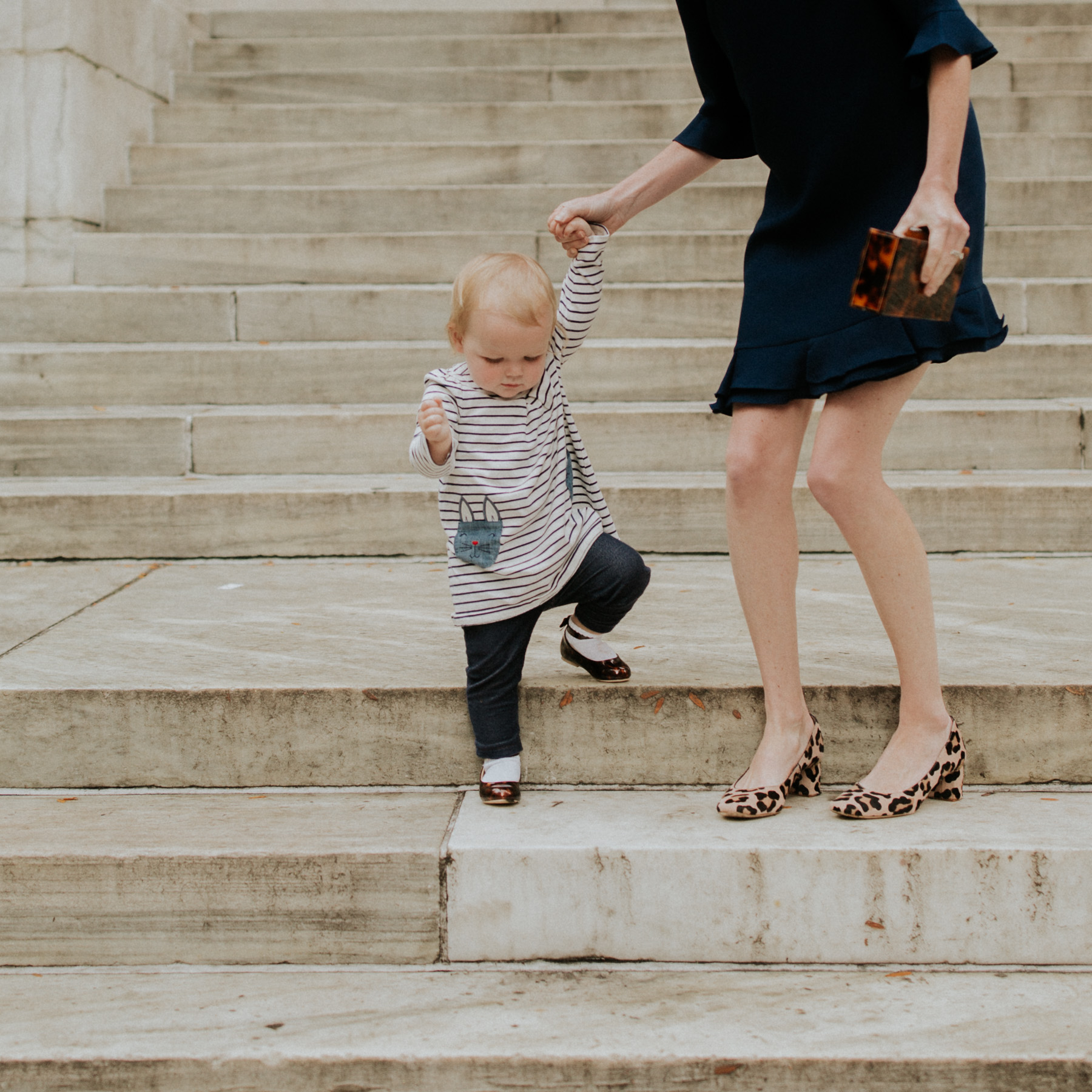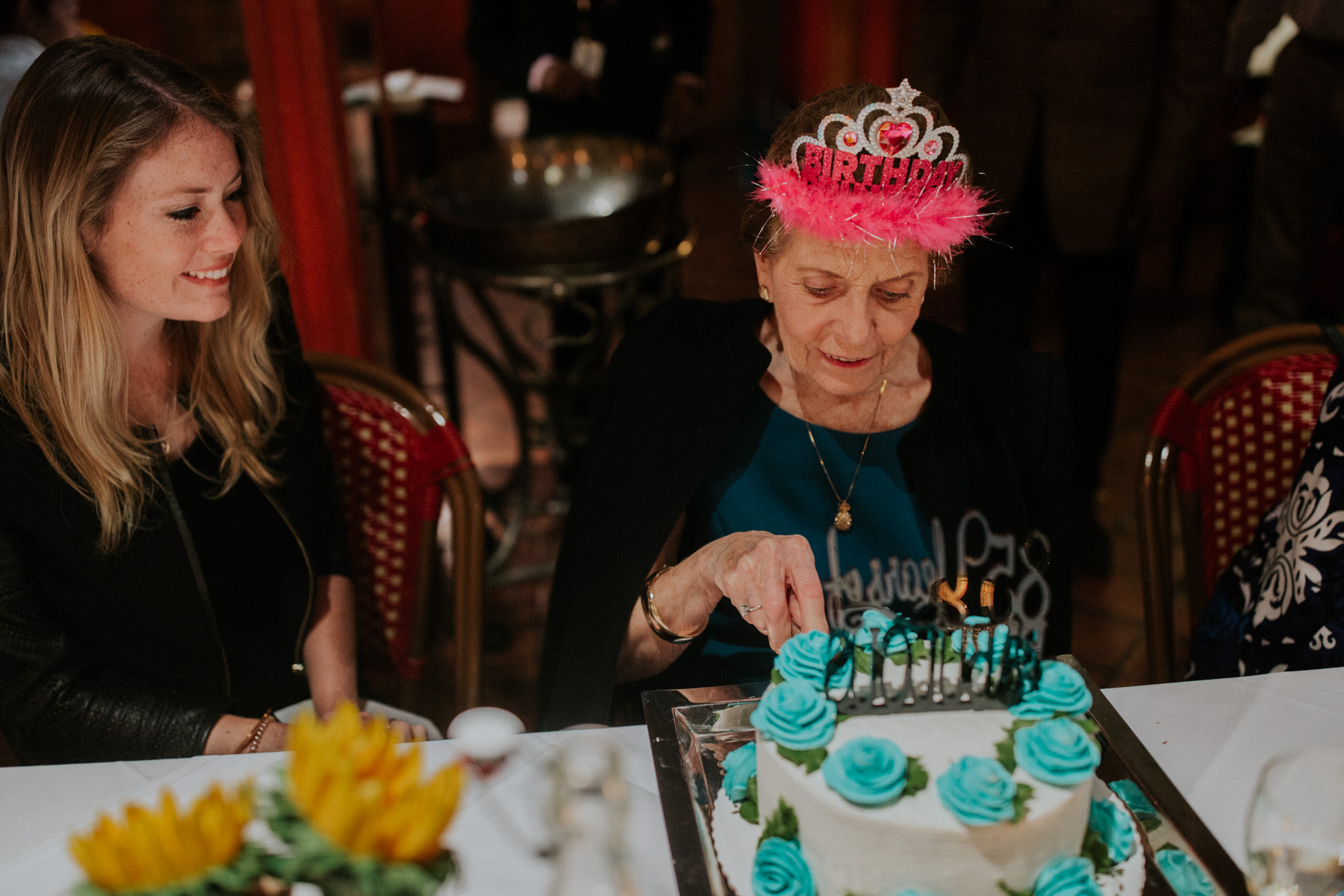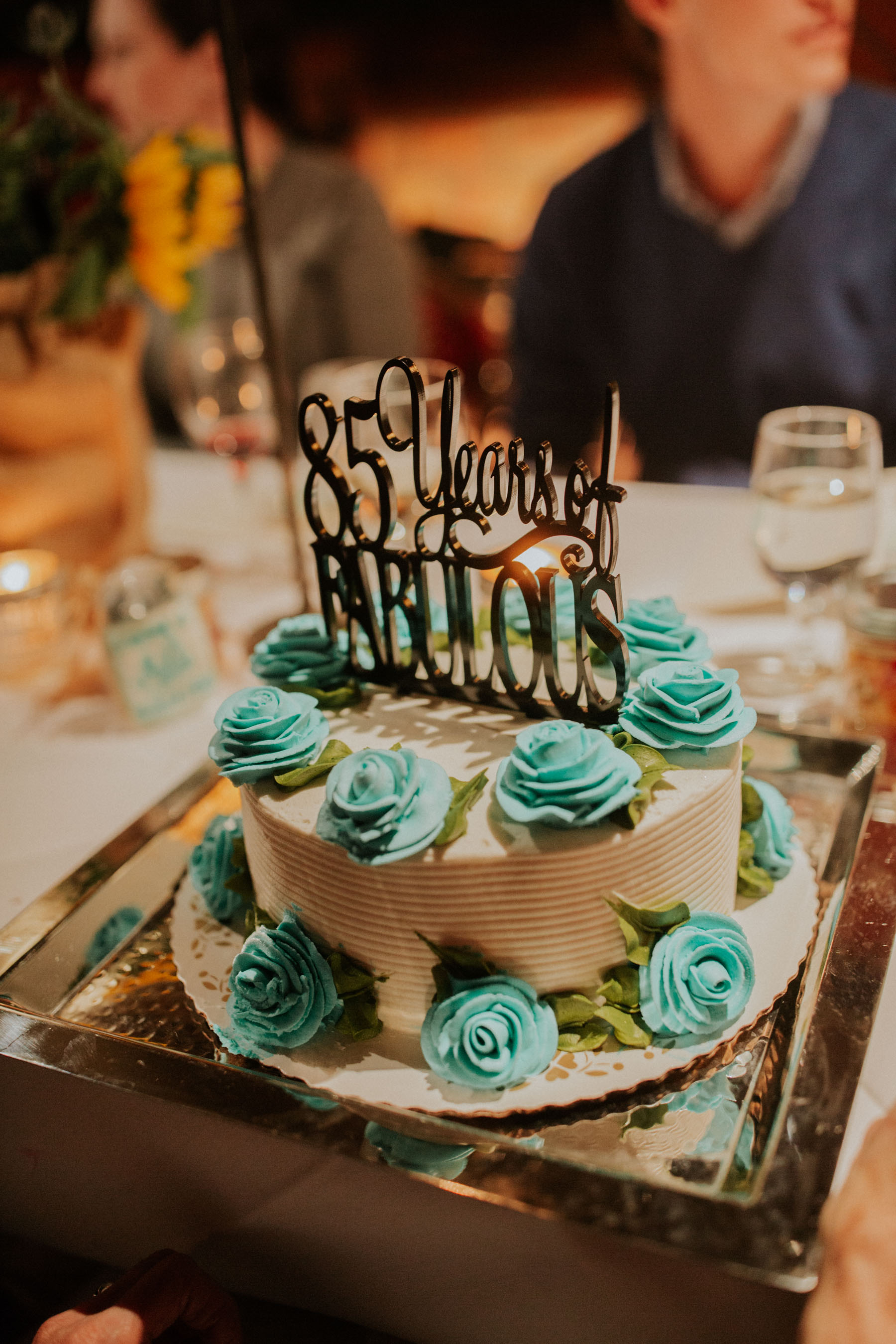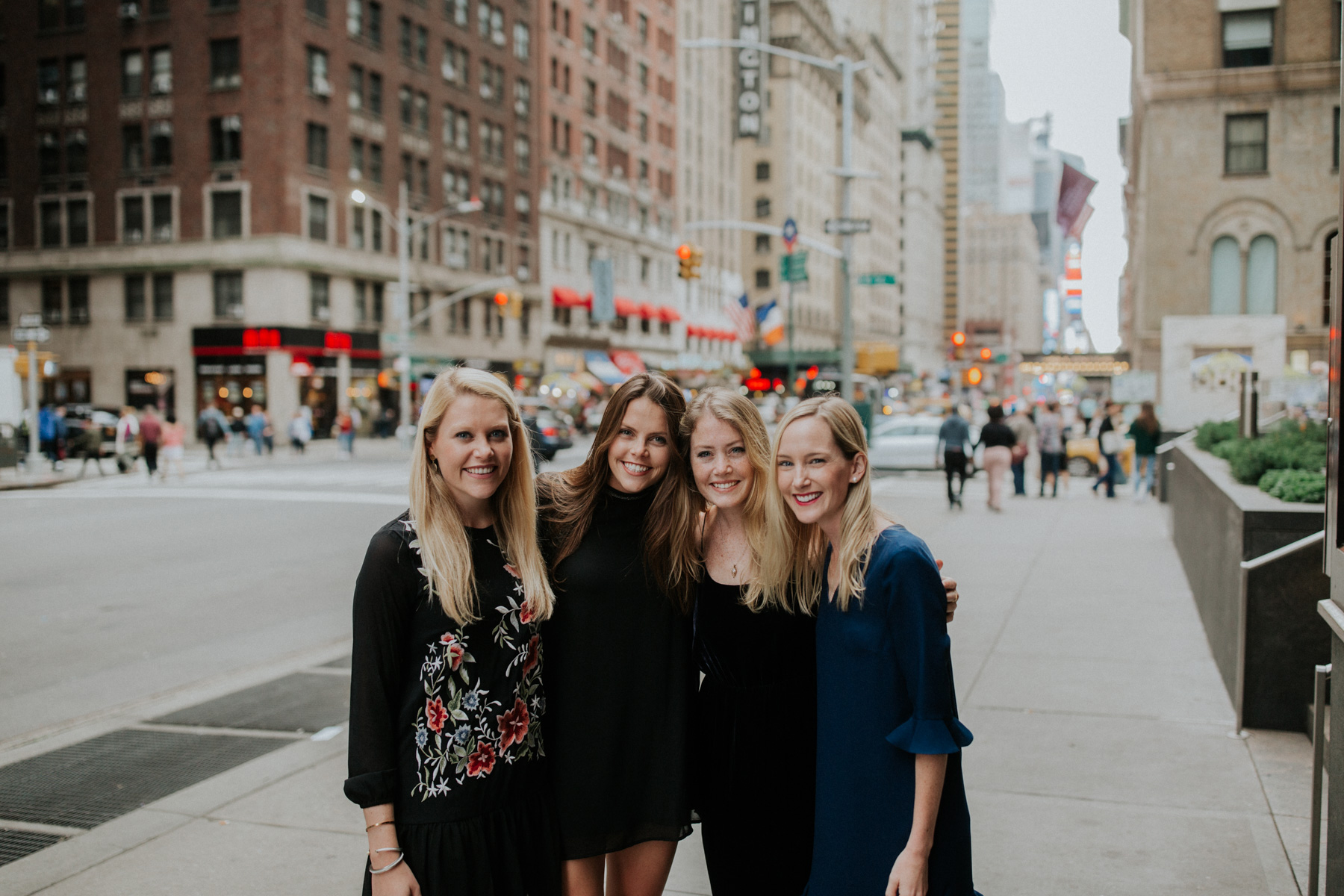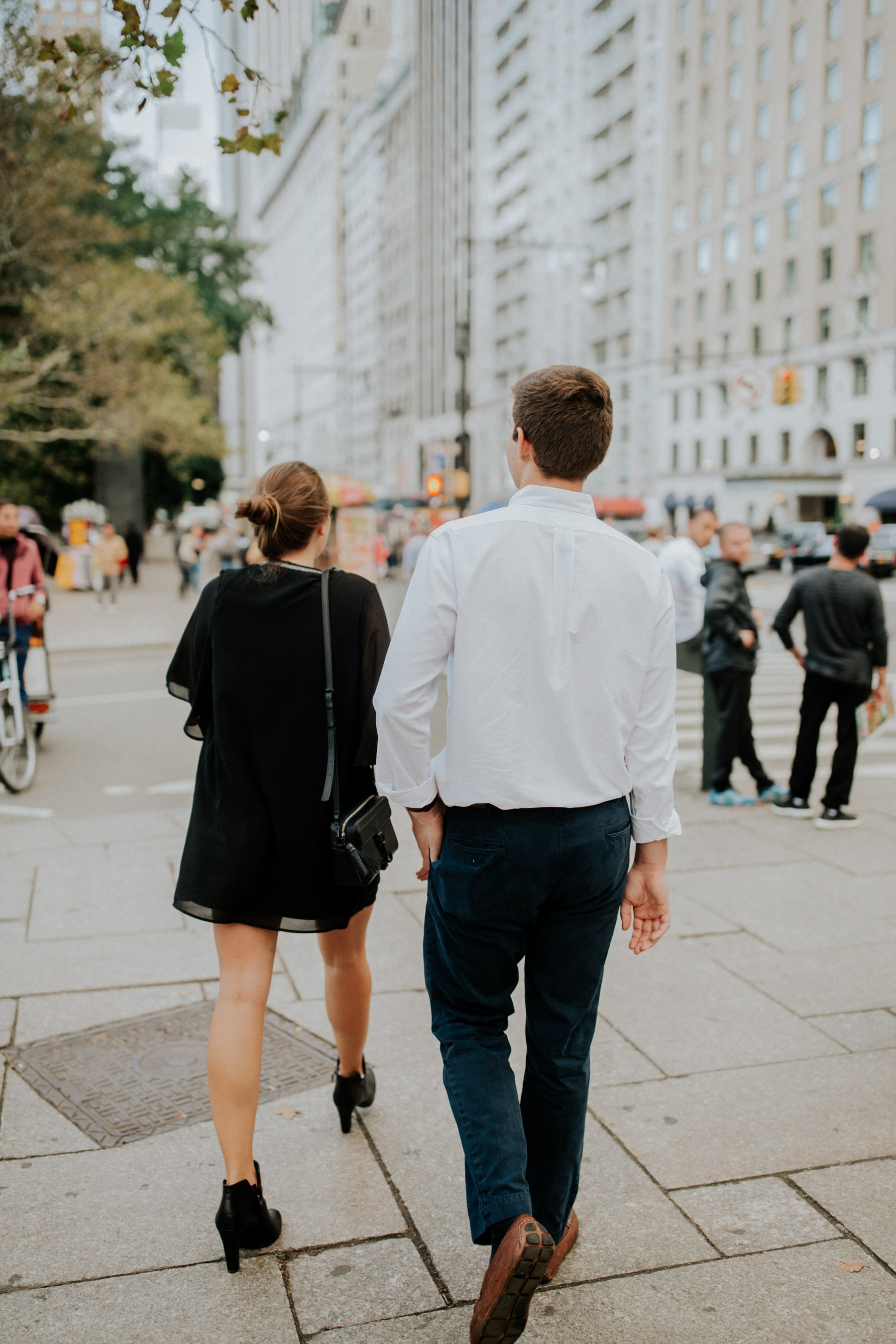 Shop the post:
Navy No-Wrinkle Ruffled Dress (Same dress in black, red and green here. Also love the velvet version!) / Leopard Block Heels (More affordable here, here, here and here.) / Tortoise Clutch c/o / Emma's Fall Wardrobe / Mitch's Barbour Shirt and Tweed Blazer c/o