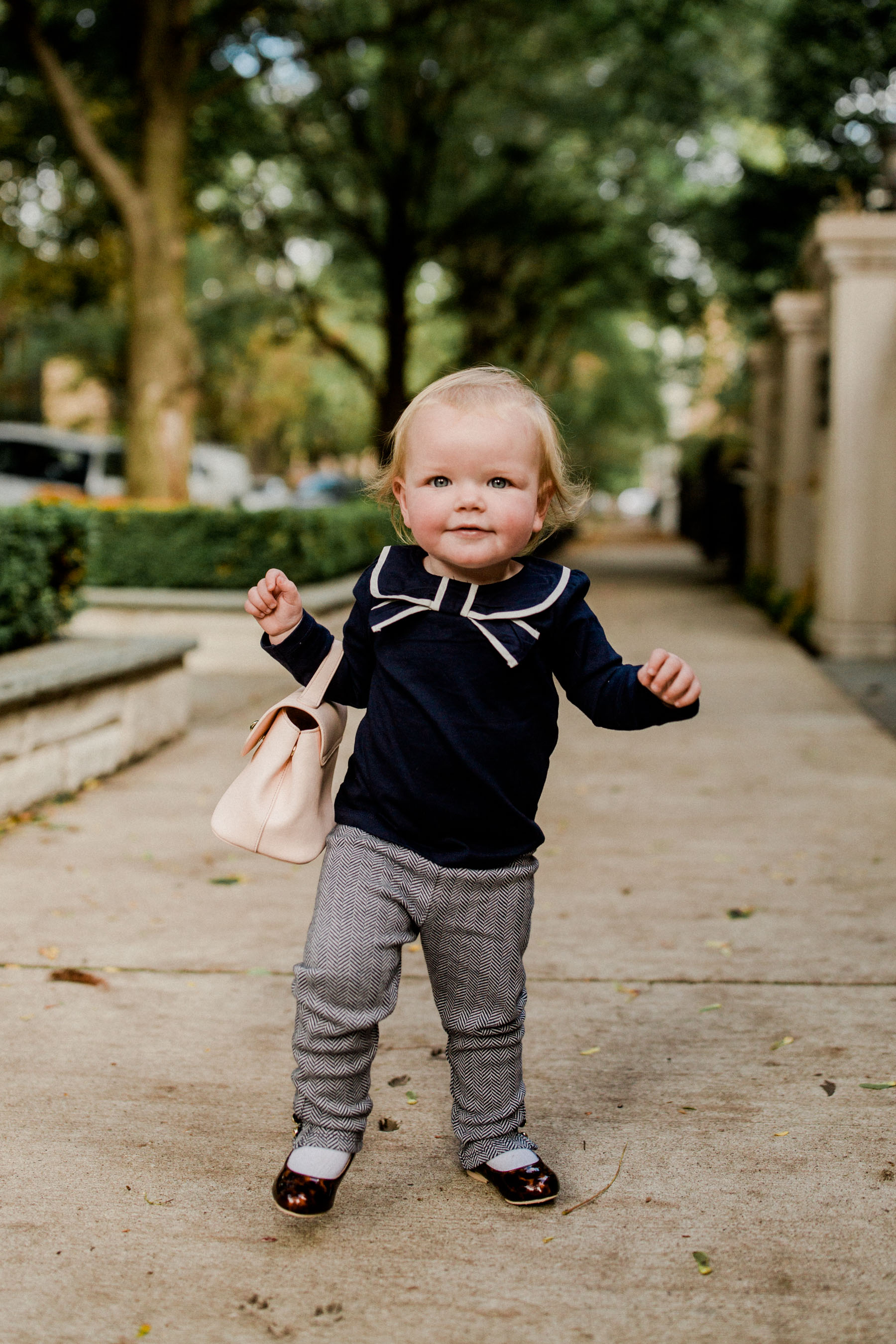 Janie and Jack Navy Bow Top, Herringbone Leggings and Tortoise Bow Flats
Mitch and I are beyond touched by the response to yesterday's post. Thank you. Our hearts are full today, and we're incredibly grateful for your support and understanding. :) I'm going to write a post soon that addresses some of the questions you asked regarding the life change, but today is actually Mitch's birthday… so we're goin' with something a bit more lighthearted for Wednesday's post. 😊
Happy birthday, Mitch! We love you so much!
As part of our Motherhood Series, I'm teaming up with Emily from Isn't That Charming to talk fall fashion for our daughters. I'll be the first to admit that I went a little crazy with Emma's wardrobe this season, but I just couldn't help myself! First, Emma had next to nothing for fall, as she–of course–grew out of the clothing I bought her last year… and a couple of outfits just doesn't seem to cut it when you have a toddler. (Oy! The laundry! It's constant.) Second, there's a lot of cute stuff out right now–and, well, you know: I'm weak, haha. But be sure to stop by Emily's blog to check out her post as well, because I love her style, and her sweet daughters (Grace and Jo) always look adorable!
So let's get to it!
Where I shop for Emma
Ralph Lauren is my #1. (Stay tuned tomorrow cute a cute mommy-and-me Ralph Lauren post.) Yes, it's pricey, but I stalk the site–and department stores that carry the brand–for sales. I simply add products to my cart and check out only when a good deal comes along. I also love Baby Boden, which you can find at Nordstrom, too. And then there's Janie and Jack, Lilly Pulitzer (for summer and vacations), and Joules (sometimes at Nordstrom). Sigh. Again, these brands are on the more expensive side, so I'm patient and wait for the coupon codes, and I only purchase products I love.
Gap and Old Navy are my go-to brands for play clothes and basics because they're well-made yet more affordable. It takes some searching, but I've found some real preppy gems there. Oh! And I can't forget Carter's. It's a bit of a farther walk from our house but definitely doable–and Carter's carries a lot of gingham. ;)
What I've learned
BUY BIG. Last year, I bought the "correct size," according to Emma's age, height and weight. Now, though, I know that buying that "correct size" is what depletes new parents' bank accounts. ;) Kids grow fast. Emma's also big for her age. Very honestly, she only wore some of last year's outfits a couple of times before they were too small for her. (Gah!) Today, Emma is 14 months, and I usually buy her size 24 months or "2T," depending on how the brand runs. It sounds crazy, but we just cuff and roll–and it works. So much more bang for our buck!
The outfits
My apologies for the crummy photography, as I took these pics at night. But here's what Emma's wearing this season. 😝
Let's start with the outfit Emma's wearing in the first photo of this post. She gets SO much wear out of these herringbone leggings (on sale!), and this bow top (on sale and also here in white) is pretty versatile. The leggings are a little long on her right now, so they're usually cuffed. But is there anything cuter than those little buttons?!
Tortoise bow flats for BABIES. I cannot, haha. They're incredible. They're her one pair of dress shoes, but they go with everything and I really wish they came in a mommy version.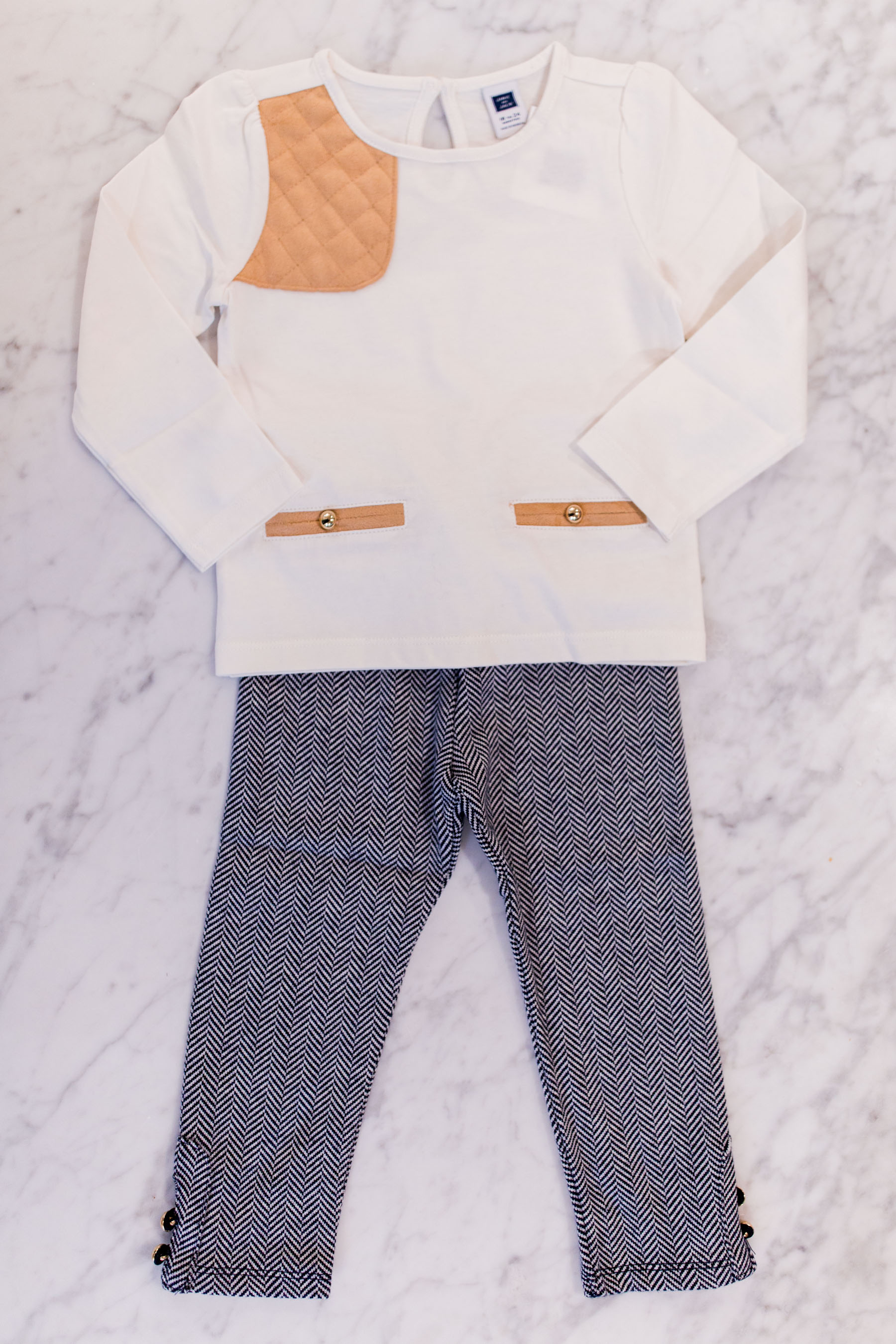 I'm terrified of horses (bad experience while horseback riding as a kid), but this equestrian outfit is to die for. (Same herringbone leggings and this suede patch top.) I really wanted this blazer to complete the look, but I told myself I was a lunatic and ended the Janie and Jack madness there.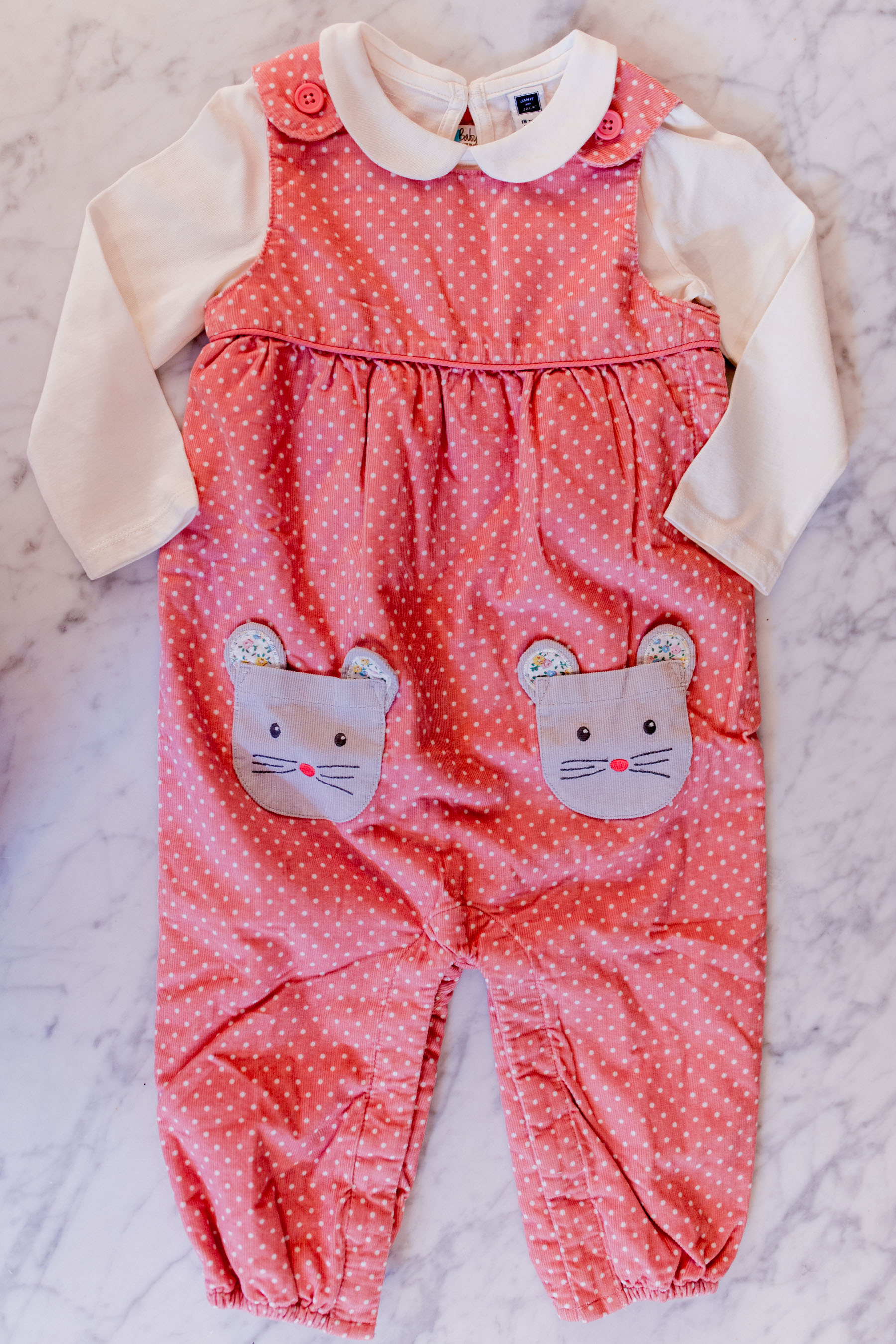 Definitely my favorite outfit of all. This mouse romper?! I mean, come ON. I pair it with this Peter Pan collar top. (Oops. Okay, that's the last Janie and Jack product.)
These are our playtime shoes. They're sneakers, but they look like Mary Janes, which I love. :) They're SO great for toddlers who are learning to walk, too. Emma wears the navy pair every day! I probably shouldn't have purchased the pink gingham pair as they get dirty far more easily, but they were on sale… and, like, gingham.
Every little girl needs a navy quilted jacket, right?! Joules recently sent her this one, and it's perfect. Also love these leggings, which are super soft.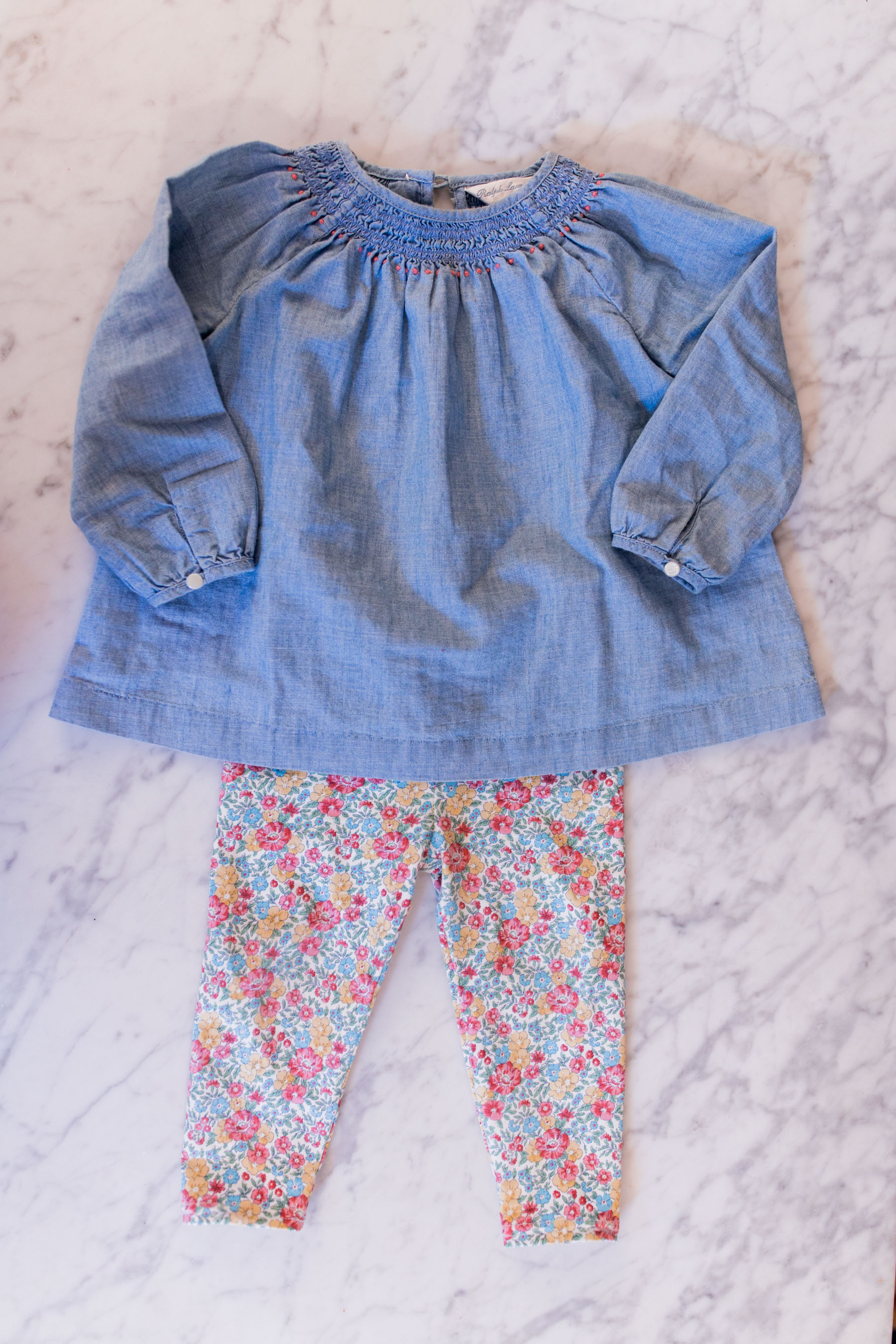 Doesn't this remind you so much of old school Laura Ashley (and even Liberty London) prints?! This is a great outfit for play, and it happens to be on sale.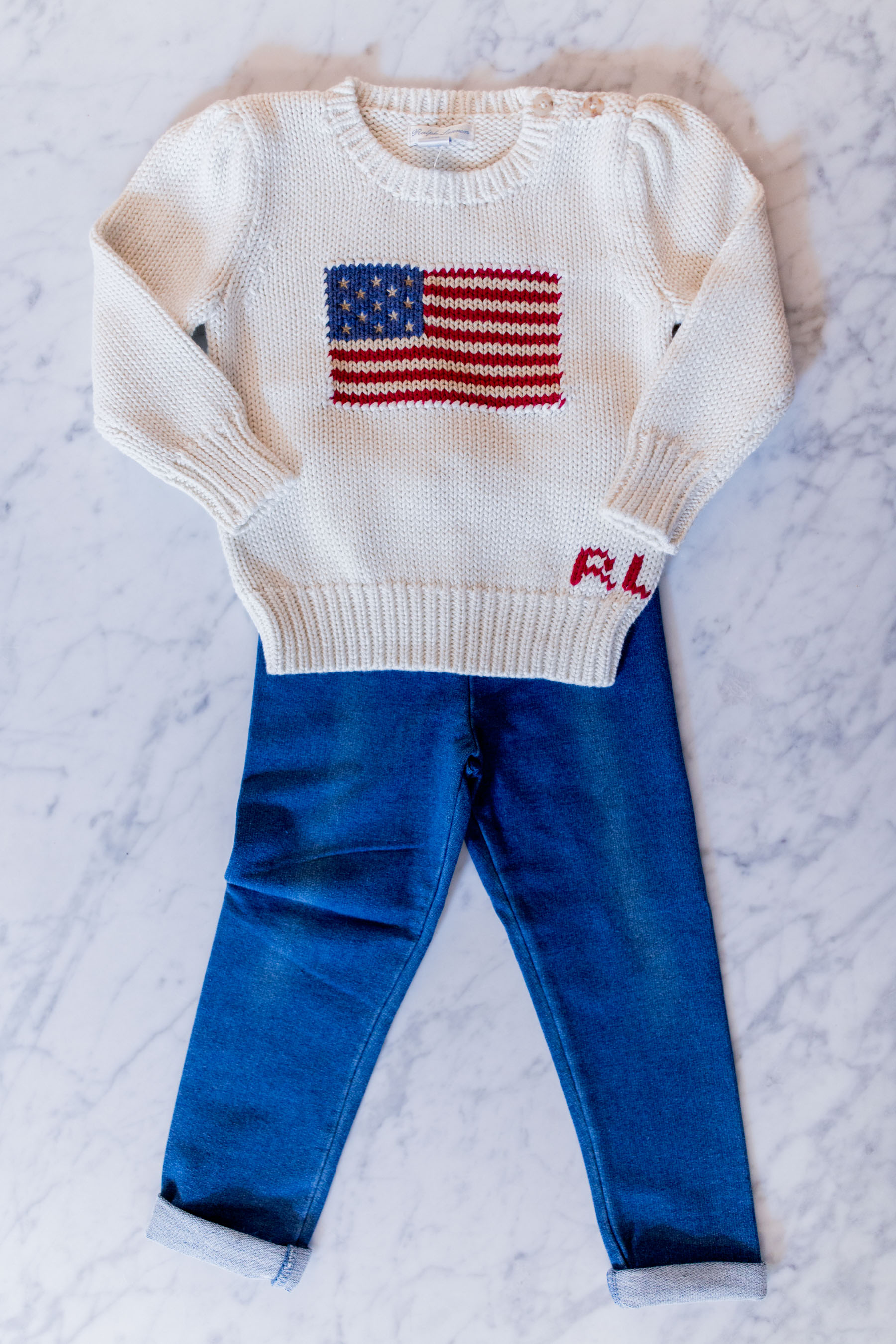 Here's that American flag sweater I've been talking about. I have a vintage one, and I couldn't help but grab Emma one (on sale, of course). Tune in tomorrow for some cute pics of us wearing our matching sweaters!
Joules also sent Emma these slippers (which she wears ALL the time in the house) and this two-pack of sweater leggings.  Have I ever told you guys that my mom calls me "Bunny"? This is part of the reason Emma has so much bunny-adorned stuff. ;)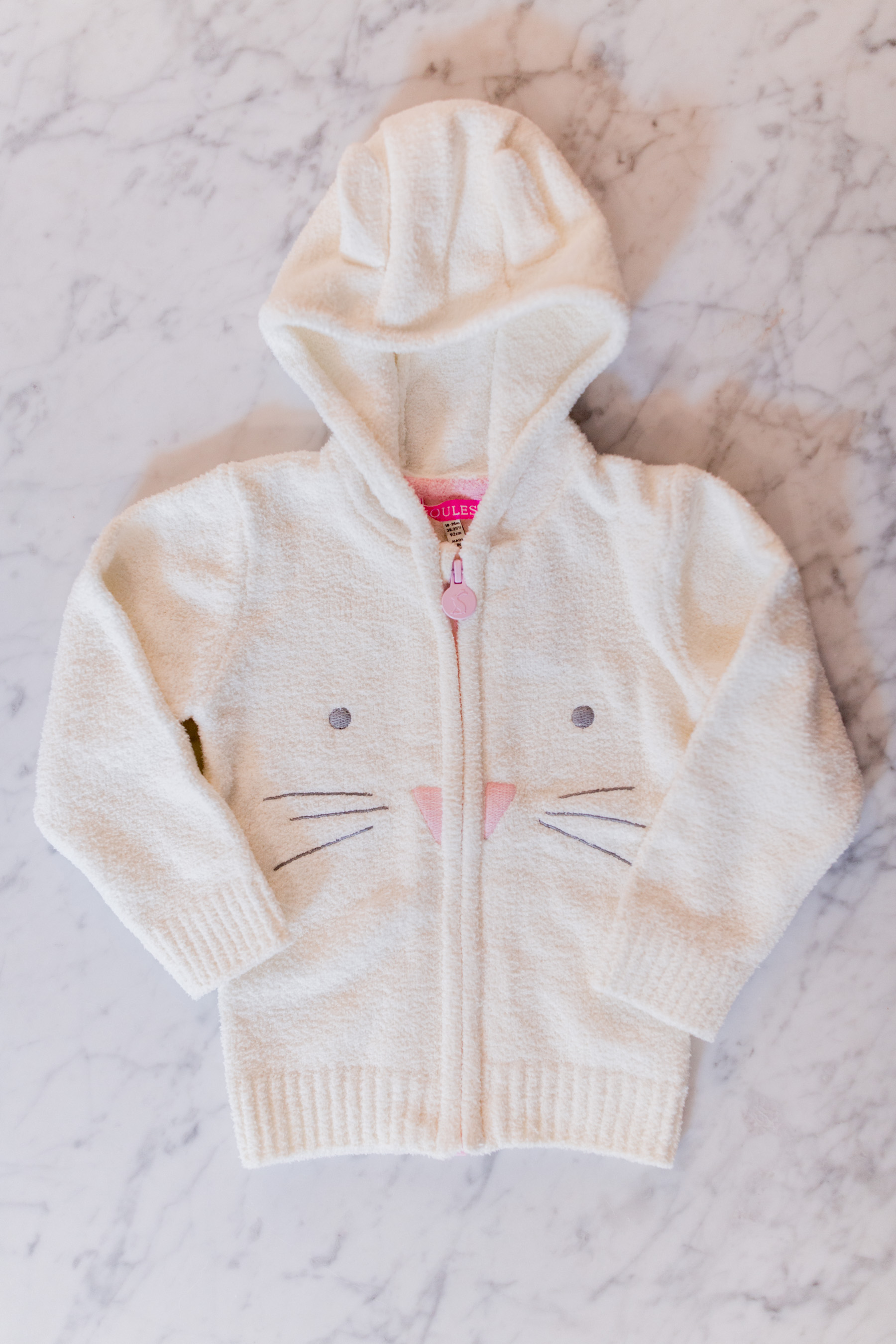 I have no words. Mom, are you dying right now?! (Thank you, Joules!)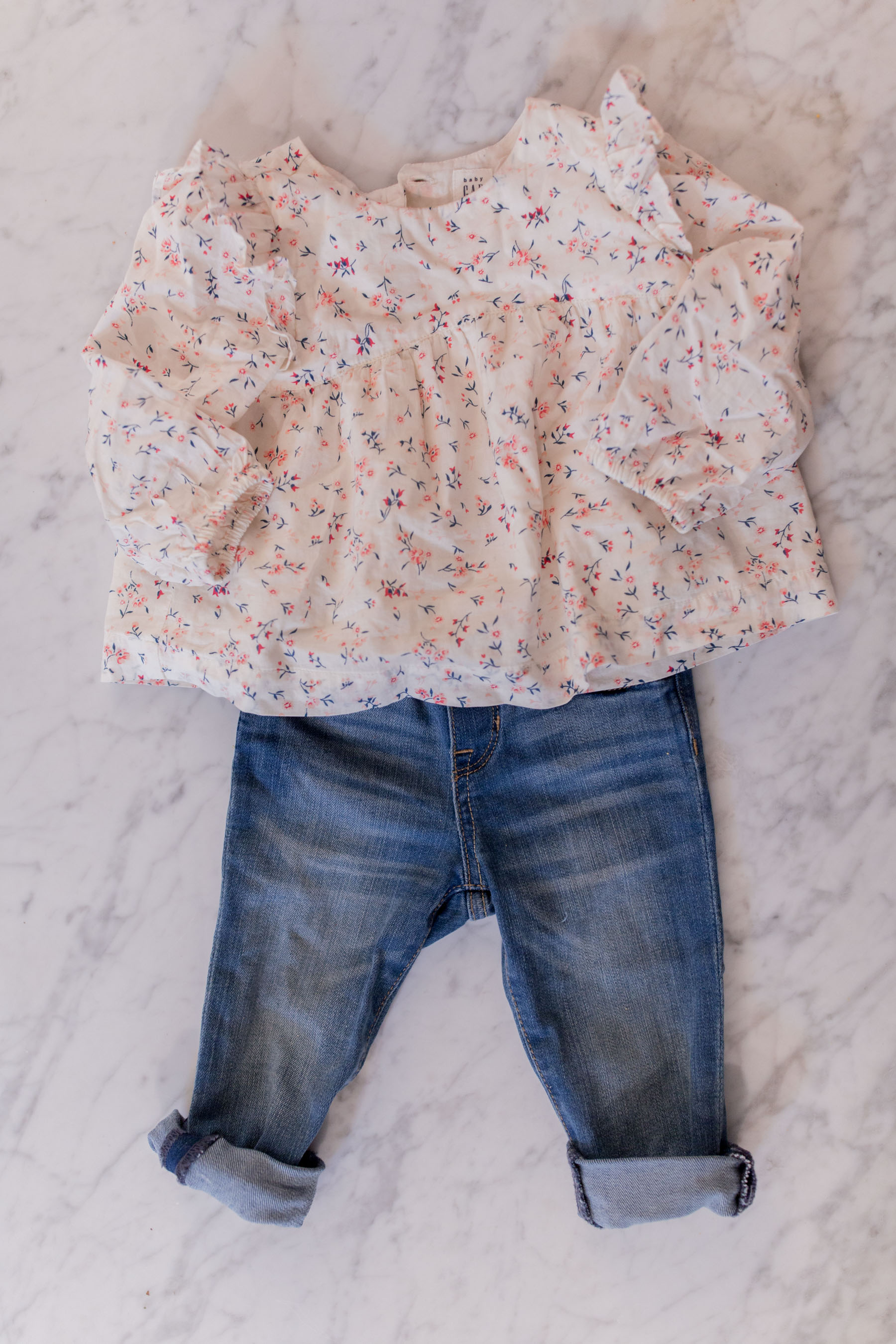 This floral ruffle top is such a steal, and it's perfect for play yet is super cute. :) And "My First Skinny Jeans" are AWESOME if you're in the market. They're very soft, but they're tough. They're my #1 pick for daycare and playground visits. Definitely need more.
OH MY GOSH, I KNOW. This jersey bunny dress was a must-have. Mom, I blame you. All of this is your fault, actually. We also have the heart version of the dress, which was too dirty and wrinkled to photograph tonight.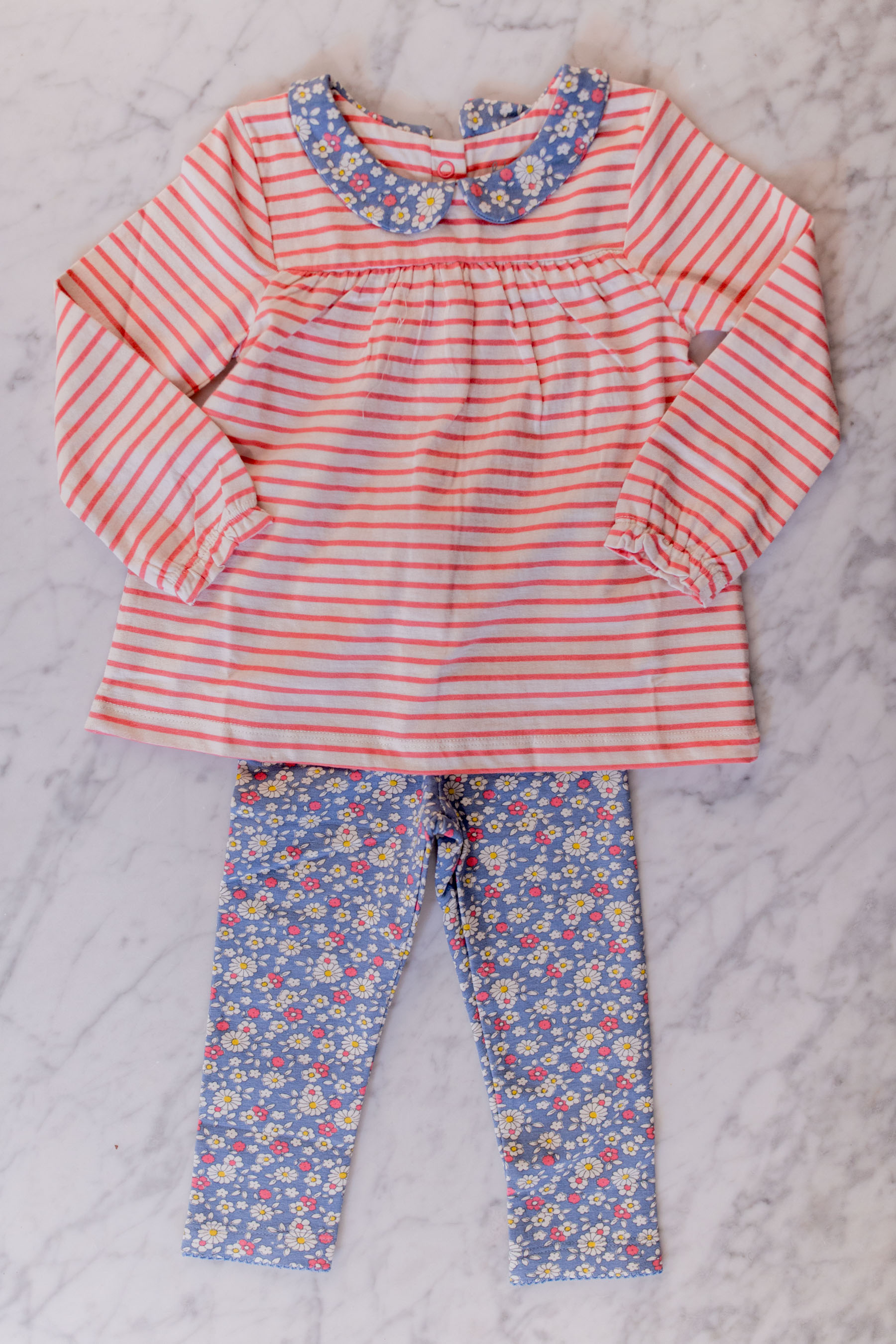 Another great playground/daycare outfit. Can't get enough of stripes paired with floral!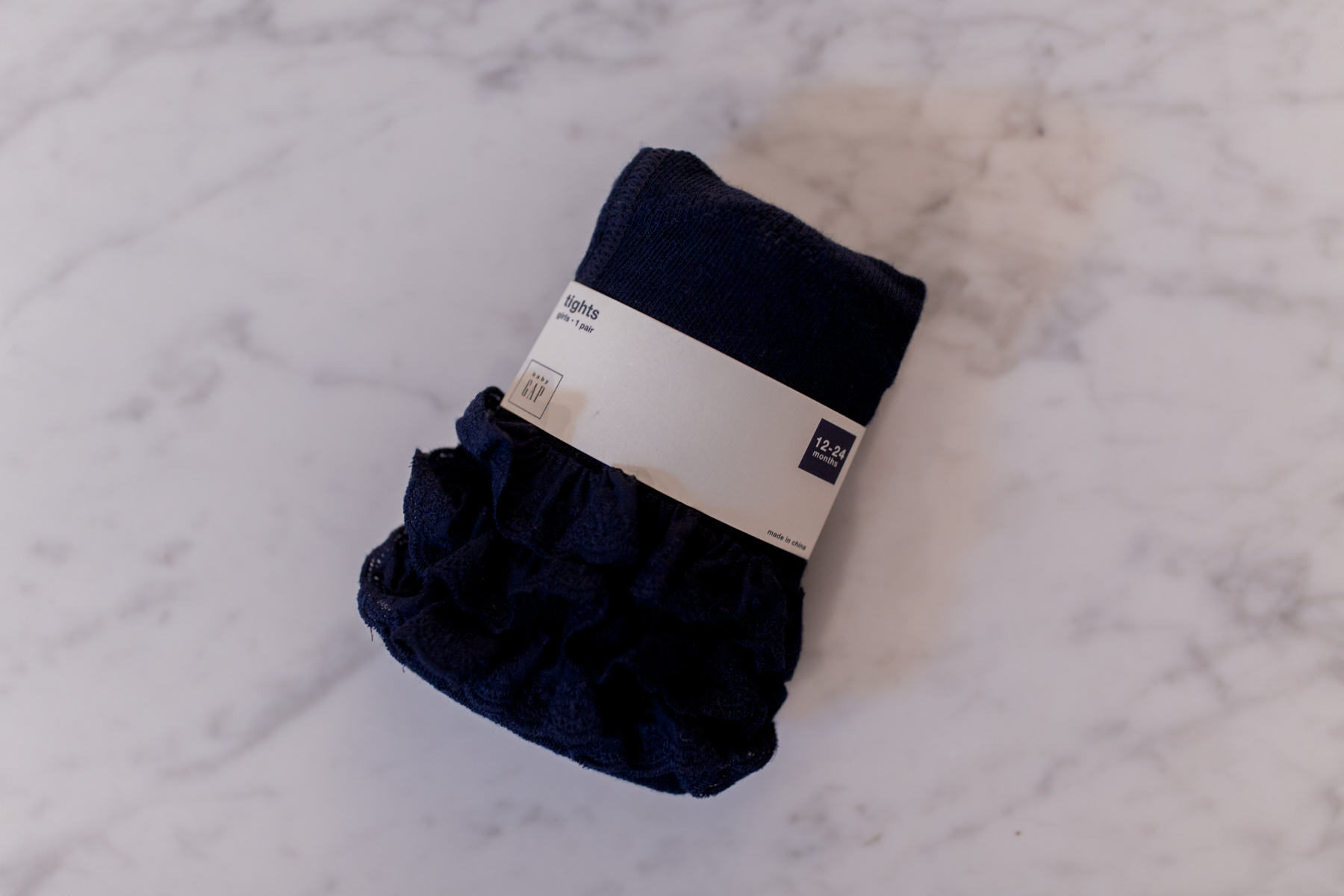 Ruffled tights. They were a staple last year, but now that Emma can walk, I'm wondering how many pairs we'll go through. They're a necessity with dresses, though! The struggle is real.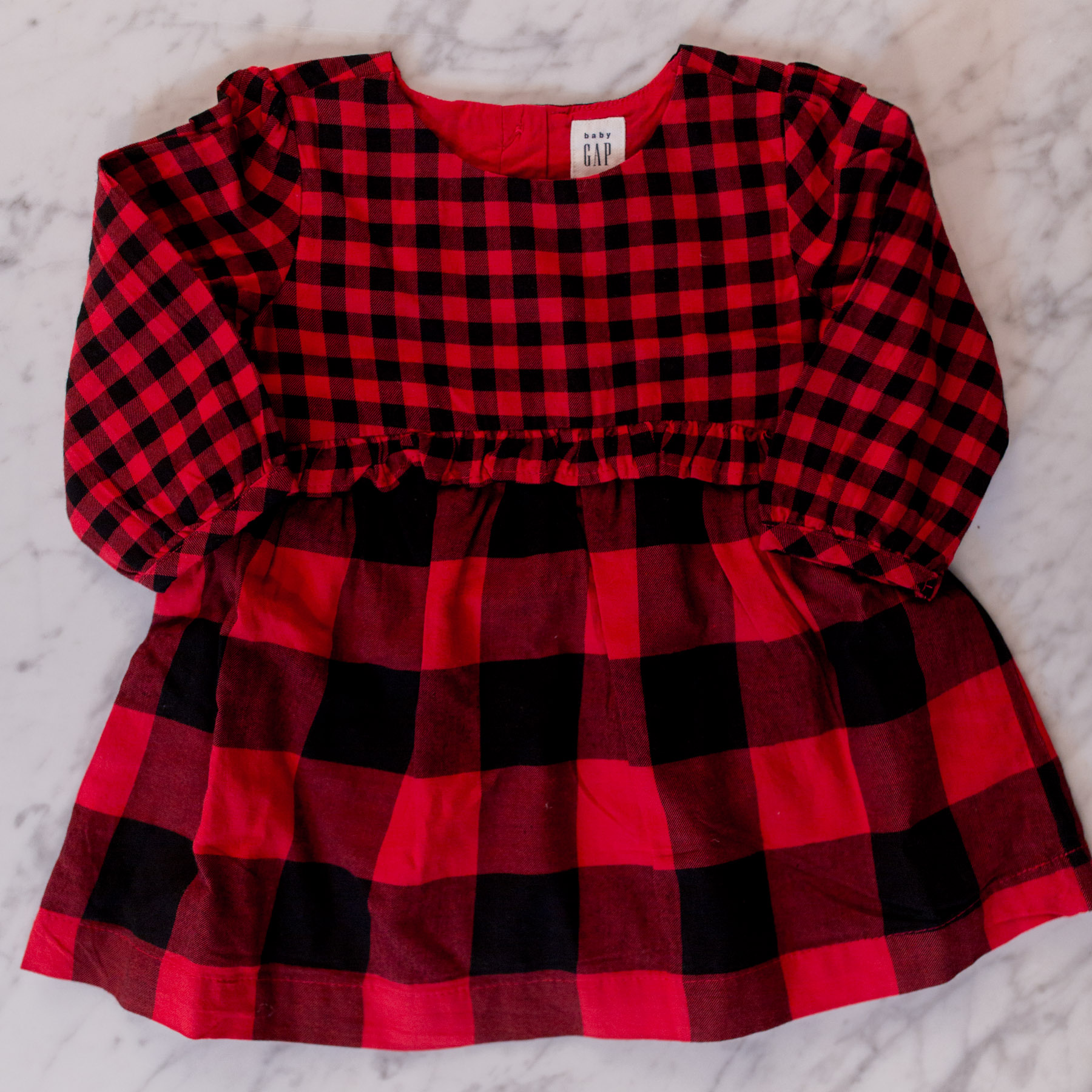 Had to have it. Now we just need black tights.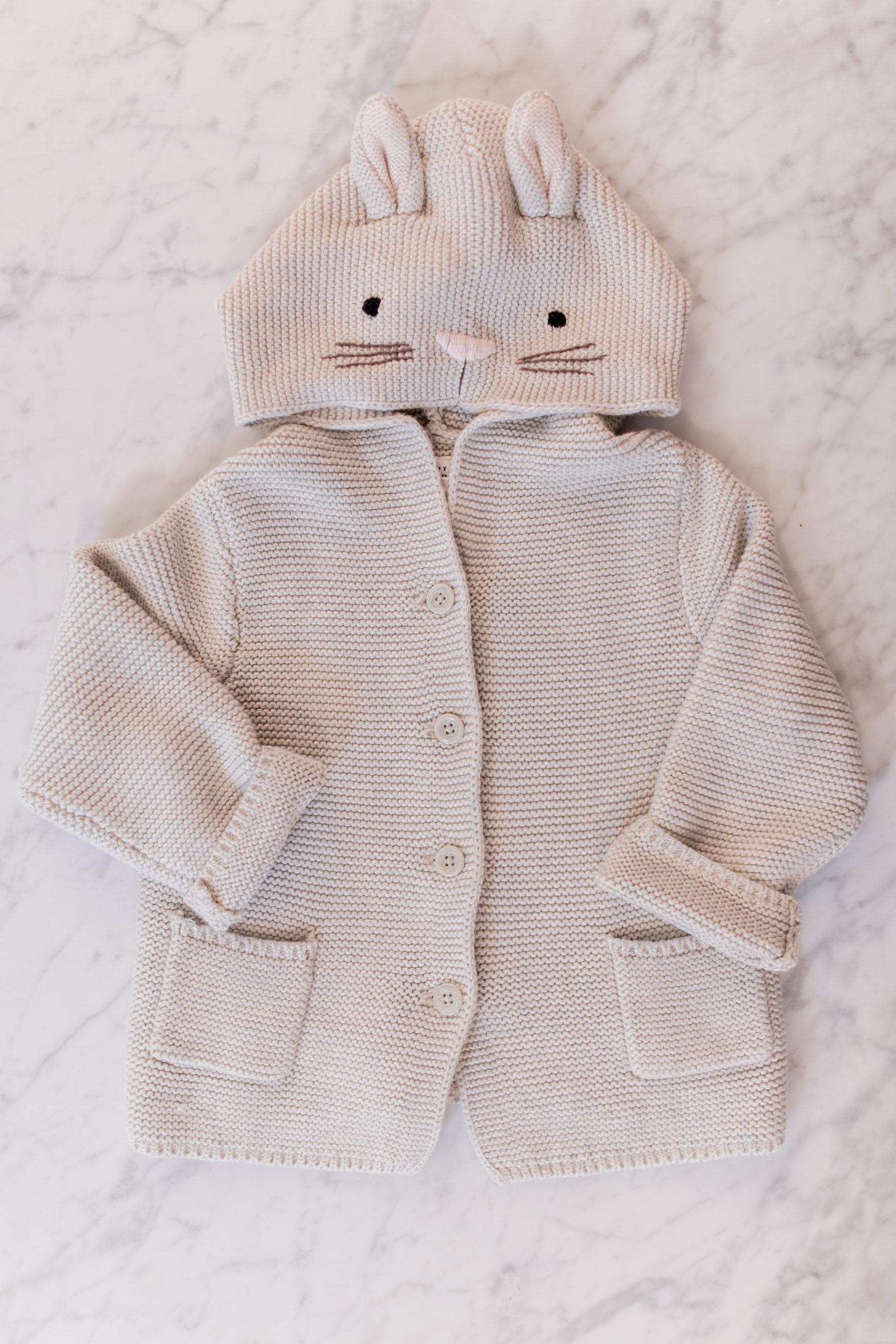 A gift from my mom. SO CUTE. I love you, Mom! She'll be wearing it next week in New York!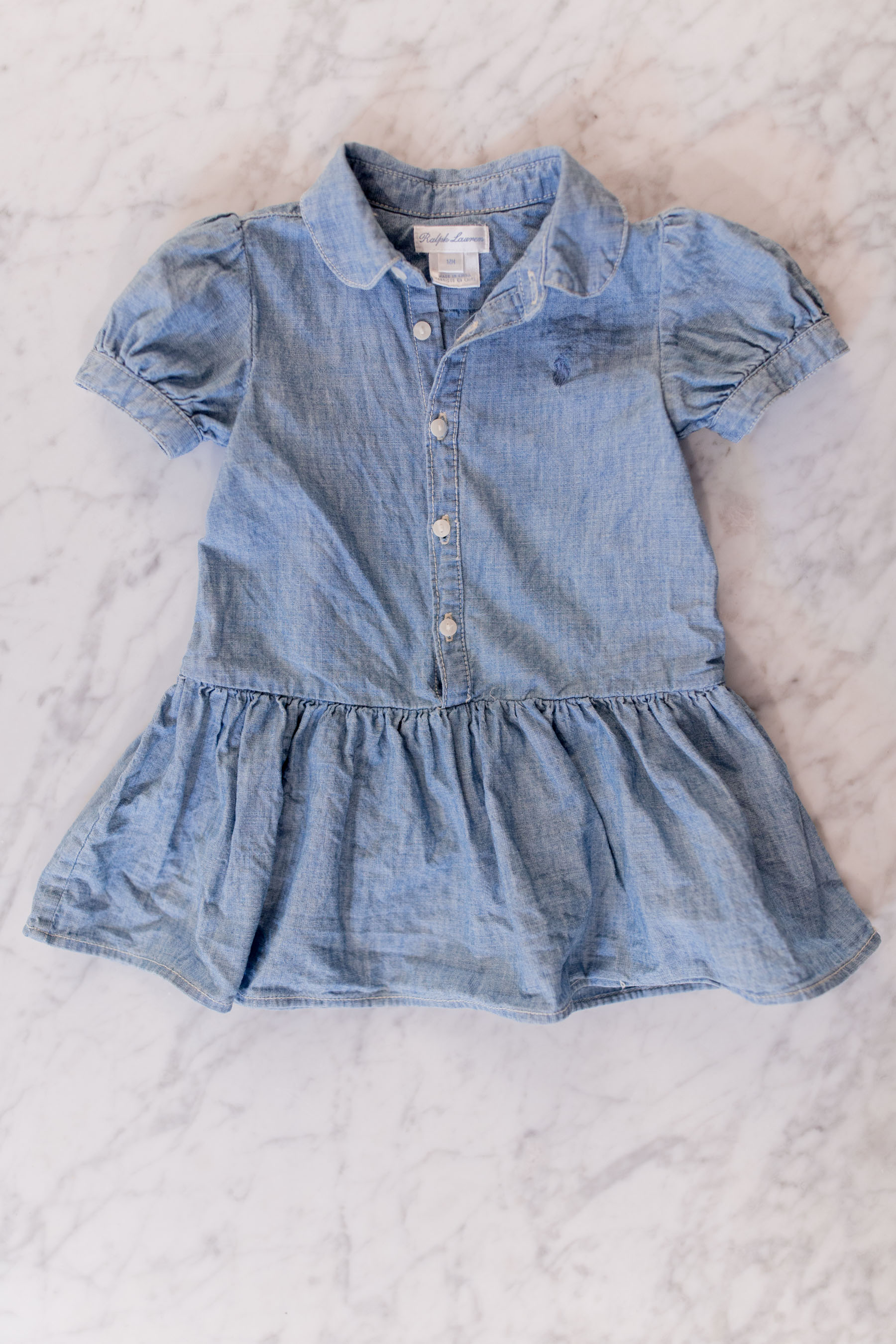 Emma wore this dress in this recent post. Now that the weather has cooled off, I pair it with a cardigan. :)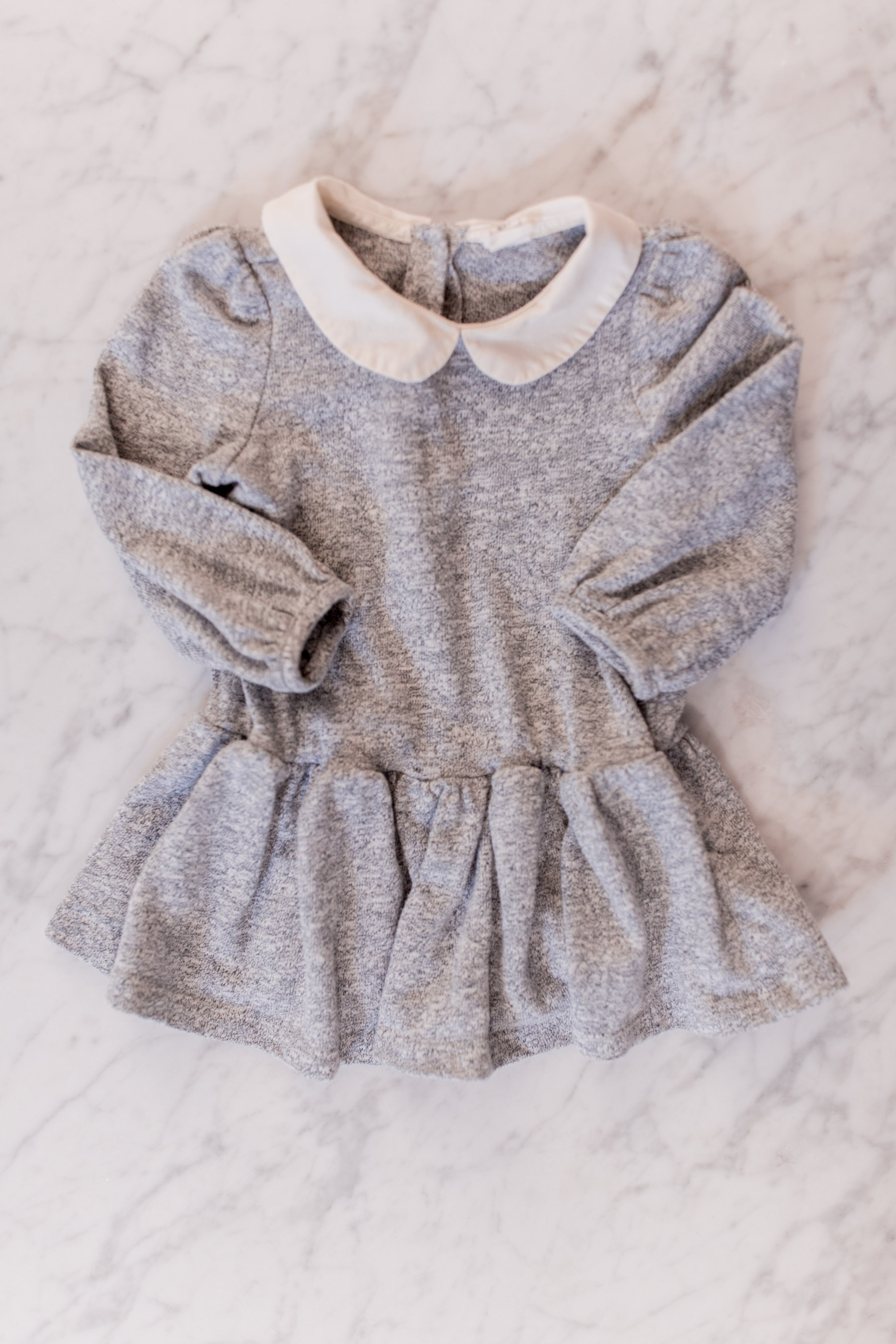 This is an old one from the Gap, but hooray! Still fits because I bought it in a large size last year.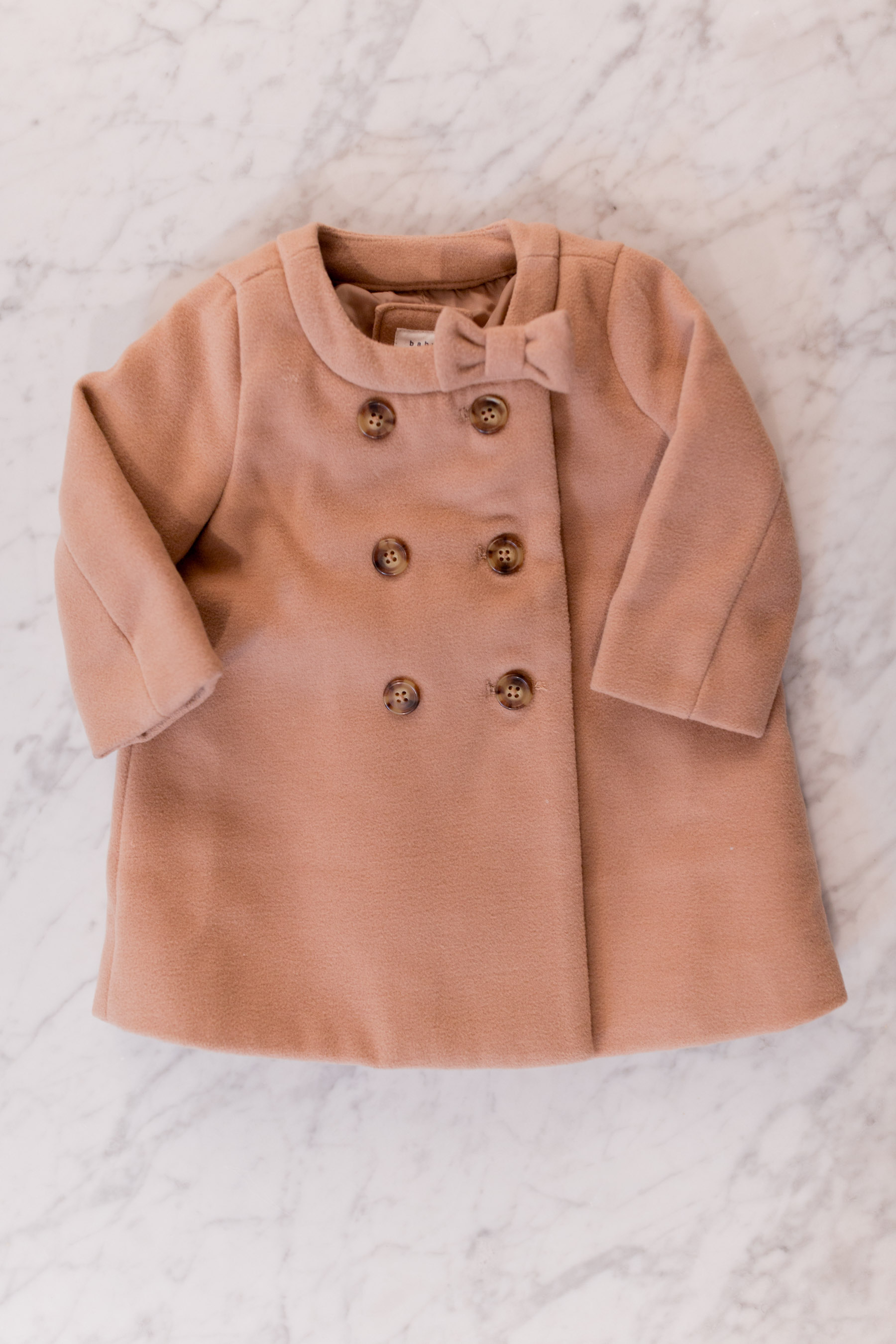 Thankfully, Emma's dress coat from last season still fits as long as she's not wearing a bulky sweater underneath. Not sure whether it'll last through winter, but here's hoping!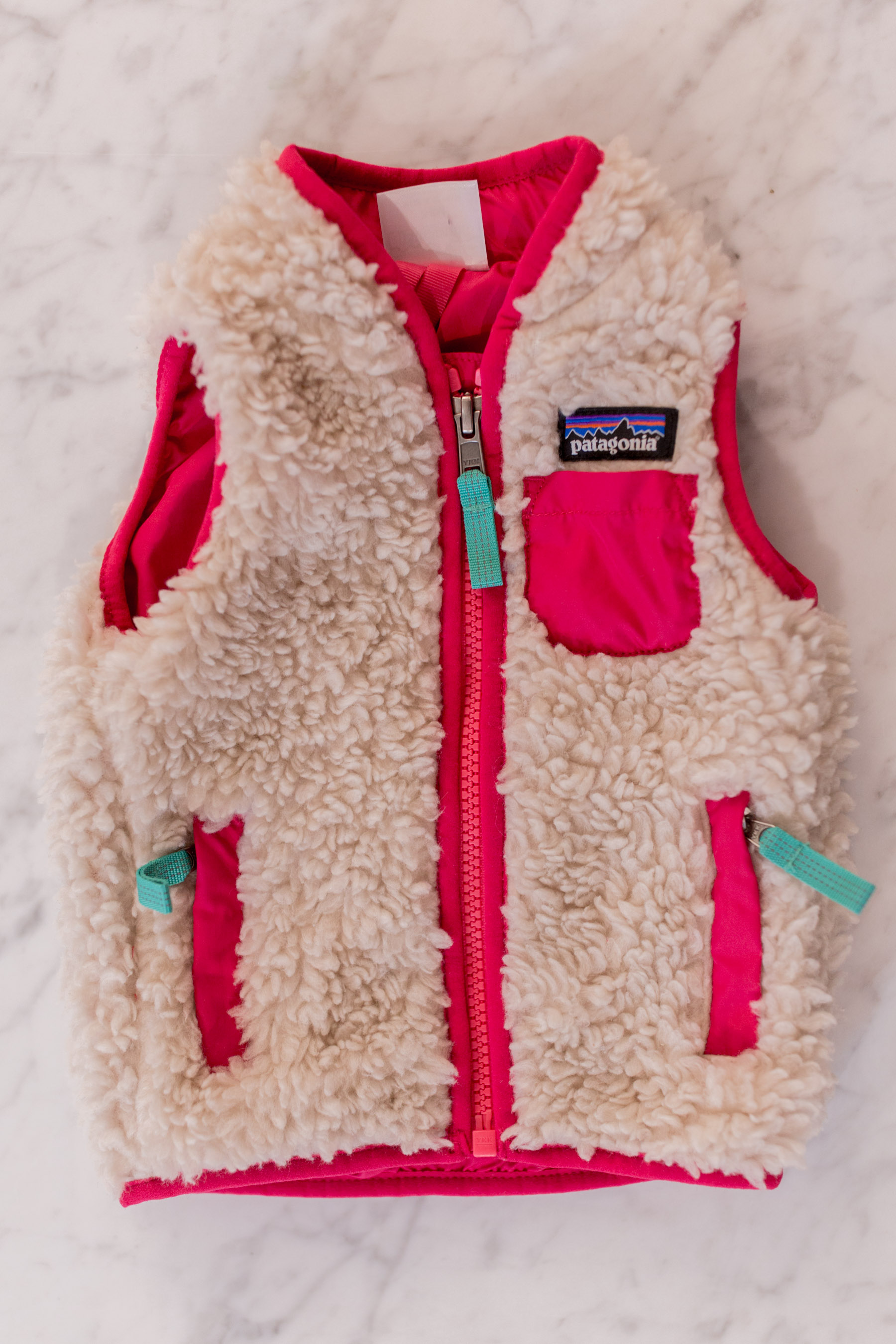 Still fits from last year. Here's some newer Baby Patagonia!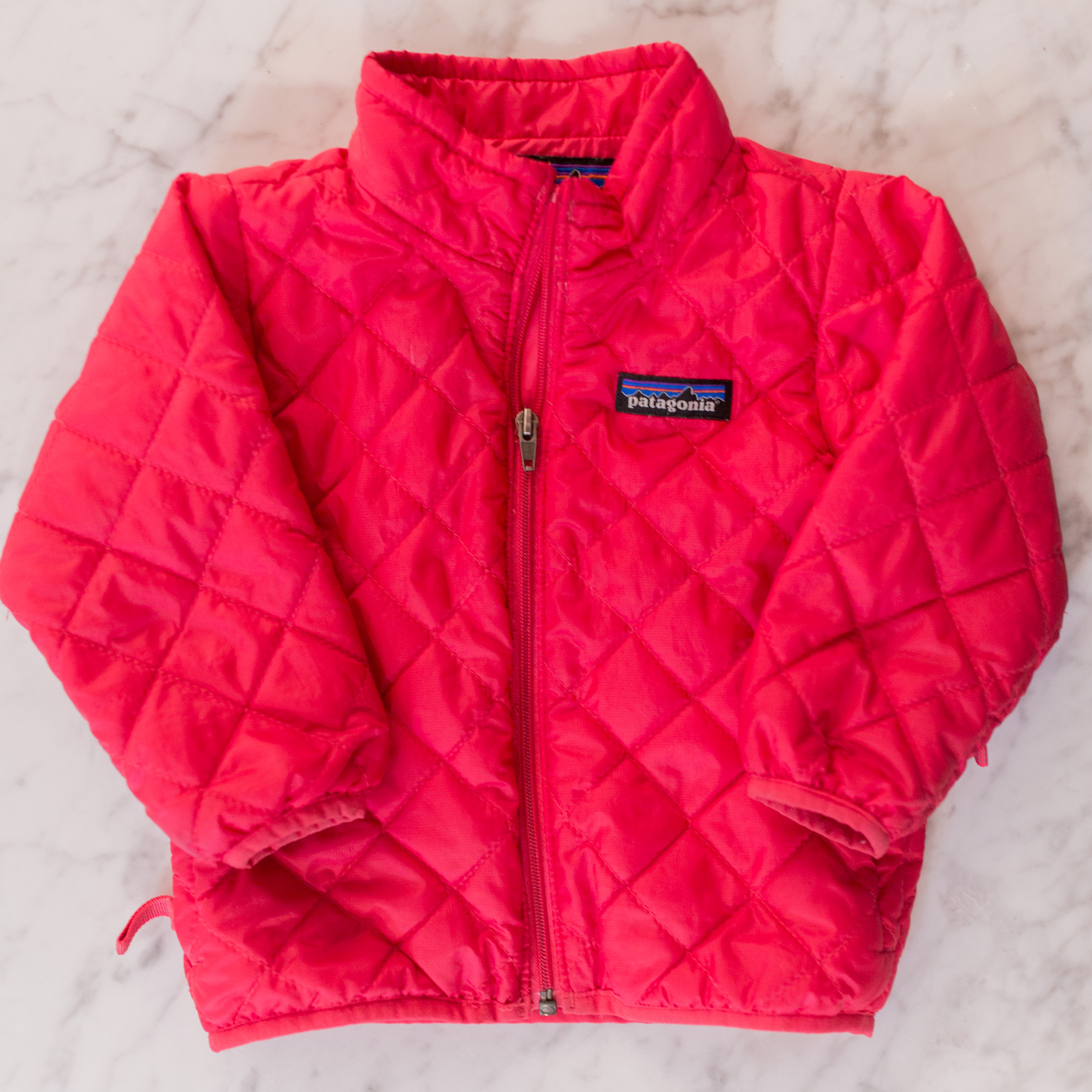 Again, from last year. But so many newer options here!
I nabbed this gingham coat (solid version here) last year on sale, and I'm so glad I did. I bought it in size 2T, so I'm hoping it lasts for a while! :)
Janie and Jack Navy Bow Top, Herringbone Leggings and Tortoise Bow Flats
Any other gems I missed?!
Lord knows Mitch is hoping you guys find NOTHING ELSE out there, haha. But remember to stop by Emily's post for more baby girl fall outfit inspiration!
SaveSave