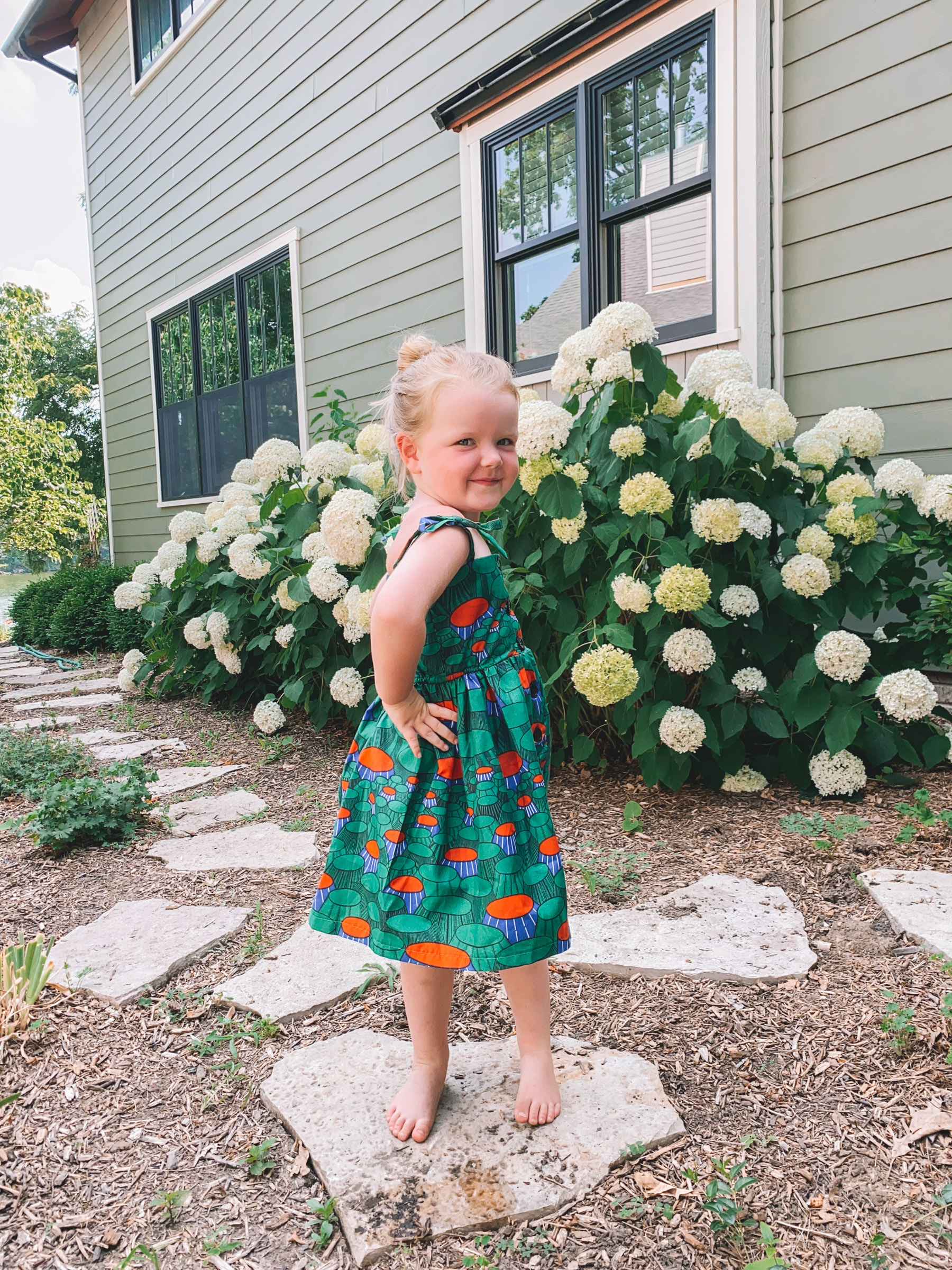 Today is #BlackoutDay2020, which is a day of economic solidarity with the Black community. (It's not a new thing; it actually began in 2015!) The ask is to avoid making purchases unless they're from Black-owned businesses.
Following Covid-19, many Black businesses have struggled to stay afloat. Black business owners also experience greater challenges when it comes to securing funding. One of the most impactful ways to dismantle institutional racism is supporting Black-owned businesses. —Janice Gassam
We Buy Black and My Black Receipt are two great places to start, and I'm including a few suggestions at the end of this post, too. But don't worry! If you've been adversely affected financially by the pandemic but would still like to make a difference, there's so much you can do to take action and fight against systematic racism.
For a moment, though, let me direct you to the adorable photos of Emma in her Elisamama dress. My friend and Two Peas in a Prada blogger Emily–the sweetest mom of three who I met on this trip–introduced me to Fisayo, founder and owner of the children's brand Elisamama. Fisayo–also a mom of three!–is a native of Nigeria, and her primary goal with her business is to economically empower local artisans through jobs and skills training. All Elisamama products are handmade in Nigeria, and team members can support both themselves and their families on their incomes.
"As a native of Nigeria, I am saddened by the struggle that many face," Fisayo says. "A huge portion of the population, while talented and eager to work, are either unemployed or underemployed, unable to afford the most basic needs. Elisamama is my solution to this problem."
(Watch this video to see Elisamama in action!)
As I taught a good number of Nigeria natives in NYC during my teaching days, I was really excited to link up with Fisayo and help promote her cause. (If you have a moment, please read this article about Osaretin Ugiagbe and his South Bronx photography. Amazing!)
Emma loved her Tami Dress–such a dress girl–and it prompted some wonderful discussions about the lives and cultures of people from different parts of the world. And then she asked me to take some photos with her hair "up like a princess" and then "down like Emma." Pretty adorable. Blogger in training, for sure, haha. And isn't the Tami Dress beautiful?! I can't get over the fact that it's handmade… or the fact that it traveled all the way from Nigeria to Normal, Illinois. And the buttons and little bow straps?! Absolutely darling.
Fisayo also recently launched "Elisamama Feeding a Family," designed to provide Nigerians with relief from the pandemic. (The situation is particularly dire for them, as more than half the population lives in extreme poverty.) Through the program, food packs and essential items are provided to families in need. All it takes is only $20 to support a family of five for an entire week, and if you'd like to donate, you can do so here. (It seriously takes 30 seconds. The checkout process is extremely quick and easy!)
Anyway, please enjoy Emma loving every minute in her Elisamama dress. And as this blog primarily focuses on fashion and home decor, be sure to check out and consider supporting these other related Black-owned businesses:
Mitchell Black Home (How did I not know about this?! Also, Mitchell Black Home is five minutes from us!)
Sheila Bridges Design (STOP THE PRESSES.)
Effie's Paper (Help, I love it all.)
LemLem (Recently ordered a LemLem dress and so excited about it.)
Le Petit Organic (Adorable and timeless children's clothing.)
Because of Zoe (The sweetest hair accessories for little girls!)
Briogeo Hair (Great hair masks that I've been using for years!)
Telfar (Obsessed with my new Telfar bag!)
Estelle (Stunning glassware.)
Clare (Move over, Benjamin Moore.)
Eva Sonaike (I'm really into the Aluro print!)
Looking for more? Check out this recent post!
Black lives matter.