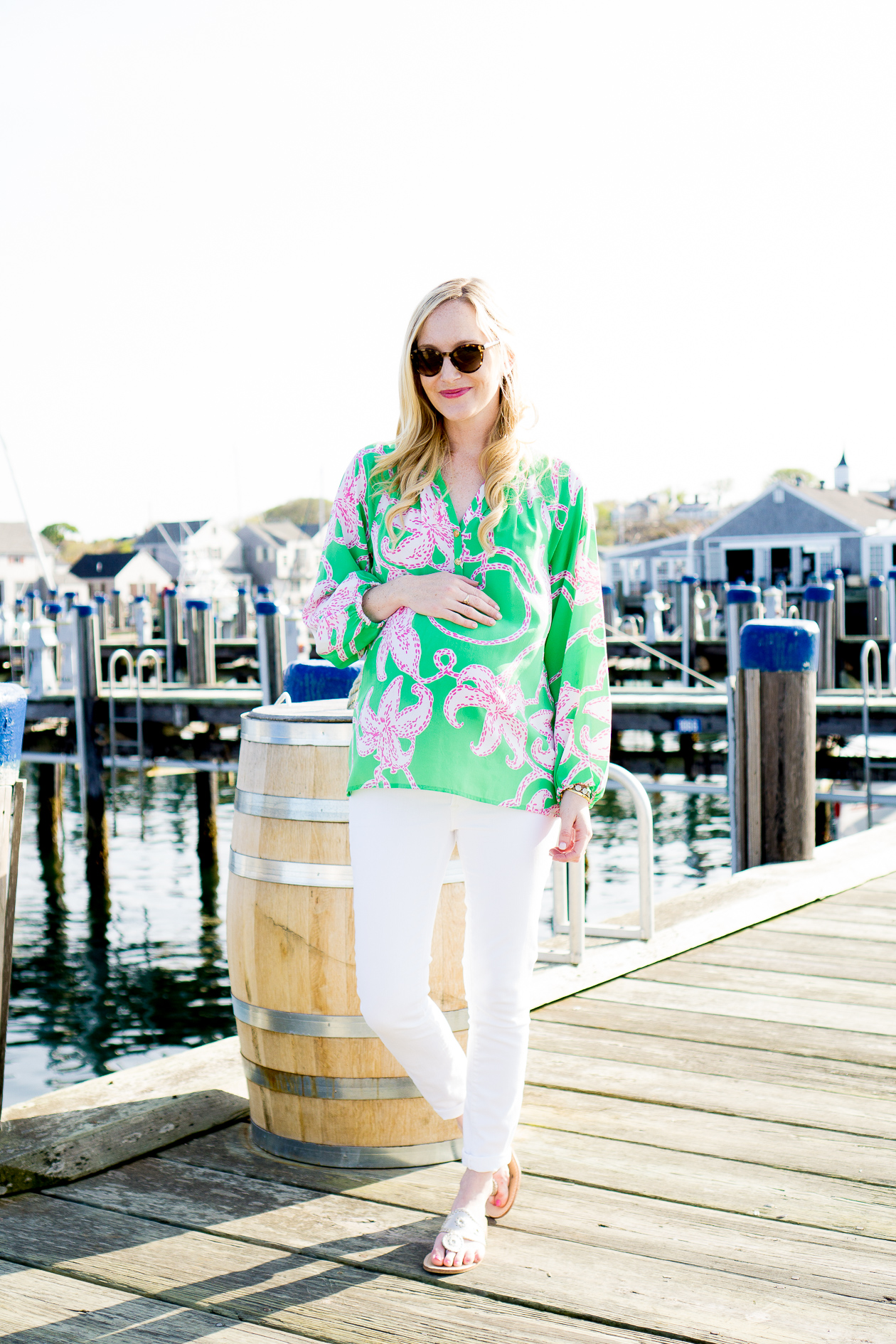 Lilly Pulitzer Elsa (Old, current Elsa tops here. You can also shop them via Zappos!) / Jack Rogers Sandals (These are on sale and they're so cute!) / Monica Vinader Bracelet c/o / J.Crew Jeans (Maternity version here) / Pearl Earrings / Similar Sunglasses
Hello from Nantucket! I'm a little exhausted right now, so I'm keeping today's post short and sweet. But, as promised, these photos were taken with the new mirrorless camera! I'm still learning it, and definitely messed up a few times. But for my first try, I'm pretty excited about the little guy! With any hope, I'll have more energy tomorrow, and will be able to talk at length about the experience.
Anyway, I just need to say how absolutely amazing my Auntie-M is. (Yes, I have an Auntie-M!) She worked at a Lilly Pulitzer signature store a few years ago when her kids went off to college, and has quite a few Elsa tops from those days. She loaned me a ton of 'em to get me through the rest of my pregnancy, and I'm SO grateful! (Love you, Auntie-M! Thank you!)
I'm still sticking to what I said in this post, but I'm really excited to have some cute clothing for the months of June and July. :) And I love that the tops are in prints that I don't really remember. So unique! I typically buy one or two Elsa tops per year–I swear they're the most flattering blouses ever created and worth every penny–and understandably, I know my Elsas by heart. But it's so fun seeing (and getting to wear) someone else's collection!
A huge thank you goes out to Dad for the photos. More snaps (of the rest of the fam) to come!
Happy Saturday, Friends!
Shop the post:
Lilly Pulitzer Elsa (Old, current Elsa tops here. You can also shop them via Zappos!) / Jack Rogers Sandals (These are on sale and they're so cute!) / Monica Vinader Bracelet c/o / J.Crew Jeans (Maternity version here) / Pearl Earrings / Similar Sunglasses