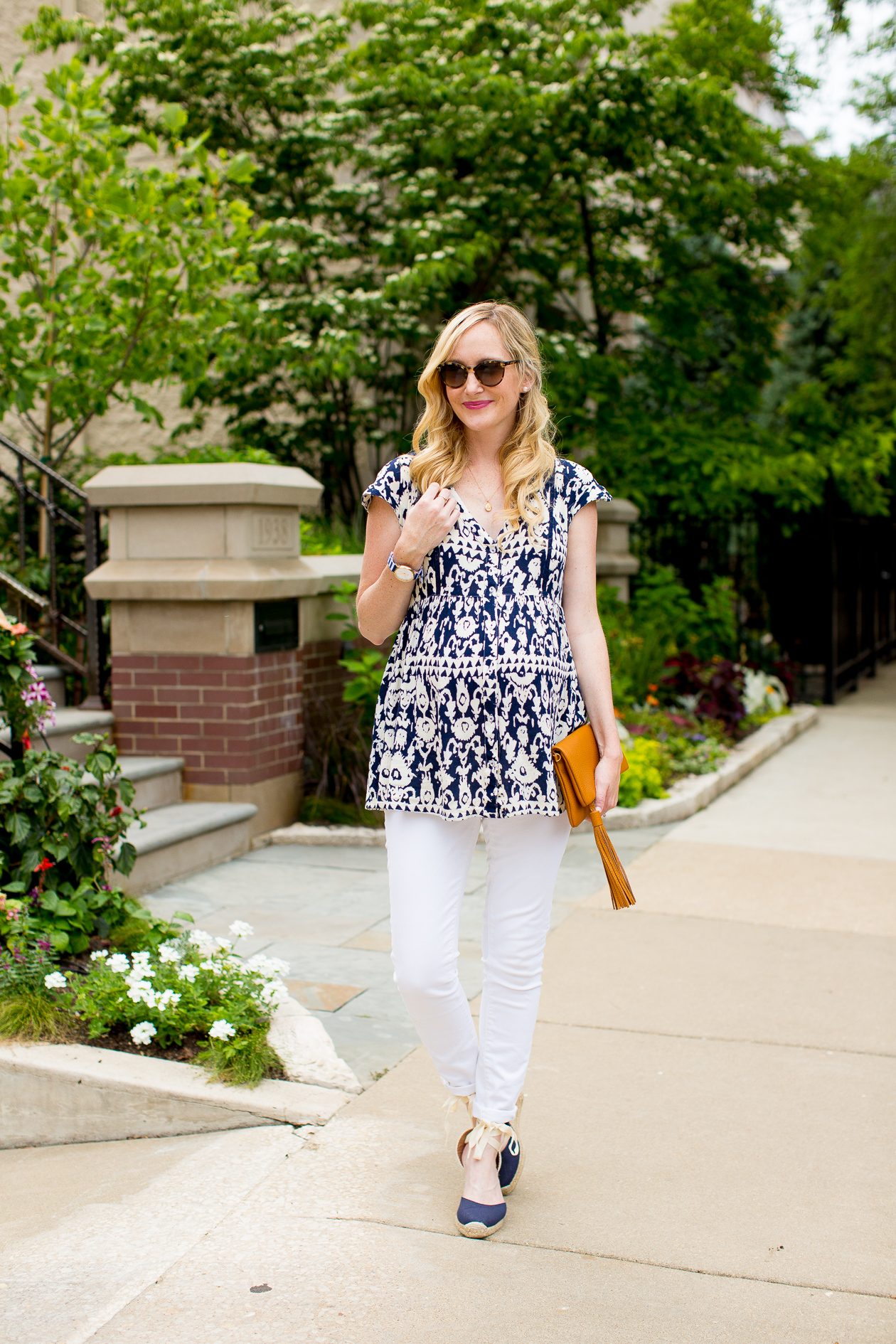 Anthropologie Top (I can't tell you how much I love this shirt! See how it looks on a non-preggo here.) / Timex Watch c/o / J.Crew Jeans (Maternity version here) / GiGi New York Clutch c/o (Don't forget to monogram it!) / Soludos Espadrille Wedges c/o (Also LOVE these!) / Similar Sunglasses / Helen Ficalora Necklace c/o (Similar here, and how cute is this?!) / Pearl Earrings

The Lilly Pulitzer "You Gotta Regatta" collection is back! Shop now before it sells out.
Guys! I went shopping. This is how it went down: I took the car in for an oil change, and Anthropologie just happened to be next store to the "oil change place." (Clearly the technical term.) I loved everything, and I regret ever having stepped foot in that establishment. ;) Sorry, Mitch.

The coolest part of my Anthro shopping trip? There were so many swingy options, perfect for both preggos and non-preggos! I'm a huge fan of finding "maternity clothing" that isn't actually maternity clothing, as it can be worn after the baby comes, too. (With the exception of things like pants and shorts. Let's be serious. No one's fittin' into regular pants, regardless of how forgiving they are, at 34 weeks!) Though seriously, how cute does my top look on the model?! Excited to wear it later this summer, too. Tip: I'm wearing a size small with the baby bump, so size down. It's meant to be loose, but it's definitely swingy and it runs large!

Above are some of the other Anthropologie finds I'm absolutely in love with right now. I also picked up this top, which I wore in this recent post, and I'm trying really hard not to purchase this top, this dress and this jumpsuit.
Anyway, today, I'm teaming up with Timex to give away the cutest summery navy-and-white striped watch, which I'm wearing in these photos and which I wore in this recent Ocean City post. Entering is super easy. Simply comment on this blog post, or follow the directions on any of the Timex Instagrams I post today or tomorrow! (You'll need to follow @kellyinthecity and @timex, like the photo, and tag a friend in the comments section.) Winner will be announced on social and on the blog in one week. :)
Good luck! And remember: you're halfway through the workweek.
Shop the post:
Anthropologie Top (I can't tell you how much I love this shirt! See how it looks on a non-preggo here.) / Timex Watch c/o / J.Crew Jeans (Maternity version here) / GiGi New York Clutch c/o (Don't forget to monogram it!) / Soludos Espadrille Wedges c/o (Also LOVE these!) / Similar Sunglasses / Helen Ficalora Necklace c/o (Similar here, and how cute is this?!) / Pearl Earrings