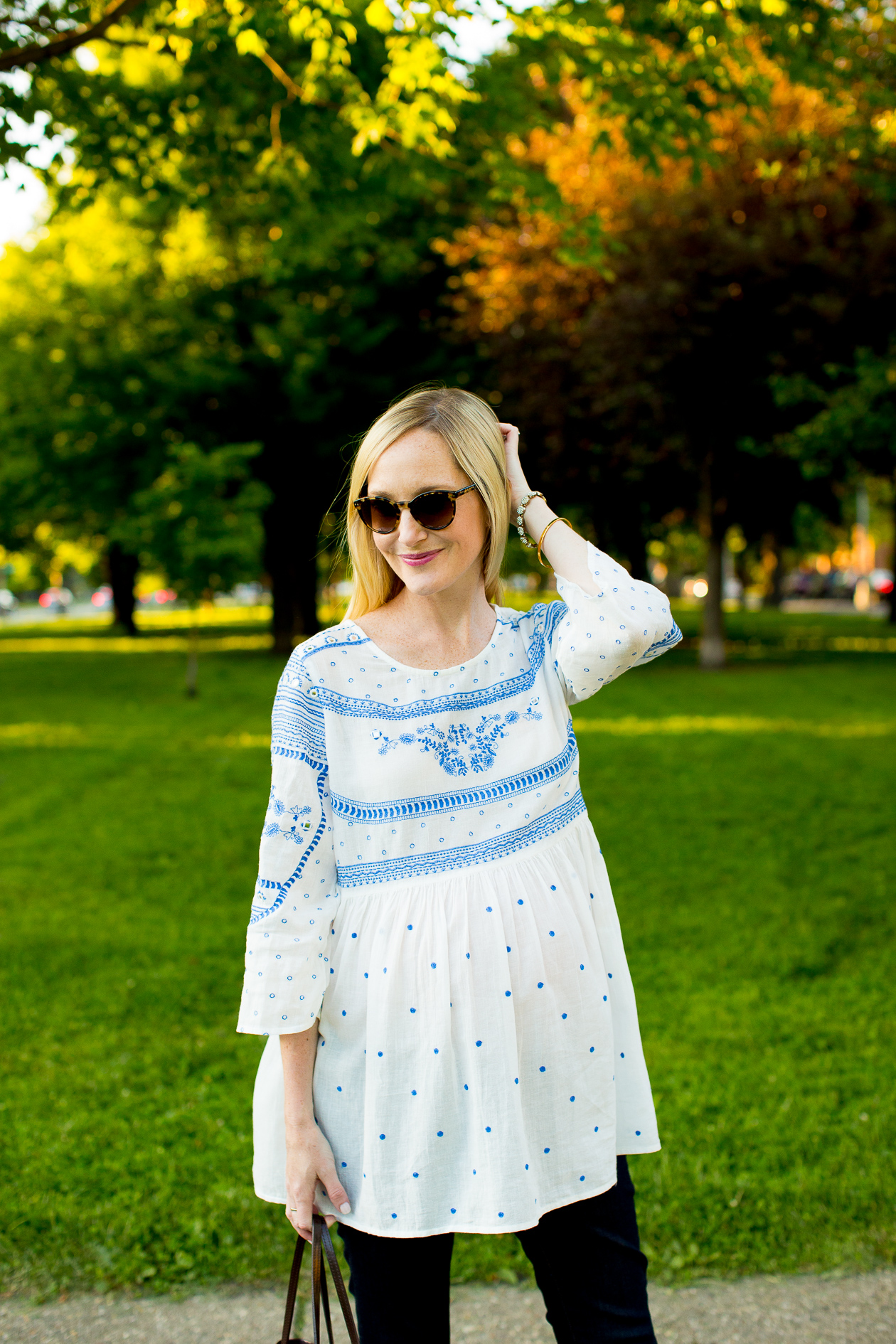 Anthropologie Top (Size down. Also picked up this one in blue! And be still, my heart.) / J.Crew Jeans (I'm wearing the maternity version) / Louis Vuitton Tote (Buy here, here or here. I have the "MM" size.) / Tommy Bahama Sandals c/o (Old, but I love this similar pair!) / Monica Vinader Bracelet c/o / Similar Sunglasses
Okay. I know I'm probably ridiculously full of hormones right now, but my heart is full. :) Yesterday, I went wedding dress shopping at Alice in Ivory and Glamour Closet with Jess, Blair and Shaheen, and it was so much fun. (Oh my goodness. I think things were so crazy during my travels on the East Coast that I think I neglected to share that JESS AND NEAL ARE ENGAGED! Cutest story ever. So happy for you guys! Love you both so much.)
I kind of knew I'd get emotional upon seeing Jess in a wedding gown, but holy tears. And sigh: we found some incredible dresses… one or two of which might be the dress. (I can't show you actual photos of Jess in the dresses, because I obviously don't want to ruin the surprise. But there are some great photos from our day at the bottom of this post!) Afterward, we celebrated at Summer House, and I ordered us ALL the food. Everyone got stomach aches except me, haha. (#ChampionEater) Sorrrrrry, guys. ;)
Later that night, we all attended a surprise party at Parson's Chicken and Fish in Logan Square for Trevor, Shaheen's husband, who recently completed his residency program. (Congratulations, Trevor! Have I ever told you about Mitch and The Sound of Music? Every time he catches a glimpse of it, he breaks his arm. It's happened FOUR TIMES. So, X-Ray Expert, the next time we find ourselves in this predicament, we're coming to you.) It was an awesome party, and the cake that Shaheen got from him (from Bake in Wicker Park) was insanely amazing! Scroll down to see pics.
Sigh.
I adore Chicago, I adore my Chicago friends, and I adore my life here. Is it perfect? No. I still desperately wish I could somehow combine my two worlds, and it's hard feeling both "away" and "home" at the same time. But yesterday–and last night–reminded me of just how fortunate I am to have my life here in the Windy City. Truly, Chicago has become a part of me. And to think: life here is about to get even better. :)
Side note: Apologies for my hair. I've given up this week, as I just don't have the energy in the morning. Whaaaatever! That said, I did go shopping recently, as a girl can't wear an Elsa every single day. ;) New top!
Shop the post:
Anthropologie Top (Size down. Also picked up this one in blue! And be still, my heart.) / J.Crew Jeans (I'm wearing the maternity version) / Louis Vuitton Tote (Buy here, here or here. I have the "MM" size.) / Tommy Bahama Sandals c/o (Old, but I love this similar pair!) / Monica Vinader Bracelet c/o / Similar Sunglasses