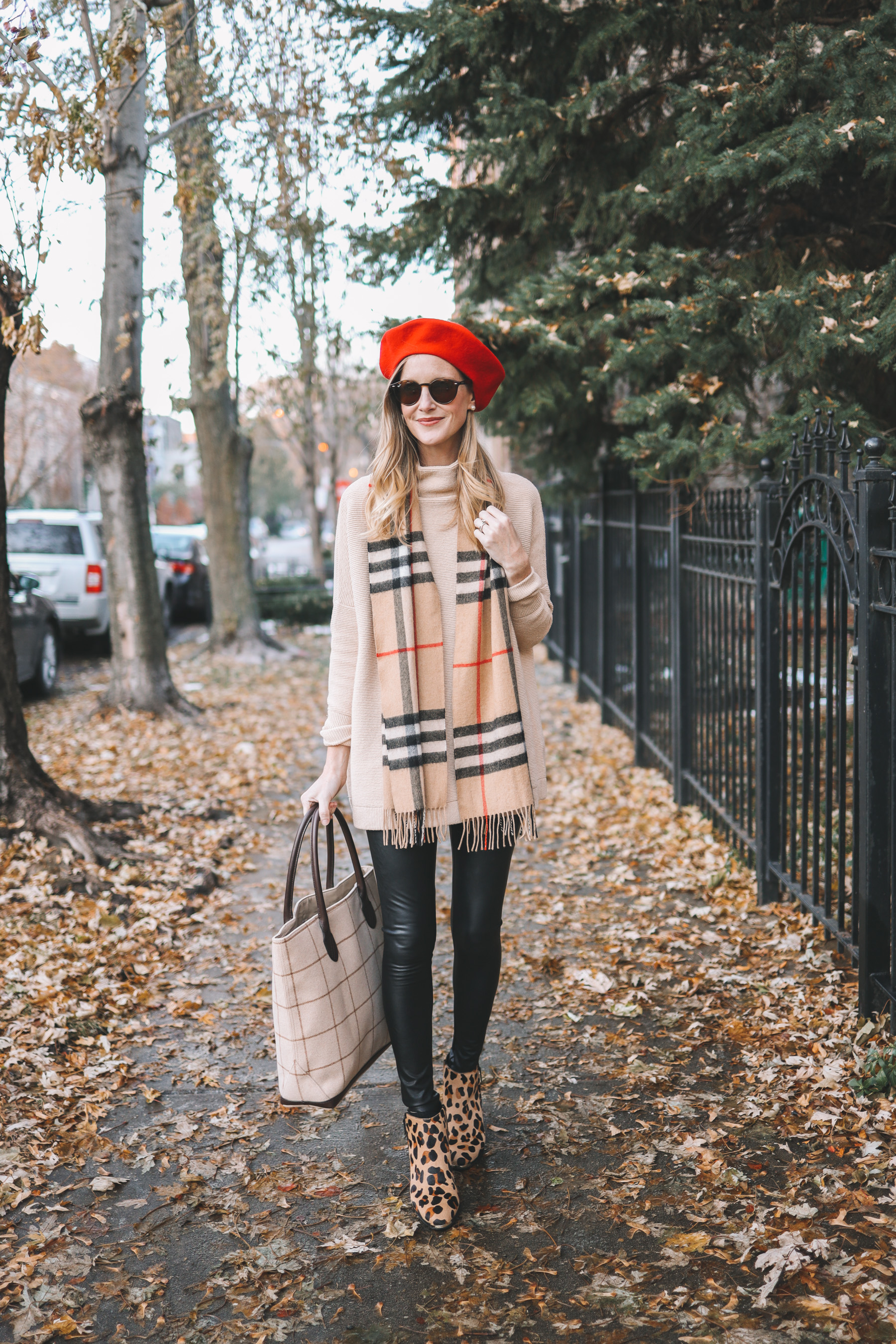 Oversized Sweater (Also available here and here.) / Wool Beret / Windowpane Tote / Faux Leather Leggings (Great for winter. I went up one size. These are more three-season leather leggings.) / Burberry Scarf / Sunglasses / Cole Haan Grand Ambition Leopard Booties (From yesterday's post! Also the biggest fan of these leopard pumps and these heeled leopard loafers. All are incredibly comfy!)
Man. I've been on a roll with the outfits this week. 😜
I obviously lean preppy, but having lived in New York and Chicago for the last 14 years, I also love a solid city look. Heck, whenever I head back to NYC, I try to only pack black/white/camel pieces because it's the urban uniform and it's wonderfully easy. So today, I'm here to talk to you about three of my most-loved staples that get me through city winters!
Side note: My beret looks pretty silly in the above photo–anyone else struggle to get a beret to lay just right?! 😂–but let's ignore that for now, haha. #fail
Here we go:
Oversized Sweater (On sale! Also available here and here): This sweater is everything, and it's on sale right now. It's ridiculously soft and kind of stretchy, and it makes you look chic but it feels like you're wearing your husband's most-loved sweatshirt. ;) I can't recommend it more. I'm ashamed to admit that I own like three or four of 'em, but I wear them SO OFTEN! It runs large so size down. I normally like my sweaters in a size small or medium, and I'm wearing a size XS here. I would recommend going down one size.
Faux Leather Leggings: Okay! There are two options here. In these photos, I'm wearing the Commando ones, which are a little warmer than the others out there. I reach for them on cold days and they do the trick, even in Chicago! In those, I go one size up. The other option is the Spanx faux leather leggings. They're probably the most popular, as they can be worn for three seasons. (Still warm; they just don't have the same brushed interior texture that the Commandos have.) This is weird, but I truly feel like you can't mess up the sizing with Spanx. I have a size large because I got them when I was pregnant, and they still totally fit… even though I'm no longer pregnant. Long story short, both pairs fit very similarly, and you'll love both. :) I don't have a preference in terms of quality or fit; I simply grab the Commandos when it's really cold.
Burberry Scarf: Besides my Neverfull, this is definitely my best investment piece purchase I've ever made. I've had it for years and wear it nearly every day. I've said this before, but it's almost silly that I own other scarves because I reach for my Burberry one so much! It's just so timeless and soft, and it seems to go with everything. (I LOVE the Heritage Stone one, too. My mom has it and it's gorgeous. Goes really well with gray coats and sweaters!)
In other news, yesterday was our LAST day with contractors in our home… so today, we're trying to put the house back together. We're thrilled. It honestly feels like move-in day! (Which is funny since I kind of missed the real move-in day because I was in the hospital having Lucy. 🙈) We're so happy with how everything came out–thank you, Kira David Design!–and all we can think and talk about is how many wonderful memories we're going to make between these walls. :)
Update post soon!
Happy Friday, Friends! xx
Shop the post:
Oversized Sweater (Also available here and here.) / Wool Beret / Windowpane Tote / Faux Leather Leggings (Great for winter. I went up one size. These are more three-season leather leggings.) / Burberry Scarf / Sunglasses / Cole Haan Grand Ambition Leopard Booties (From yesterday's post! Also the biggest fan of these leopard pumps and these heeled leopard loafers. All are incredibly comfy!)