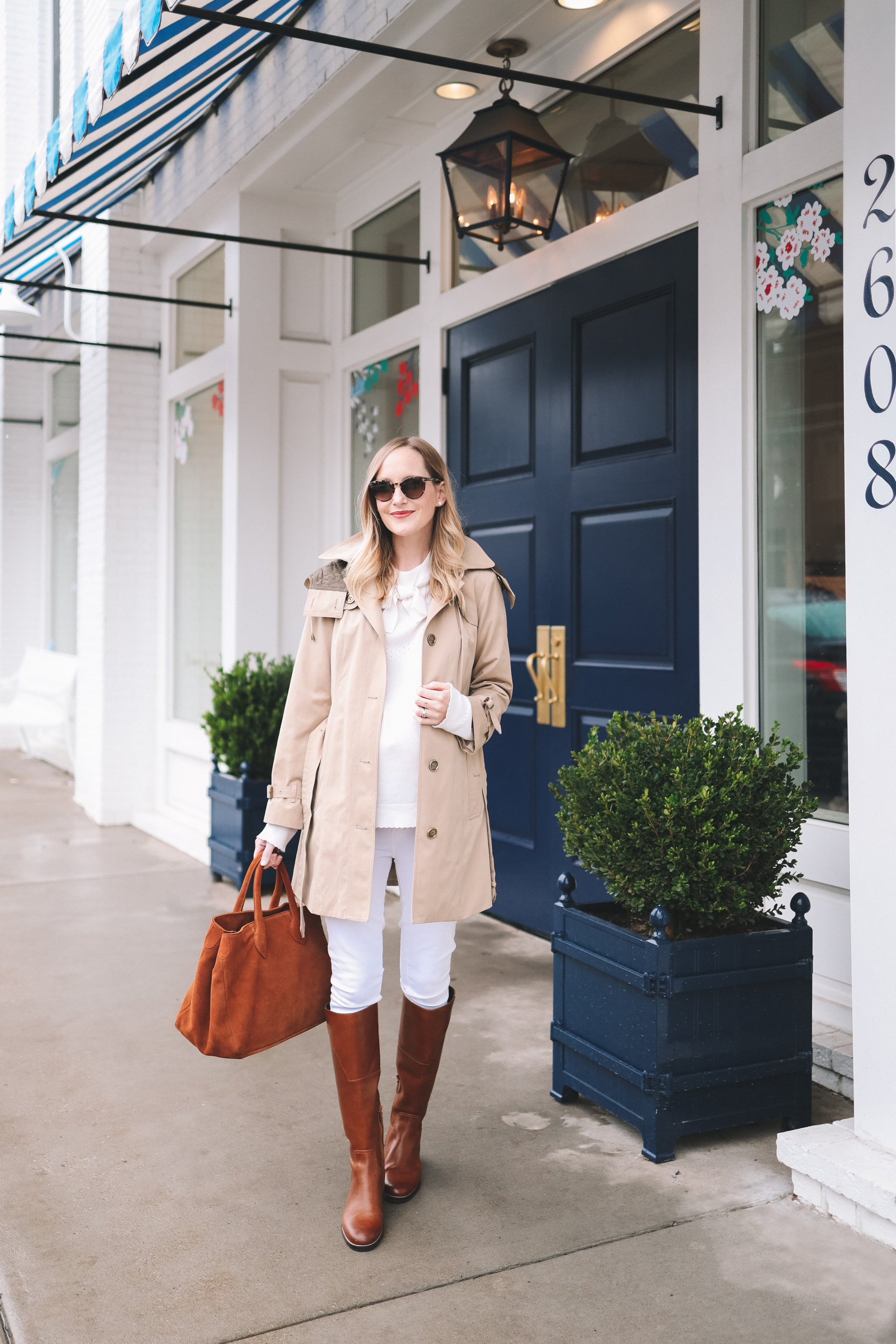 London Fog Trench Coat with Quilted Liner (Without quilted liner here. Longer version here. Another option: J.Crew's Classic Trench Coat!) / Draper James Bow Sweater (On sale! Check out Draper James' new arrivals here, though. I just bought this navy gingham dress and I'm head over heels for it!) / Cole Haan Riding Boots (On sale! Also available via 6pm.com.) / Mark & Graham Suede Elisabetta Tote (LOVE this tote. I also have the pink version, and I'm swooning over the navy.) / J Brand White Maternity Jeans (But guess what?! The Gap just came out with an affordable pair of low-panel white maternity skinnies. SO EXCITED!) / Similar Sunglasses Here, Here and Here
Mitch and I are headed to Rhode Island today for our babymoon!
I'm nine weeks out–still safe to travel, though I'm on "lockdown" once I return–and Visit Rhode Island graciously asked whether they could host us for our vacation. So here we are, and I'm thrilled. Since I'm super preg, we're going to take things nice and slow, and just spend some quality time together while soaking up all things coastal and New England. Emma, by the way, is staying with my in-laws down at their lake house. She, too, is thrilled. 😜 (I'm a little 😢 since we were just in Nashville without her… but I keep telling myself that we fly back for her on Monday, so it's not terribly long!)
The blog will still be up and running while we're away, but you can also follow along with us in real time on Instagram and Instagram Stories!
Anyway, sorry for the repeat backdrop in this post. (You may remember it from Sunday's post, too.) But I went back to Draper James right before we left Nashville to make a return, and was like, "Heck, LET'S DO THE STRIPED WALL AGAIN." 😂 My childhood bedroom was covered in this Laura Ashley wallpaper, so I just couldn't resist, haha. A little bit of happiness on a drizzly March day, and a bit of a walk down memory lane!
This trench, though. That's the whole point of this post. ;) I'm here to tell you that it's the best trench coat in the world, because it's actually warm. (I have the old single-breasted version, but the newer double-breasted one is cuter, anyway.) It has a removable quilted liner and hood that somehow don't add bulk, but make the coat SO warm. Like, I'm the biggest baby in the world, and I wore my coat in 30- and 40-degree weather without complaint. HUGE fan. (Note: It does, however, come in non-quilted versions for those of us who are blessed to live in more temperate regions of the country. Nordstrom carries so many!)
In regard to sizing, it's pretty spot on. Of course, I can no longer button my trench because of the basketball I'm smuggling underneath, but I went with my normal size and it's great. Perhaps a little on the roomy side, but that's preferred since I tend to wear sweaters underneath. Definitely don't size up; I'd simply go with your regular size. (For reference, I normally take a size 2 in J.Crew coats, and I went with a size XS in the London Fog trench.)
While it doesn't have a liner, it's a classic, and you really can't go wrong with it! I recently bought it in navy gingham, though it hasn't yet arrived. :) I also love Abercrombie's Drapey Trench, which I have in light pink. Isn't the yellow–which is new this year–super cute?!
If you're dead set on the London Fog trench, though, check back with Nordstrom frequently. It comes back into stock regularly–almost on a daily basis! You just need to pounce when you see it in your size!
xoxo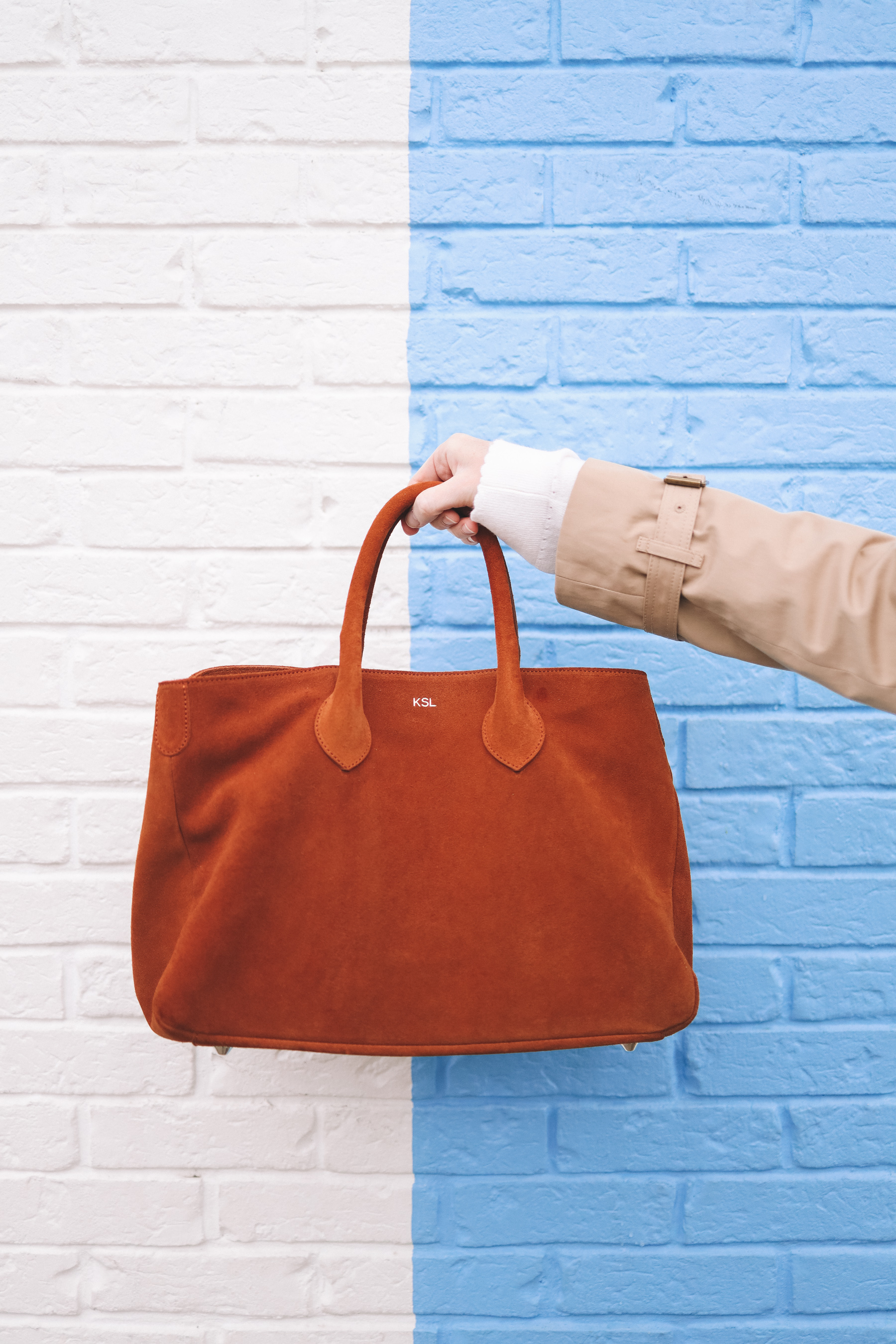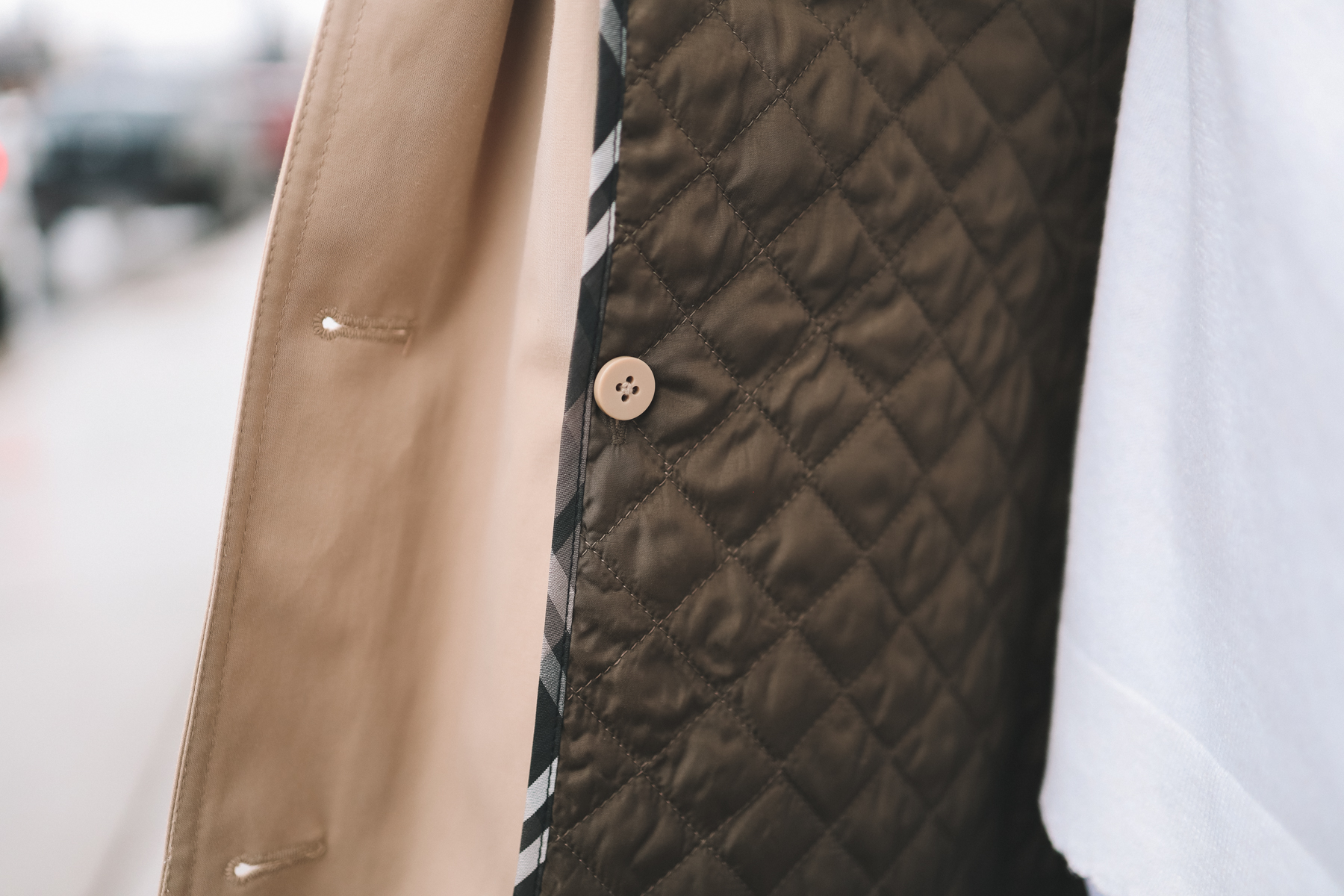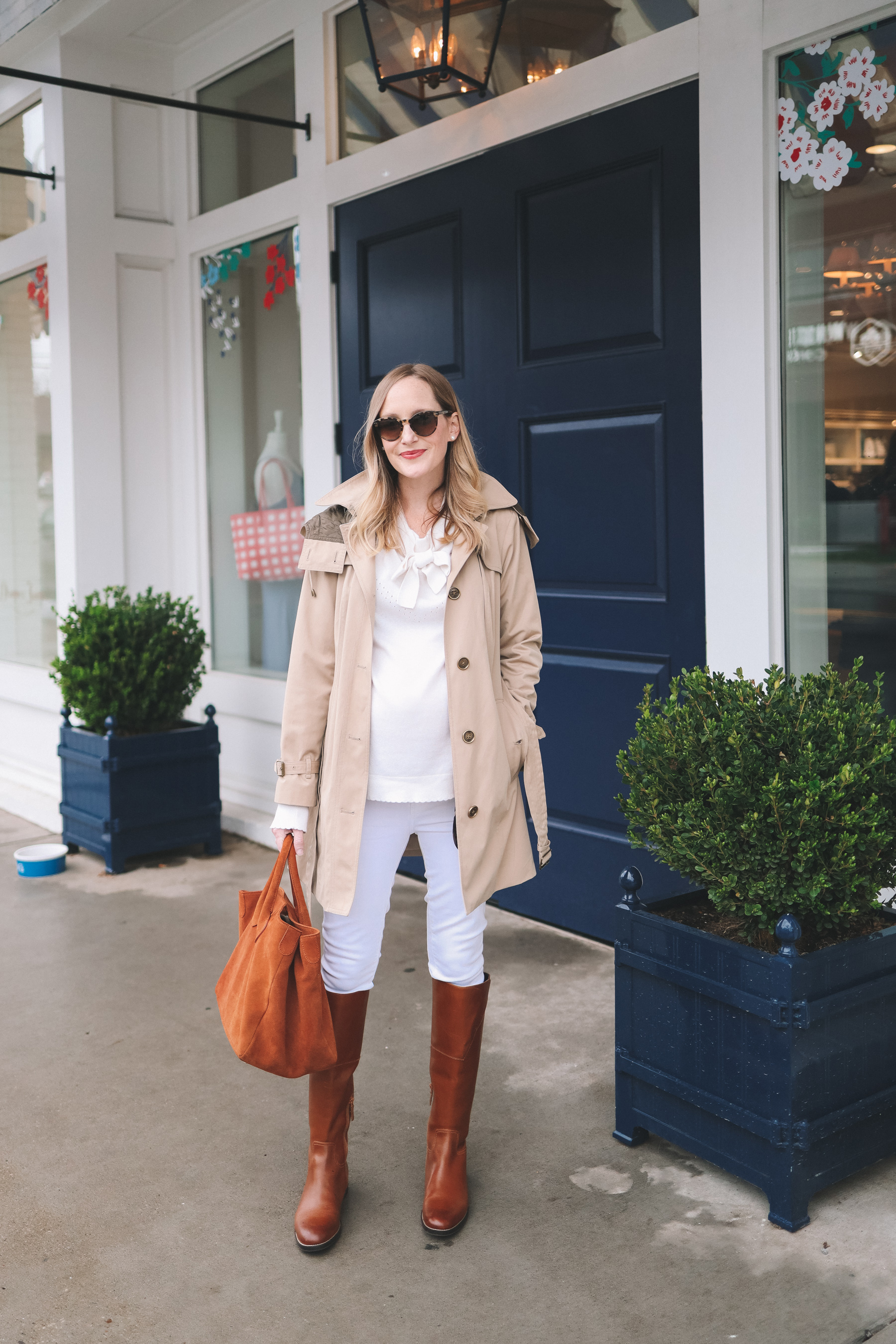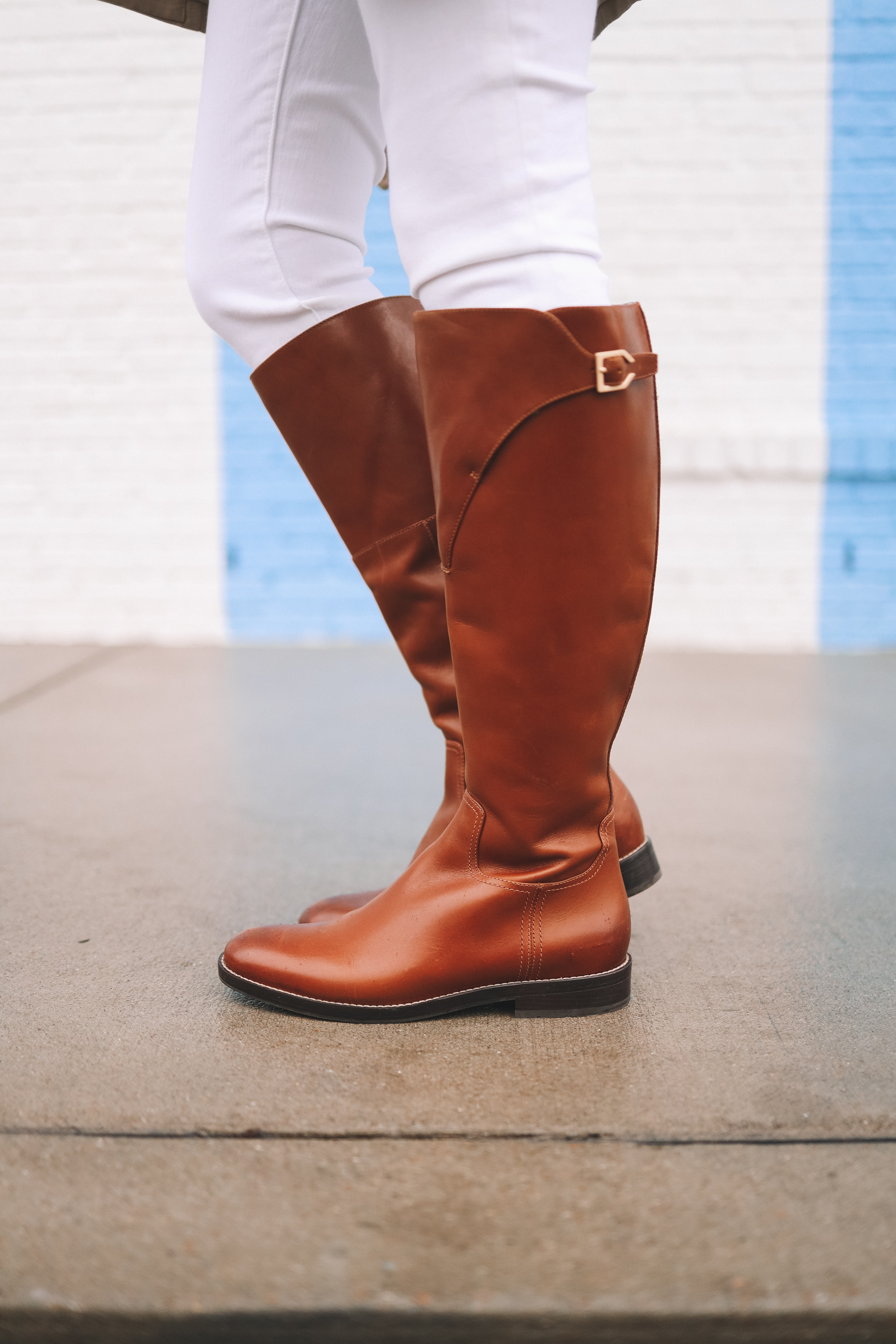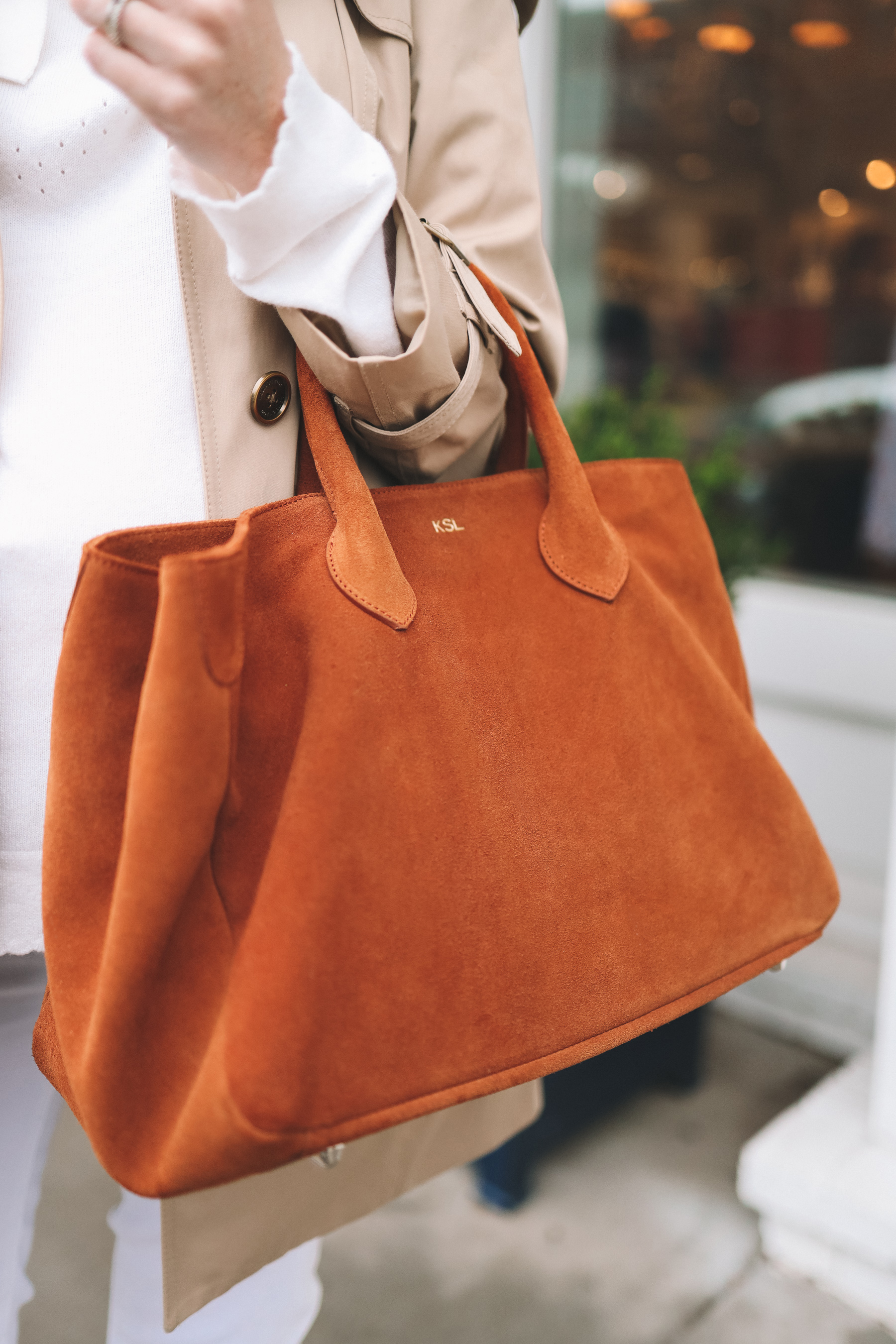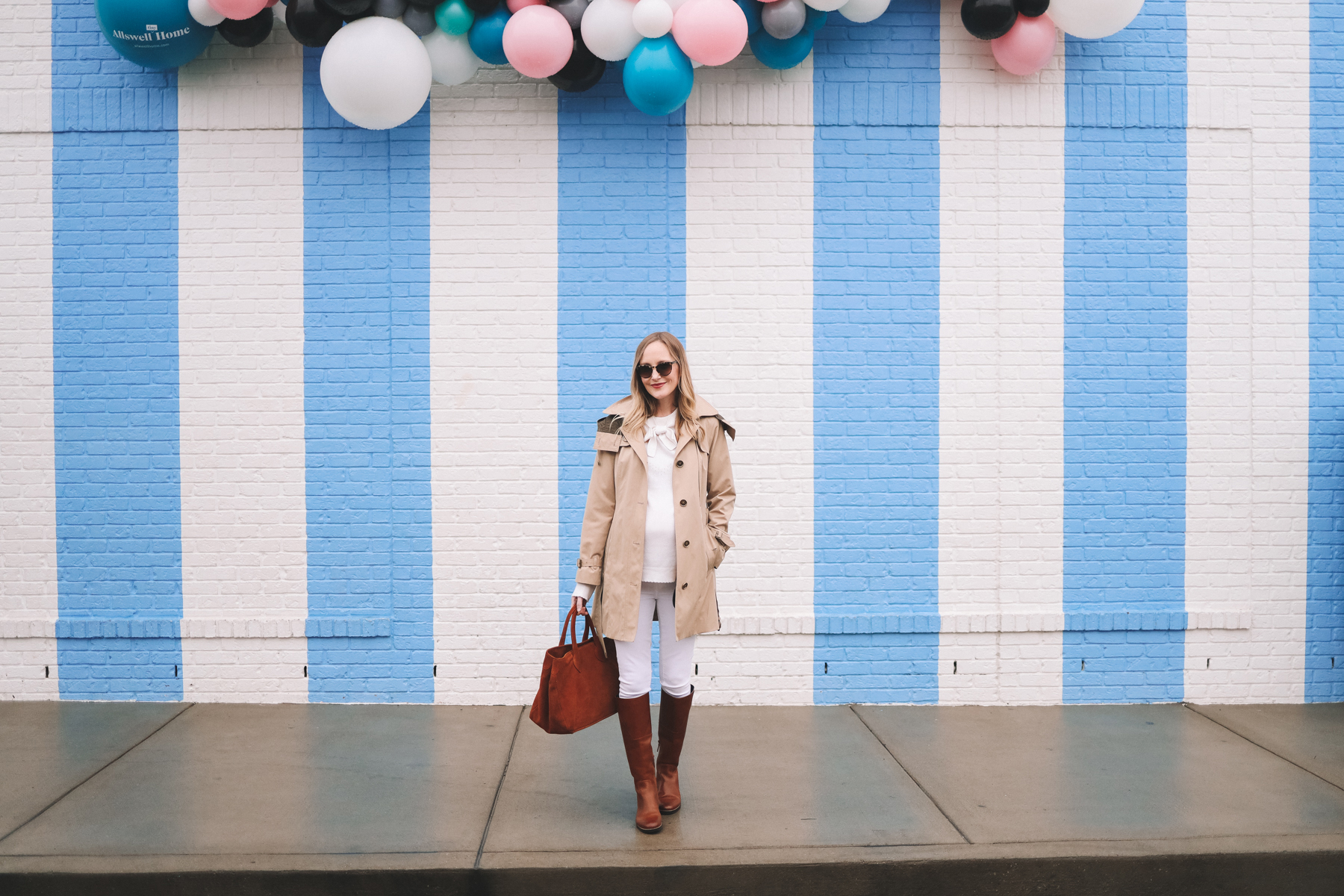 Shop the post:
London Fog Trench Coat with Quilted Liner (Without quilted liner here. Longer version here. Another option: J.Crew's Classic Trench Coat!) / Draper James Bow Sweater (On sale! Check out Draper James' new arrivals here, though. I just bought this navy gingham dress and I'm head over heels for it!) / Cole Haan Riding Boots (On sale! Also available via 6pm.com.) / Mark & Graham Suede Elisabetta Tote (LOVE this tote. I also have the pink version, and I'm swooning over the navy.) / J Brand White Maternity Jeans (But guess what?! The Gap just came out with an affordable pair of low-panel white maternity skinnies. SO EXCITED!) / Similar Sunglasses Here, Here and Here