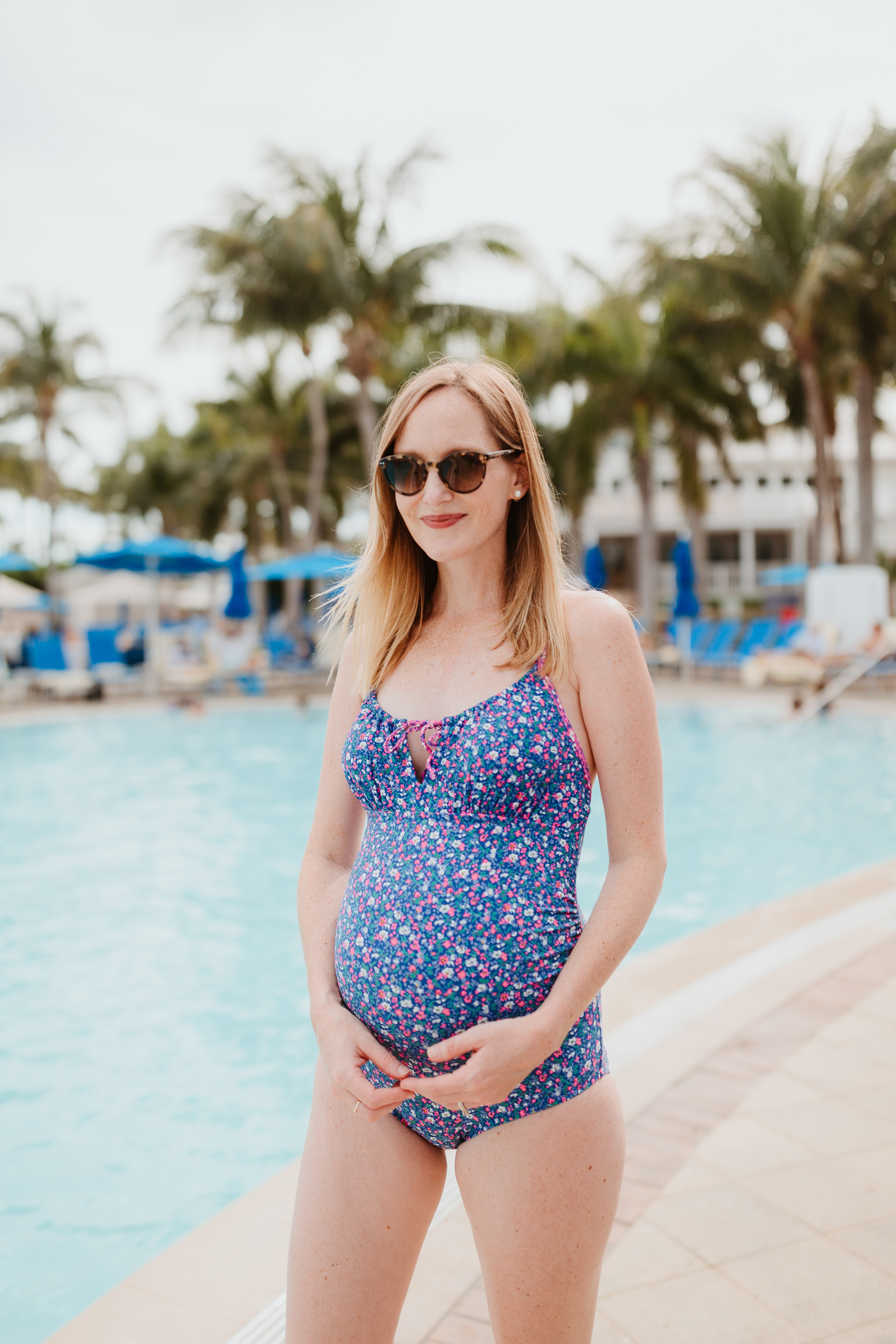 I suppose because we're now officially less than a week away from Spring (!), I've been getting a good number of requests for maternity swimsuit recommendations! I know, I know: Finding a suit that makes you feel confident while pregnant might sound impossible. Or like torture. 😜 But whether you're going on a vacation, blessed to live in a warm climate, or simply swimming in your gym's pool, there really are a lot of options–and you're bound to feel cute in one of these!
I don't have any additional warm weather plans before Baby #2 arrives, but if I did, my eye would be on this one and this one. I obviously love stripes SO much, haha, but they're not exactly flattering in the third trimester. This suit though, features vertical stripes, proving that it was actually designed by a woman who's been pregnant before. 😉 Isn't it pretty?! Love that it would totally work for postpartum as well. Another swimsuit print I love is polka dots. This navy and white polka dot number is so classic and this colorful polka dot one is so fun. If you're looking for a pop of color, I love this floral print suit and this color blocked ruffle option. 
For my trips this year, I relied heavily on Gap's maternity swim section, as I've always loved the brand's non-maternity swimsuits, too. You also can't go wrong with a flattering, basic, black suit, because they're classic staples. No one will notice if you wear them again and again!
For sizing with maternity bathing suits, I always go one size up to ensure maximum comfort. And this approach hasn't failed me yet. No one wants pulling and tugging from the inside and outside… am I right?! ;)
Hope this is helpful! If you know of any adorable maternity swimsuits that I missed, please let us know!
Shop more of my favorite maternity suits below!
Cute & Preppy Maternity Swimsuits

You might also like, 30-Piece Maternity Capsule Wardrobe.