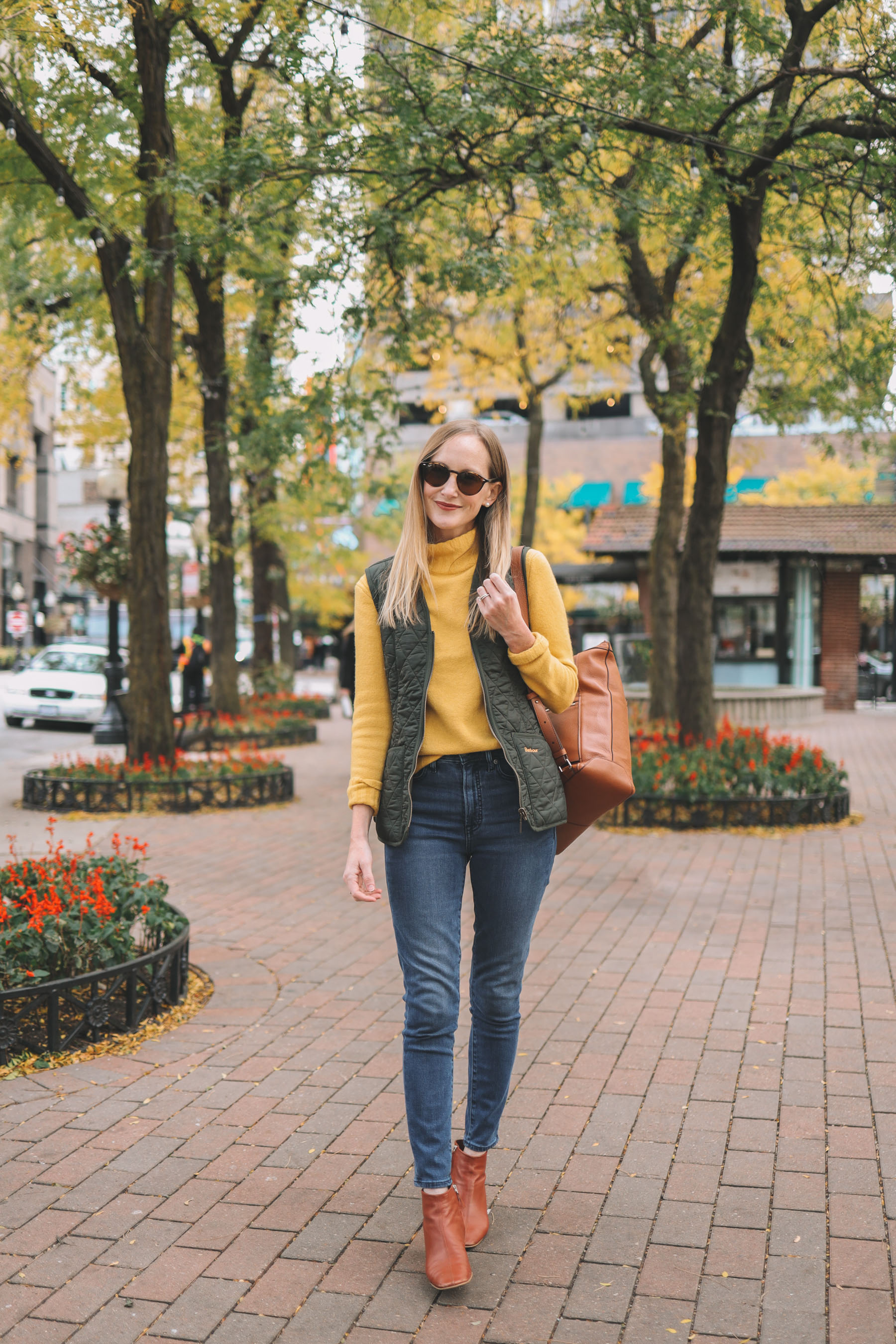 J.Crew Mock Neck Sweater in SuperSoft Yarn (It comes in a ton of colors! So many other great "SuperSoft Yarn" options, too! Love this fair isle sweater, this color block sweater, and this cardigan.) / Barbour 125th Anniversary Icons Beaufort Jacket (Also available via Tuckernuck) and Fleece-Lined Betty Vest c/o (Available at Tuckernuck, too. It zips into most Barbour jackets! I also LOVE this Barbour vest and this one as well. c/o — Btw: My favorite Barbours of all time are the classic waxed Beadnell and the polar-quilted Beadnell.) / Cole Haan Leather Backpack c/o / Softest Everlane Leather Boots / Ray-Ban Sunglasses
Quick post today but an important topic:
Sorry. I'm yelling. But it's really that great!

As someone with sensitive skin, the SuperSoft line–currently 40 percent off with code "FAMILY"–is a gift from the gods. It's wonderfully warm but SOFT. Like, we're talkin' zero itch. It's basically a cloud hug.
Right now, I only own this one sweater (which runs TTS). But I totally want it in white, navy, black and camel so I can pair it with all my outfits this winter. 😂 (It looks GREAT French-tucked into pants, which is part of the reason I'm so obsessed with it!) I also have my eye on this fair isle sweater, this color block sweater, and this cardigan–all of which feature that lovely SuperSoft yarn. Conveniently, though, J.Crew is having its monster sale right now… so everything's a deal!
On yet another unrelated note, we snapped these photos a couple of weeks ago when Chicago public school teachers were on strike. We obviously wanted things resolved as quickly as possible for teachers, students and families alike… but I'll admit that I was grateful for this day with the girls. I was weirdly not that behind on work at that point, yet had some work-related errands to run downtown. The fam tagged along and we had lunch in the Ranch Triangle. And it was just one of those afternoons during which the kids were happy, the weather was perfect, and the food was fantastic.
Here's a family pic from the day!
I'm currently in New Orleans celebrating Thanksgiving early with the fam, so gotta run. In the meantime, though, following along with us via Instagram/Stories + don't forget: the SuperSoft line is on sale! It's a game-changer. 😜
Shop the post:
J.Crew Mock Neck Sweater in SuperSoft Yarn (It comes in a ton of colors! So many other great "SuperSoft Yarn" options, too! Love this fair isle sweater, this color block sweater, and this cardigan.) / Barbour 125th Anniversary Icons Beaufort Jacket (Also available via Tuckernuck) and Fleece-Lined Betty Vest c/o (Available at Tuckernuck, too. It zips into most Barbour jackets! I also LOVE this Barbour vest and this one as well. c/o — Btw: My favorite Barbours of all time are the classic waxed Beadnell and the polar-quilted Beadnell.) / Cole Haan Leather Backpack c/o / Softest Everlane Leather Boots / Ray-Ban Sunglasses