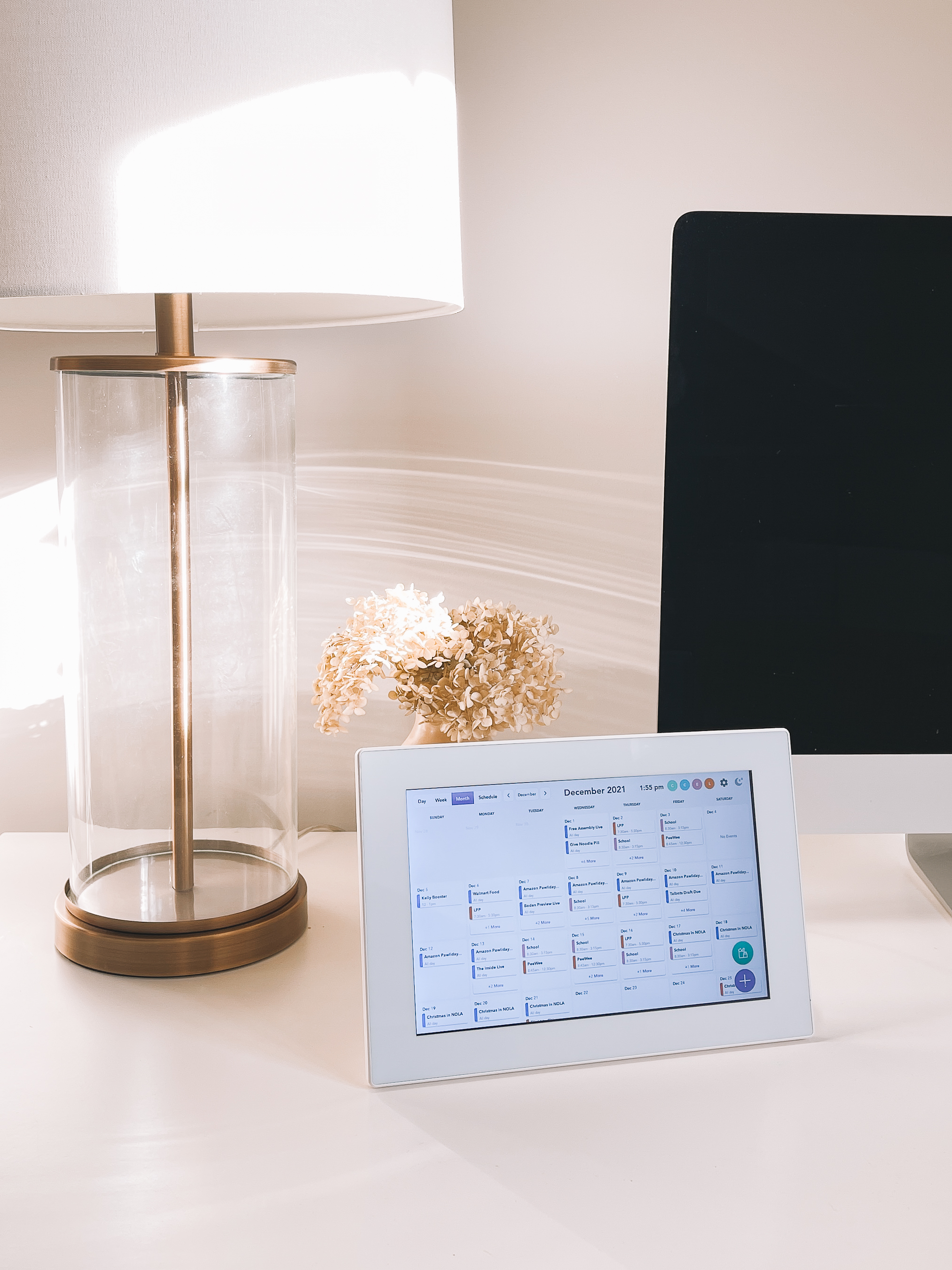 Mitch here!
We live crazy lives, and I could use some help managing our two kids' school schedules, activities, sport, playdates and birthday parties; our two small businesses and their tight deadlines and seasonal chaos; and countless holiday events and gatherings—all while trying to carve out a little bit of time for myself. (Ha.) Luckily I've found the new Skylight Calendar, which has simplified our scheduling to a degree that I didn't know was possible. And I want to sing its praises from the the mountaintops. (Use code KELLYINTHECITY for $10 off orders of $100 or more!)
The Skylight Calendar is the answer to the age old question: How the heck am I supposed to keep my family's crazy schedule straight?!
Kelly is a visual person and likes to keep schedules that are tactile and always visible. Until recently, this meant a giant whiteboard calendar that lived on her desk, and that no one could access unless in her office. I, however, live in 2021 😉 and prefer digital calendars that I can update on the fly and manage from anywhere. So my job was finding something that worked for both our personality types!
The Skylight Calendar was—and continues to be—just the solution. It syncs with all of our various Apple, Google and Outlook calendars, and presents them in an elegant, "always-on" package. The Calendar is classy-looking, too, with high-quality white frame and molding surrounding a crisp and natural 10″ screen. The frame color-codes each of our various calendars to make the whole mess simpler to understand, and having an always-on calendar out in the open for everyone to see has been a true game changer. (We have one on Kelly's desk and then another in the kitchen.)
Even better, the Skylight has to-do lists, grocery lists, and meal planning functionality, all of which I just love. The result is a great-looking digital calendar that Kelly actually prefers to her giant whiteboard. (She actually threw the whiteboard out last week! It's a miracle!) And I, in all my dorkiness, can push new events and calendar adjustments to the device from my Google account, my Apple devices, or the handy Skylight phone app.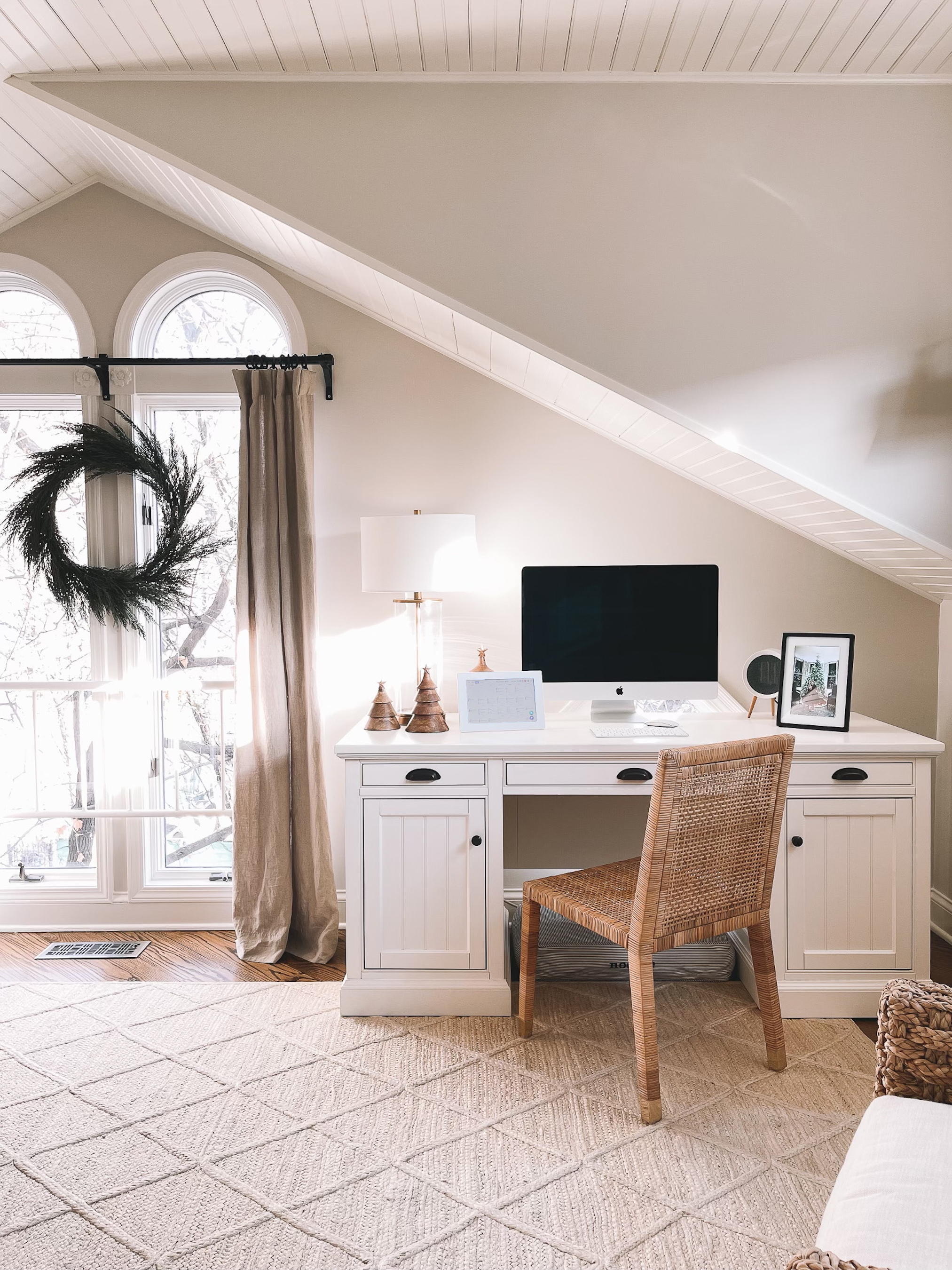 (Use code KELLYINTHECITY for $10 off orders of $100 or more!)
Skylight is famous for its incredible digital frames. I mention this because either the Skylight Frame or the Skylight Calendar would be an amazing holiday gift. The Frame ships in a classic black frame and white molding and is a natural fit for any room in one's home. Kelly's commandeered the Frame for her desk because she loves it so much, but I'm interested in getting on for my desk, too!
You can send images to the Skylight Frame with the Skylight app or with email via a unique email address associated with each frame. I prefer the app while Kelly prefers the email address, and we both have a lot of fun updating the Frame. I surprise her all the time with photos of the girls that I've taken on my phone! It's a fun little thing. And that's part of the reason the Frame makes such a great gift: Anyone with the email address can send images as well. (Kelly got her Grammie one last year for Christmas, and she STILL sends photos on the reg! Gram loves it.)
Oh, the Skylight Calendar and/or Frame arrives in 5 days which is plenty of time for gifting. Even better, the Skylight Calendar functions as a Frame at no extra charge!
The Skylight Calendar has honestly changed the way we run our family and I couldn't recommend it enough. If your family is like mine, and your, um, spouse is in desperate need of a little digital update in her life, I'd mash that buy button immediately.
As always,
Mitch. OUT!
(Remember: Use code KELLYINTHECITY for $10 off orders of $100 or more!)