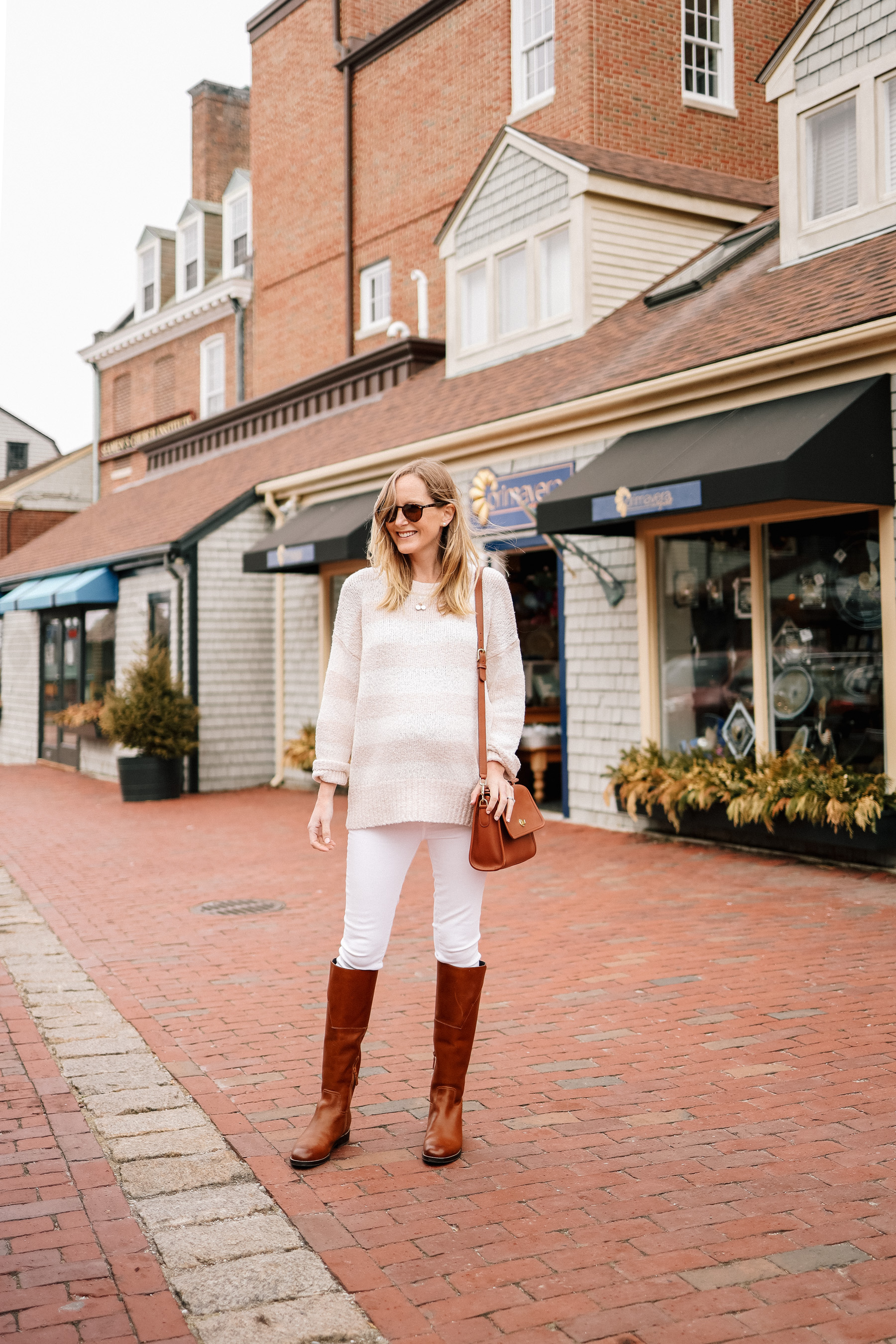 The Softest Striped Sweater (Non-maternity! You can also find it here. It's oversized. I went up one size for pregnancy; if you're not pregnant, order your normal size or one size down depending on how you like your sweaters to fit.) / Mark & Graham Monogrammed Necklace (The BEST Mother's Day gift. So affordable, too!) / Cole Haan Riding Boots (On sale! Also available via 6pm.com.) / Coach Court Bag (Also love the Willis style.) / J Brand White Maternity Jeans (But guess what?! The Gap just came out with an affordable pair of low-panel white maternity skinnies. SO EXCITED! For non-maternity white skinnies, I would also look into these budget-friendly jeans from BlankNYC that I own and love, and these pull-on jeans from Liverpool.) / Similar Sunglasses Here, Here and Here
I slipped into this comfy-cozy outfit several times during our babymoon in Newport, Rhode Island. It was a chilly long weekend with bouts of drizzles, but this non-maternity (super soft) striped sweater from Lou & Grey (available at Nordstrom and Lou & Grey!) saved me. Okay, and so did the many bowls of clam chowder I consumed. ;)

Other cozy springtime sweaters from Lou & Grey that I love!
Continuing on with that thought, I really can't recommend it more. I love that it's keeping me warm now, during this transitional time, but it'll also be perfect for nights on the beach this summer. One note, though: It's oversized. I went up one size for pregnancy, but if you're not pregnant, order your normal size or one size down depending on how you like your sweaters to fit!
This is the BEST Mother's Day gift. You can't see the "M" in the photo, but I have the "K," "M" and "E" charms. (Several friends have it with just one initial, too!) Mitch picked this out for me for Mother's Day last year, and I cried. And then I gave it my mom, my mother-in-law, and my sister-in-law with their grandchildren's/children's names. You simply can't go wrong with this one; it's sentimental yet affordable… and the quality is awesome! (Mine still looks new.)
Without a doubt, these are the best riding boots I've ever owned. They're just so classic… and I can walk miles in 'em without pain. They don't have that weird material at the base that always seems to dig into my ankles, AND they're currently on sale! Also available via 6pm.com.
Another timeless piece I'll always have in my closet! My parents gave me this years ago, but you can find vintage bags on eBay. (Actually, here's my guide on how to find the best ones… and restore them if necessary!) Also love the Willis style.
Okay, so these are definitely my favorite white skinny maternity jeans, but they cost a small fortune. (Worth it, though, if you're only going to buy a few pairs of jeans!) But guess what?! The Gap just came out with an affordable pair of low-panel white maternity skinnies. SO EXCITED! For non-maternity white skinnies, I would also look into these budget-friendly jeans from BlankNYC that I own and love, and these pull-on jeans from Liverpool.
Ugh. The saddest thing happened recently; my favorite sunglasses–the only ones I wear on this blog and in life–SNAPPED IN HALF. I'm now wearing this pair from Ray-Ban which are great and look almost identical, but I'm still heartbroken, haha. My old ones are called the "Kate Spade Rory" and I've had them since 2012, I believe. If anyone can find a pair, please let me know! 😂
xoxo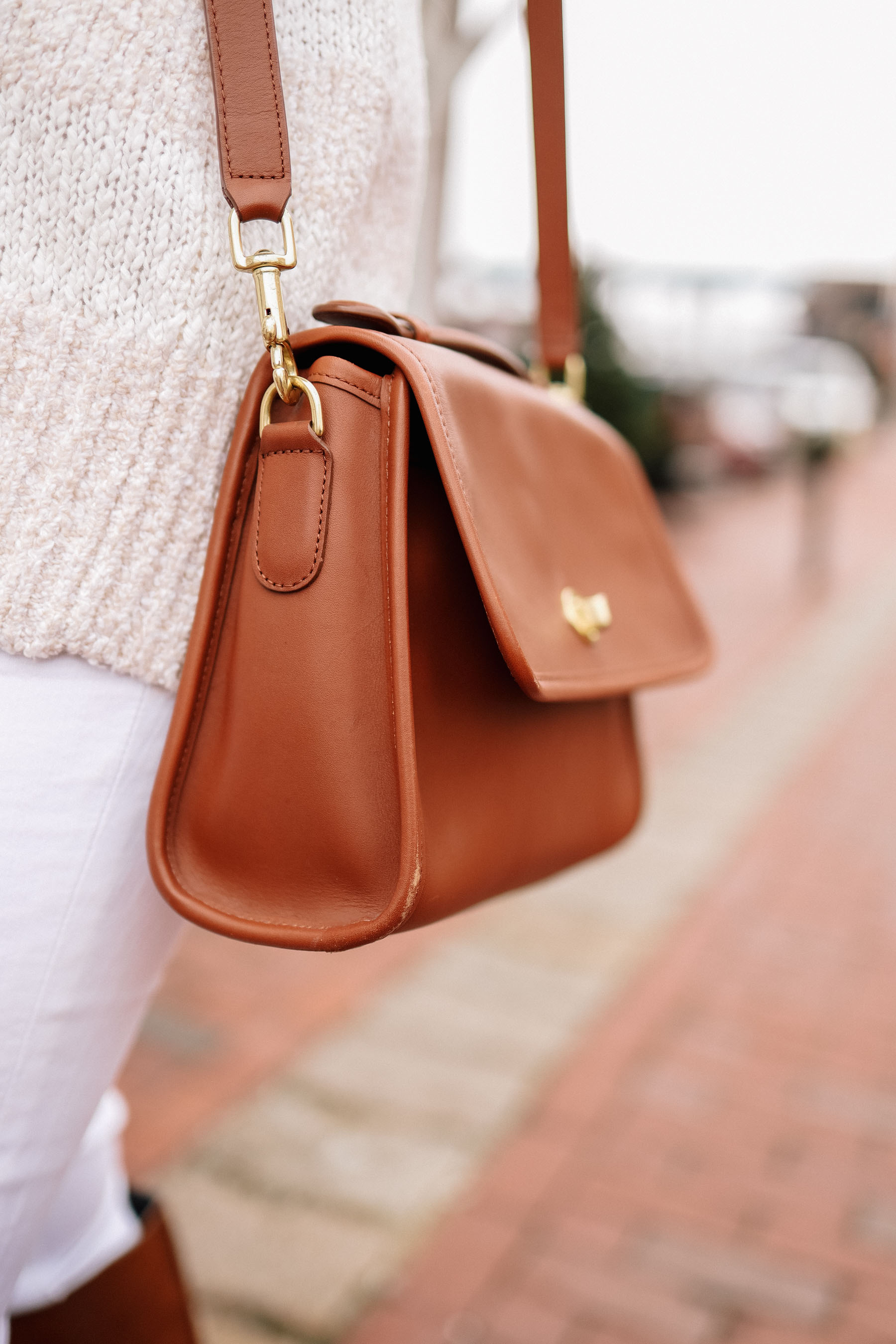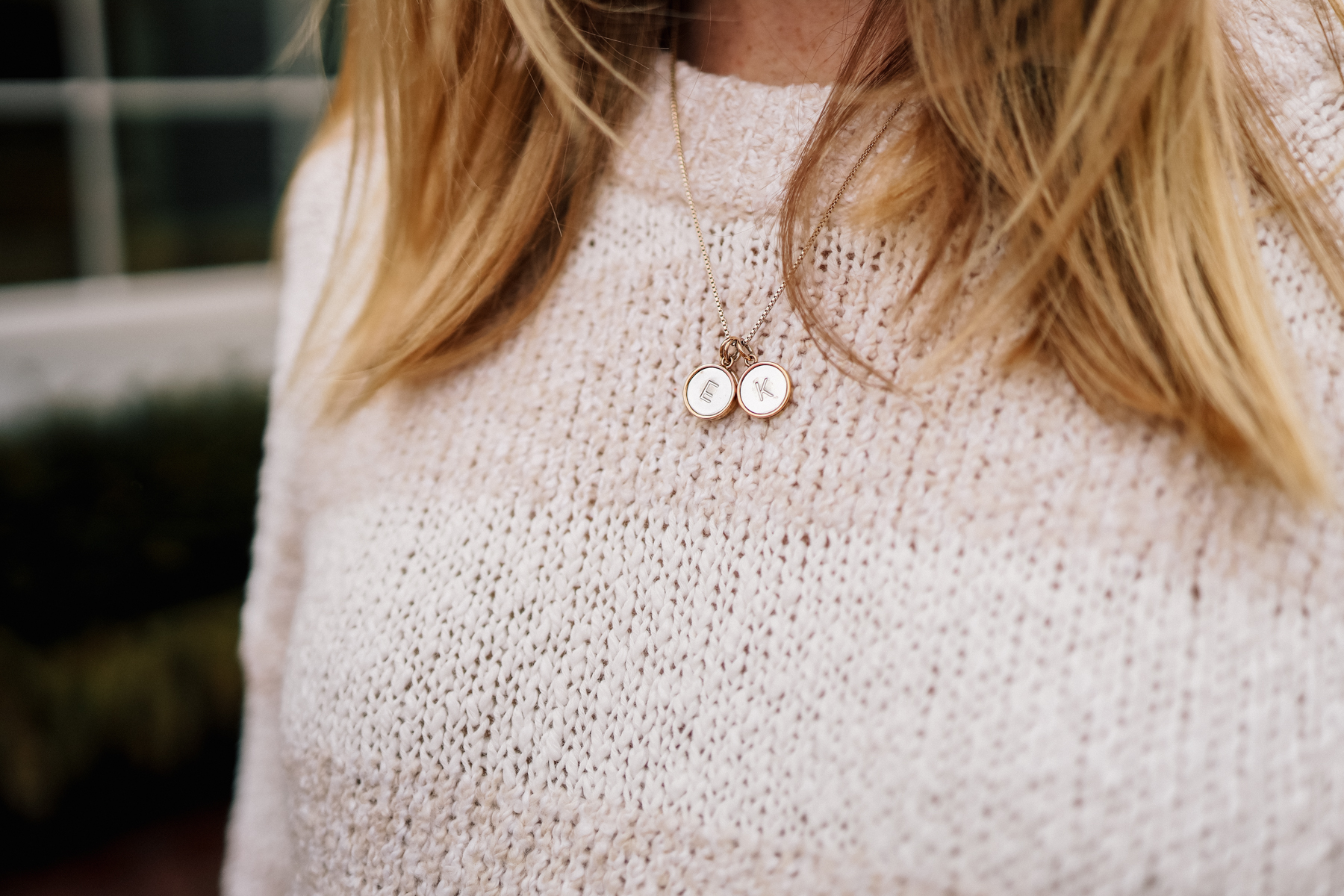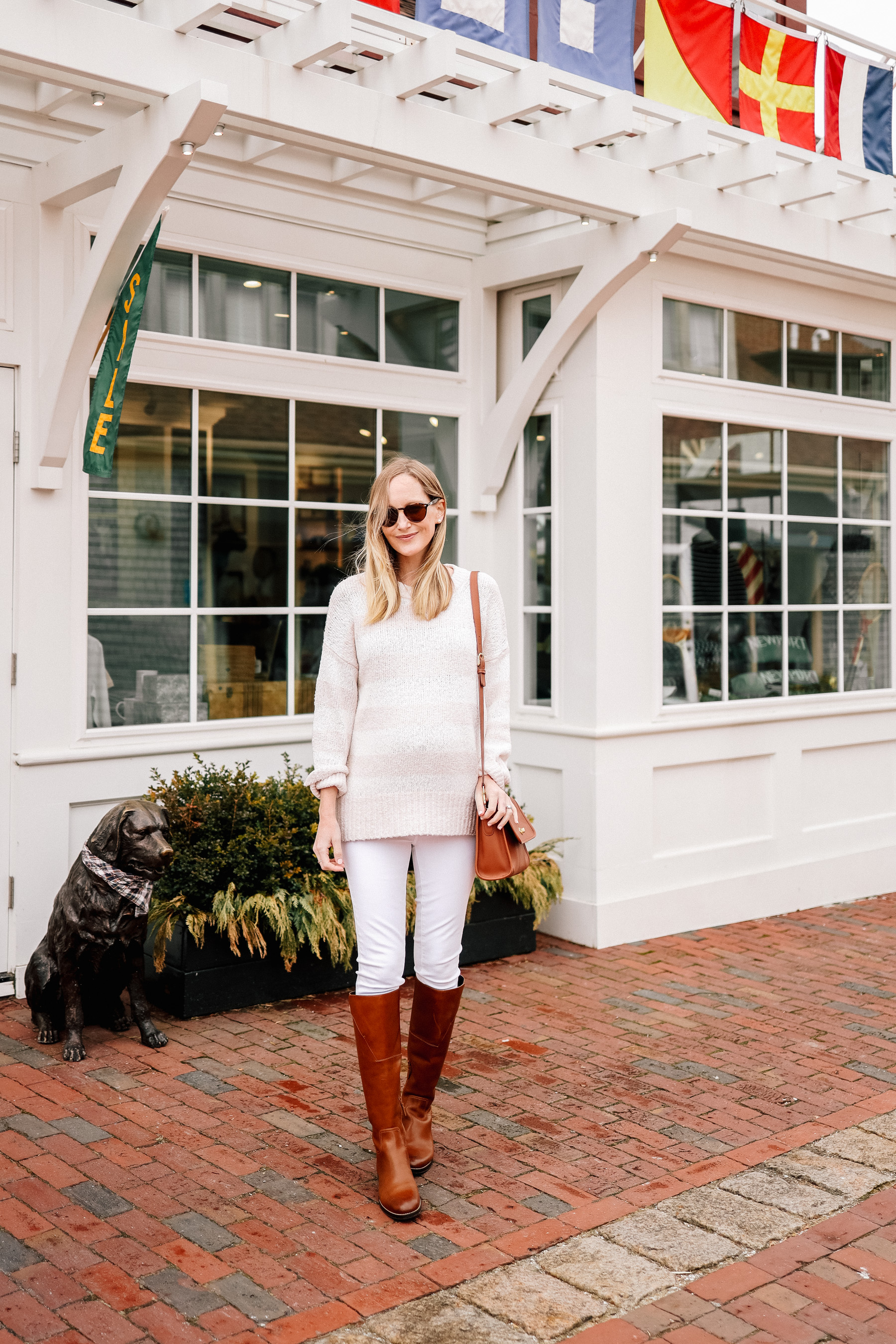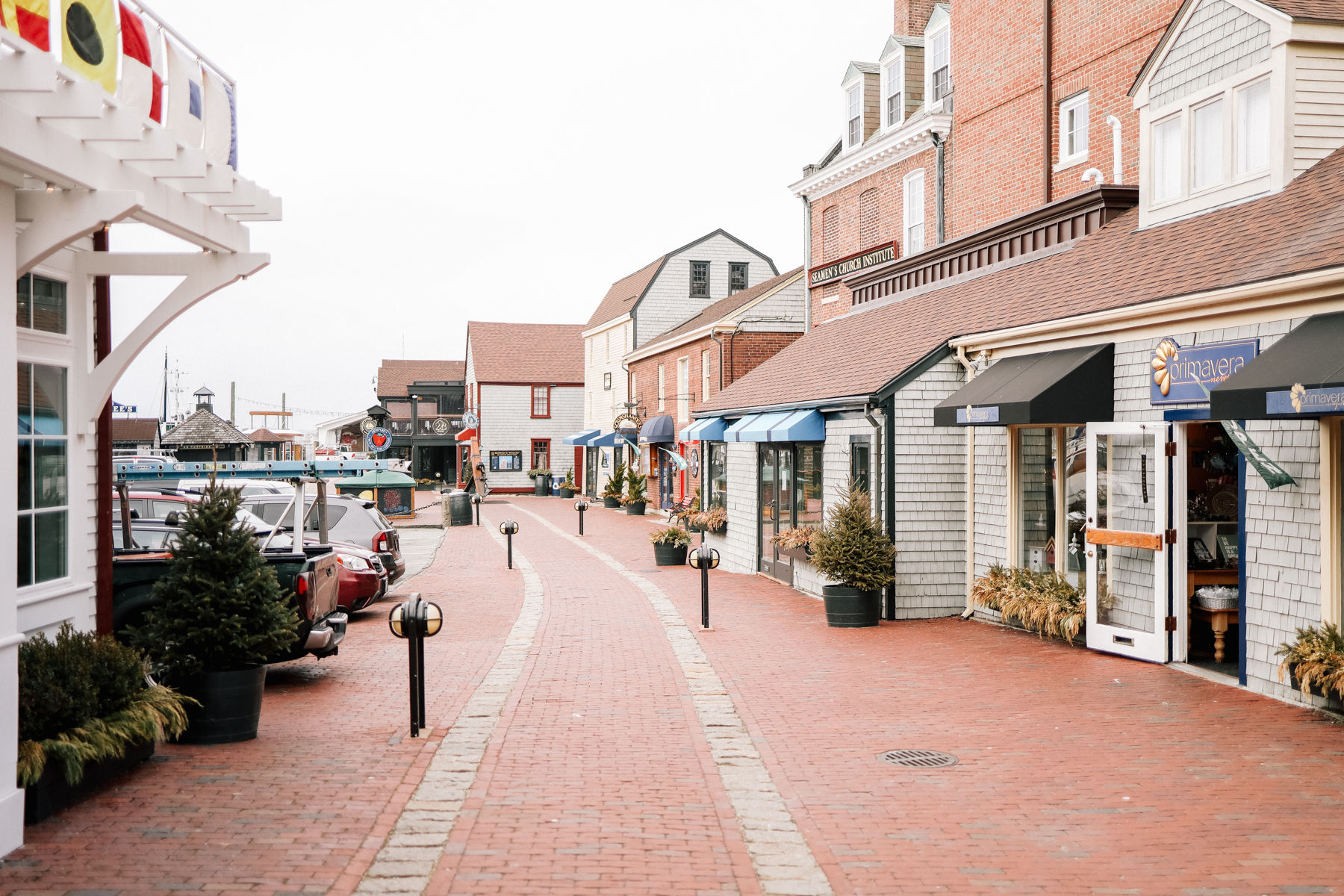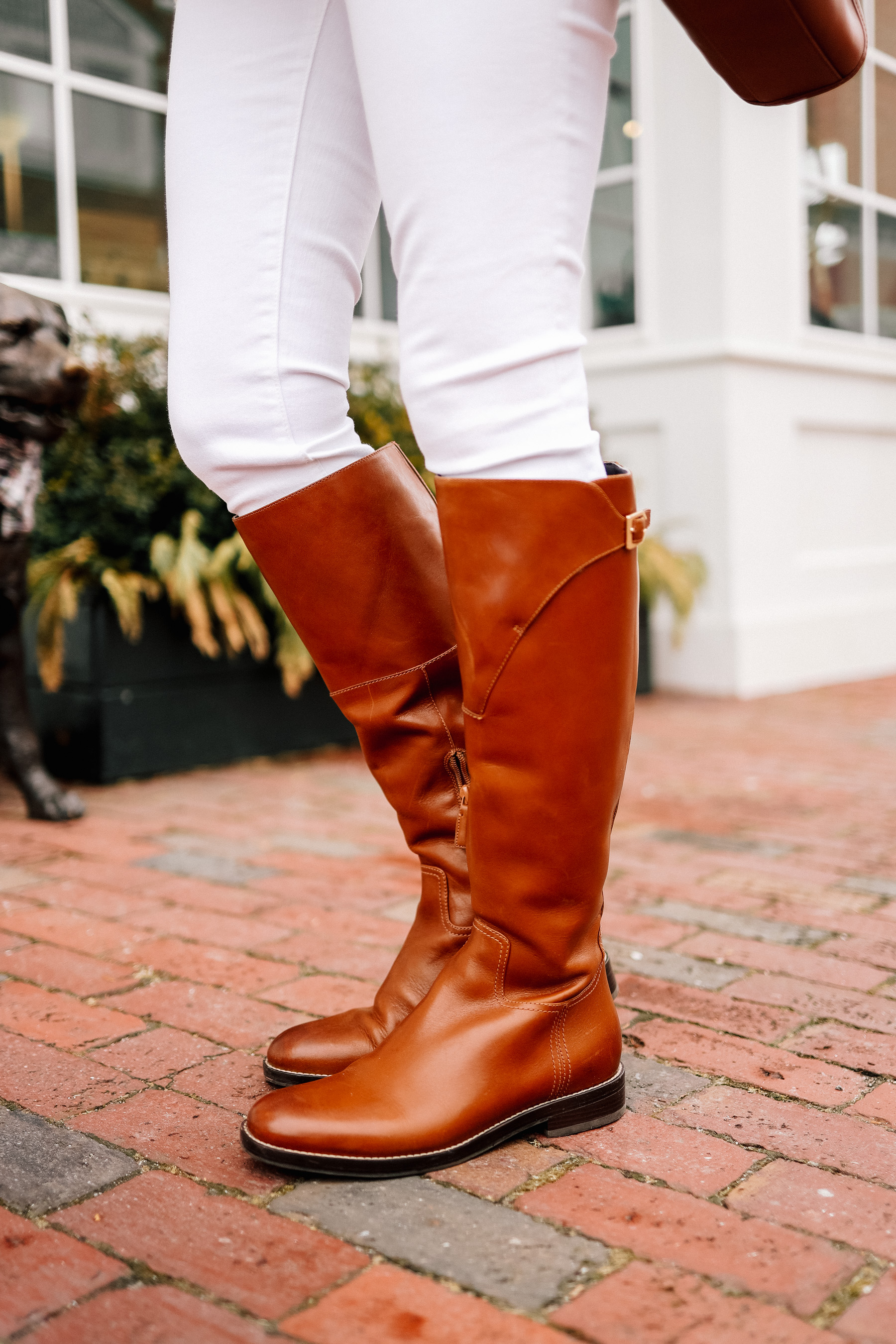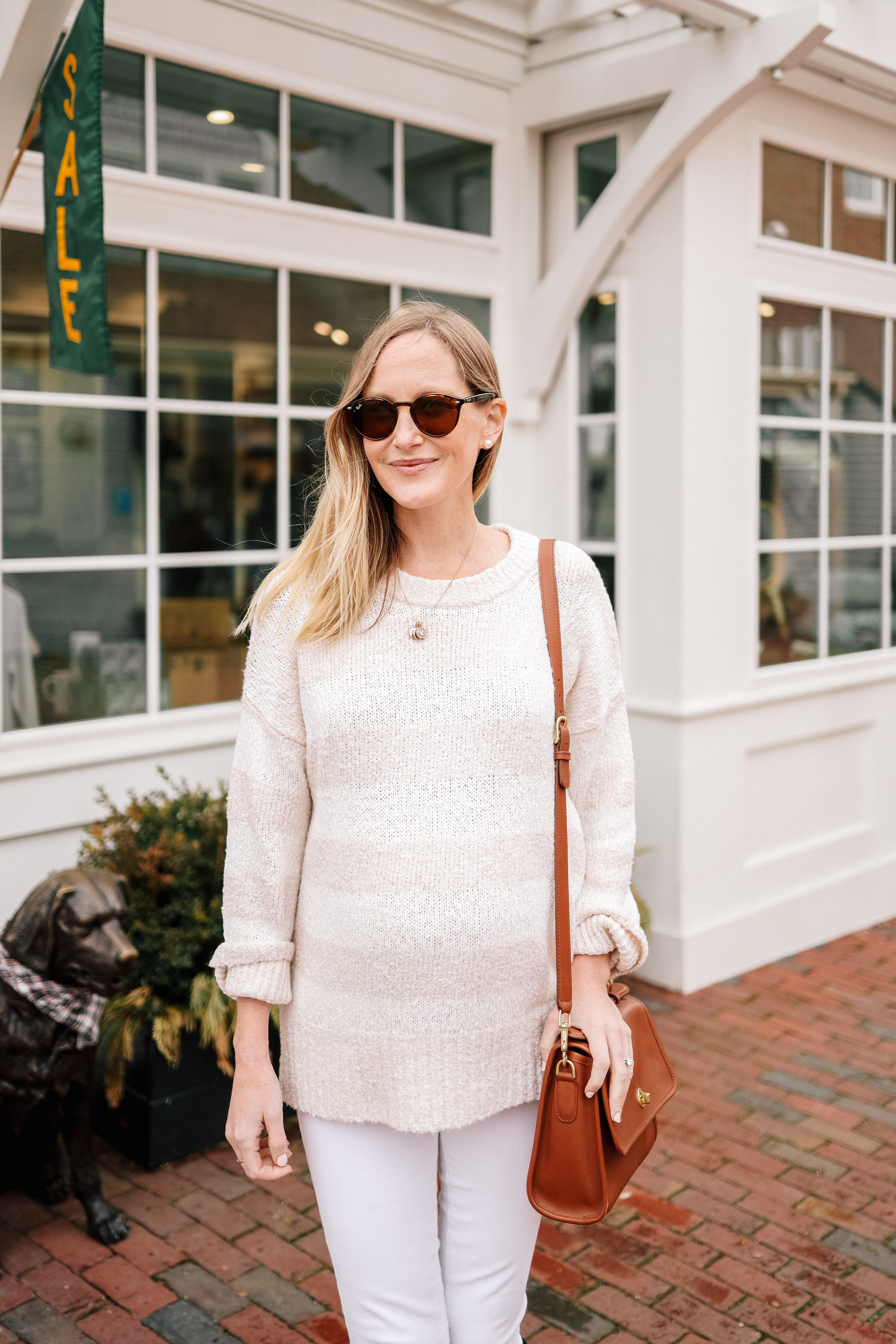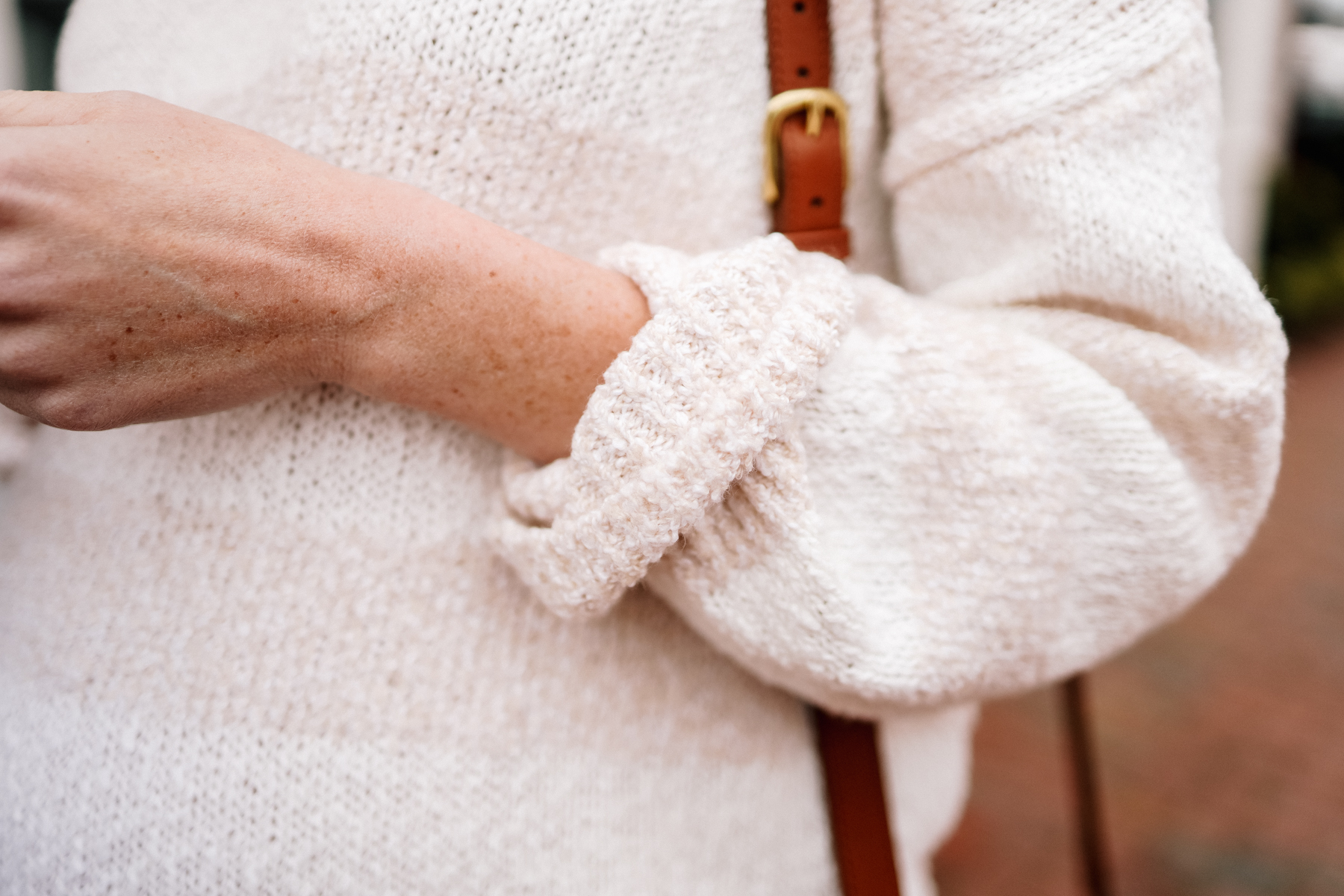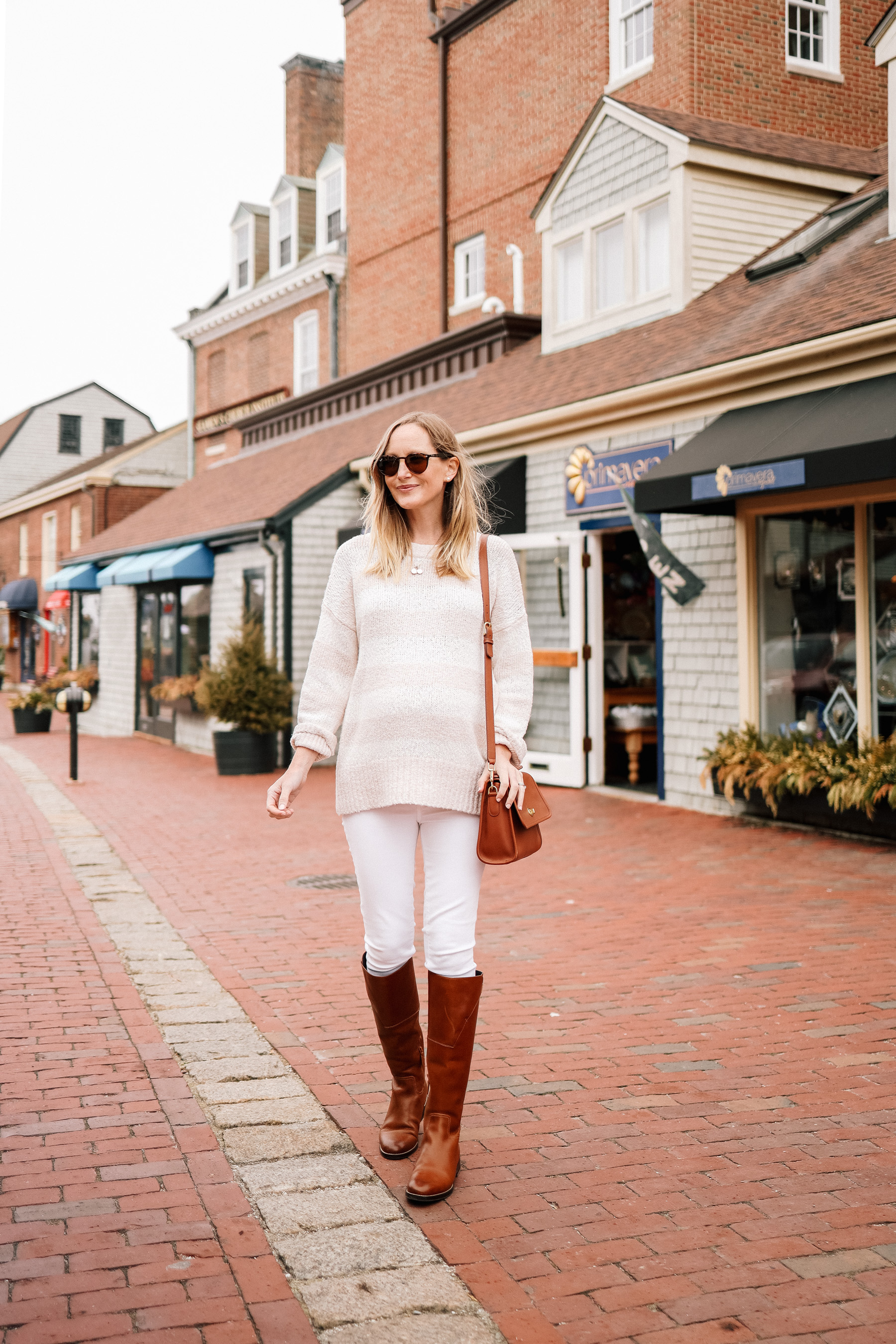 Shop the post:
The Softest Striped Sweater (Non-maternity! You can also find it here. It's oversized. I went up one size for pregnancy; if you're not pregnant, order your normal size or one size down depending on how you like your sweaters to fit.) / Mark & Graham Monogrammed Necklace (The BEST Mother's Day gift. So affordable, too!) / Cole Haan Riding Boots (On sale! Also available via 6pm.com.) / Coach Court Bag (Also love the Willis style.) / J Brand White Maternity Jeans (But guess what?! The Gap just came out with an affordable pair of low-panel white maternity skinnies. SO EXCITED! For non-maternity white skinnies, I would also look into these budget-friendly jeans from BlankNYC that I own and love, and these pull-on jeans from Liverpool.) / Similar Sunglasses Here, Here and Here