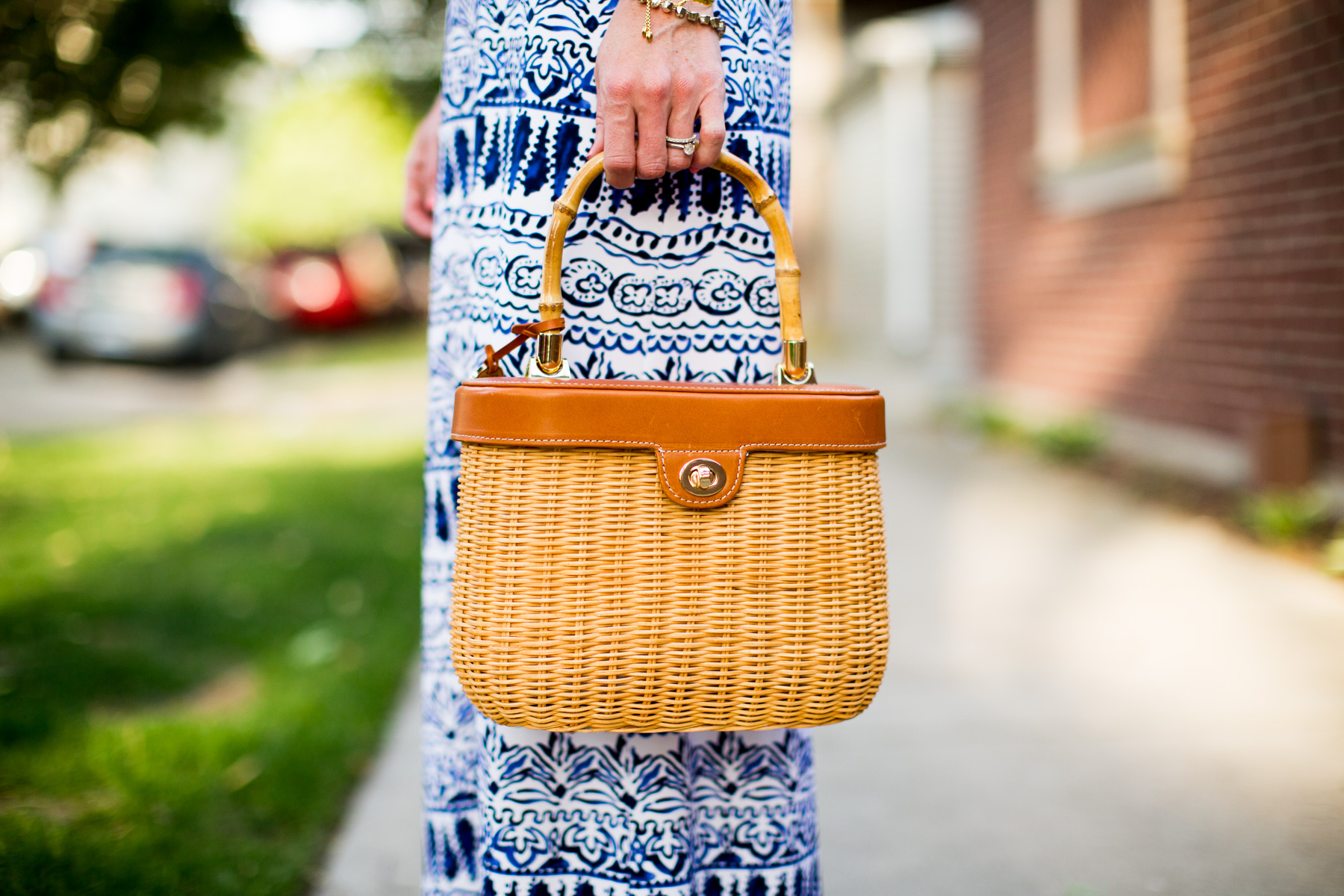 J.McLaughlin Satchel (Here's the crossbody version, and I ADORE this bamboo clutch! And how about this bag? So original, right?!) and Maxi Dress (Also love this one and this one) c/o / Jack Rogers Monogrammed Sandals c/o / Emma's Lilly Shift
The last couple of days have been absolutely magical here in Chicago. It's been HOT. Like, upper 80s kind of hot. Emma and I have been living in dresses, walking Mitch to the subway every morning, spending long afternoons at the park, seeing friends, and hittin' up the town together. I somehow forgot how amazing summer in Chicago is! (Seriously: Best city in the country to visit during the summer?!)
I wore this little number from J.McLaughlin yesterday for lunch at de cero in the West Loop to celebrate Blair's 30th. (Happy birthday, Blair!)
It was the perfect pick, as it's lightweight and a great blend of nylon and spandex, meaning that it doesn't wrinkle. I know: I talk about winkles pretty often these days. But when you have a baby on your hip constantly, you really appreciate materials that help you look neat! Other favorite dresses from J.McLaughlin? This one and this one.
And I have to tell you about the satchel you see in these photos. Does it not remind you of Nantucket basket bags?! Except it might be a tad more functional, as it holds a considerable amount: keys, little makeup bag, phone, camera, wallet… it's deceivingly spacious, and I'm constantly getting stopped about it. I apologize in advance for how often you're going to see it on the blog; without a doubt, my favorite bag of the summer! (I should also mention that there's a crossbody version, too… and I ADORE this bamboo clutch! And how about this bag? So original!)

Above are some of my faves from J.McLaughlin right now. The brand is absolutely killin' it! You'll be seeing this gingham top and this embroidered top on the blog soon, and really: the quintessential summertime scarf.
Lastly, let's talk about my monogrammed sandals for a second. Jack Rogers sent them to me this past week, and I freaked OUT when I opened them. But you should have seen my Chicago girlfriends' reactions when I waltzed into de cero wearing them (and holding a baby clad in Lilly Pulitzer). Priceless. ;) I'm headed to Ocean City a week from tomorrow, and they're definitely coming along with me!
What's on tap for today: lunch with Kira and a family picnic in the park when Mitch gets home from school. :) Mini Summer Preview, never leave us…
Shop the post:
J.McLaughlin Satchel (Here's the crossbody version, and I ADORE this bamboo clutch! And how about this bag? So original, right?!) and Maxi Dress (Also love this one and this one) c/o / Jack Rogers Monogrammed Sandals c/o / Emma's Lilly Shift