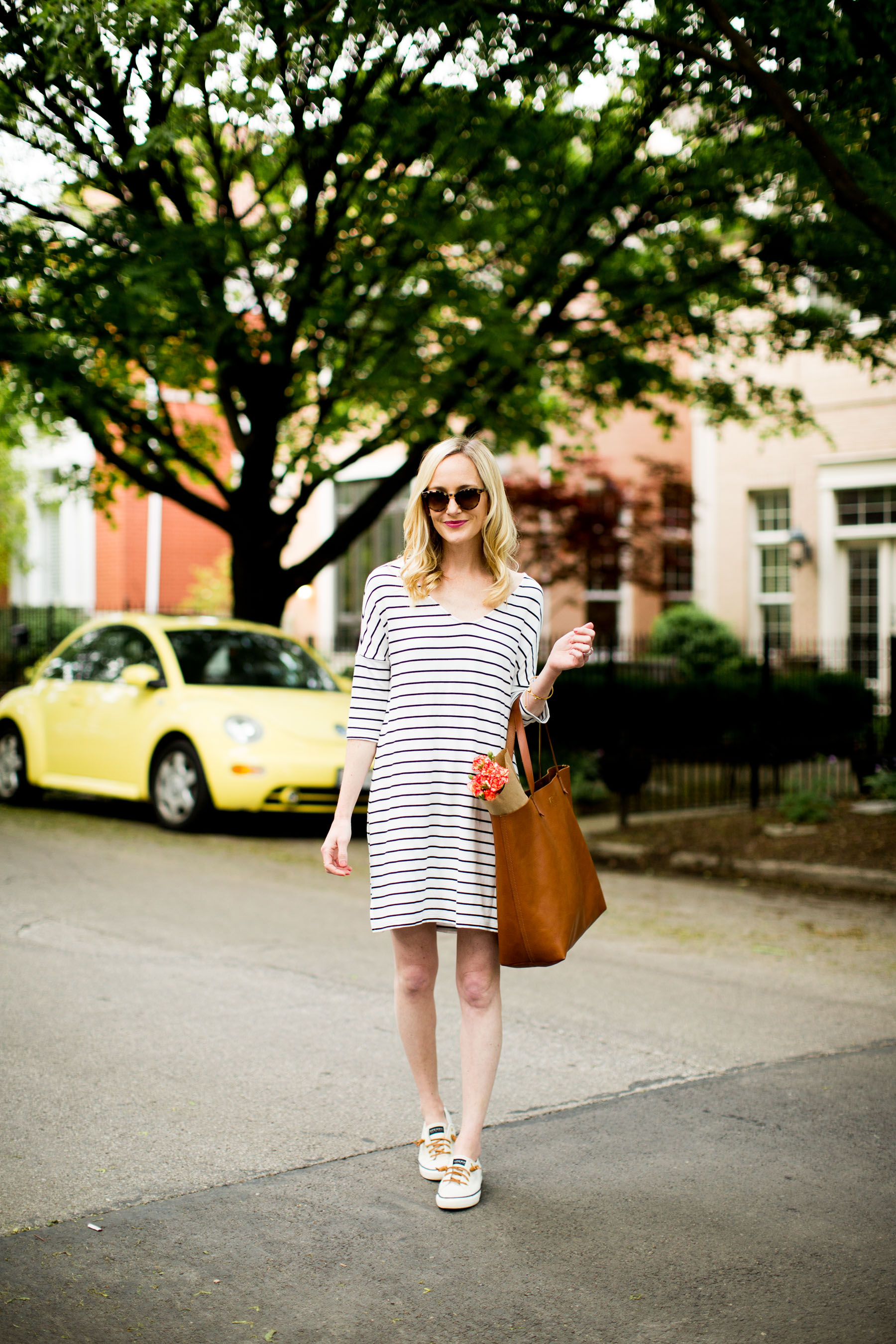 Striped Dress from Shopbop or Zappos (Also love this one, this one, this one and this one.) / Sneakers (Here in pure white and here in chambray. These are faves, too.) / Tote / Replacement Sunglasses!
Being a mom is awesome in summer. There's just so much to do! Emma's at a weird age–she's not yet crawling but she's super inquisitive, and we can really only be inside for a couple of hours before she loses interest in all my activities. Summer, though, opens all doors, literally and figuratively. ;) We've done a ton of exploring, visited all the playgrounds, made a bunch of miniature new friends, grabbed lunch with old friends, had family picnics in the park at dusk, and taste-tested inedible things. We hate wood chips. We LOVE sand.
I'm really happy. I know I've mentioned this before on the blog, but I'm a Seasonal Affective Disorder sufferer. I've actually had a really great year with it, but it's always a thing, and I'm happiest when the days are longer and the sun shines bright. My next Personal Essay is actually about my struggle with SAD, as I'm currently in a good place with it and feel confident talking about it. (Hoping to get that up next week. I've been chipping away at it for a while, and I think it's just time to hit "publish.")
I realize I didn't get to publish everything I wanted to publish this week, but I'm trying to be kinder to myself about that. And somehow, it's so much easier being kinder to myself during these lovely summery days! Of course, it's currently pouring outside. BAH!
Anyway. I thought I'd take a moment to share five favorite casual striped dresses. (And yes: those are carnations in my bag. I think I buy fresh flowers at least three times per week because I love how they look on our coffee table. But I've got a beer budget, and I won't pay more than $5 or $6 for 'em, haha. Whatever. Kind of reminds you of high school prom, no?!) Okay! Here we go:
It's the one I'm wearing in these photos, which were snapped a couple of days ago because Mitch, Emma and I grabbed dinner at a local sandwich joint. You can find it on Shopbop or Zappos. It's magical for several reasons: First, it's lined with TERRY, making it crazy cozy. (Yet I somehow never overheat in it?!) Second, it's slimming yet flowy, allowing for maximum ice cream cone consumption. Third, it's long-sleeved, so it transitions very well from day to night. Fourth, it's easy to get stains out of it. Emma has puked and pooped on it, and it remains white! ;) Oh! And I love BB Dakota's sleeveless striped dress and the brand's navy striped dress.
I actually have a slightly different version of this dress (which I wore here), but they're SO similar, and I wear mine all the time. Much like the Jaxson, it has long sleeves, so it transitions incredibly well from day to night for girls who are always chilly. It's less flowy than the Jaxson, but it's still roomy and very comfy. Check out the rest of Tuckernuck's striped dresses here.
I LOVE this brand, as I think the quality is outstanding for the price. I tried on this little number a few weeks back, and while I ultimately decided that I didn't need it since I have a couple of other striped dresses, I adored it. Short sleeves, too! It's also made of rayon, polyester and spandex so the wrinkle factor isn't an issue.
I have a few Marlowe dresses, and I rely on them a LOT during the summer. I don't have this one, but the cut is the same as my others. So cute, right?! I always buy a size up, btw, so it's nice and loose for those summer days.
While this is still a casual dress, I've worn it to parties and nighttime events with heels, too. The horizontal and vertical stripes are original, too. I can't believe I haven't photographed this one, but it's definitely my most versatile. :)
Hope everyone has a great weekend! I'll be back tomorrow with a "Life Lately" post and tune in Sunday for a "Recent Finds" post.
Shop the post:
Striped Dress from Shopbop or Zappos (Also love this one, this one, this one and this one.) / Sneakers (Here in pure white and here in chambray. These are faves, too.) / Tote / Replacement Sunglasses!