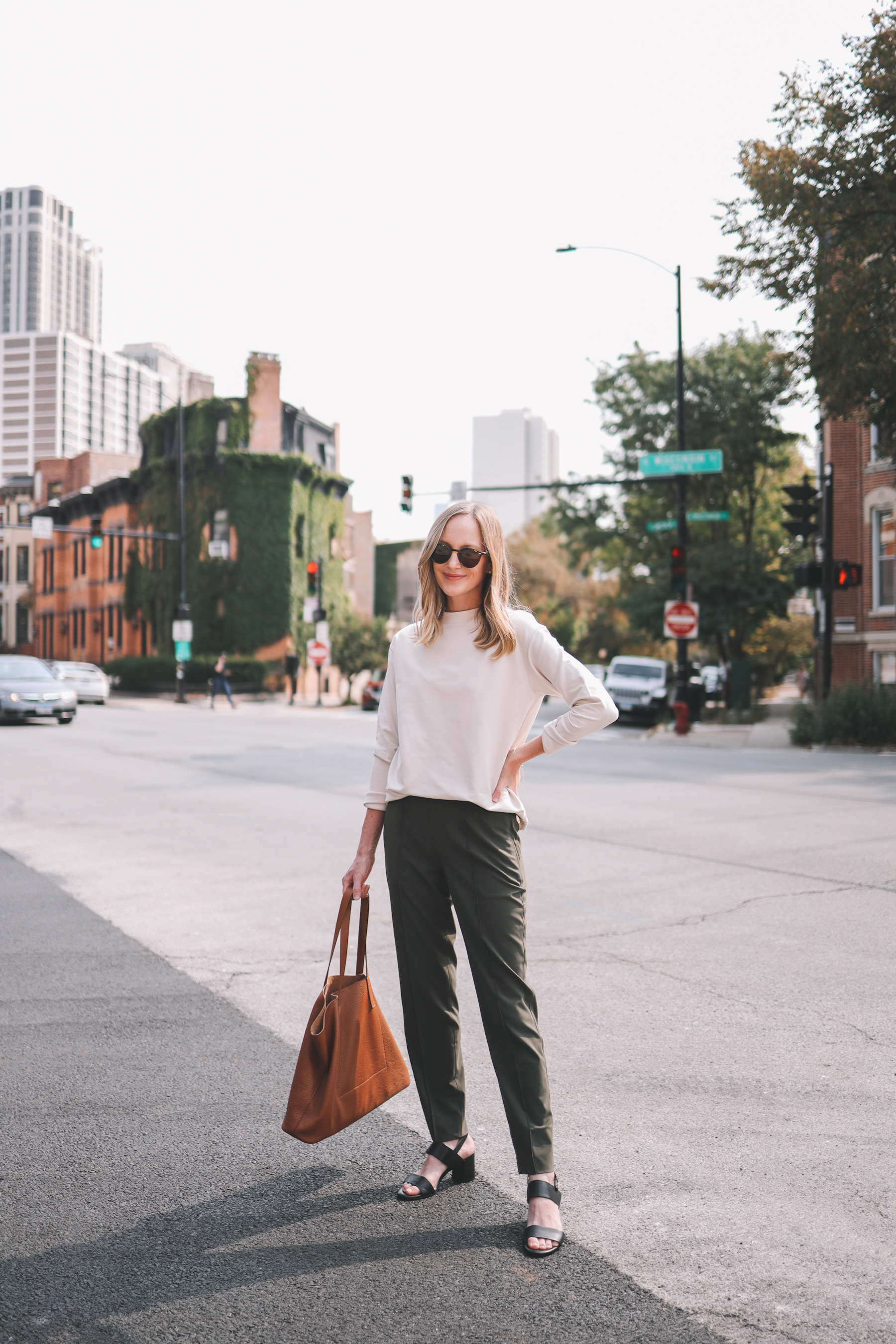 M.M.LaFleur Colby Joggers / M.M.LaFleur Ellie Pullover (SO comfy!) / Dainty Bespoke Bracelet (Says "Emma + Lucy" on it!) / Newer Tote / Similar Sandals (Can we talk about these loafers, though?! I'll be transitioning to them soon!)
**Use code "kellyinthecity15" to take 15 percent off your first pull-priced M.M.LaFleur purchase through 12/31!**
Do you find yourself moving away from statement clothing?
I really do. I love how easy it is to get dressed in the morning—and feel good about what I'm wearing—when most pieces in my closet work together, whether because of style or a color palette.
I sound like a broken record. Maybe it's because of the pandemic; maybe it's because I just hit the five-year motherhood marker. Either way, simplicity (and neutrals) for the win. Not sure I'll ever go back! Life is easier, and there's more clarity, too.
And M.M.LaFleur—a female-founded start-up "for women, by women"—specializes in just that. They aim to take the work out of getting dressed in the morning so we can focus on what's most important to us. (Yassss.) Products are machine-washable, wrinkle-resistant, stylish and comfortable. The M.M.LaFleur team actually says they strive for "I-could-nap-in-this" kind of comfort! 😉 The team also believes that "instead of dressing for the job you want, dress for the life you've made." And I love that so much.
**Use code "kellyinthecity15" to take 15 percent off your first pull-priced M.M.LaFleur purchase through 12/31!**
To be honest, I can't help but swoon over beautiful lace dresses and fancy stilettos heels. They're… pretty. But that's just not my life! And frankly, I don't think it'll ever be. I mean, I can't even walk in stiletto heels. 😆 Which means that I couldn't play with my sweet little girls, go biking with my wonderful husband, or take my hilarious miniature dachshund on walks. And squeeze in work in between. That's my life.
This year, M.M.LaFleur has focused on expanding its line called Power Casual: beautiful, comfortable, mix-and-match, and functional pieces that can be dressed both up and down to work with the demands of real life.
The Power Casual piece that I was immediately drawn to was the Colby Joggers, as I've always thought that joggers would work well with my lifestyle. And do they ever! The Colbys are lightweight, machine-washable and wrinkle-resistant… and they have pockets. They also feature a flattering high-rise cut, and can be dressed up or down. Throw them on with sneakers for morning drop-off, pair them with a chunky heel for a mid-afternoon meeting, or wear them with a tuckable blouse for dinner/date night. (Sizing: If you're looking for a looser fit, order your normal size. If you'd like a more tailored fit, go down one.)

Since fall is just around the corner, I thought I'd leave you with a few M.M.LaFleur pieces that are on my wishlist! See the widget above. :)
Shop the post:
M.M.LaFleur Colby Joggers / M.M.LaFleur Ellie Pullover (SO comfy!) / Dainty Bespoke Bracelet (Says "Emma + Lucy" on it!) / Newer Tote / Similar Sandals (Can we talk about these loafers, though?! I'll be transitioning to them soon!)
**Use code "kellyinthecity15" to take 15 percent off your first pull-priced M.M.LaFleur purchase through 12/31!**
This post is sponsored by M.M.LaFleur; all opinions are my own. As always, thank you so, so much for supporting the partnerships that keep Kelly in the City up and running!