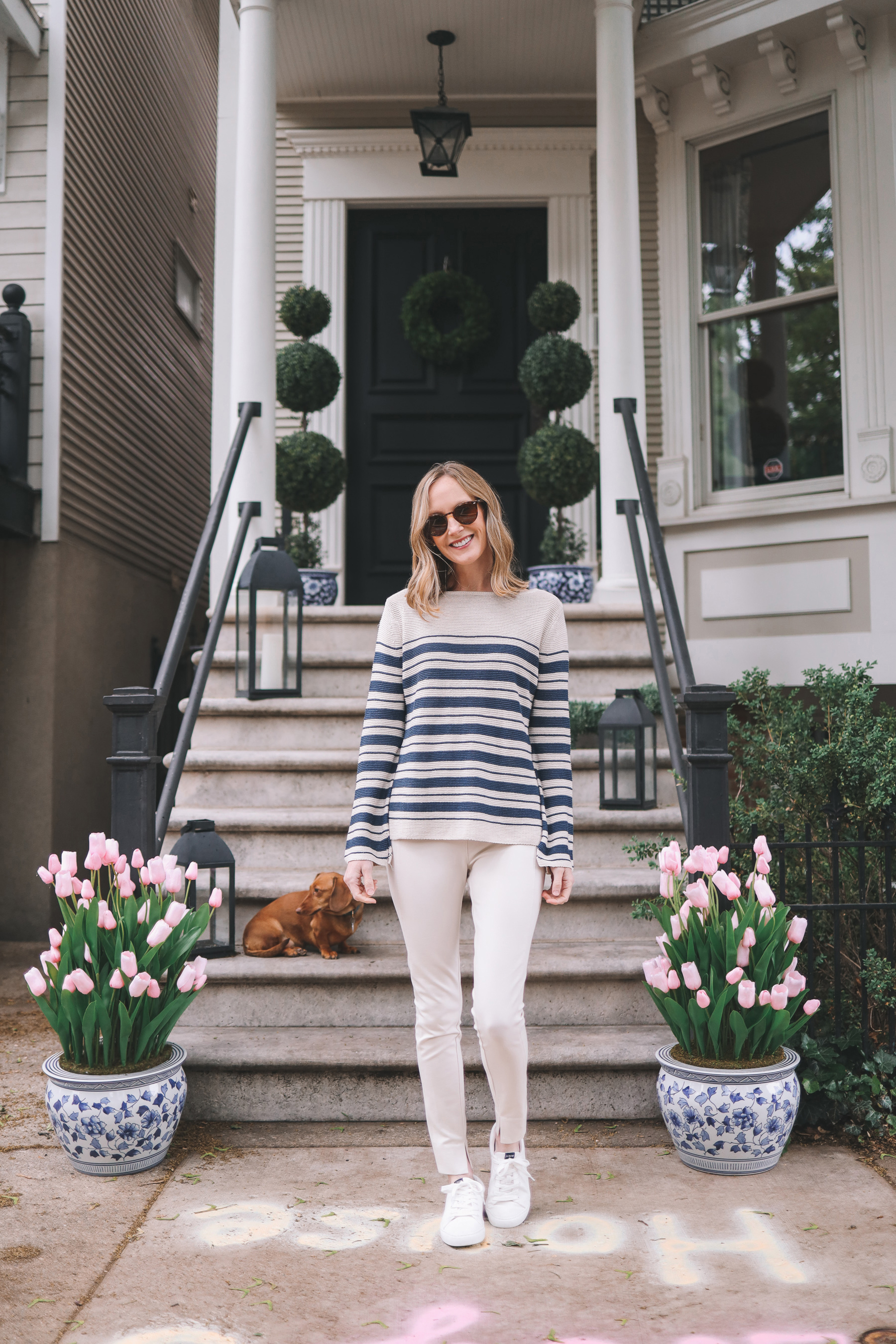 M.M.LaFleur Stella Leggings / Samara Knit Linen Sweater / Sneakers / Planters, Tulips, Newer Lanterns, Topiaries, Dachshund Topiary, Wreath
All right, Friends. This is one of the coolest articles of clothing that I've come across! Introducing the high-stretch Stella Legging: designed to feel like leggings but look crisp enough—they're wrinkle-resistant!—to also wear to work or to nicer events. (Note: They also travel extraordinarily well, and are machine-washable.)
I love multifunctional pieces, especially because A) I work from home, and B) I lead a much more casual lifestyle now that I'm a mom. Still, I do need the occasional dressier outfit, so it's really nice when I can simply dress up what I already have and wear. As I've gotten older, I've truly embraced the "less is more" lifestyle. (Always whittling down my wardrobe!)
M.M.LaFleur, the company who makes the Stella Legging, actually specializes in this… and their Power Casual line is meant to be comfy yet sharp-looking. It's perfect for both women like me and women who go into offices and don't want to be tugging at their clothing all day!
But back to the Stella Leggings. One of their best features is that they have a wide and high fold-over waistband that really smooths. I also like that they have a cigarette cut instead of a skinny leg cut; that makes me feel a bit more with the times. ;) Finally, they come in black! Honestly, get a pair in black and a pair in Pearl, and you're covered in the "work pants" category for life.
Sizing: TTS! I normally order a size 2 in pants, and that's what I'm wearing here.
The Samara Knit Linen Sweater is another favorite from the Power Casual line. It's 100-percent linen but is some sort of magic textured linen that's more substantial and wrinkle-resistant. (I should probably rename this blog "Kelly Wearing Wrinkle-Resistant Clothing in the City," no?) Oh, and it drapes beautifully—making it great for pregnant women, too! (Be sure to check out the Copper and Sea Salt colors as well. They're beautiful!)
Sizing: It has a loose/oversized fit, so if you want it more fitted, I would suggest sizing down.

Anyway, above are some of my favorite styles from the Power Casual line!
Shop the post:
M.M.LaFleur Stella Leggings / Samara Knit Linen Sweater / Sneakers / Planters, Tulips, Newer Lanterns, Topiaries, Dachshund Topiary, Wreath

Sponsored by M.M.LaFleur; all opinions are my own. As always, thank you so, so much for supporting the partnerships that keep Kelly in the City up and running!