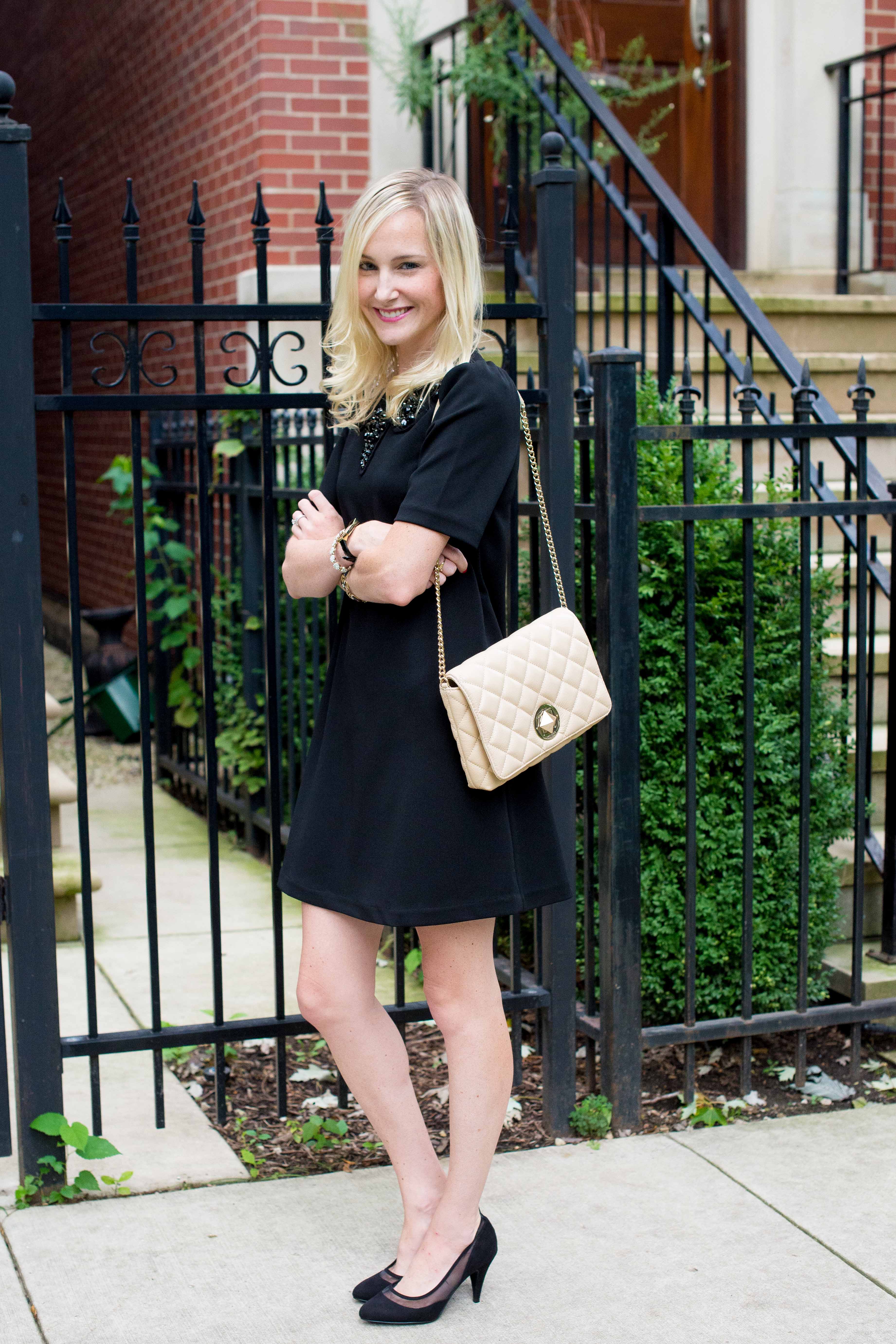 April Marin Dress (c/o — For a limited time, use code "KELLY" to take 40 percent off the dress!) / Call It Spring Pumps (c/o) / Kate Spade Bag (Old, similar here in black and here in black and white) / J.Crew Bow Bracelet (Old and broken, but I can't seem to part with it. It's still available on eBay!) / Armed & Readi Pave Bracelet (c/o) / Kate Spade Watch / J.Crew Earrings
I've been getting eaten alive by mosquitoes lately! It seems as though these little bloodsucking demons–which arrived sometime last week–are completely resistant to insect repellent, have the ability to bite through socks and sneakers (?!), and prefer my left foot to my right. How that's even possible, I'm not sure. But please go away, you pesky bugs!
Anyway, haha… Something I appreciate about my life right now is that nearly every night is date night. Last year, Mitch and I had to work really hard to reserve time for ourselves. This year, though, it's a lot easier. Granted, we're brand new here, and maybe our open schedules will start to fill up in the coming months. But it's been nice… especially since we're not working in the same building anymore. (Big change for us!) To make things a little extra special, I try to dress up once or twice a week. Mitch now has to wear a tie to work, so I've gotta keep up, you know? ;)
This April Marin Kennedy Dress, which I also have in blue, has been a go-to for date nights. Since I'm currently working from home, I'm typically in jeans and a button-down during the day. The last thing I want to do when Mitch gets home is change out of my comfy clothes, but slipping into the Kennedy Dress is so easy. I love that it's super comfortable; flowy yet flattering; and comes with what's essentially a built-in statement necklace. (Effortless!) It's also a year-round dress, in my opinion. I've worn it with black tights and booties in the fall and winter, and it still looks seasonally appropriate. I'm in love!