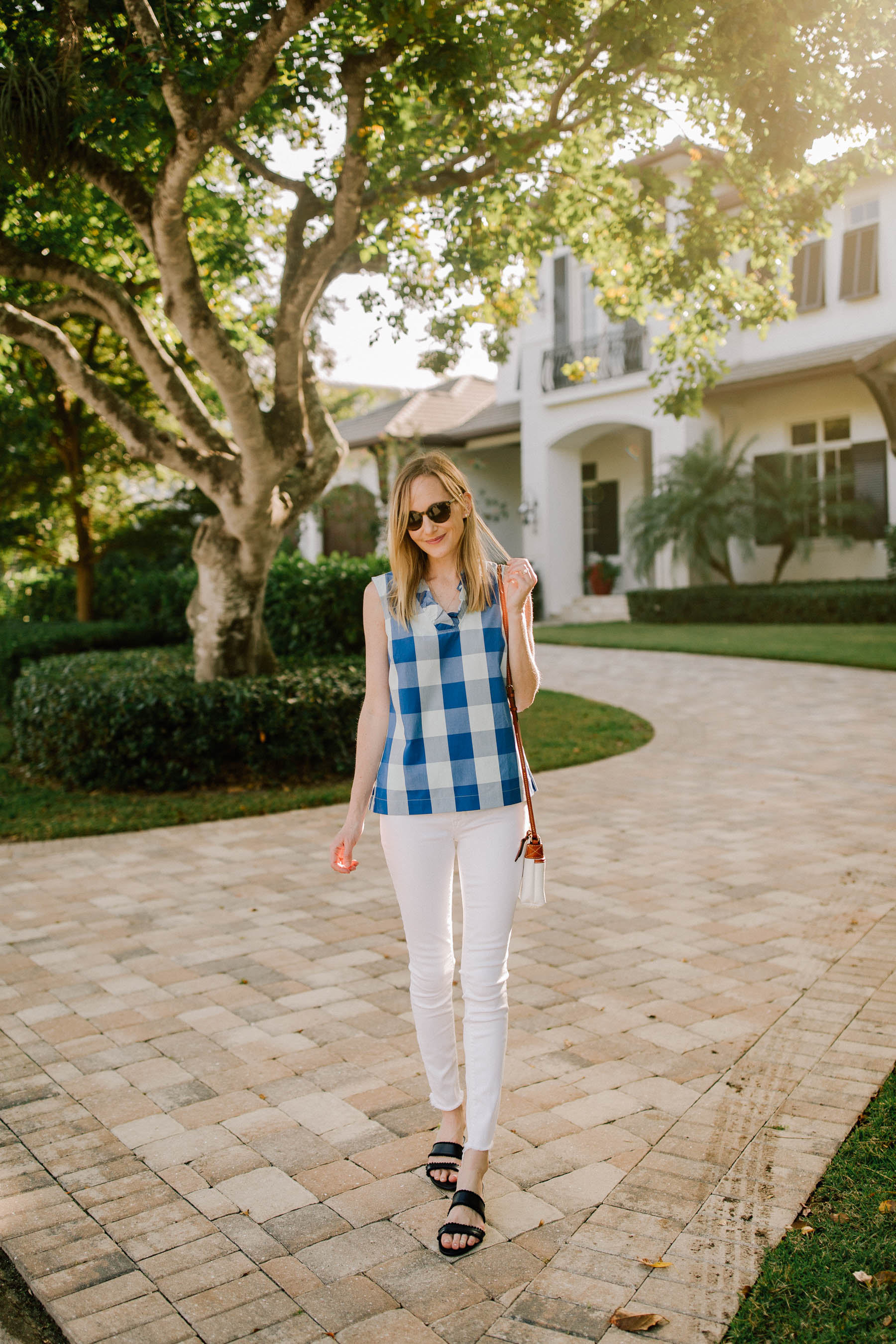 Talbots Gingham Top (On sale!) and Navy Sandals c/o (But have you SEEN the gingham pair? SO EXCITED! And then there's this pair, which is a close second.) / Hudson Skinny Jeans (Also love this pair!) / Similar Sunglasses / Similar Dooney & Bourke Bags Here and Here / Initial Necklace (On sale!)
This is true: I wore this outfit one evening in Naples, and I was too hot. (Whaaaat?!) I'm not sure how it happened; I'm never hot. Besides when I was pregnant, I can't even reminder a time when I was even warm. Kidding, kidding. 😂 But really: this is a rarity, and I'm obsessed with Florida.
Before we get to the outfit, though, I'd like to take a moment to appreciate my husband. Obviously, he carried this blog over the last week. From his piece on working for himself and his new "Lately with Mitch" series to his guide to Naples and blueberry pie posts, he kept us afloat while I was working to meet a bunch of deadlines that I could not have met without his help. We have a lot on our plate for this upcoming week (including back-to-back trips!), but I'm so grateful for everything that Mitch does for our family, in addition to running his own business. You know Jack from "This is Us"? That's my husband. Except he lost the mustache a few years ago. ;)
I won't go into "This is Us" right now, because I have so much to say about it, and I just watched four episodes in a row and I'm holding back tears as I type this. (Anyone else deeply affected by the show?!) So I'll leave it at this: I don't deserve Mitch. I'm not sure how I got such a wonderful partner in life, but I'm beyond grateful. Grateful for his disposition; his kindness; his love for Emma and me; his outlook on the world. I HATE CROCKPOTS.
Okay. Enough. Love you, MSL.
Anyway, you need this top! I ironed it before my trip and placed it in my suitcase, and when I arrived in Florida, took it out and wore it–and it looked like this. :) Magic! And Talbots, the maker of the top, has SO many amazing gingham products in stock right now. I'm absolutely obsessed with these bow sandals (#omg), but you can shop the rest of my faves below.

We're headed back from Kira's lake house today; we spent the weekend with her (and her fabulous husband, Tom) on Lake Michigan. What have you been up to?!
Thanks for always reminding me to take pics, Mitch. Instagram Husband of the Year? 😉
Shop the post:
Talbots Gingham Top (On sale!) and Navy Sandals c/o (But have you SEEN the gingham pair? SO EXCITED! And then there's this pair, which is a close second.) / Hudson Skinny Jeans (Also love this pair!) / Similar Sunglasses / Similar Dooney & Bourke Bags Here and Here / Initial Necklace (On sale!)