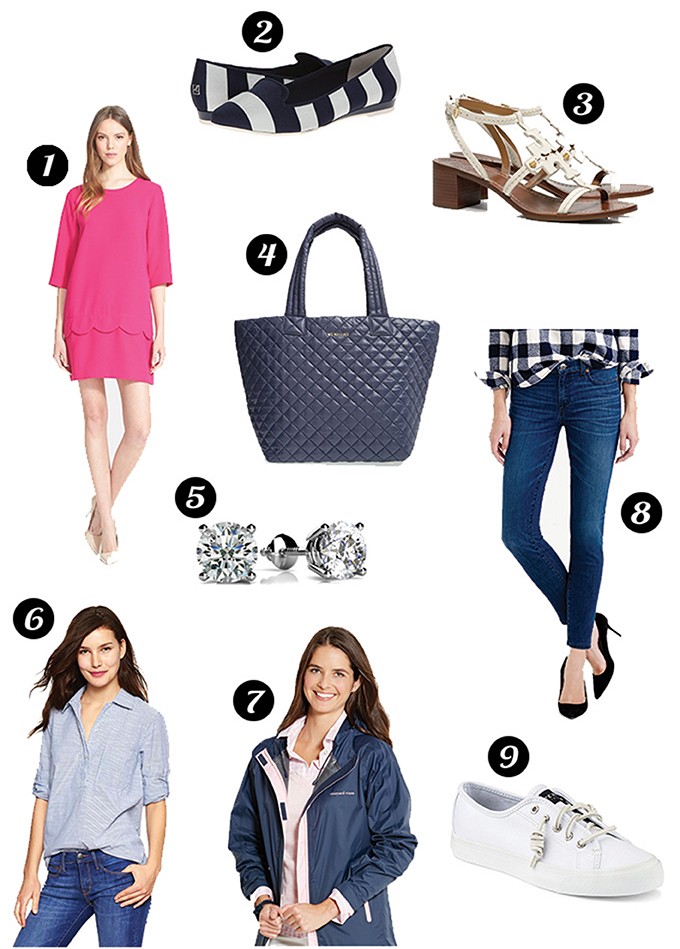 One / Two / Three / Four / Five / Six / Seven / Eight (In white, too.) / Nine
Now that the Chicago is finally warming up, my eyes are on attire for the transitional period. (With the exception of number three. But I couldn't help myself. #perfection)
1. Kate Spade "Demi" Scalloped Dress. Goodness. I know I'm a sucker for anything scalloped, but I love that this little number is both pink and long-sleeved. Perfect for chiller days when I still want to get dressed up!
2. Sperry Striped Flats. 6pm has always been my favorite place to score deals on Sperry, and this pair is one of my all-time favorite finds!
3. Tory Burch Chandler Sandal. Please buy these so I can live vicariously through you. :) Sigh.
4. MZ Wallace Navy Tote. IT COMES IN NAVY. That is all.
5. Anjolee Diamond Stud Earrings. Lately, I've been all about "less is more" when it comes to jewelry. It simplifies my morning routine, and makes traveling–something I do a lot–much easier. And Anjolee is one of the best high-end diamond jewelry retailers I've found for those never-go-out-of-style investment pieces.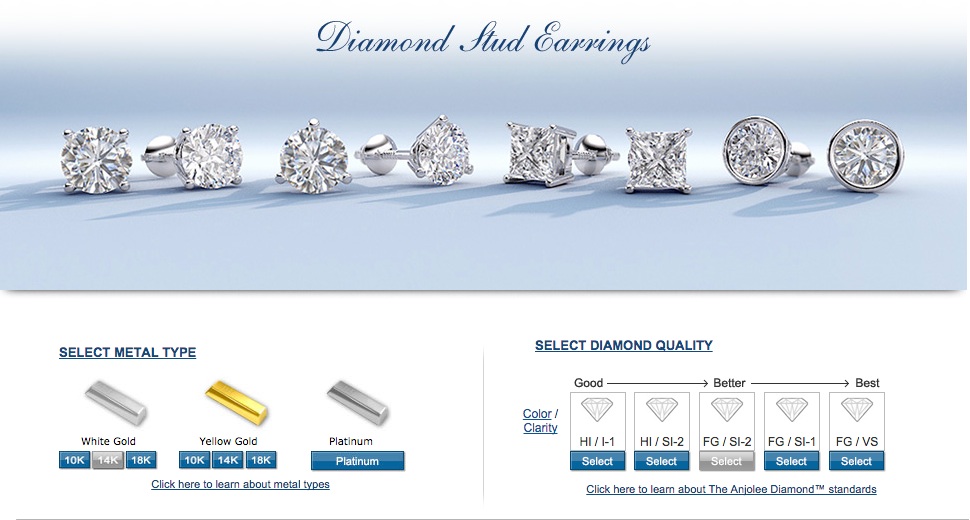 Part of the reason I like Anjolee so much is because of the retailer's customizable options. For example, if you're looking for diamond stud earrings, simply select the metal type and diamond quality you want, and the site provides you with a range of products. And they're organized well: by style, weight and price. So easy! (The same goes for a diamond necklace!)
Anjolee has an extensive collection of wedding and anniversary rings, earrings, bracelets, and diamond necklaces, so be sure to check out the site. The company also offers a 30-day return policy as well as extensive educational guides about diamonds and other types of jewelry. It even has a buying guide!
6. Gap Stripe Roll-Sleeve Shirt. My favorite shirt of the season. It's made to appear slightly wrinkly, and yet it somehow doesn't look sloppy. I love a good button-down or popover that doesn't require ironing! Use code "FFSALE" to take 40 percent off and get free shipping.
7. Vineyard Vines Stow & Go Raincoat. My old raincoat–purchased in 2006 during a rainy spell in college–is on its last legs. This is calling my name!
8. J.Crew Stretch Toothpick Jeans. And the white pair, too. Favorite jeans ever. Can't say enough about them. They don't stretch out (unless you sleep in them, haha), and they are ridiculously comfortable. Sizing tip: I go one size down in these.
9. Sperry Seacoast Canvas Sneakers. I definitely like the look of the popular Converse "Shoreline" sneaker, but I don't love its red stripe. This pair from Sperry, though? Ultimate perfection.
What's on your springtime wish list?!