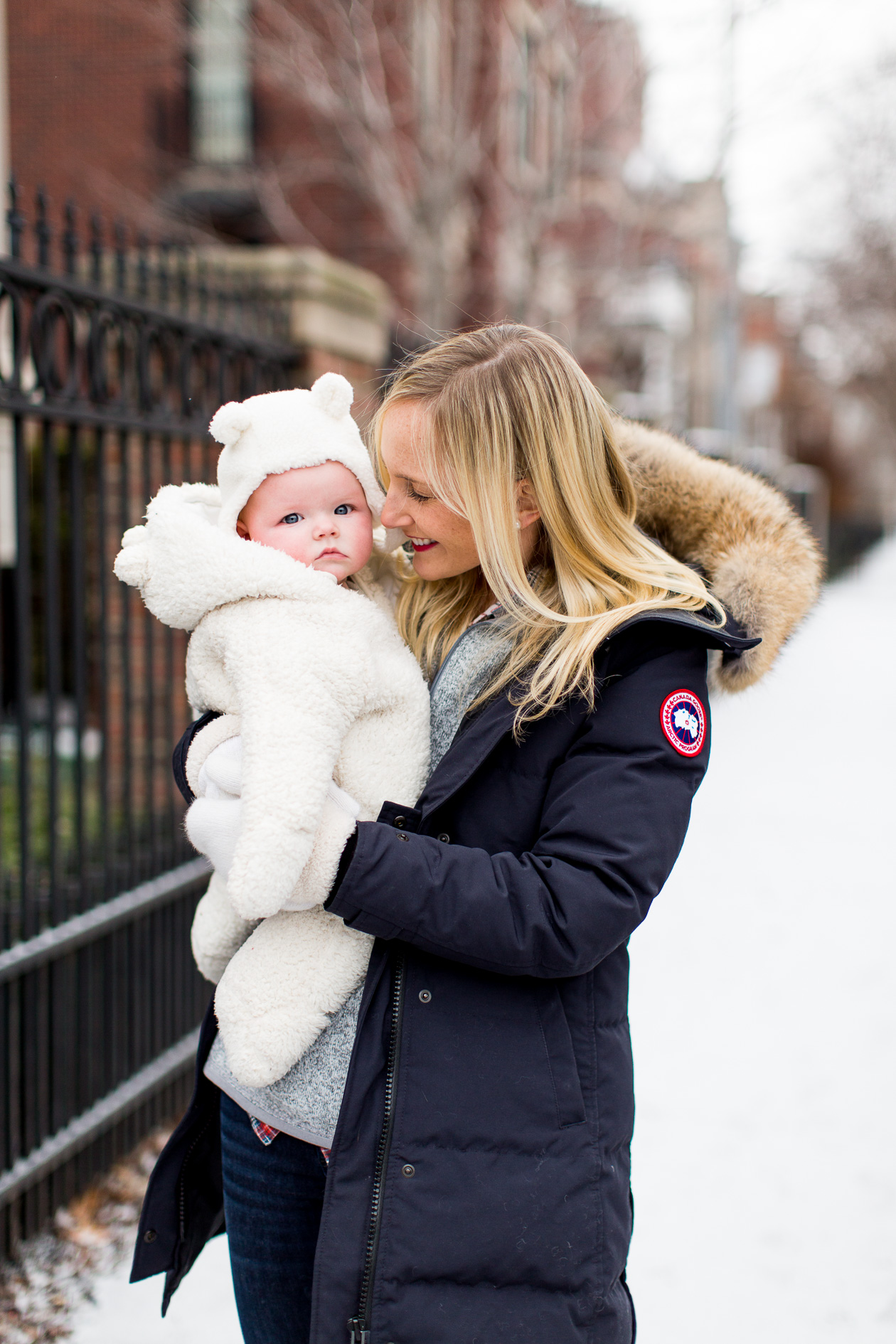 Timex Watch c/o (Smaller version here) / Patagonia Better Sweater Quarter-Zip c/o (Full-zip and vest versions.) / Canada Goose Puffer (Also available via Tuckernuck. Love this one, too.) / Hunter Boots (Also available here, and in the gloss version here) and Socks (Has anyone tried these or these yet? If so, please share whether they're as magical as I assume they are!) / Hudson Jeans (Also love this pair and this pair. <– dream jeans!) / L.L.Bean Plaid Shirt (Relaxed version here. Mine's actually an old one from J.Crew, but the L.L.Bean one is a near-perfect match!) / Emma's Bear Hat / Similar Bear Suit (Are we sensing an obsession?)
Okay, I totally planned on setting aside a half hour to write a good post for today, but truth: Mitch and I stayed up really late watching This is Us. Have you seen it? We. Are. Obsessed. With the exception of Gilmore Girls, I've never been too into television. Mitch always had his shows, and I'd sometimes sit and watch them with him. Now, though, we have a show that we both love, and it's really fun!
Two things I can't get past, though:
Jack is JESS. I was so "Team Jess" during Gilmore Girls (I know, I know), so every time I see Jack, I think Rory.
Mandy Moore is Ryan Adams' ex-wife. WAH! (And no, Jess KEYS, you did not go to high school with him.) For those of you who aren't familiar with Ryan Adams, I'm his biggest fan, and I may have sobbed my way through one of his concerts a few years ago. (Wasn't even pregnant, so can't blame the hormones.) However, I also love Mandy Moore and think she's the cutest. IT'S SO HARD. (Also, new album released this week and new tour dates, too. Any other crazy fans out there? Probably not, haha. But if you're going, sigh. I'm so jealous!)
Anyway, these are photos taken after a snowfall a couple of weeks ago while Mitch was still on paternity leave. We bundled up and headed off to the park because swinging is Emma's new favorite activity. (Did you see this Insta?) We had so much fun, but oy: While I love snow as much as the next girl, I'm pretty over my puffer coat at this point. (And it's only January!)
This past week was a lot better temperature-wise, but it was incredibly rainy and muddy. Even just a day or two of sunshine and above-freezing temps would be awesome, Chicago. Puh-lease?!
Also: I can't thank you enough for your kindness this week. I'm slowly making my way through emails, but I'll admit that I'm very, very behind… on, well, everything in life. (Though this week was SO much better! Ah! I slowed down and set realistic expectations, and I had a good week.) If you sent me a message recently (or a long time ago, haha) and I still haven't responded, please know that I probably haven't seen it yet BUT my reply is incoming and I appreciate you so, so much. <3 Happy Friday, Friends! Lucky to have you.
Shop the post:
Timex Watch c/o (Smaller version here) / Patagonia Better Sweater Quarter-Zip c/o (Full-zip and vest versions.) / Canada Goose Puffer (Also available via Tuckernuck. Love this one, too.) / Hunter Boots (Also available here, and in the gloss version here) and Socks (Has anyone tried these or these yet? If so, please share whether they're as magical as I assume they are!) / Hudson Jeans (Also love this pair and this pair. <– dream jeans!) / L.L.Bean Plaid Shirt (Relaxed version here. Mine's actually an old one from J.Crew, but the L.L.Bean one is a near-perfect match!) / Emma's Bear Hat / Similar Bear Suit (Are we sensing an obsession?)