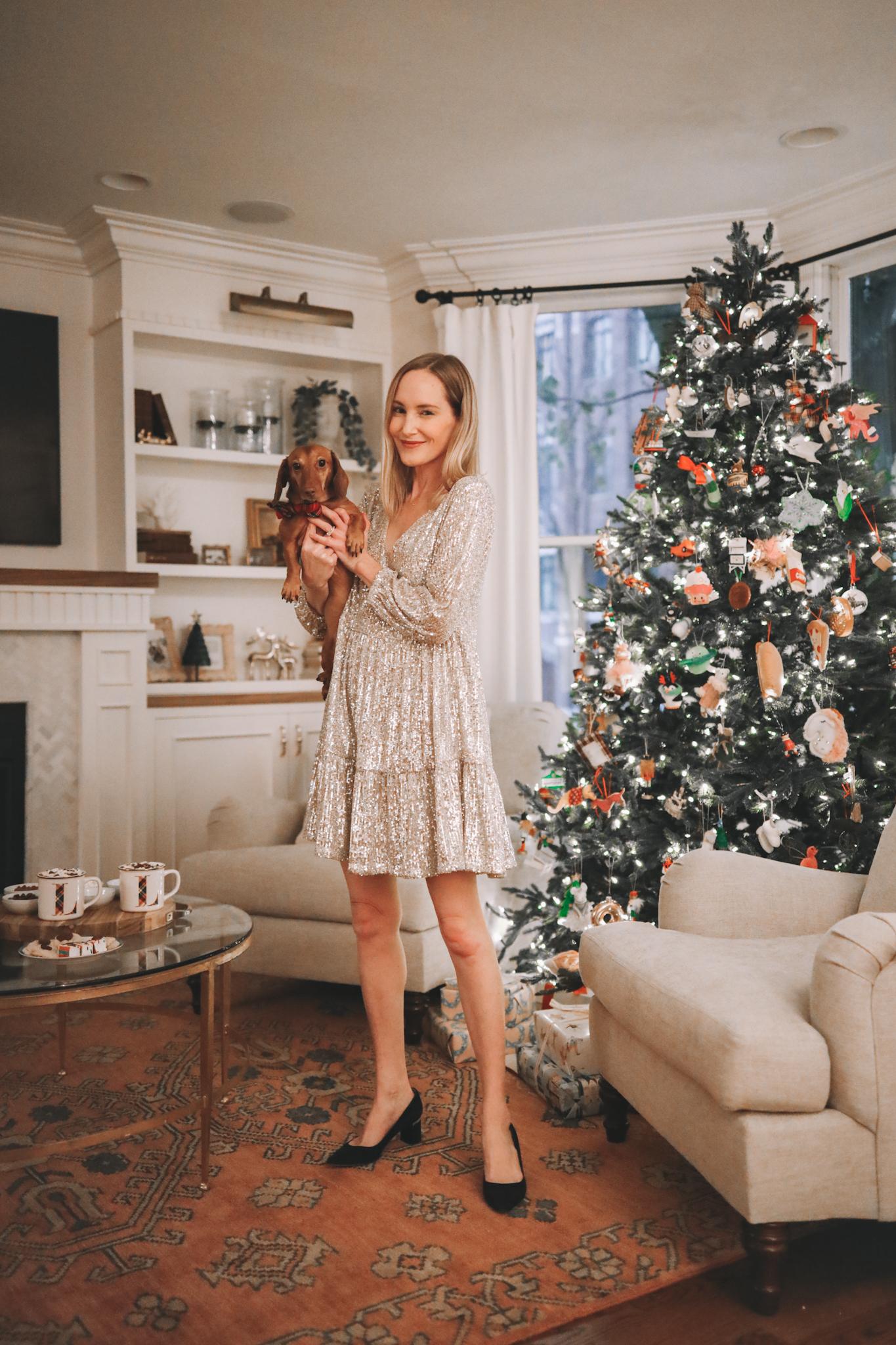 Tiered Sequin Dress (There's a top version, too! Love Sail to Sable's version as well.) / Newer Suede Pumps / Pottery Barn Carlisle Chairs (We have them in Down Blend Wrapped Cushions, Performance Heathered Tweed Pebble. Here's a more affordable version on sale!) / Rug / Coffee Table / Leather Chesterfield / Curtains / Black Hurricane Candle Holders / Faux Trailing Plant / Planter / Brass Dachshund / Plaid Mugs / Noodle's Bow / Wallpaper / Newer Pillows / Cane Boxes / Neutral Coffee Table Books / Reindeer / Frame TV Review / Marble Arch / Brass Hurricane Candle Holders / Brass Frames / Vase / Mango Wood Kiwi Birds / Newer Scalloped Bowl / Wooden Candle Stick Holders / Framed Horse Canvases
This is the best party dress I've ever owned, so I figured it needed a permanent post on the blog!
It's perfect. It's wonderfully swingy and forgiving yet hangs in just the right way. It's lined so there's absolutely zero itch—normally a problem for me with sequined numbers!—and the long sleeves mean warmth. I wore it to a little party in my own home, so I didn't need tights… but the next time I wear it, I'll simply wear black sheers (OR THESE, which have changed my life).
If you're wondering about sizing, I would size up only if you're in between sizes for room in the shoulders and length. Otherwise, order your normal size!
You can watch a video of the dress in action here. 😜
Shop the post:
Tiered Sequin Dress (There's a top version, too! Love Sail to Sable's version as well.) / Newer Suede Pumps / Pottery Barn Carlisle Chairs (We have them in Down Blend Wrapped Cushions, Performance Heathered Tweed Pebble. Here's a more affordable version on sale!) / Rug / Coffee Table / Leather Chesterfield / Curtains / Black Hurricane Candle Holders / Faux Trailing Plant / Planter / Brass Dachshund / Plaid Mugs / Noodle's Bow / Wallpaper / Newer Pillows / Cane Boxes / Neutral Coffee Table Books / Reindeer / Frame TV Review / Marble Arch / Brass Hurricane Candle Holders / Brass Frames / Vase / Mango Wood Kiwi Birds / Newer Scalloped Bowl / Wooden Candle Stick Holders / Framed Horse Canvases