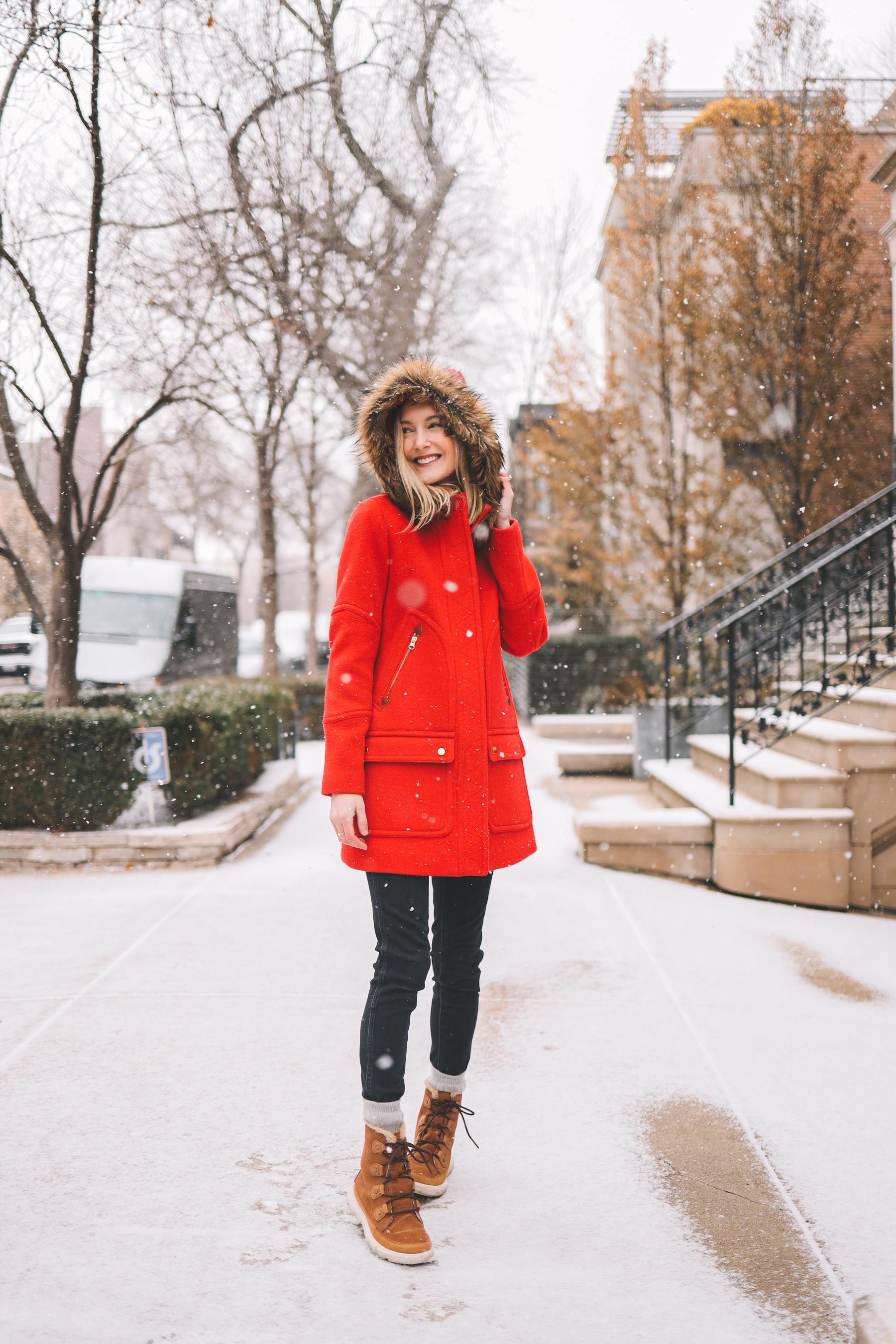 J.Crew Chateau Wool Parka / Factory Skinny Jeans / Sorel Sneaker Boots on Sale Here, Here, Here, Here and Here (Hopefully you can find a pair in your size!) / J.Crew Cashmere Socks
The wool Chateau Parka is iconic.
Its more informal sister, the Chateau Puffer, is a gem. It's wonderfully warm and cozy, and I'm the first to admit that it's what I reach for every morning in the thick of Chicago winters. But the wool version is timeless; a step up in terms of style. And it's really warm for a wool coat. As a Raynaud's sufferer, I'm shocked at how warm it is! It's undoubtedly due to the Stadium Cloth Wool that J.Crew is known for, and that is also uses in its famous Cocoon Coat.
I would say that the wool Chateau runs true to size, unlike its puffer friend and the aforementioned Cocoon Coat, which both run large. The red color is a few years old, but I also own the camel color, which is far more versatile anyway! The black is fabulous, too.
I think the best part about this coat is that it can be dressed down or up. I'm obviously wearing mine dressed down in these photos, but I frequently wear my Chateau out to dinner and it looks great with skirts and dresses alike. :)
A+. Something you'll have in your closet forever! 
Shop the post:
J.Crew Chateau Wool Parka / Factory Skinny Jeans / Sorel Sneaker Boots on Sale Here, Here, Here, Here and Here (Hopefully you can find a pair in your size!) / J.Crew Cashmere Socks