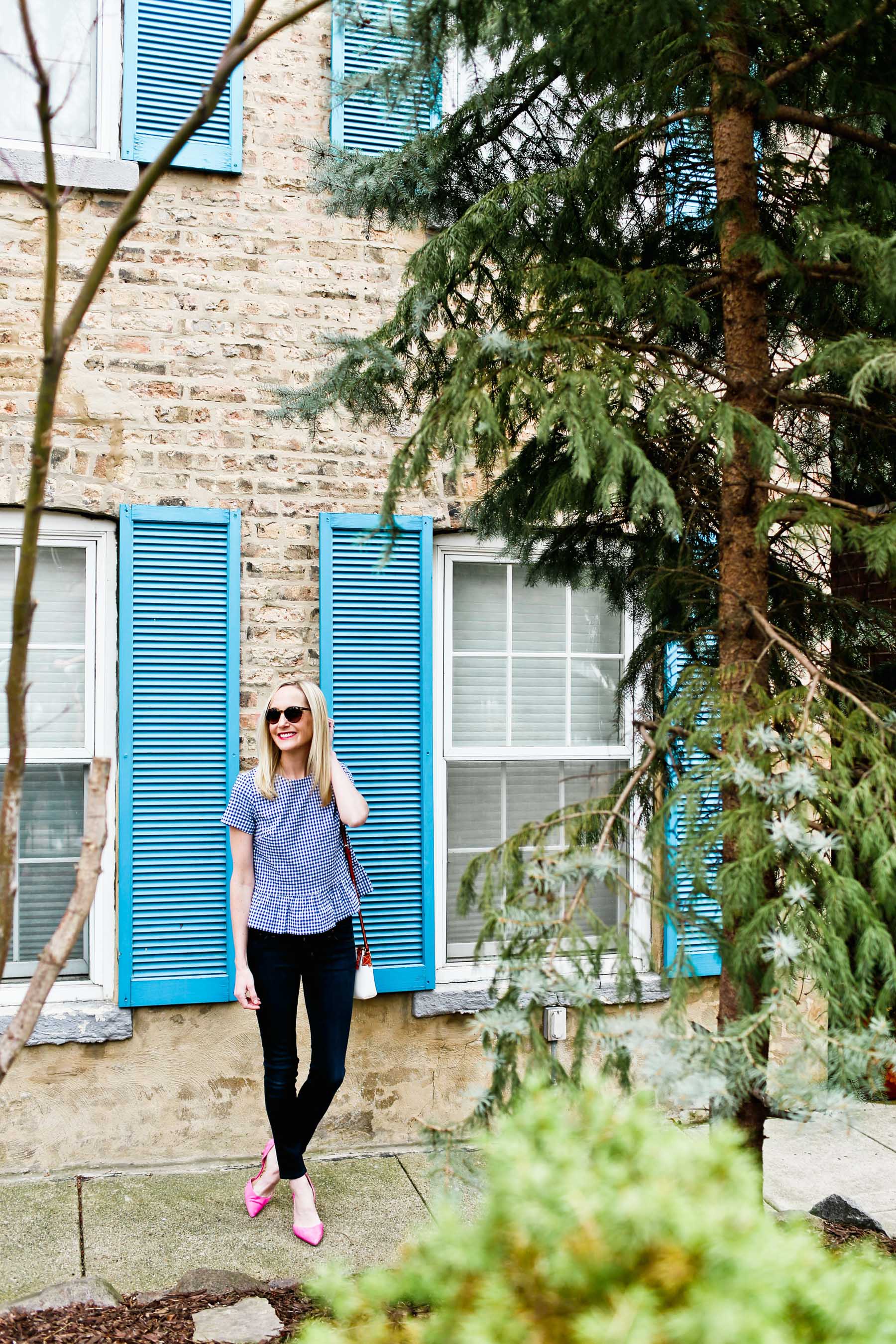 Gingham Ruffled Top (And oh my goodness. Have you seen THIS TOP?! Also a huge fan of this similar sweater. And can't stop thinking about this tee.) / Sam Edelman Pumps (In stock here. Other version here. These Sam Edelman Sandals are faves, too. Steve Madden makes a similar version. Love them in jute and navy denim, too.) / Hudson Jeans (Current jean crushes: this pair, this pair and this pair!) / Dooney & Bourke Bag
Hello from LA! We spent yesterday walking around Venice Beach and Santa Monica. So beautiful. Of course, we fell asleep instantly when our heads hit the pillow last night. (You know you're exhausted when you forget to even take out your contacts!) And now we're cuddled up in the hotel bed (Elmo included).
I can't wait to share more about our trip, but for now, let's bring it back to Chicago, where it was actually warm over the weekend. Hallelujah! My friend Cassandra snapped these photos one sunny afternoon, and just looking at them now makes me excited about springtime in our city. I can't wait for trips to the beach, outdoor dining, gardening, bike riding, sitting on the front stoop with Emma, and swim lessons. (Those will be inside, but we can't wait to get our little goldfish into the water. It's going to be the cutest. So sweet that they call the babies "goldfish," right?!)
Anyway, I love this gingham ruffled top. It's a stretchy material and doesn't wrinkle very easily, and it's flowy and flattering. It also comes in navy, which I might have as well. ;) Such a staple for the spring! I also really like this ruffled gingham tank, which would have been perfect for LA, and this ruffled tee, which is absolutely adorable and on sale. And don't even get me started on this tank. Sigh.
Up for today: we're having lunch in Santa Monica and then headed in the direction of Malibu, Brentwood, Bel-Air, Beverly Hills and Hollywood. We'll see where the wind takes us! If you have any good recommendations for those places, we'd love to hear, as we have zero plans and have just been going with what people have recommended. ;) Thanks in advance!
In the meantime, follow along with us on Facebook, Instagram and Insta Stories. Hope you guys have a great start to the week!
Shop the post:
Gingham Ruffled Top (And oh my goodness. Have you seen THIS TOP?! Also a huge fan of this similar sweater. And can't stop thinking about this tee.) / Sam Edelman Pumps (In stock here. Other version here. These Sam Edelman Sandals are faves, too. Steve Madden makes a similar version. Love them in jute and navy denim, too.) / Hudson Jeans (Current jean crushes: this pair, this pair and this pair!) / Dooney & Bourke Bag
Photos by Cassandra Eldridge