1. Anthropologie Fleece-Lined Leggings: I don't want to take them off. Good god. They're amazing. (I was traumatized by the polar vortex, and now I hear we have another blast of arctic air on the way. Ugh!) Now–don't get me wrong. These are not similar to the structured Pixie Pant by J.Crew or GiGi Pant by J.Crew Factory, which really resemble actual pants, as they're made from heavyweight ponte fabric. The Anthropologie leggings are very lightweight (yet insanely warm), and should probably only be worn out of the house with a long sweater. But they're fantastic. And they're only $18. So there's that. Try them.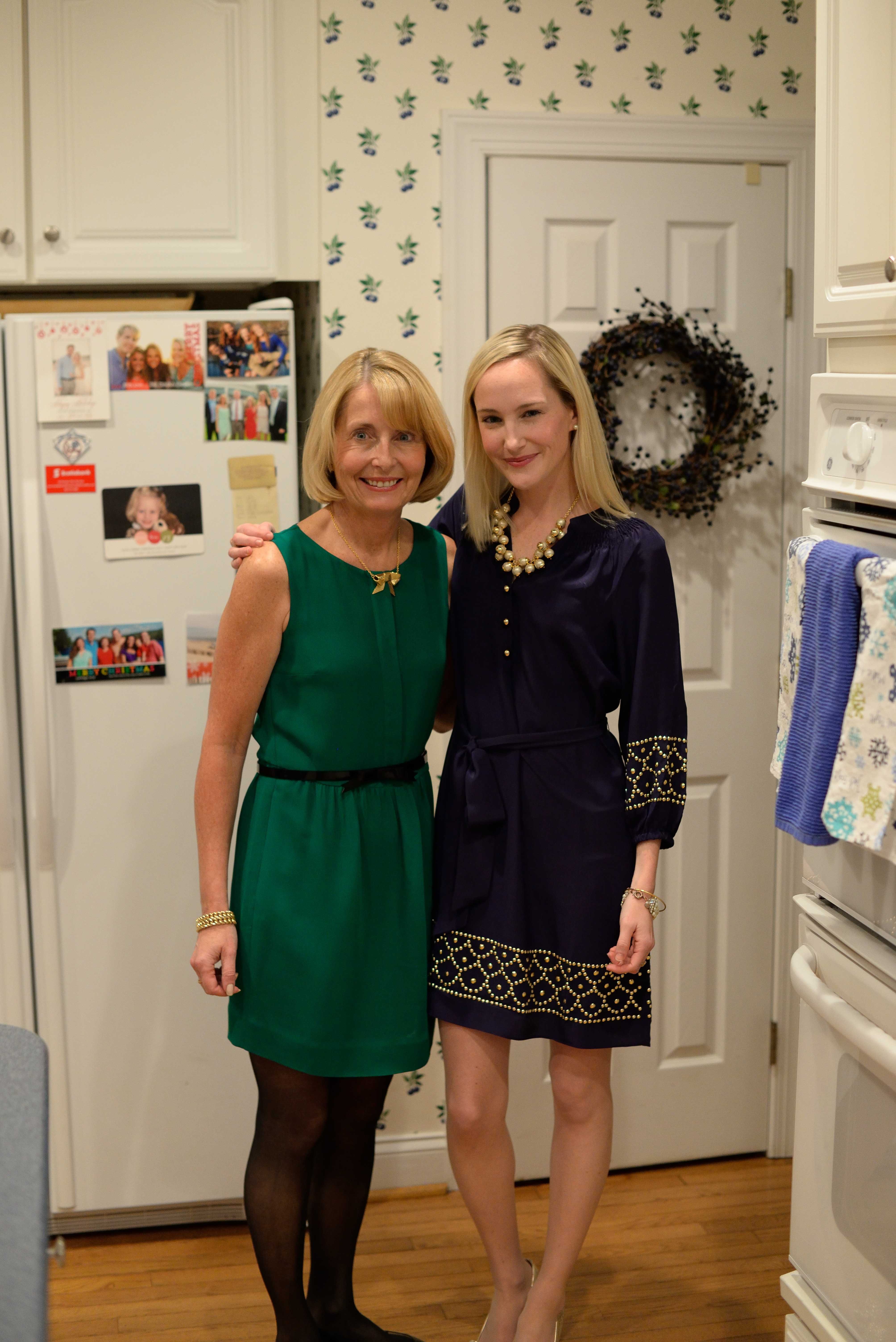 2. Phone calls with Mom: I love my mom. We have a weekly phone date–every Tuesday evening–during which we catch up about whatever's been going on in our lives. It's wonderful. If I'm having a hard day (which is often, according to me ;)), she lets me vent and go on and on about whatever it is I'm upset about. There were times in years past that mom was receiving three phone calls a day. Like the time I accidentally dyed my hair green. Or the time my bumper fell off in the middle of the interstate and I didn't know what to do. Or the time I signed up to make cookies for a bakesale but was so tired the night before that I forgot to put the sugar in the batter. Three times in a row. (Mom, you're the best.) These days, I like to think we have fewer freakout sessions and more conversations about life. I love that. Moms who are moms and friends are pretty awesome.
3. Short Hunter Wellies (in hot pink): I had a pair of the "Original Tall" boots in "dark olive" not long ago, but got rid of them after Hurricane Sandy. Hoboken was under a lot of water, much of which the mayor said had been contaminated. (Gross.) I know that I probably should have just bleached them or something, but off they went. Truthfully, every time I looked at them, I thought "poop." Haha.
Anyway, these are my new obsession. I have a real problem when the projected forecast is rain in the morning but clear in the afternoon. Do I wear my hulking rain boots only to lug them around the city with me all afternoon and night?! Or do I suffer, and have wet feet all day? Life is hard. ;) But these are perfect–smaller and less bulky.
4. Dachshund Oil and Vinegar Bottles: I have nothing more to say. My life is complete. And a big thank you to my best friend, Erica. Best Christmas present ever? Hehe.
Right now, they're sitting on my shelf because I can't bear the thought of getting them dirty. I clearly have major problems.
5. The idea of working from home: I've said this before, and I'll say it again. You know that scene from One Fine Day (amazing soundtrack here) in which Michelle Pfeiffer is sitting on her bed in her gorgeous–albeit messy–Manhattan apartment? She's in cozy clothing, and is surrounded by some work and maybe her laptop. And it's raining outside. I think. (My memory is a bit foggy.) I want that. I mean, okay. Maybe I don't actually want it, but because I've never had it, I want it. Take this morning. Awful. I hate commuting in the rain. Especially when you have to commute through Times Square. Sounds glamorous, but take it from me: it's not. At least not when it's 7 a.m. and there are a zillion annoying tourists who don't know where they're going and constantly bump into you, causing you to spill your coffee. (Vent over, haha.) How nice would it be to just work from home?! But then again, I'm an incredibly social person and would likely have a breakdown from the loneliness. And I probably couldn't resist sleeping in. And taking naps. And going on walks. And… you know. Not working. ;)
6. GH Bass Weejuns & Loafers: I'm beyond obsessed with these, and I'm kind of unsure as to how I only discovered their awesomeness now. I think I wore them as a kid, and maybe my dad has a pair… But they're seriously fabulous. I have really, really sensitive feet–nearly all shoes except Sperrys hurt me–but these feel like I'm walking on clouds. My favorites are obviously the pink ones. Buy them in bright colors and muted colors at 6 p.m. for a discounted price!
7. This time-lapse video of Manhattan that Mitch took last weekend: The guy loves time lapses. And I'm really glad he loves making them. Because how cool, right?! The wind was crazy when he shot it, but I still think it came out quite well! Check out this one, too. And this one.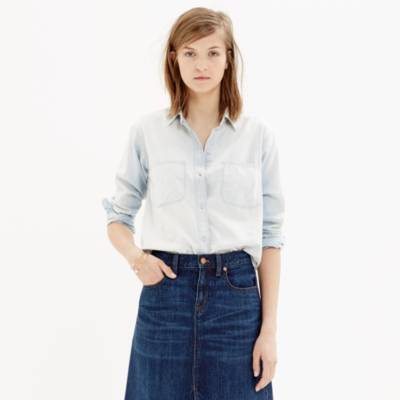 8. This Madewell Chambray Shirt: I have way too many chambray shirts (I think there are six of them currently in my closet), but this one is my favorite. It's ridiculously soft, comfy and lightweight. And it's on sale. I find myself grabbing it when I'm in a rush, when I don't know what to wear, or when I'm looking for something to pair with a bold statement piece. Love, love, love.
9. This song: Oh-em-gee. My students actually had to tell me to stop. I can't help it. It's on repeat in my mind. It's one of those feel-good, I-can-do-anything-like-run-several-miles songs for me. Even though it's probably about a failed relationship. And even though it's probably being played constantly on the radio.
10. Gossip Girl: Hahaha. Okay. I need to just admit this to the world, because it's kind of hilarious that A) I'd never seen a full episode prior to this past month even though I've seen it being filmed on the Upper East Side on multiple occasions, and B) I'm now hooked. And, you know, I'm old, and watching a television series about teenagers. And loving it. Fine. Maybe the storyline has a few holes, but I love that the scenes are shot in New York City. My first apartment building was actually in one the early episodes! How cool is that?! (#yesimtwelve, haha.) No spoilers please. I'm only on Season 2!
On to Wednesday!