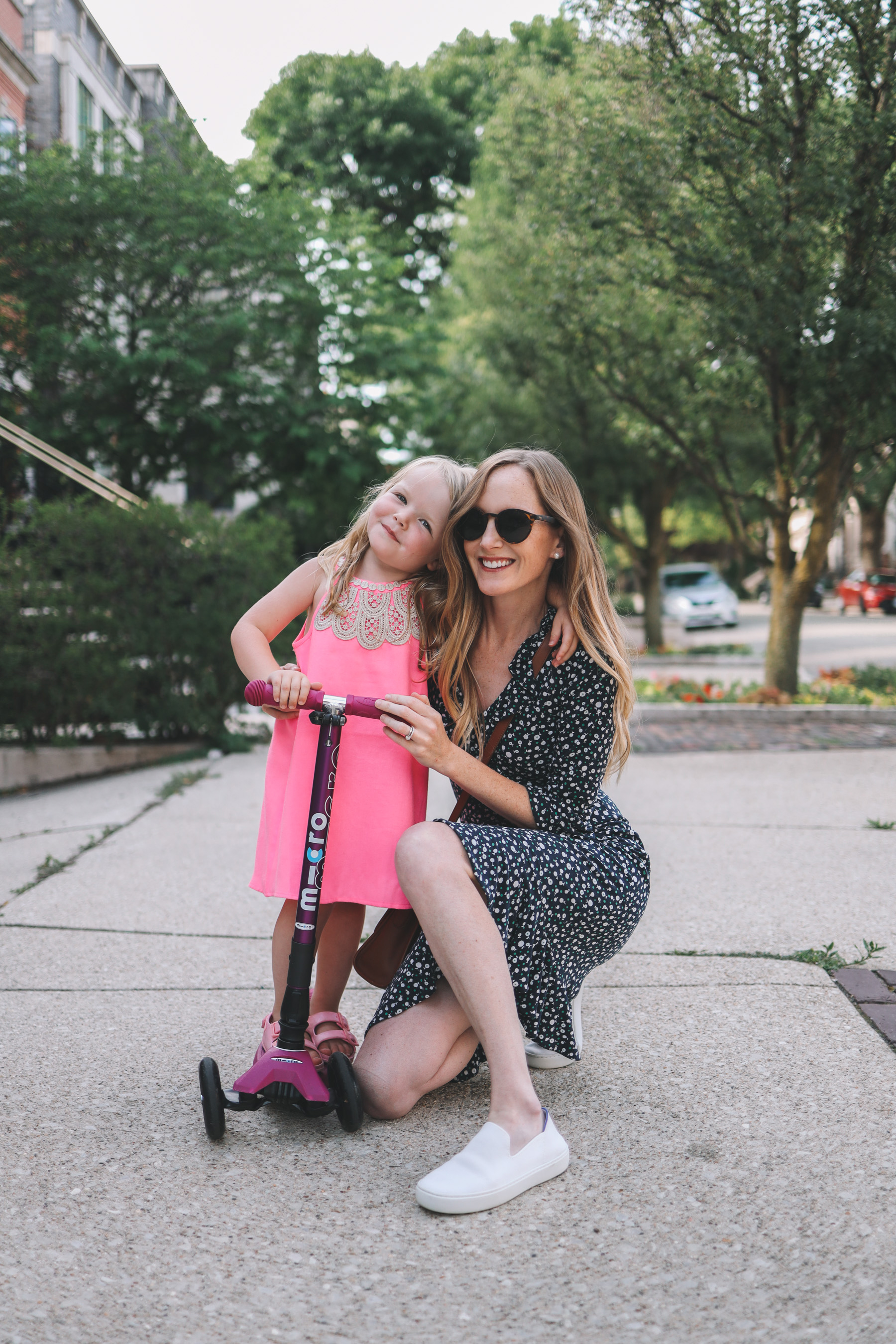 Rothy's Sneakers / Boden Jersey Dress (This is an all-time favorite dress.) / Coach Court Bag (This one is brand new!) / Lilly Pulitzer Girls' Dress / Skechers Kids' Sandals / Emma's Scooter
I own far too many Rothy's shoes. 🙈 Specifically Rothy's sneakers. But they're amazing, especially for moms. (Here's my full honest review on the brand, and I answer a ton of FAQs about them in there, too! Sneaker review is here.) All you really need to know, though, is that they're amazingly comfortable and WASHABLE. And it's ridiculously easy. Like, just-throw-'em-the-washing-machine-with-the-rest-of-the-load kind of easy. (Simply remove the insoles first. More on washing them here.)

All of that said, they're pricey. (Worth it, but pricey.) And they very rarely go on sale. "So how to get a deal?" a Sale Lover might ask. The answer is eBay! You can find a TON of Rothy's sneakers for a considerable discount there, and so many listing are for either new or new-without-box shoes.
It's great. I've been using eBay since I first moved to New York as a wide-eyed 21-year-old with roughly -$500 in her bank account because she borrowed money to pay the first and last months' rent. It was then that I fell in love with it, but the love affair has lasted many, many years. 😉 Fourteen years to be exact! 🧟‍♀️ (Ugh. Moving on, haha.)
eBay is where I find rare or discontinued products (like retro Coach bags!) as well as new releases for a steal. Seventy-two percent of items ship for free in the U.S., and 80 percent of merchandise is new. (I was shocked to learn this!) And using eBay has become very easy. You can shop by brand, size, style, color, condition, price or buying format ("buy it now" or auction).
And with that, please enjoy these pics in which Emma really hams it up for the cam. Love her. 😂
Oh, and the women's sneaker section and the men's/unisex section is worth checking out! So many more brands than just Rothy's. Tretorns are another favorite. :)
xoxo
Shop the post:
Rothy's Sneakers / Boden Jersey Dress (This is an all-time favorite dress.) / Coach Court Bag (This one is brand new!) / Lilly Pulitzer Girls' Dress / Skechers Kids' Sandals / Emma's Scooter
In partnership with eBay; all opinions are my own. As always, thank you so, so much for supporting the collaborations that keep Kelly in the City up and running!