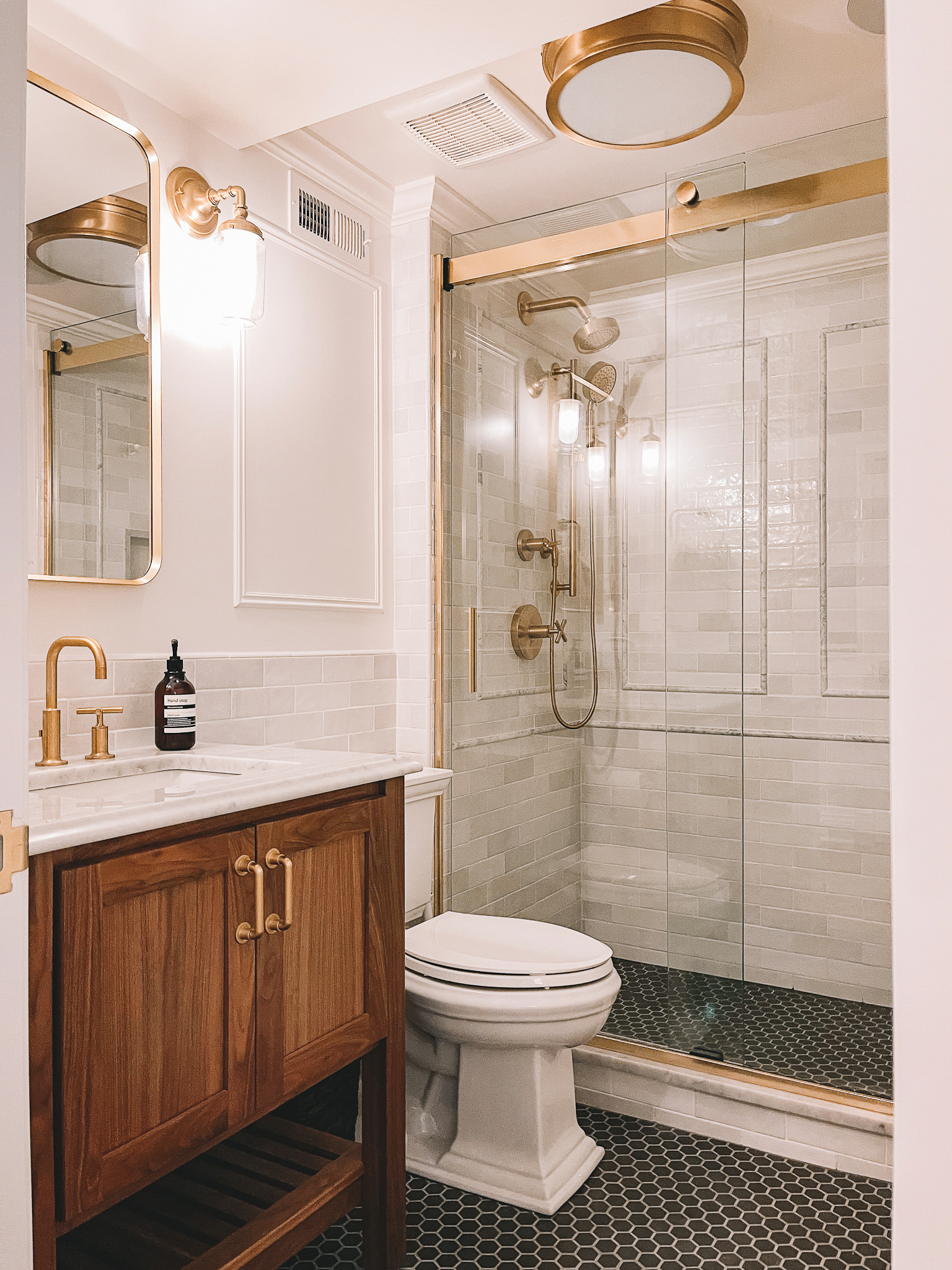 Mitch here!
Okay, guys. We completed our Guest Bathroom renovation with Studio41! No, it didn't take one week. 😜 We saved all the content and scheduled it to go live during this timeframe because come on. Everyone wants to see the final reveal when watching an HGTV show, right? So let's do this!
The project
In case you missed the first post, here's the gist: Our house doesn't have a true guest room. No big deal, but over the course of the last year, it became apparent that we needed to rethink some ares of our home and turn them into flex spaces to accommodate our growing extended families and the rate at which we host six-year-old sleepovers.
My basement office and the bathroom next to it—both of which were likely last updated about 20 years ago—seemed ideal. Not only would our guests have privacy, I'd also have a much more functional office and workout room. It was a win-win across the board!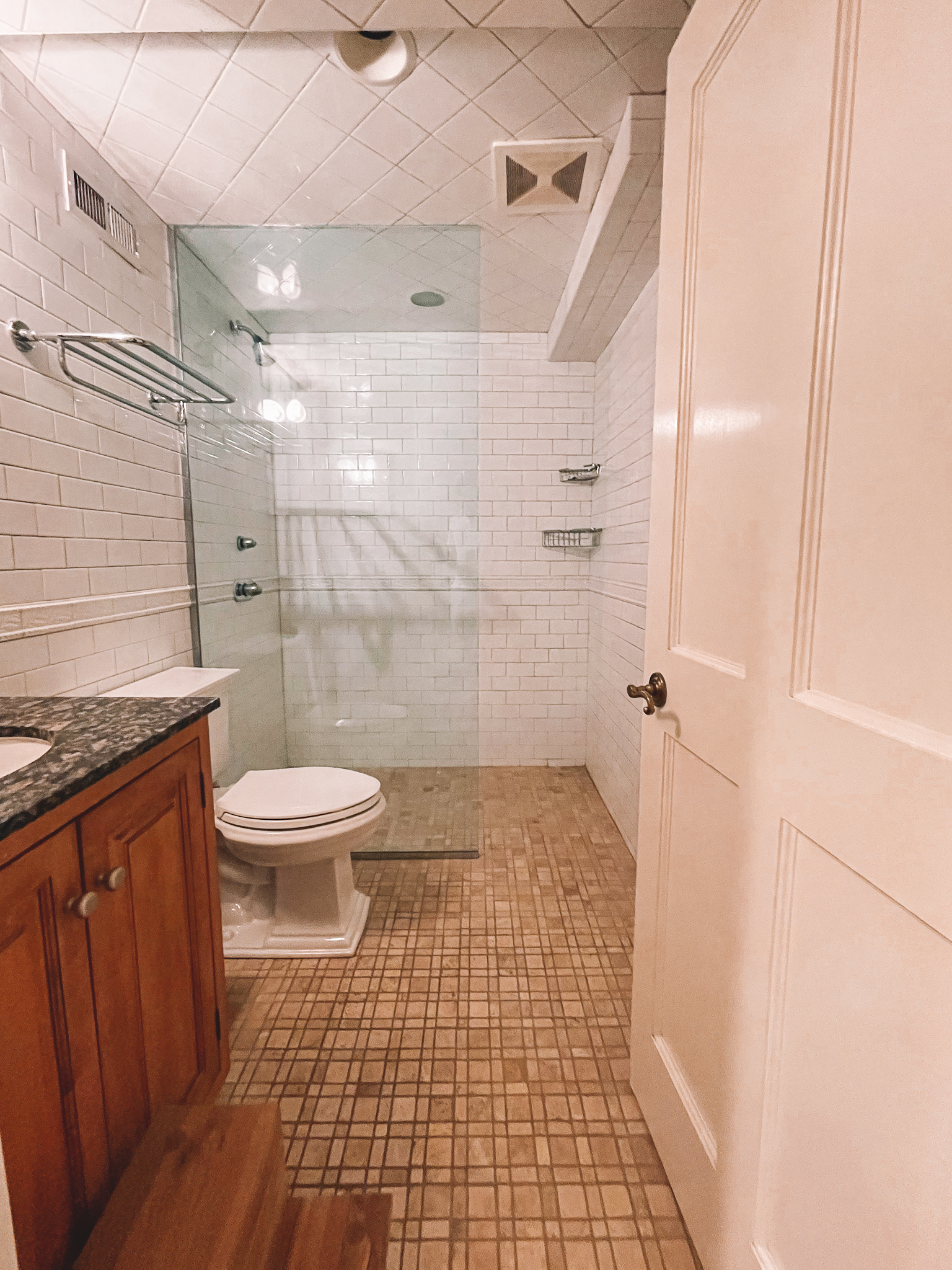 The "before"
Studio41 and the process
Studio41 is the absolute best place to tackle your kitchen and bathroom renovation projects. They will take your project from concept to completion with the absolute bare minimum of stress. It works like this:
You contact Studio41 with measurements and inspiration photos, and their skilled design team will quickly put together a proposal.
From there, you can work to finalize the materials online or at one of their 21 locations around Chicagoland. (I can't tell you how incredibly knowledgeable and helpful the Studio41 team was throughout this process. They did ALL THE WORK.)
After materials are selected, Studio41 sources everything—which is quite the feat during a supply chain crisis—and delivers it all right to the job site.
If you've ever lived through a renovation, you know that issues arise and it's an ongoing process until the job is totally done. And I'm telling you: Studio41 gave us non-stop attention to make sure we were 100-percent happy with every little part of the project. They have incredible customer service and I don't think I'd ever do another bathroom renovation without them. (Though thank god, we're done.)
The materials
Because of past mistakes, Kelly and I now adhere to the "buy it nice or buy it twice" philosophy (for the most part) for home projects. Luckily, Studio41 partners with all the world's best suppliers. We went with as much Kohler stuff as possible since their product lines never disappoint.
Shower
With Studio41's guidance, we decided to give this bathroom a traditional feel with modern accents. The most striking example of us going more modern is this Kohler Levity shower door. As you can tell, we love Kohler's Vibrant Moderne Brass finish and used it exclusively throughout the bathroom, as evidenced by the shower head, hand shower, trim, hose and slidebar. I even selected this vibrant moderne brass shower drain. The one place I showed restraint in was with the towel racks. Despite the fact that I loved this hotelier and this towel bar, we opted for two of these simple Brass Robe Hooks to make the space look less busy.
Vanity
While this bathroom will be used by guests, it will also function as the playroom and office bathroom. Because of that, we wanted vanity large enough to serve both guests and casual family usage. The design team at Studio41 found this 30″ Interlude Vanity from Berth in a natural finish walnut. We then replaced standard vanity top with this stunning MSI Carrara. Also, shoutout to Chicago Metro Stone for the intricate cutting and ogee edge finish. I was especially excited for the custom marble vanity top because it allowed us to use this a fabulous Kohler undermount sink. Lastly, we chose the Purist Widespread Faucet with Cross Handles. I liked those cross handles so much I put them in the shower, too.
We then finished off the vanity space with this stunning rectangular decorative mirror which I was a little nervous about before seeing it in person. It's much more modern than anything else we have in the house, but it's a sleek-looking piece and it's actually my favorite part of the installation. We debated either using these Lacemaker Sconces or the One-Light Scones, and ultimately choose the slimmer One-Light variety so we could free up some room for the picture frame molding on the rest of the wall. Lastly, we included this Brass Towel Ring for hand towels.
Tile
Tile selection is usually the hardest part of any bathroom project. Choosing the wrong tile, grout or molding could really mess up the design. Luckily, Studio41 had some excellent ideas and we're so pleased with how it turned out. For the flooring, we chose this hexagonal tile in a charcoal color (easy cleaning!) which offsets the white Cloe Tile we chose for the wall. Kelly says this wall tile is totally in right now and though I'd never heard of it before, I love it. This Cloe pencil molding was the perfect matching accent for the corners and borders as well.
One of the harder design challenges for this space was trying to incorporate the MSI marble that we love from the vanity in the shower. We needed a white tile with enough blue notes to make it work. Studio41 did such a good job that we decided to take it a step further and include this marble dome molding from MSI to mirror the wooden frame molding on the walls throughout the rest of the room. I think it came out great!
Toilet
This Two-piece Elongated Toilet from Kohler is traditional and substantial, and I love the way it looks. We "accessorized" it with this brass paper holder, trip lever and supply kit. Ah, our accessorized toilet.
Knobs, accessories and decor
Isn't it crazy how many decisions go into a renovation of a small room like this? Thank goodness for Studio41's designers. They suggested these Emtek Rectangular Rosette Norwich Knobs. We also went with moisture-resistant ceiling speakers to carry in our Sonos system from the rest of the house. And this Simple Drum Flush Mount Chandelier gives great ambient light when attached to these smart light switches from Kasa.
The final result
I love it! It came out better than I ever could have imagined. The modern aesthetic gives it a distinct style that really elevates the space.
More importantly, it's improved the functionality of the basement. We've now hosted three sets of guests, and I can't tell you what a relief it is to know that they're comfortable and taken care of. Equally as important is that Emma and Lucy are no longer displaced when we have guests, and they get a good night's sleep in their own beds.
Next up: my office
I can't wait to next share the office renovation with you. Stay tuned. Big shout out to Studio41 for their amazing work on this project. (Thank you.) And, as always…
Mitch. OUT!