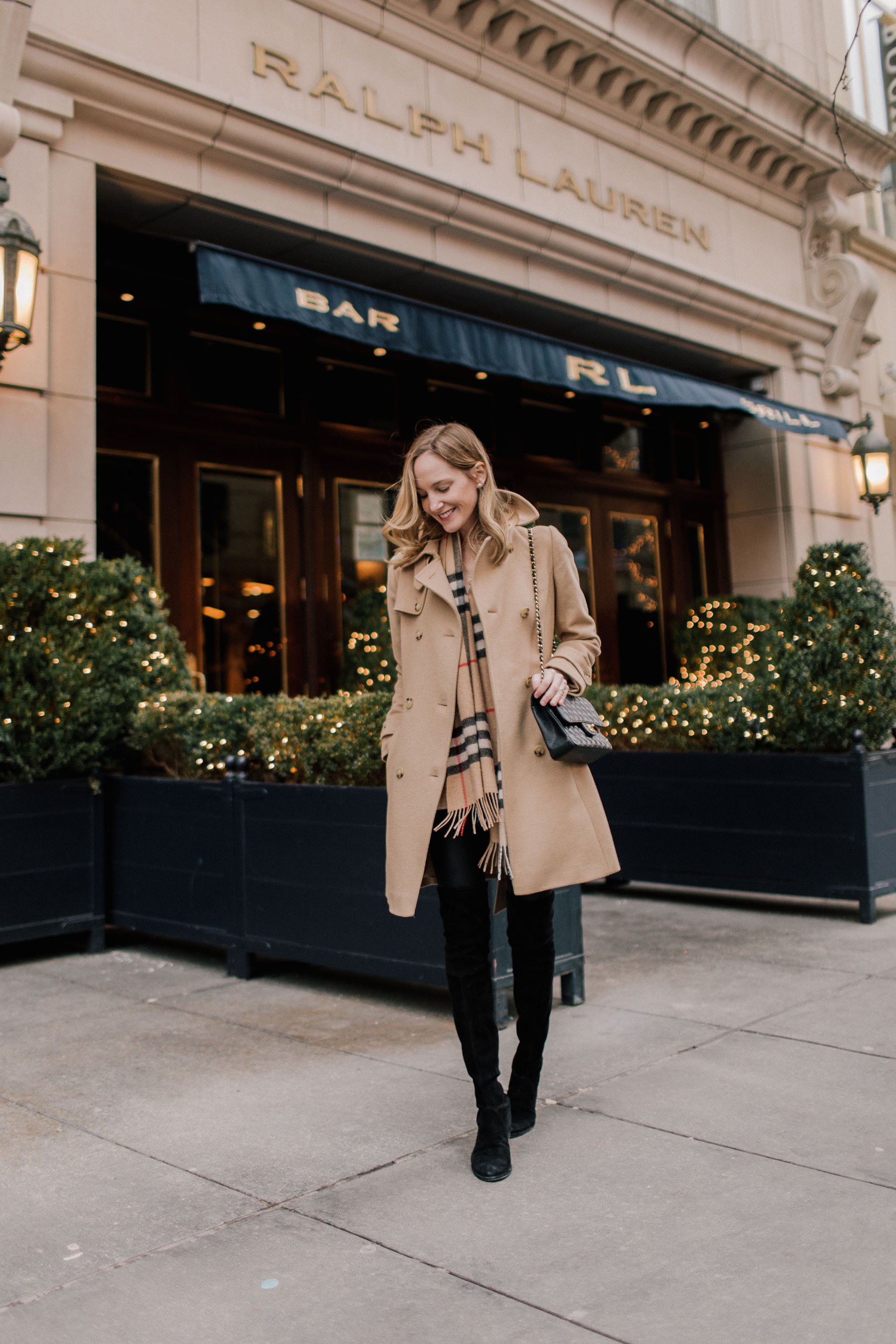 Faux Leather Leggings (I also hear that this pair is fantastic!) / Ralph Lauren Coat (A coincidence, but hahaha! My current favorite in-stock camel coats include this one, this one and this one, btw. My coat is also available here. And I loooove this Ralph Lauren coat in pink.) / Burberry Scarf (Love it in pink for Valentine's Day, and here's the children's snood, which TOTALLY fits adults and is half the price of the adult scarf.) / Over-the-Knee Boots (Also have these and ADORE them. They're waterproof and crazy warm! They come in suede as well. I love these and these, too, which nearly identical to the ones I'm wearing here, but they're so much more affordable.) / Lilly Pulitzer Camel Cardigan c/o (Can't see it in the photos, but it's a dream!) / Chanel Bag c/o (Read my post on how to get a Chanel bag for a STEAL here! Looking for a more affordable alternative? Try this one, this one, this one or this one.)
Bah! Guys, I'm having some technical difficulties over here, so my photography series launch will have to happen in a couple of days. I tried so hard to get it up this week, but sadly, my computer–and toddler, if we're being honest, haha–are currently winning the battle. 😂 That said, I have some fun videos filmed, and I can't wait to share! Be sure to weigh in and take the survey here. (Anyone else majorly struggle with technology? Oy.)
Today, though, I'm sharing a few quick snaps from Girls' Day with Jess this past Wednesday. If you've been following along with me for a while, you know that Jess is my best friend here in Chicago. I'm beyond grateful for her, and she's a BIG part of the reason I love this city so much. I know I would have moved back to New York had it not been for Jess, so in a lot of ways, she's responsible for this new life I have and love so much.

Similar coats
Anyway, we grabbed lunch at Ralph Lauren, which we'd both never done before. (I was supposed to go with Mitch for my birthday back in October, but I was so sick that we had to cancel.) It was so stunningly beautiful that I actually forgot to pick up my camera! In all seriousness, though, I couldn't recommend it enough if you plan on visiting Chicago. It's certainly the preppiest establishment I've been to in the Windy City. ;) And the food is fabulous!

Other outfit details
All right. Cutting this short because this girl is exhausted and needs sleep. Happy Friday, Friends. Hope you have a wonderful end to your week, and I'll see you back here tomorrow!
And Jess, I love you. ;)
Shop the post:
Faux Leather Leggings (I also hear that this pair is fantastic!) / Ralph Lauren Coat (A coincidence, but hahaha! My current favorite in-stock camel coats include this one, this one and this one, btw. My coat is also available here. And I loooove this Ralph Lauren coat in pink.) / Burberry Scarf (Love it in pink for Valentine's Day, and here's the children's snood, which TOTALLY fits adults and is half the price of the adult scarf.) / Over-the-Knee Boots (Also have these and ADORE them. They're waterproof and crazy warm! They come in suede as well. I love these and these, too, which nearly identical to the ones I'm wearing here, but they're so much more affordable.) / Lilly Pulitzer Camel Cardigan c/o (Can't see it in the photos, but it's a dream!) / Chanel Bag c/o (Read my post on how to get a Chanel bag for a STEAL here! Looking for a more affordable alternative? Try this one, this one, this one or this one.)
SaveSave