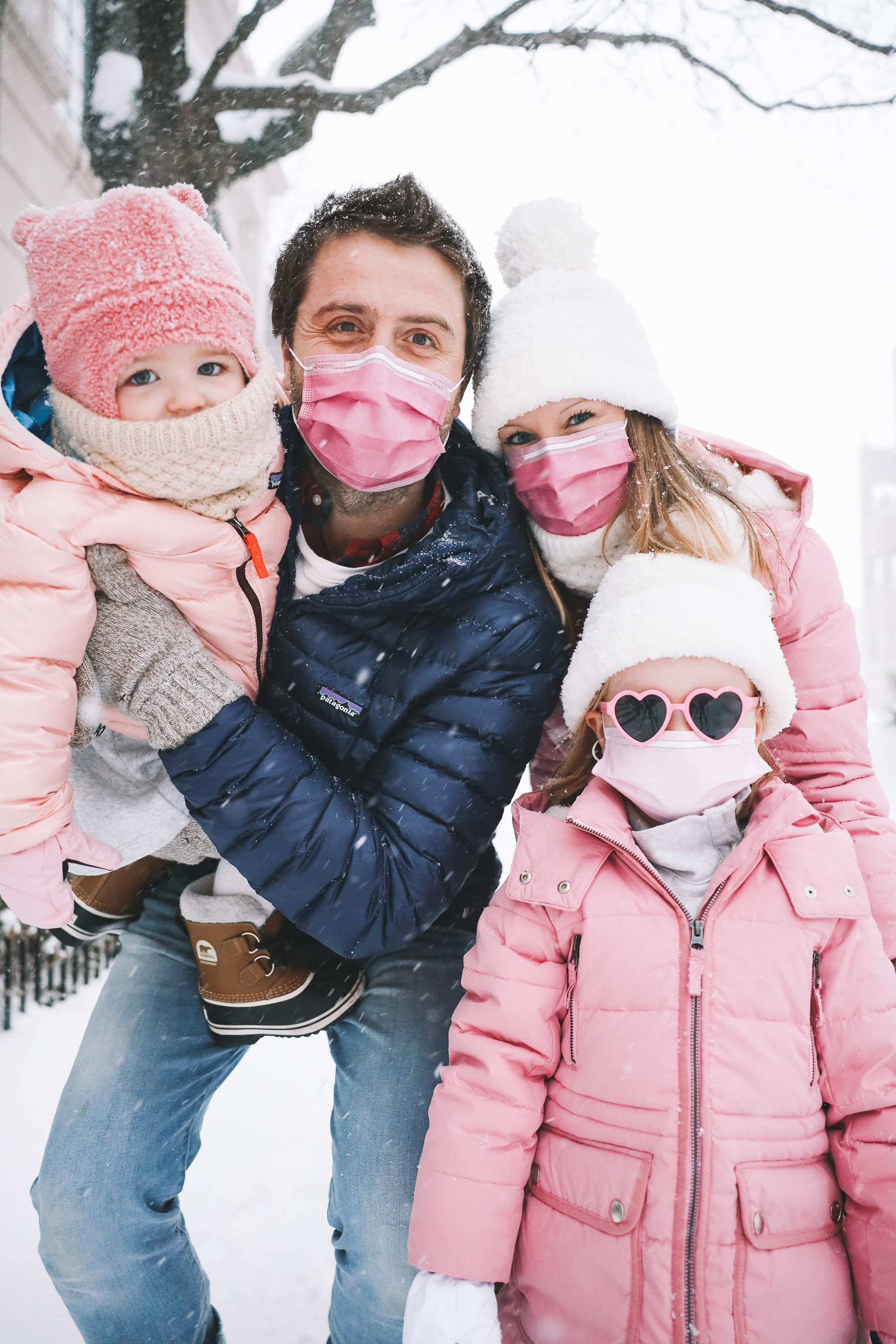 Girls' Sweatshirt Dresses (Here is the girls' sweatshirt version and the women's sweatshirt version.) / J.Crew Chateau Puffer Coat/ J.Crew Girls' Chateau Puffer / Lucy's Patagonia (Use code "INTHECITY15" to take 15 percent off!) /  Sorel Joan of Arctic Boots, available at Backcountry, Sorel and Zappos) / AE Warm Up Leggings / Amazon Snood Scarf / Barefoot Dreams Hat / Lucy's hand-me-down Sorel Boots and Emma's Sorel Snow Boots (Also available via Zappos.) / Lucy's Hat / Girls' Mittens / Mitch's Bean Boots, Patagonia Jacket (Use code "INTHECITY15" to take 15 percent off!), Similar Gloves
Emma. 😆
She's a mood.
I've been trying to space out my puffer-coats-in-snowstorms blog posts just so things don't get repetitive for you, but considering it snows here on a seemingly everyday basis, IT'S BEEN TOUGH. ;)
I actually took these photos for an Instagram collaboration with Medtecs—but the heavy snow created such an ethereal effect that I had to share them here, too!
One thing I'll note before leaving you is that this little girls' sweatshirt dress is a DREAM. It's unbelievably cozy, as it's lined with the softest fleecey material. I can't recommend it more. Emma is wearing a size 6 and Lucy is wearing a 3 so they can wear them next year, too. There's also a women's sweatshirt version as well as a girls' sweatshirt version. Both those options are stellar!
Shop the post:
Girls' Sweatshirt Dresses (Here is the girls' sweatshirt version and the women's sweatshirt version.) / J.Crew Chateau Puffer Coat/ J.Crew Girls' Chateau Puffer / Lucy's Patagonia (Use code "INTHECITY15" to take 15 percent off!) /  Sorel Joan of Arctic Boots, available at Backcountry, Sorel and Zappos) / AE Warm Up Leggings / Amazon Snood Scarf / Barefoot Dreams Hat / Lucy's hand-me-down Sorel Boots and Emma's Sorel Snow Boots (Also available via Zappos.) / Lucy's Hat / Girls' Mittens / Mitch's Bean Boots, Patagonia Jacket (Use code "INTHECITY15" to take 15 percent off!), Similar Gloves