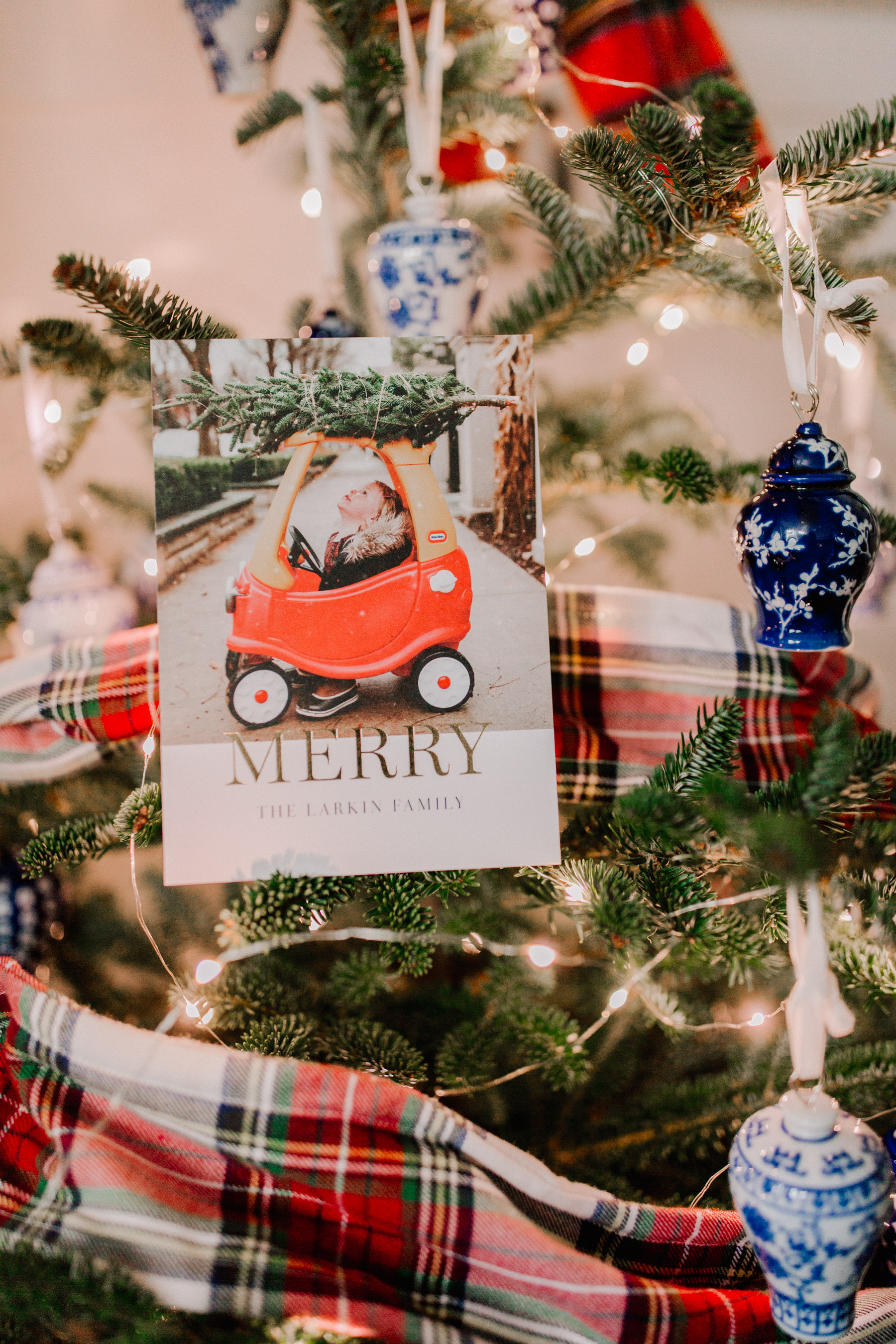 Use code "KELLY20" to take 20 percent off all Artifact Uprising holiday cards. Offer expires in one week.
I can't tell you how excited I am about today's post. 🤗 I adore our Christmas cards, which I made with Artifact Uprising!
In case you missed it, I recently shared my best tips for taking great holiday family photos. I really loved this particular shot, and had even laid out the card on Artifact Uprising and everything–when suddenly, Chicago was hit with two solid weeks of snow. (Or, at least, that's what it felt like. A couple of big storms, a few light dustings, and countless days of flurries. It's actually snowing as I type this!) And then I remembered an adorable photo of a toddler in a Little Tikes Cozy Coupe with a miniature Christmas tree strapped to the roof that I found on Pinterest last year, and I thought to myself, "The time is now." 😂
Like I recommended doing in my post, I really hyped the day up. I told Emma that she'd be driving to the tree lot–a couple of blocks from our home–in her red car and picking up her very own tree. And she was exuberant. Like, I think this may have been the best day of her little life, haha. She was so happy that she was shrieking! A crowd of little kids even formed around her once we got the tree on the roof and wrapped some battery-powered string lights around it… and two people stuck their heads out their cars to shout "Adorable!" Another person also yelled, "Beep, beep!" to which Emma screamed in response, "BEEP BEEP!!!" I almost died. ;)
(In case you're wondering, I was able to get her to look up by placing Peppa Pig stickers on the car's ceiling. Girlfriend loves Peppa Pig.)
Anyway, I couldn't help but take a zillion pics. We were just having such a blast and laughing so much; every moment seemed magical. Which is why you see so many photos in this post! Don't even get me started on how long it took me to decide on which one to use for the card. SO HARD. But I did it, and I'm unbelievably happy with how it all came out. Without a doubt, this is the Larkin Family's best holiday card yet!
Christmas Cards with Artifact Uprising
So let me tell you about those cards, and about Artifact Uprising. In years past, I became so overwhelmed by how complicated holiday card design options were and by the sheer number of available cards that I gave up. (I remember one year spending a solid 1.5 hours going through them, only to realize that I was just halfway through! I ended up not ordering.) Artifact Uprising–which believes in keeping things simple with modern designs and short, heartfelt messages that are more aligned to my style–offers a great selection, with over 80 easy-to-customize cards. But it's far more manageable, and the site is super navigable. I was able to look through all the different cards and pick my favorite in under five minutes. Such a better experience!
I went with this foil-stamped "Merry" card. Isn't it beautiful? I love its use of white space, and how the lettering pokes up into the photo–just slightly. I was so happy to discover that I could include that first image on the back of the card, too! (Great for the indecisive. 😉)
Be sure to check out all of Artifact Uprising's foil cards as well as their multi-image cards, hand-lettered cards, and artist collaboration cards. All cards are printed on 100-percent recycled paper, and they come with the option of envelope addressing, which is admittedly the only reason we actually sent out our cards this year, haha. We simply uploaded our address book to the site, and boom! They came perfectly addressed, and it took us all of 15 minutes to stamp and drop 'em in the mailbox. Can't beat that, right?! (Btw: Please notice the address I chose to include on our "sample envelope" in the photos below. It's my mom's name and my first NYC address. I'm so creative.😂 )
Also, I should mention that Artifact Uprising has an awesome selection of New Year's and other "year in review" cards. I see more and more friends and family members taking this route instead of the traditional Christmas card one, and I kind of love it! I mean, if you send them now, they totally work. But if you can't get your ducks in a row to send them out before December 25th, it doesn't matter. You can send them whenever the Christmas craziness is over! Such a nice option for procrastinators, people who are just barely keeping their heads above water in Q4 (Hi!), and those who solely celebrate New Year's.
Artifact Uprising is speedy, and they'll ship your order within two to three days. If you are planning on sending before Christmas, though, please take note of the following important dates: To get gifts in time for Christmas Eve, USPS orders need to be placed by 12/10. FedEx Ground orders, however, need to be placed by 12/13. Find more info here, and don't forget to use code "KELLY20" to take 20 percent off all Artifact Uprising holiday cards! Offer expires in one week.
But without further ado, here's the finished product!
Would you like an mini tree delivered to your door via Cozy Coupe? Emma is taking orders now until December 21st, but please note that delivery times are very, very slow… and you might not get your tree until New Year's no matter how early you place your order. :)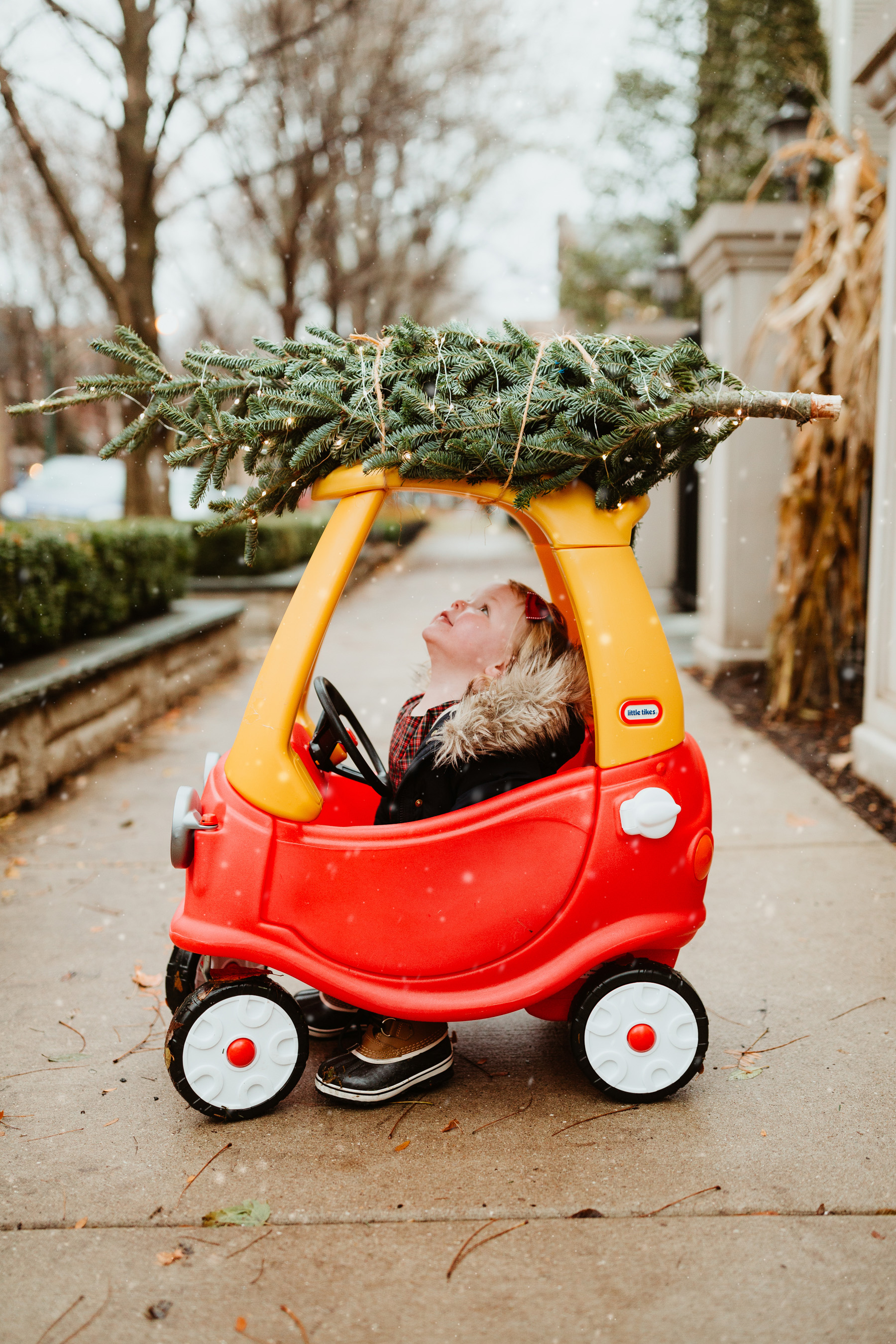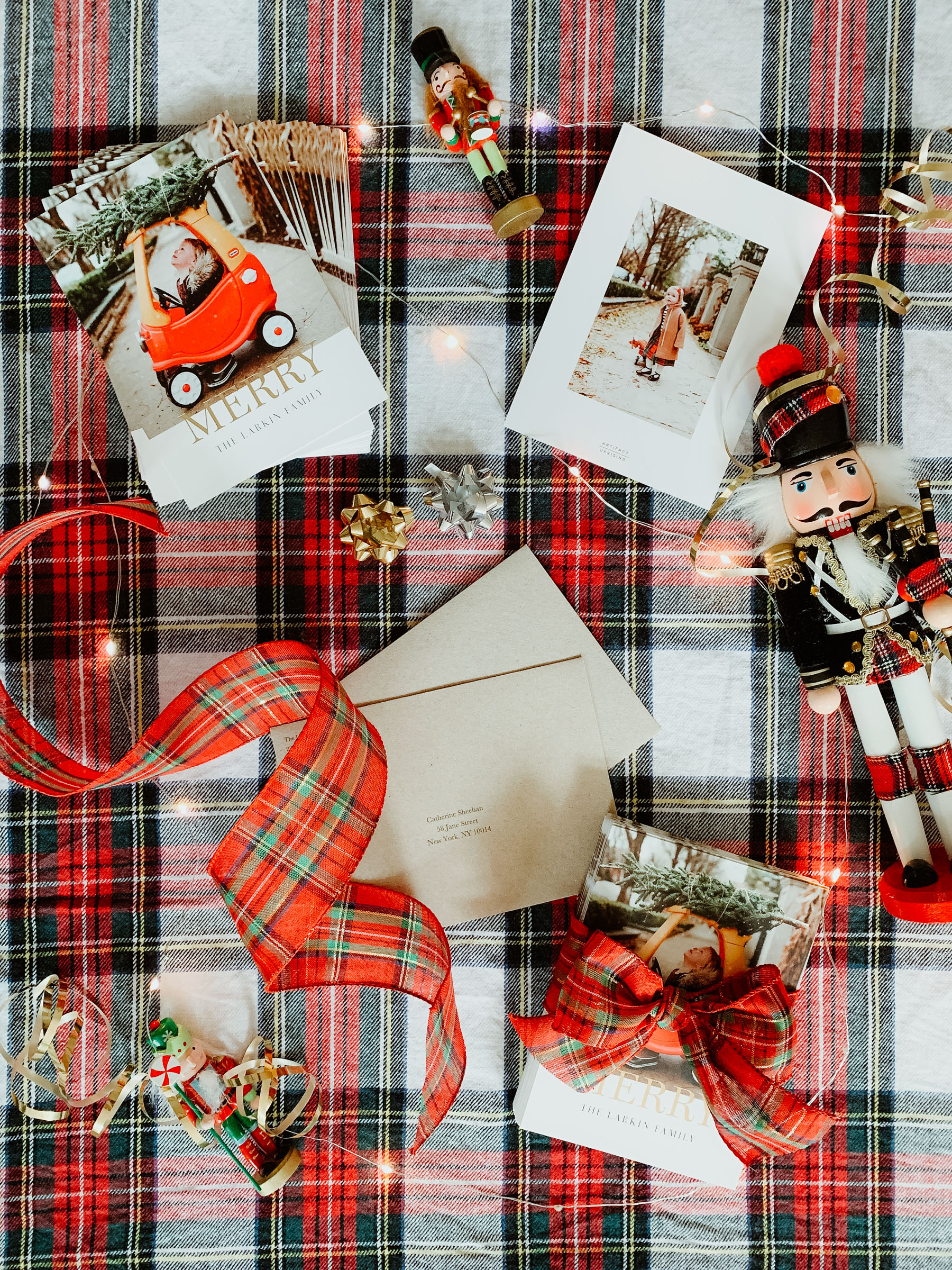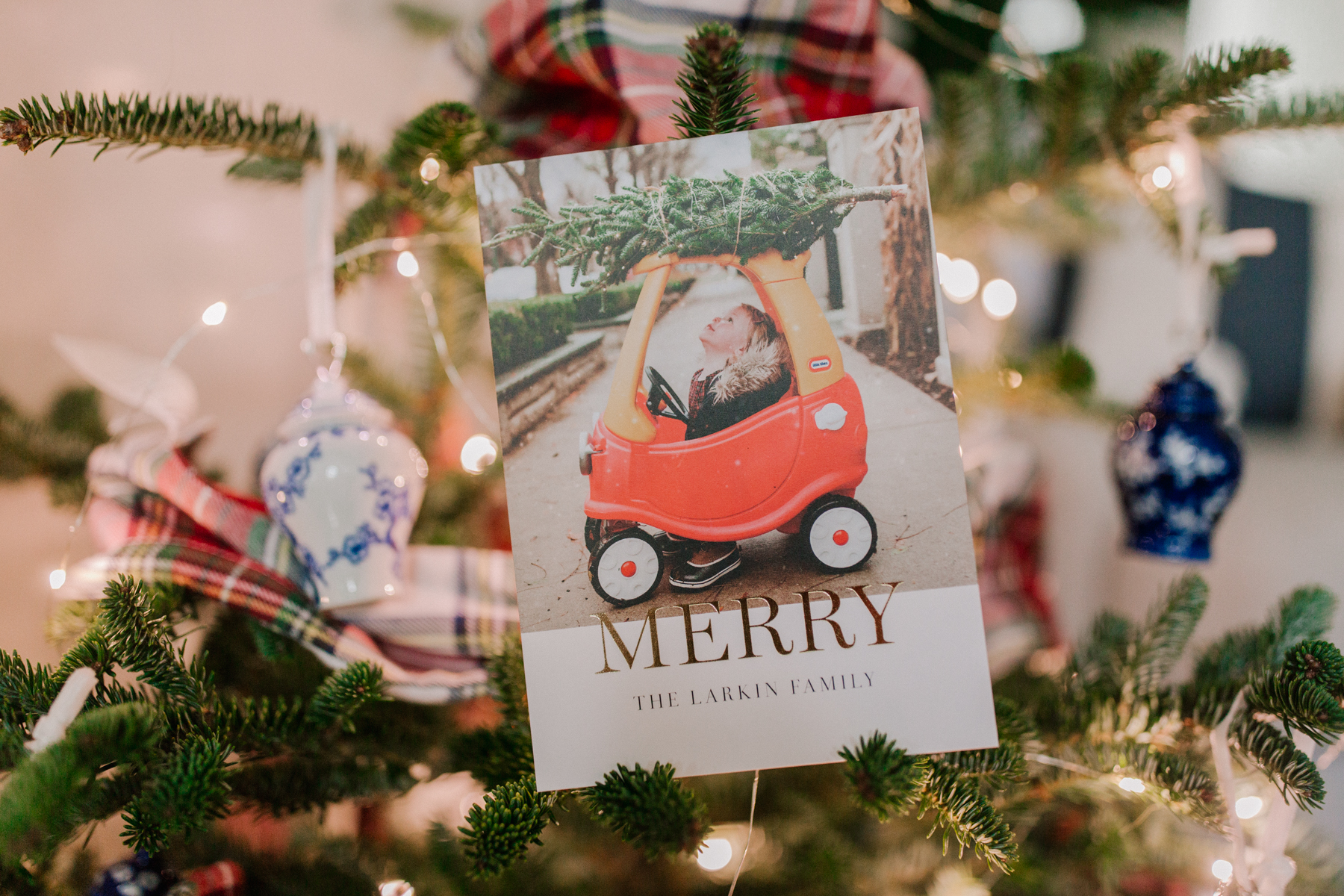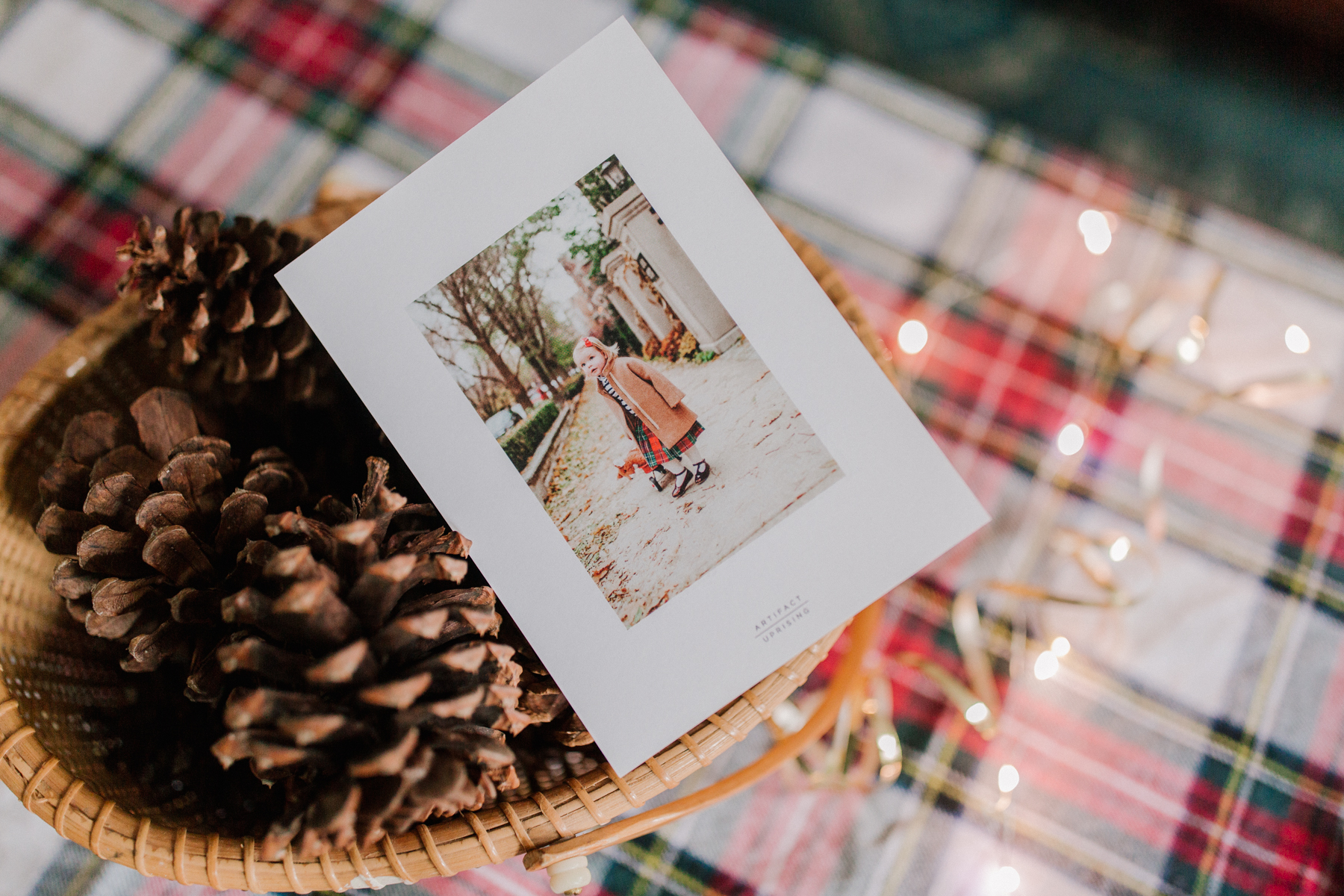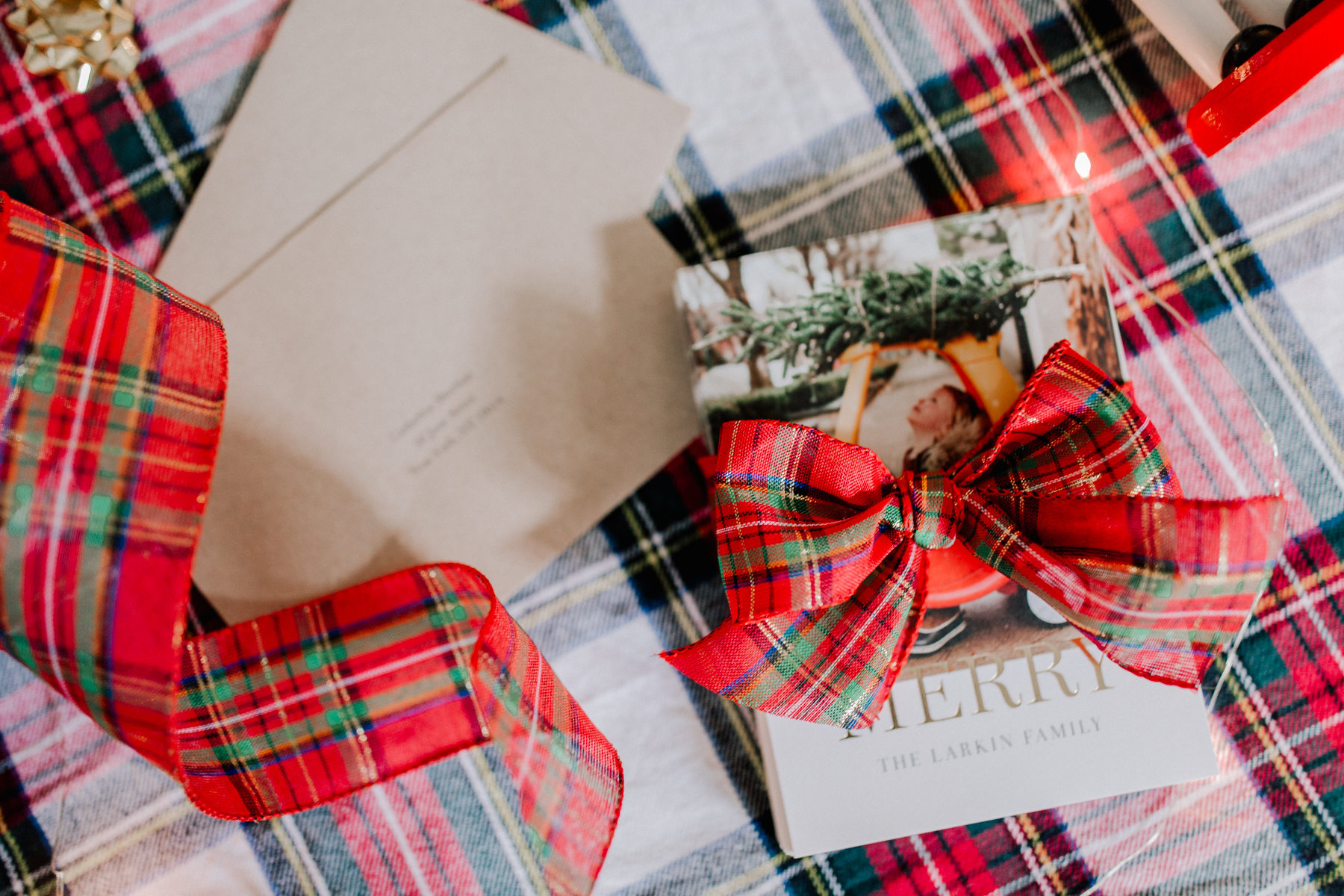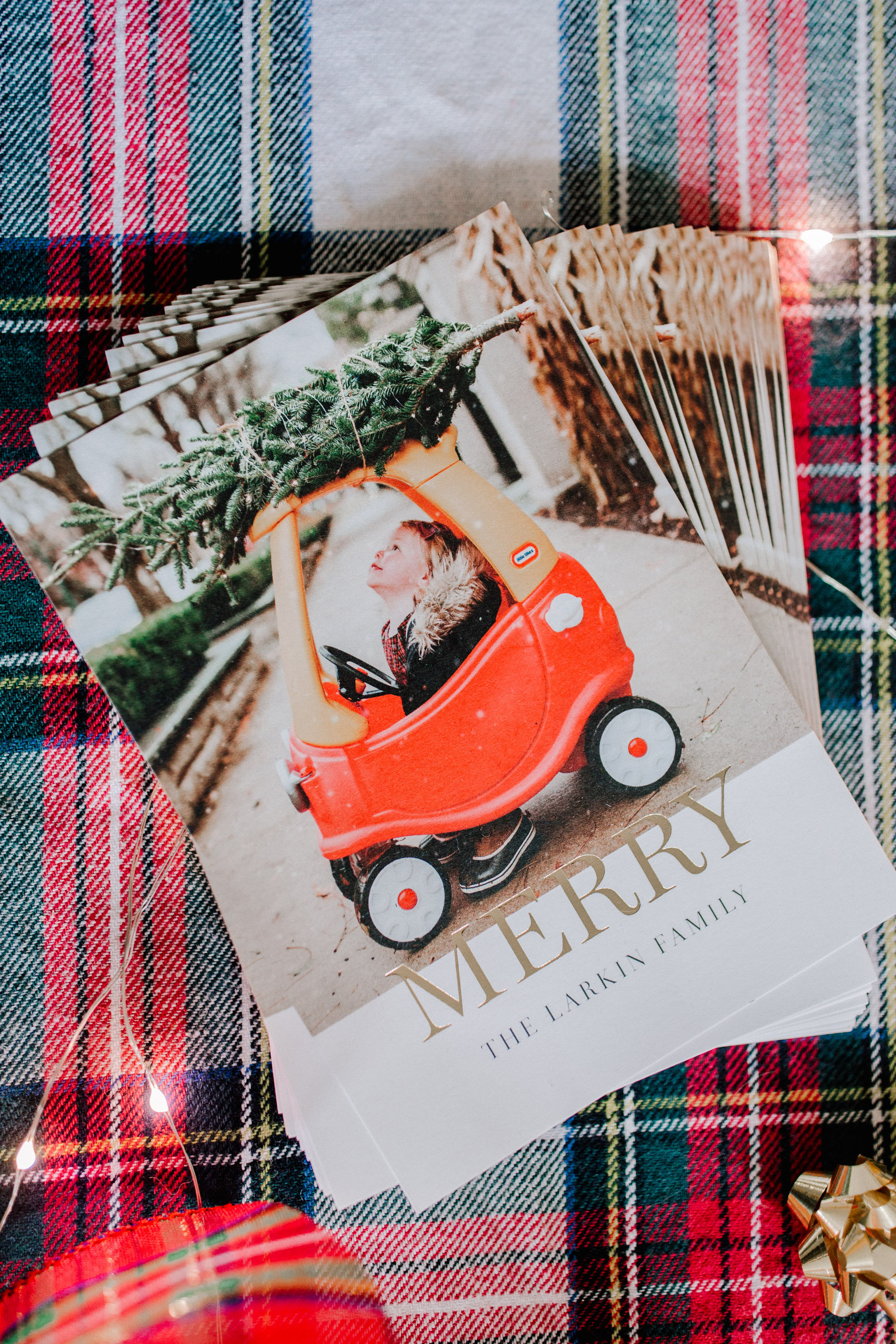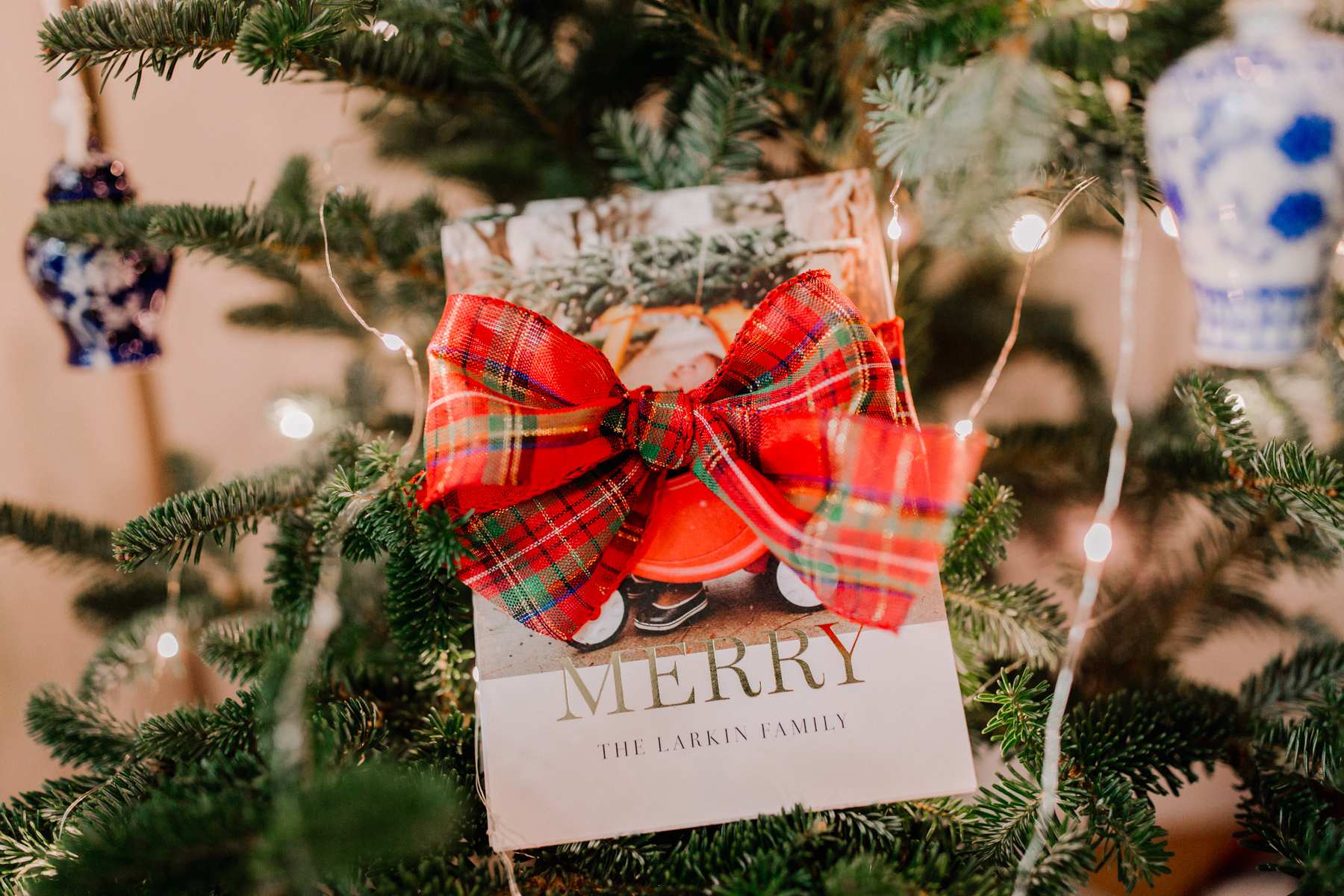 And here are some other sweet photos taken from that magical day: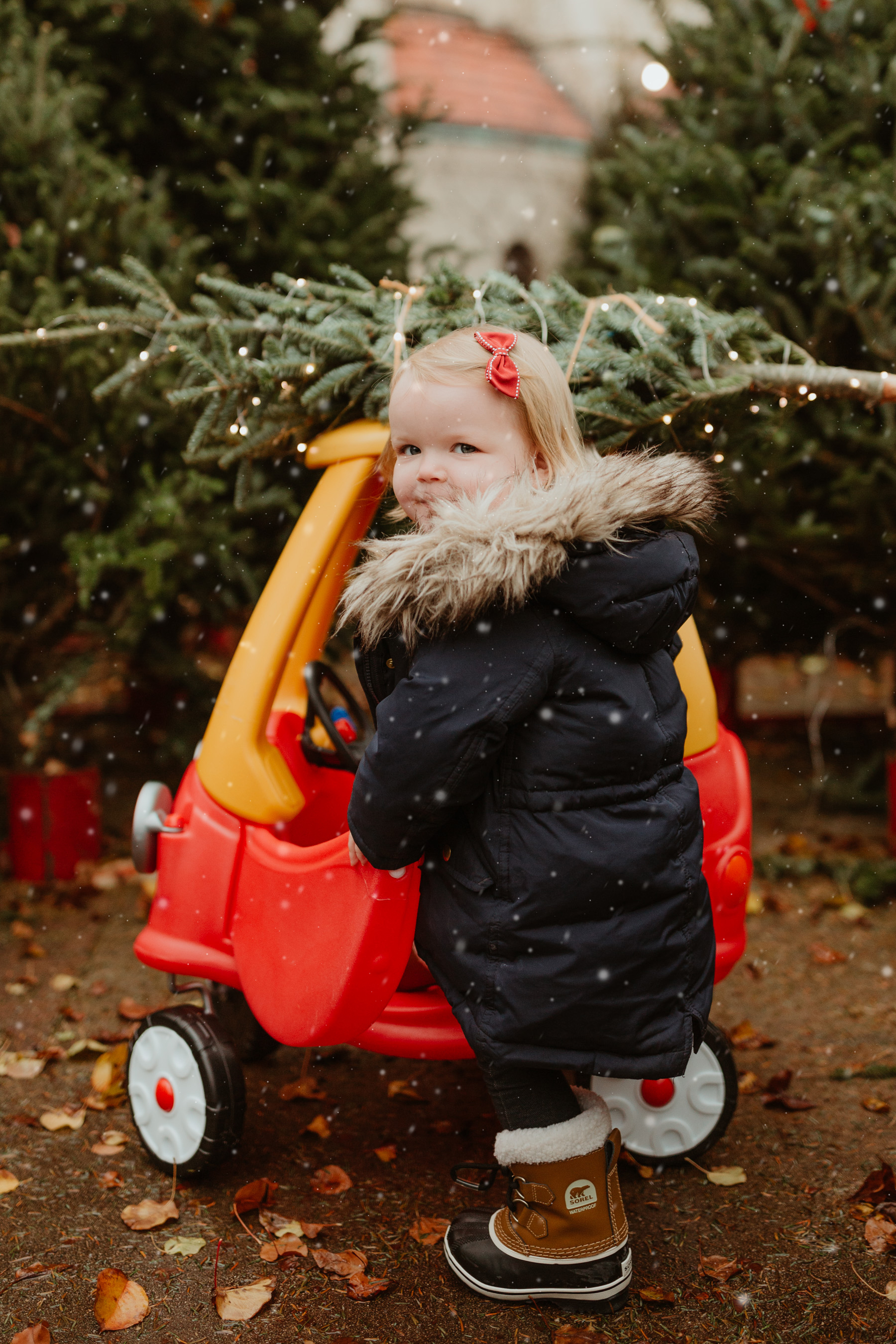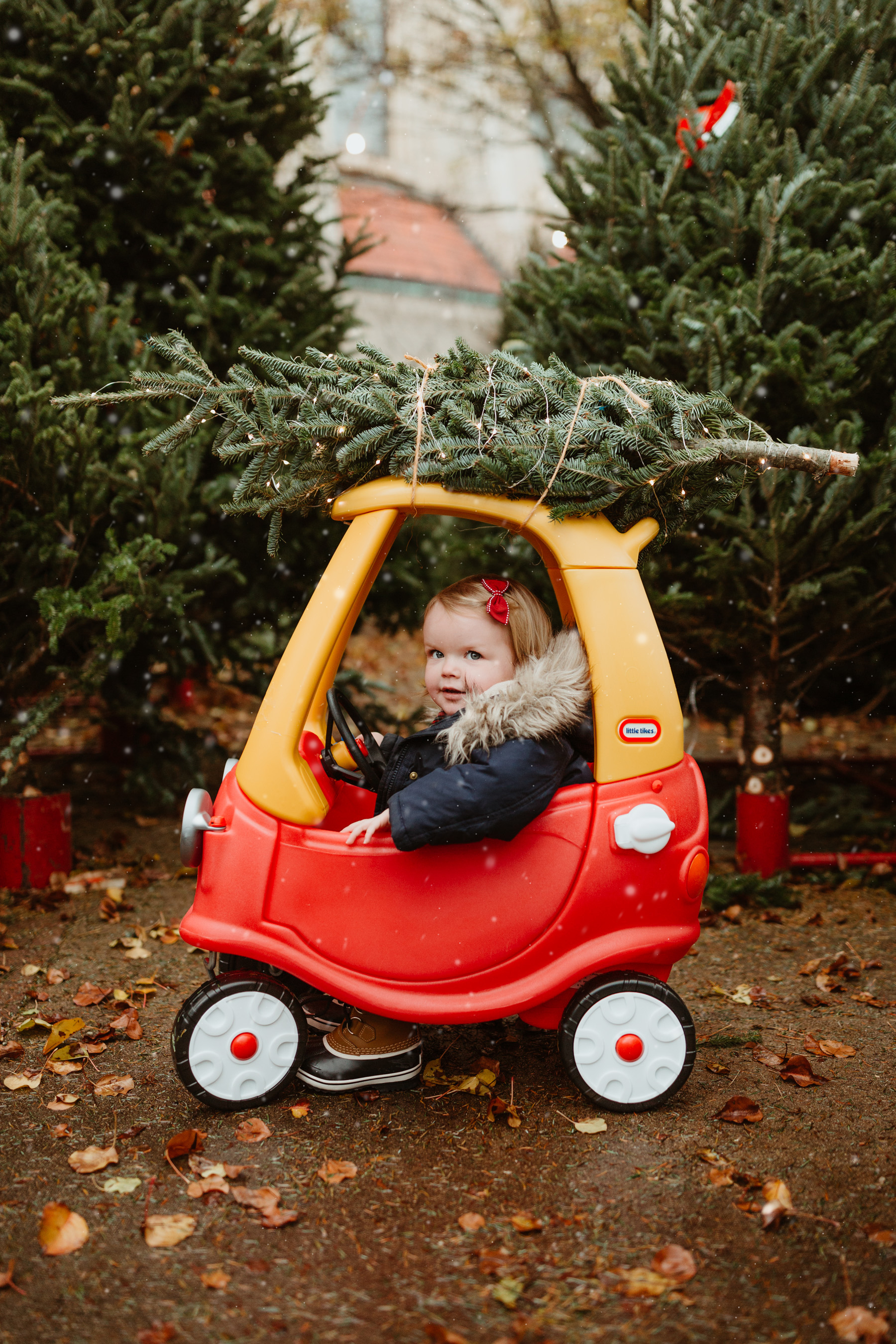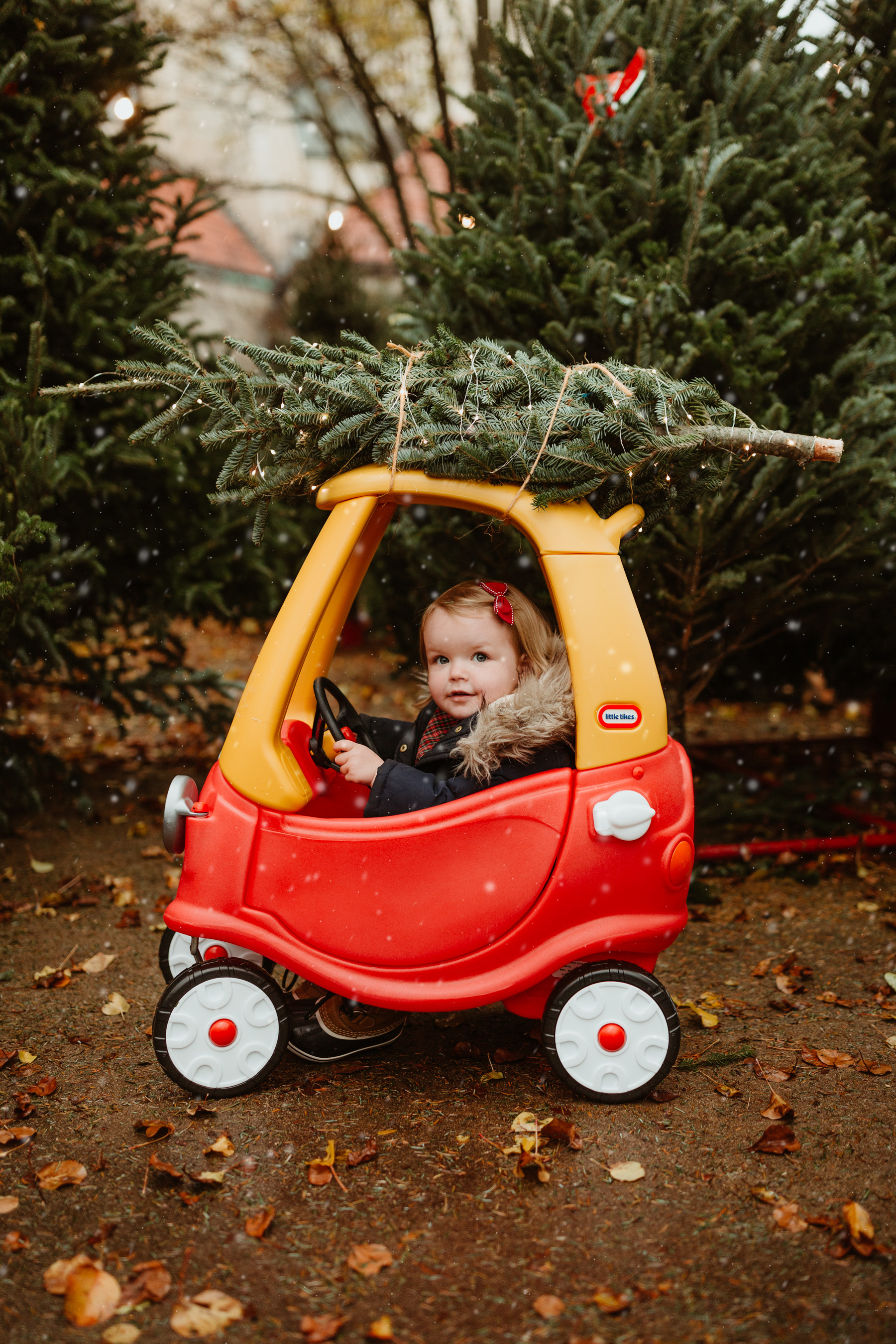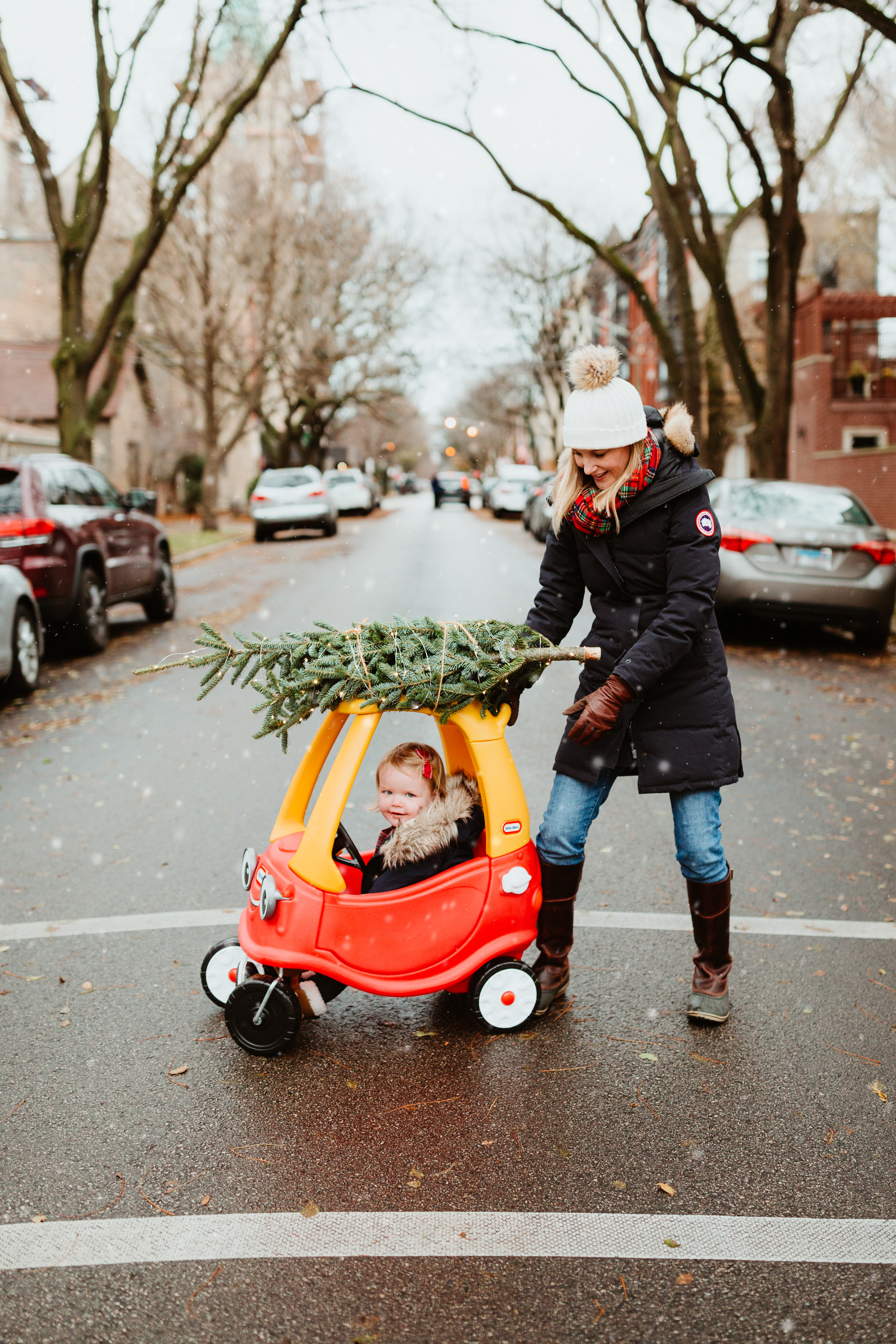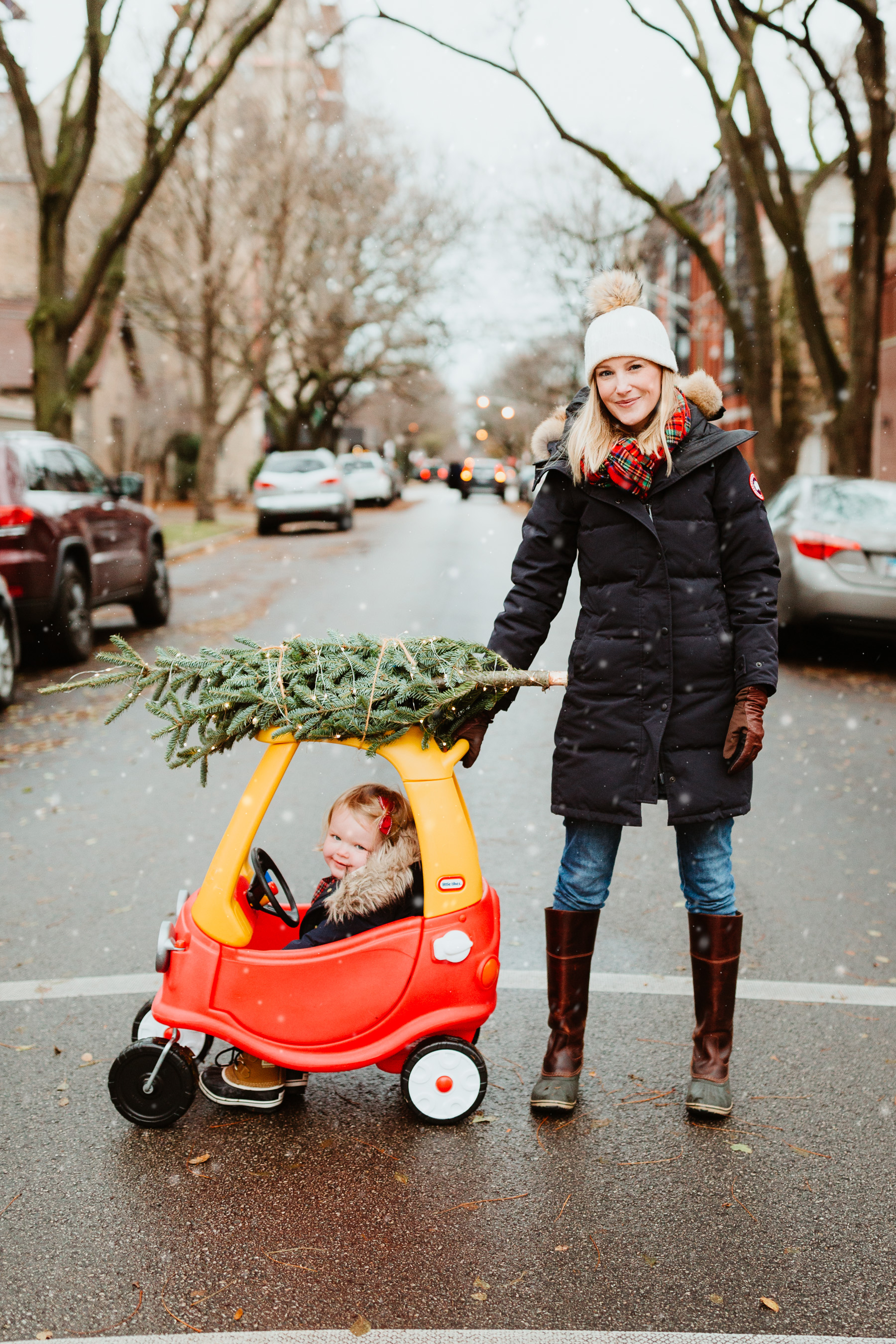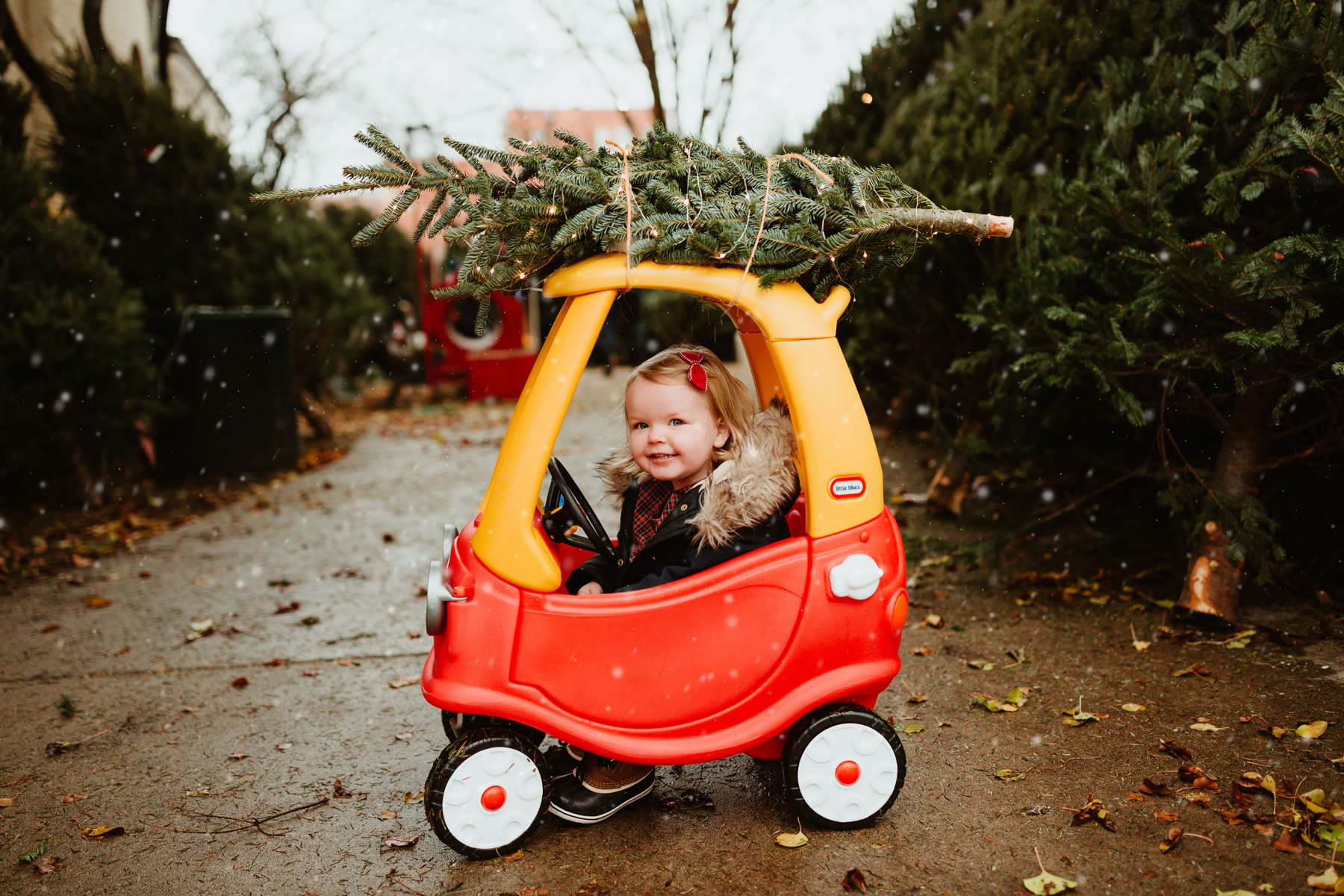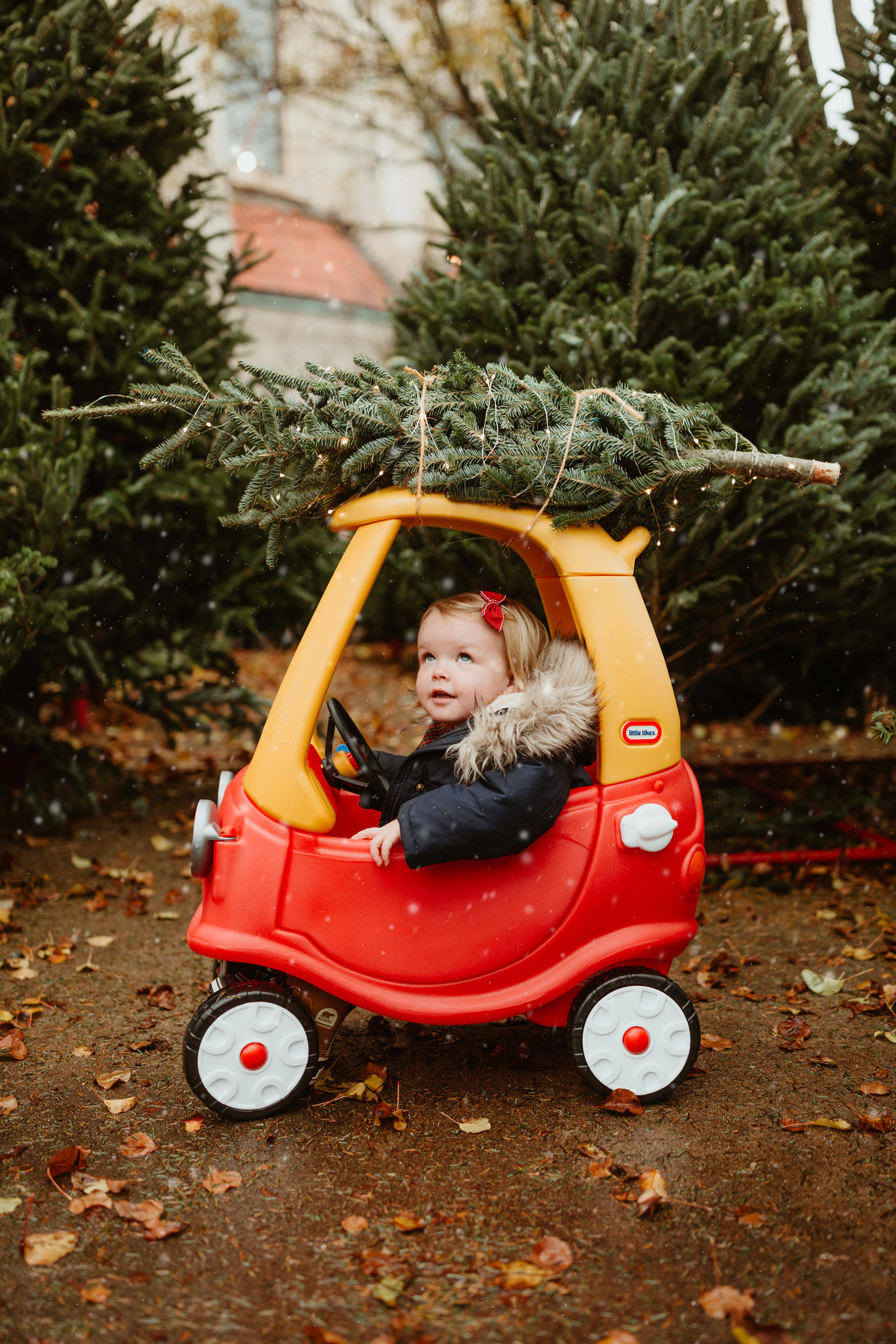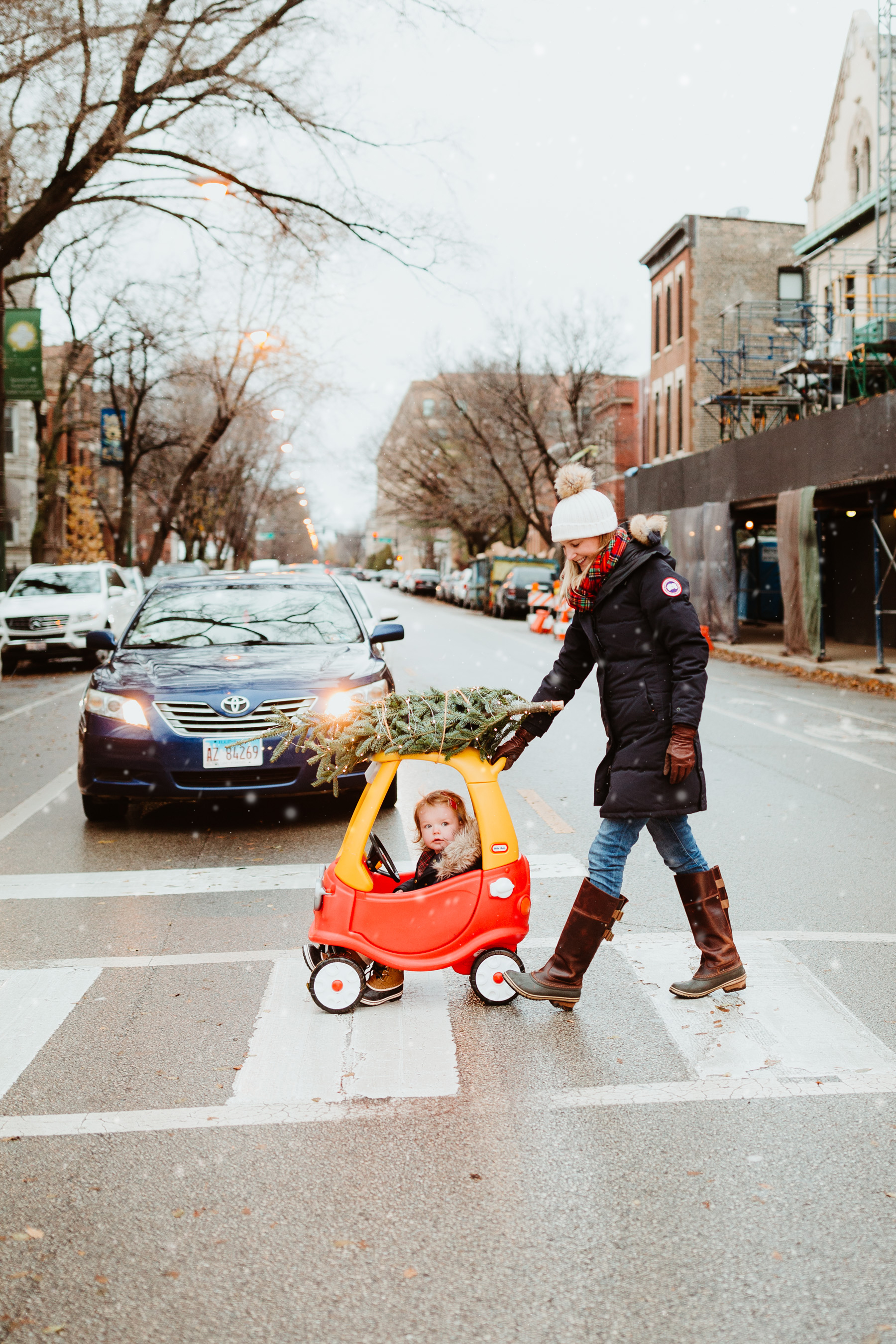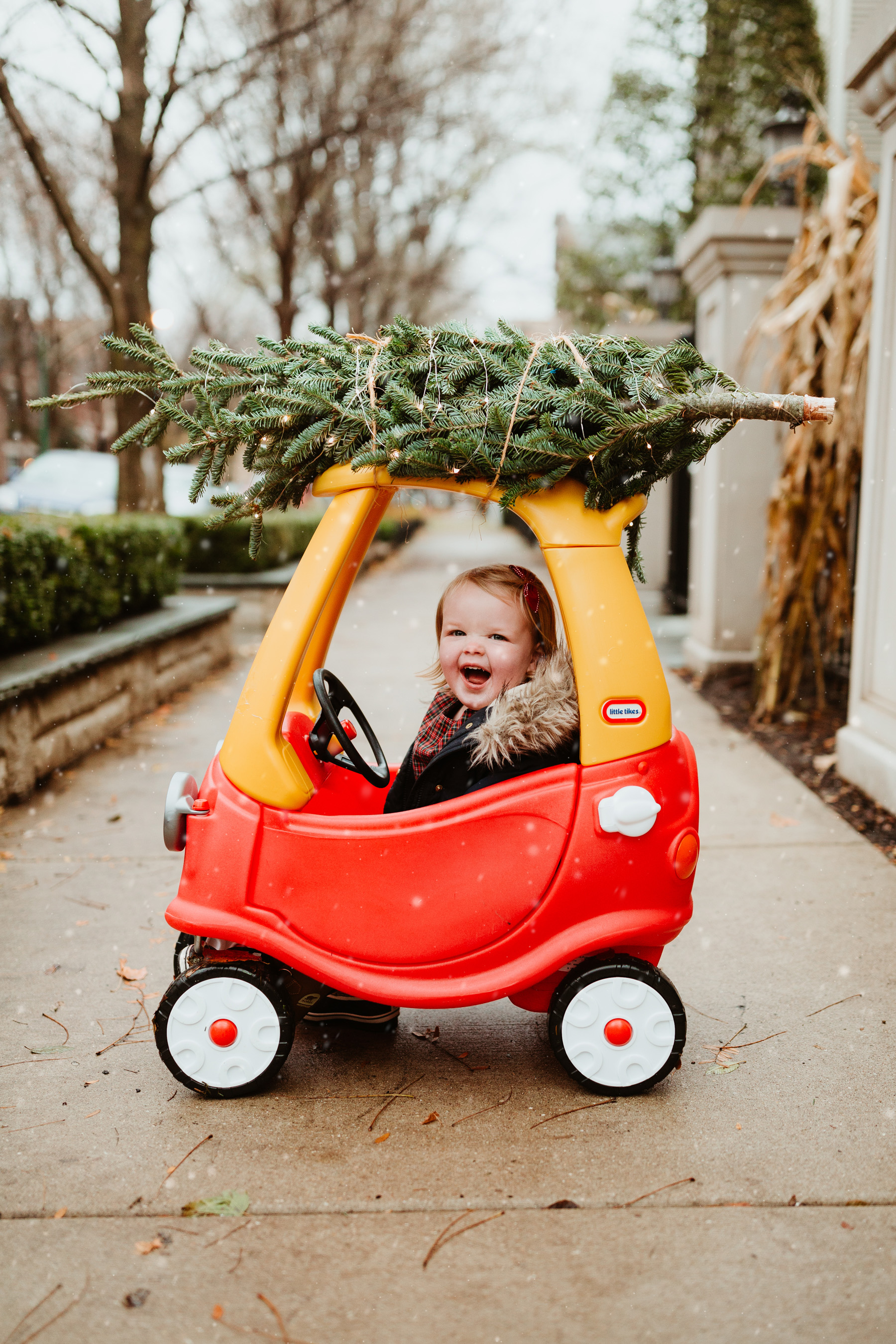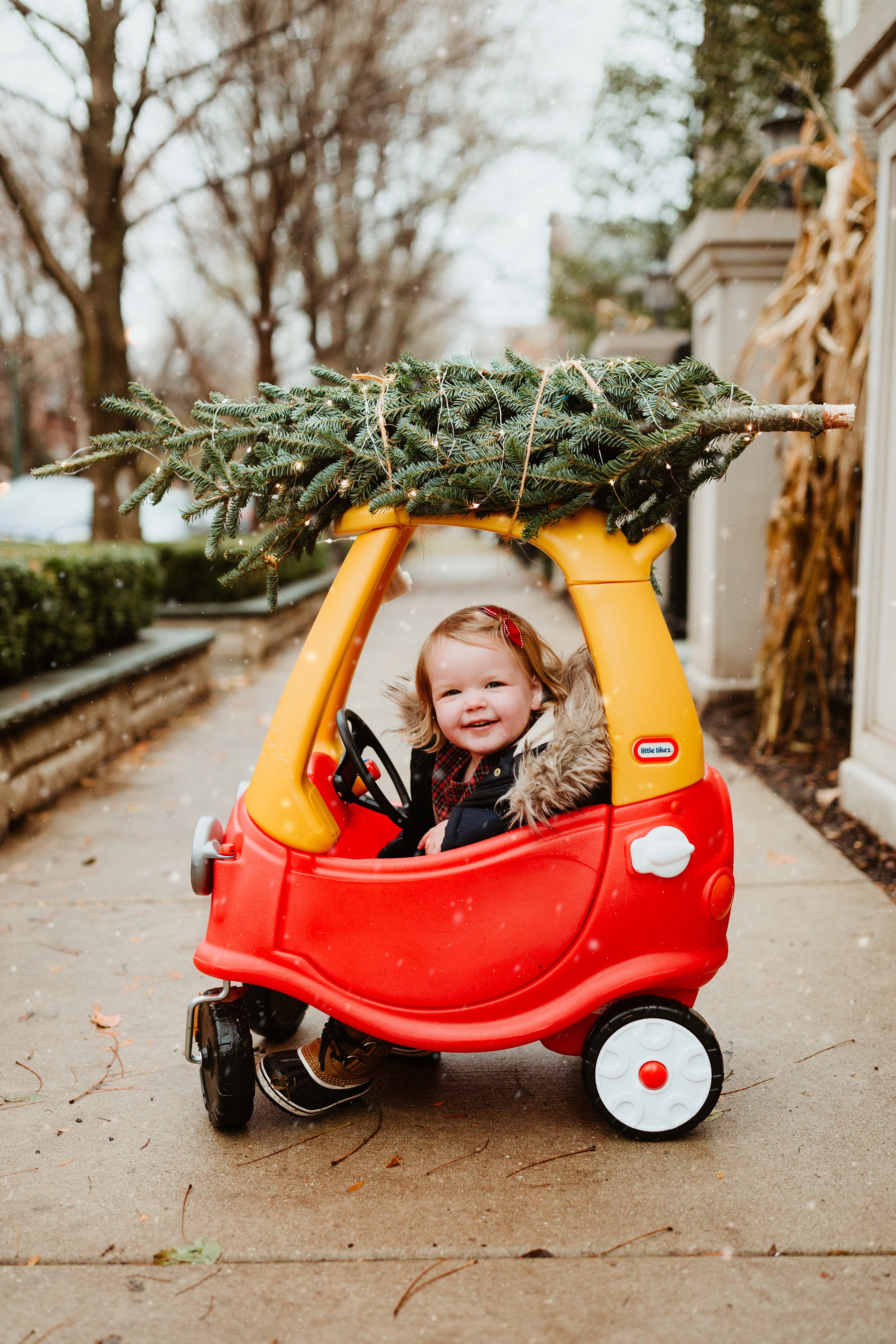 Shop the post:
Artifact Uprising foil-stamped "Merry" Card / Cable-Knit Sweater / BOOTS ON SALE! Also try the Tofino II Boots (You can also find them fully in stock via Zappos and Bloomingdale's. I'm also in love with the Joan of Arctic Boots, which are considered to be the ultimate winter boot. I wear those during those tough -10/-15/-20 days in Chicago, haha. Zappos carries them in a ton of colors.) / Plaid Scarf / DL1961 Jeans (Maternity here.) / Hat / Shelburne Parka / Toddler Sorel Snow Boots / J.Crew Girls' Down Parka in Navy (FYI: The purple fur does come off, which is awesome. Another option is the girls' puffer coat from J.Crew Factory. I LOVE it! The Stadium-Cloth Chatea Parka is also a lovely dressier coat.) / Ralph Lauren Tartan Top / Little Tikes Cozy Coupe / Williams Sonoma Ginger Jar Ornaments
This post was sponsored by Artifact Uprising, but all opinions are my own. As always, thank you so much for supporting the partnerships that keep Kelly in the City up and running!
Use code "KELLY20" to take 20 percent off all Artifact Uprising holiday cards. Offer expires in one week.