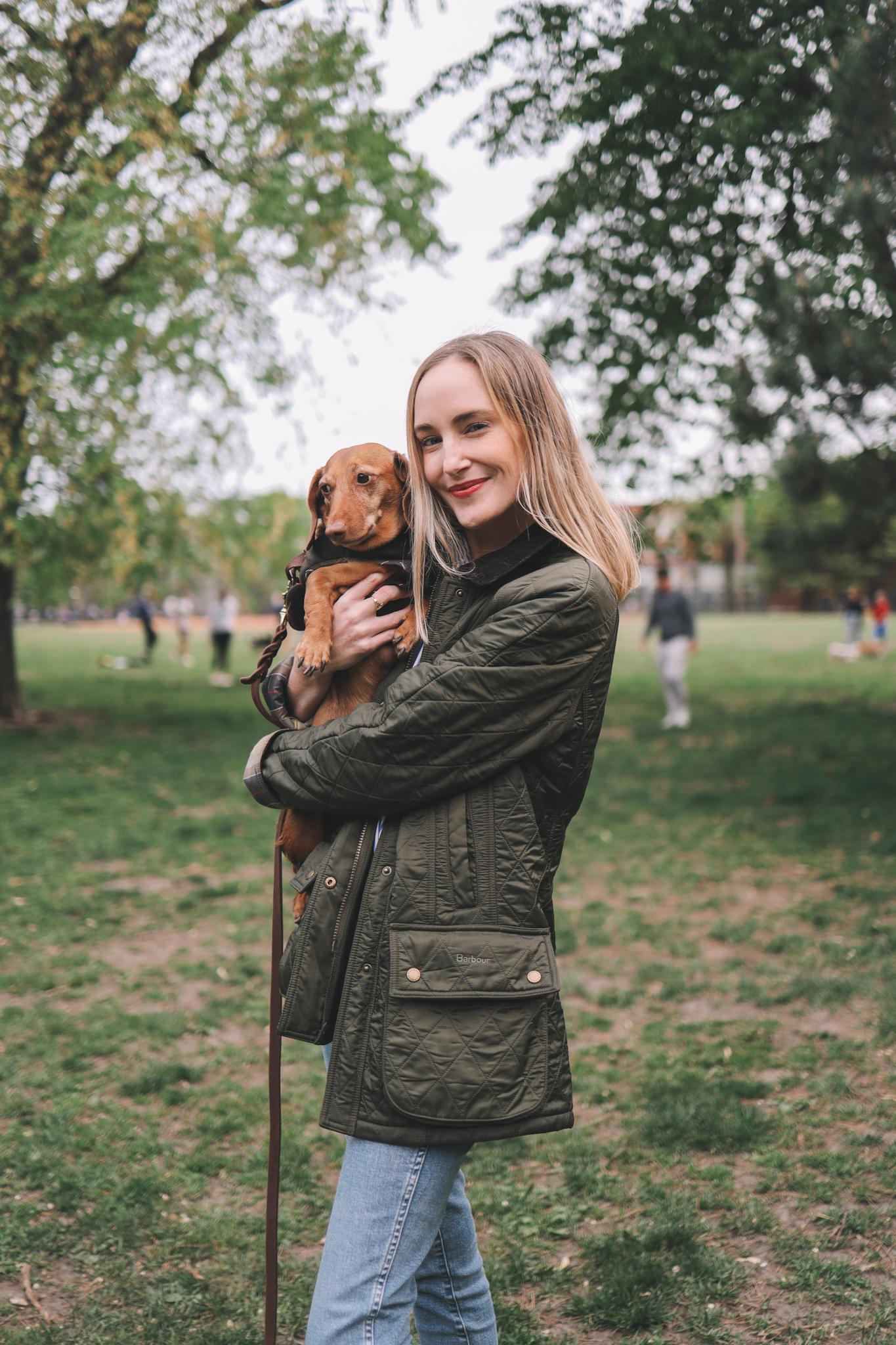 Barbour Polarquilt Beadnell Jacket available at Orvis, Bloomingdales, Tuckernuck, Nordstrom and Backcountry / Madewell Roadtripper Skinny Jeans (Go down one size!) / Tuckernuck Teagan Top (I also have and love the Harlee Blouse, and it's beautiful!) / Veja Sneakers available via Farfetch, Anthropologie, and Net-A-Porter / Radio Flyer Cruiser e-Bike / Girls' Dachshund Sweatshirts / ChappyWrap Blanket / Kids' Barbour Jackets (Olive here. Hooded here.) / Newer Floral Dresses / Girls' Jack Rogers Sandals / Noodle's Barbour Dog Harness
The Barbour Quilted Polarquilt Beadnell is my favorite Barbour jacket, and it's about time that I reviewed it in full! Here's why I love it:

Warmth + washability
It features the same classic cut as the original waxed version (more colors here), but it's lined with fleece and polarquilt, making it exceptionally warm and cozy. It's also machine-washable, and a lot more affordable than its big sister!
Versatility
The Barbour Polarquilt Beadnell is so versatile that I nearly wear mine year-round. It's great for chilly summer nights and winter errands alike. (Though once temps dip into the 30s, I tend to reach for something warmer.)
My only negative about the Polarquilt Beadnell is that there is no available matching hood. There are a couple of snaps underneath the front of the collar that you'd think would attach a waxed hood, but they unfortunately don't line up. It's a tragedy. 😉 Fingers crossed that the jacket is one day updated to accommodate one!
Pockets
Another fantastic feature of the jacket is how many pockets it has. Two large, deep patch pockets that fit so much that I often can leave the house without a bag, even with small children in tow! I typically have my keys, sunglasses, wallet and phone in there—and sometimes a bag of goldfish. 😉 There are also fleece-lined side pockets above the patch pockets, which keeps hands toasty on cooler days.
Sizing
The Barbour Polarquilt Beadnell is typically available in olive green, navy and black. (Though the lighter "summer" version of the jacket is available in other colors.) Weirdly, I've found that the olive runs a little smaller than the other colors. For example, I wear a size US 4 in the navy (and all other Barbour jackets), but a size US 6 in the olive. (I wear a size 2 in J.Crew for reference.) If in between sizes, I would suggest sizing up. You want to be able to comfortably wear sweaters underneath. :)
Where to buy
I recommend the following retailers:
Shop the post:
Barbour Polarquilt Beadnell Jacket available at Orvis, Bloomingdales, Tuckernuck, Nordstrom and Backcountry / Madewell Roadtripper Skinny Jeans (Go down one size!) / Tuckernuck Teagan Top (I also have and love the Harlee Blouse, and it's beautiful!) / Veja Sneakers available via Farfetch, Anthropologie, and Net-A-Porter / Radio Flyer Cruiser e-Bike / Girls' Dachshund Sweatshirts / ChappyWrap Blanket / Kids' Barbour Jackets (Olive here. Hooded here.) / Newer Floral Dresses / Girls' Jack Rogers Sandals / Noodle's Barbour Dog Harness