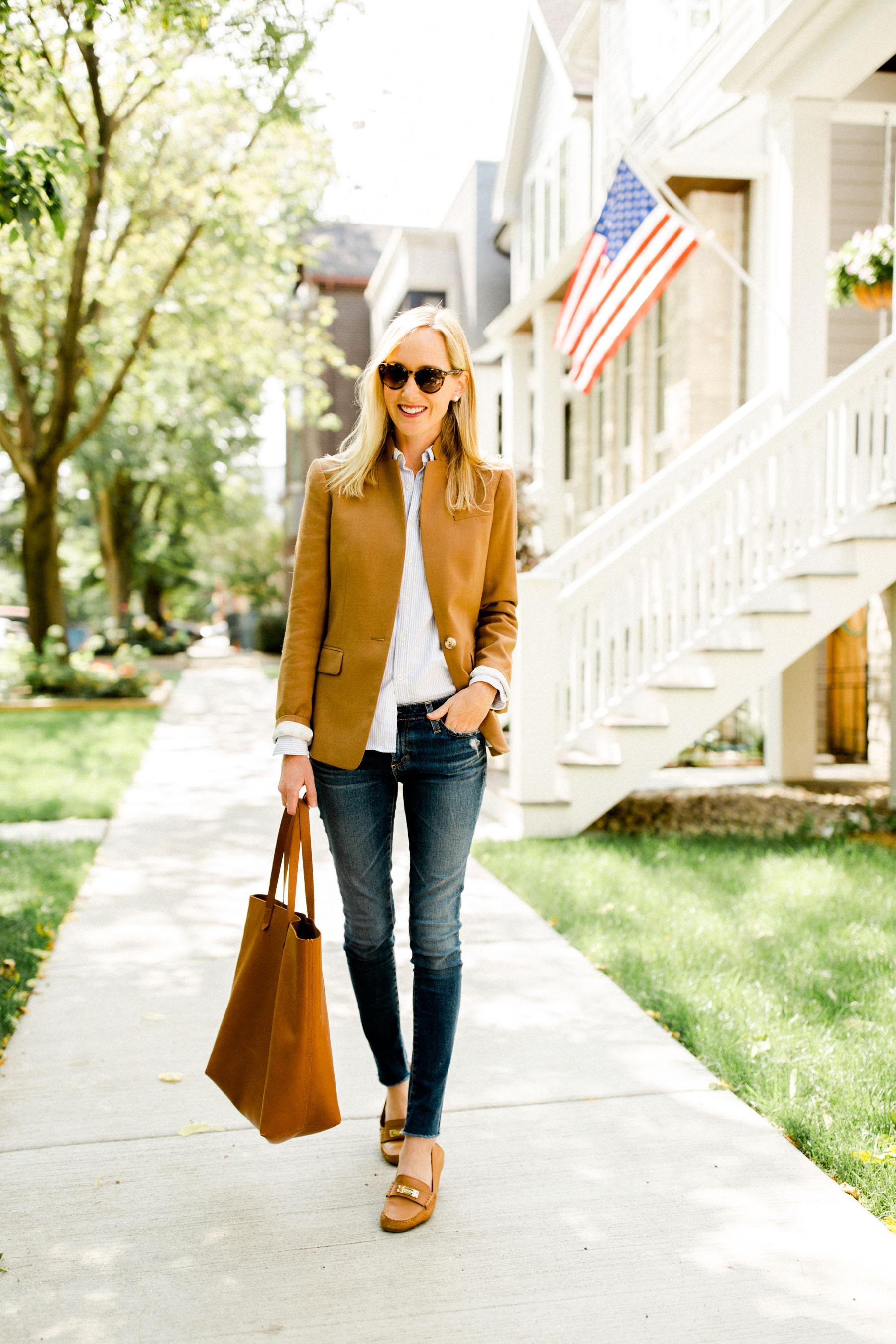 Regent Blazer (Also here, and here's a similar one in camel.) / AG Jeans (Full jeans review here) / Ralph Lauren Button Down / Madewell Tote / Coach Loafers (Old, newer style here)
Okay, guys. We're getting really creative over here for the next couple of weeks. Our family is jet-setting once again, so I'm enlisting you to come up with quick and easy topics to keep this site afloat until we get back from Portland, Oregon. I put this request on Instagram the other day, and I was amazed at how wonderfully thoughtful followers were with their responses! (Thank you, thank you.) But I thought I'd ask my main squeezes (i.e. you) for your suggestions, too.
Think: incredibly quick and easy, haha. I'll just be real with you: I get back from the Larkins' lake house on Monday night, and I'll have Tuesday to write seven blog posts before flying out on Wednesday. 🙈 But I'm determined to do it! LET'S DO THIS, GUYS.
So… thoughts? ;)
Anyway, let's talk blazers. It's weirdly been somewhat chilly here in Chicago over the last week, and as there are very few days in fall during which I can get by with only a blazer, I've been taking full advantage.
I'm SUCH a fan of the Regent Blazer (also on the J.Crew website), which is available in navy and black this year. (Where's the camel color?!) I'd suggest ordering one size up. While I usually take a 0 in J.Crew, I go for a size 2 their blazers, which allows me to wear sweaters under 'em, too. (And for more movement in the shoulder area.) I often worry about looking sloppy in oversized clothing, but I've compared the two sizes, and I really don't think you can see a difference. Size up for comfort and versatility!
If you're looking for the camel color, consider the Parke Blazer. I personally haven't tried it, but report back with your findings. ;)
Here are a few other fall blazers I have my eye on this season.
12 Fall Blazers: