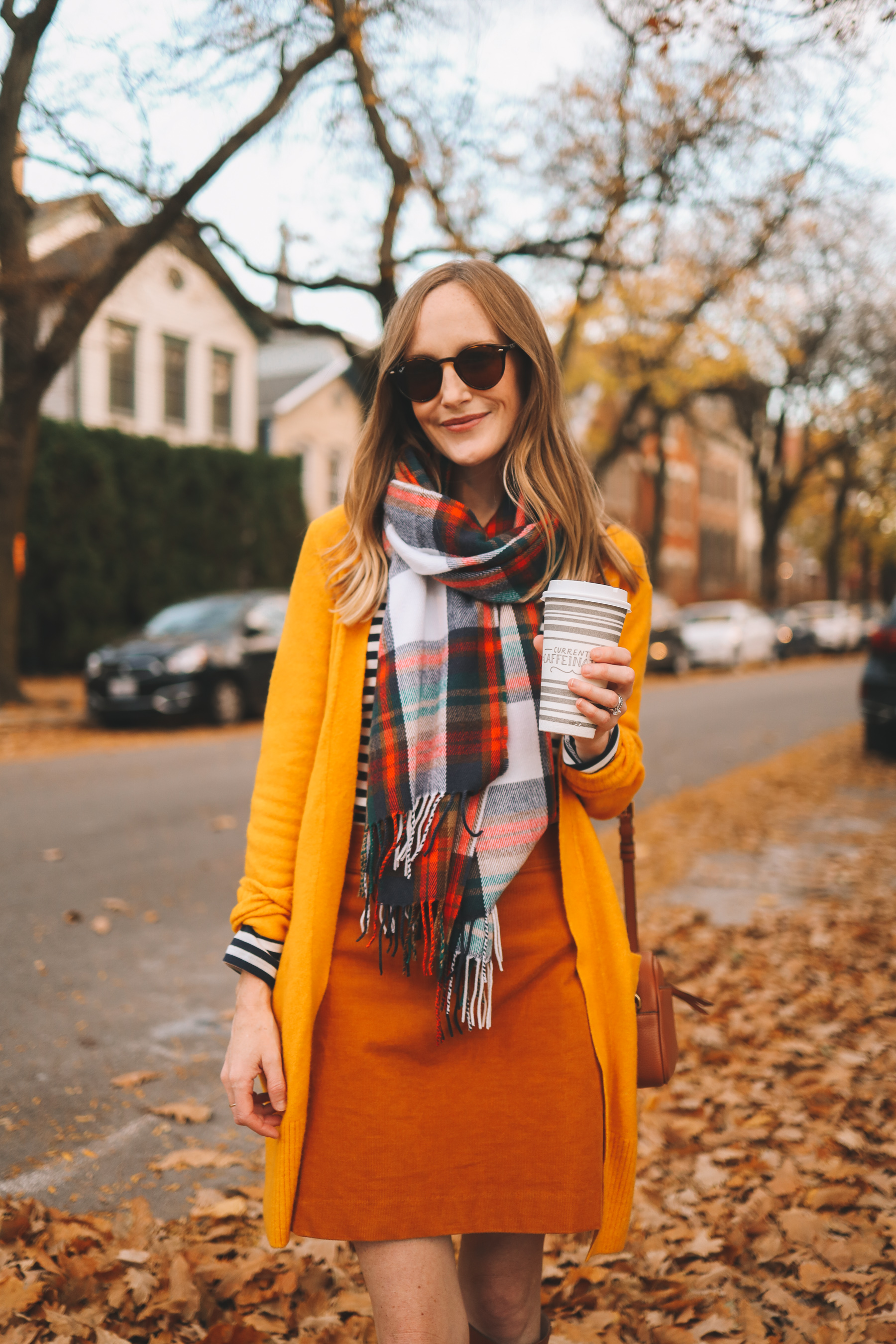 Corduroy Skirt (This year's version. This one is also cute!) / Perfect Striped Tee / Plaid Scarf / Cardigan in Extra-Soft Yarn (Newer version.) / Riding Boots / Leather Bag (Newer.)
Here are the first 10+ things that come to mind this morning:
As carjackings are a serious problem in Chicago, we purchased these "kids on board" decals for our car. I believe Neal was talking to Mitch about it recently, which prompted the purchase. Here are a helpful few tips on how to prevent carjackings and what to do if you find yourself in the middle of one.
I'm starting a new blog series called "Let's Chat." Or something like that. 😉 Because "10+ Things" posts are my favorite to write, I've been thinking for a while now that I should start a longer-form version of the column, with one topic instead of 10. I just started writing the first one, so look for that sometime over the next few days. :)
My amazing parents are giving Mitch and me a date night for Christmas this year, and so Mitch and I are having a lot of fun looking in to what we should do. Maybe it's the Marie Kondo within that I've been trying to channel, or the fact that I'm very attuned to the importance of having quality alone time/fun with my husband. But I'm all about experience gifts right now! We had a great time seeing Jerry Seinfeld a few years ago—seriously laughed so much that we were in physical pain, haha—so we were thinking about doing Second City. Second City is one of the most influential comedy theaters in the world, and it's been the starting point for an insane number of extremely successful comedians, actors and directors. It also happens to be in our neighborhood… and we've never been. If you've been, can you recommend a show?! Any other fun Chicago experience you've had that sticks out in your mind would be lovely, too!
My Spider Guy just showed up at the front door and goes, "I hear you have 7,000 spiders." Yes, I have a Spider Guy. (He's from Rose Pests here in Chicago, in case you think you need a Spider Guy too. Recommended by my friend Barbie.) And yes, Mitch copied and pasted my freakout to him via text. 😆 But with any hope, our porch—which is currently teeming with eight-legged freaks because we missed our appointment last week—will be clean in the next hour. Because at this point, when I leave the house, I cover my head and sprint down the steps. NO WAY TO LIVE!
I GOT JOJO SIWA TICKETS. If you don't know who Jojo Siwa is, count your blessings. Jokes. She's adorable, and Emma adores her. As a Christmas surprise, my friend Bradley and I are taking our daughters to see her in concert, and it's really going to be something, haha. We're going to go all out! Think side ponytails, hair extensions, glitter, tutus—the whole thing. Carly is actually in charge of the outfits, so we know they're going to be spectacular! 😜

J.Crew's new arrivals (most 30 percent off with code "SHOPNOW") are fabulous, and here's what I recommend: This tartan button-down flannel shirt, the this Smocked Black Watch Plaid Tartan Dress, these Nordic boots, this mock-neck silk-blend sweater (the long-sleeved version of my favorite sweater tee!), the Chateau Puffer Coat (I wear the black nearly every day during the winter, and love the red!) and the Snow Day Puffer Jacket. Remember to use code "SHOPNOW."
Morning showers were destroying my life. I MUCH prefer showering in the morning. It wakes me up, and I just feel a helluva lot cleaner. But frankly, it just takes too much time, and it adds to the chaos that can often define our mornings. So I started showering and washing/blow-drying my hair at night. In the morning, I put up my hair and take a quick three-minute shower, and boom: I feel refreshed and can be ready in roughly 15 minutes. On the weekends, though, you'd better believe that I let myself enjoy my morning shower! ;)
"One Home Project Every Day" update:

We figured out how to load our own photos on the Samsung Frame television. Anyone else struggle with this?! The TV's app, "SmartThings," is awful—and no matter what we did, the photos never showed up on the TV in "art mode." After 2.5 years, we've determined that the photo must be cropped to the exact dimensions on a computer, not a phone, to successfully get it to appear on the Frame. I love how the Frame looks, but man. Is it glitchy!
I finished moving the girls' closets over for fall/winter. Seems like it would be a quick and easy thing, but it always requires lots of sorting, shifting of sizes, and making of donation piles.
I put out the Halloween decor! The girls love it, and it's really getting us into the spirit. After the season is over, I'm determined to get my fall/Halloween decor all in the same place, probably in tubs in the garage, so it's easier to pull it out next year.
I did some lululemon returns that had been sitting in the foyer. Btw: The softest zip-up jacket is now available in "Green Twill," which I've been waiting for for the longest time! Size up. I normally wear a size 4/6 in lululemon, and I go with an 8 in this jacket.
My brother-in-law brought an extra toaster oven home with him! Mitch loves kitchen gadgets, but he's also hyper aware of not over-stuffing our cabinets or cluttering the countertops, which I very much appreciate. My brother-in-law said he was interested in an extra countertop oven we had in the basement, and it felt so good to get it out of the house and into the hands of someone who was excited about it! (Mitch also gave an unneeded one to his parents last year. Come to think of it, Mitch might collect toaster ovens…)
I did all the laundry and loved every minute of it. I let the laundry build up over the last couple of weeks because we had a lot of family stuff going on. (Everything is okay, but it was important to step away for a while.) When we came back on Sunday, we put the girls to bed and tidied the house… and then I set up camp in the laundry room. The laundry room is where I do some of my best thinking and reflecting, haha, and I came out of there feeling renewed and collected. Control what you can control, no?

Mitch and I watch "Nine Perfect Strangers" on Netflix and enjoyed it. I love Liane Moriarty, and I feel like anything with Nicole Kidman in it these days means it's going to be good. We were bummed when it was over, but now we're catching up on "The Morning Show," which is nice. (Just not ready to relive 2020. Honestly wish they hadn't acknowledged it?!)
Emma and I highly recommend the Elephant and Piggie series for new readers. Emma was reading the Bob books for a while, which I swear is the reason she learned to read in pre-k. (It really had nothing to do with me, haha. I was a teacher, but I only taught middle school, and have no experience teaching young children! Emma is also a very normal child. The Bob books are just incredible, slowly building skills and quickly building confidence. Many thanks to authors Bobby Lynn Maslen

and

John R. Maslen!

) Anyway, someone gave us an Elephant and Piggie book ages ago, and a couple of months ago, Emma discovered that she could read it on her own. She was thrilled. Every night these days, Emma reads me several pages from an Elephant and Piggie book, and then I read a chapter or two from an Ivy and Bean book. It's the nicest routine, and we both love it!
Buy these fleece-lined leggings before they sell out. They're how I get myself out and about in Chicago in below-zero temps. They sell out every year, and for good reason. I went up a size for comfort in the waist area, but be aware that you can simply snip the drawstring if it bothers you. Warmest leggings ever!