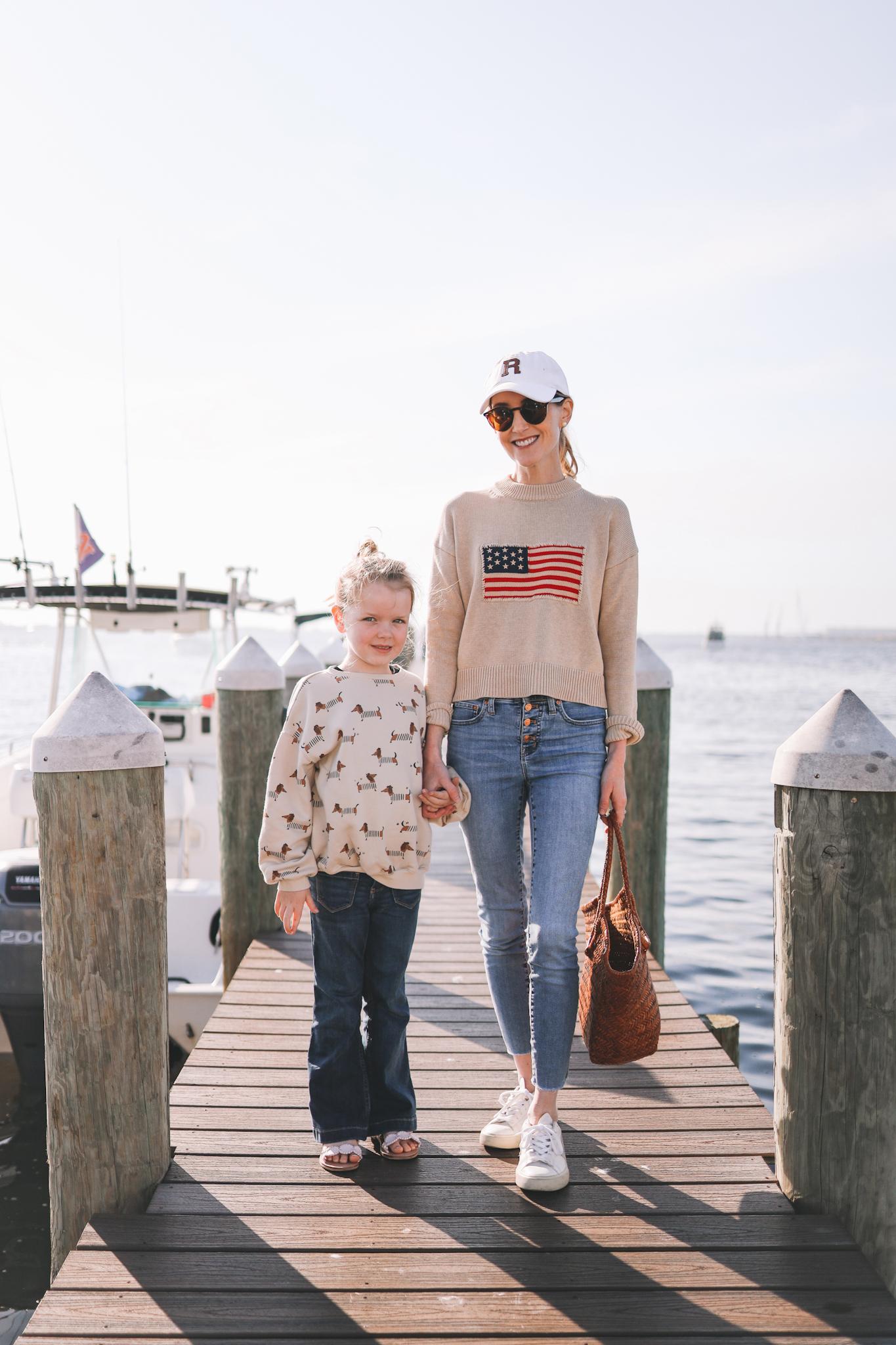 Americana Sweater (There are both cropped and longer versions, and lots of colors!) / Dragon Diffusion Large Nantucket Tote (Tuckernuck has a bunch, too.) / Veja Sneakers (You can also find them here and here.) / Liberty of London Headband / Sunglasses / Newer Toothpick Jeans / Emma's Jeans, Sandals (they're back! Toddler version here.) and Sweatshirt / Girls' Blue Dresses and White Jean Jackets
There is something so magical about the first day of a trip.
On this particular one, we woke the girls up at 4 a.m. and carried them in their too-small pajamas out to the car to drive to the airport. They were sleepy but beyond excited, and this made for some hilariously unintelligible conversation on our way to Midway. Once we got there, we scooted our way to the gate. (Yes! Airplanes tend to let kids take their scooters onboard as long as they fold. We've never had a problem. Makes the experience a whole lot faster, and sure beats dealing with the stroller for our youngest.) We snuggled, ate doughnuts, and had coffee—and then we were off!
I should pause here and acknowledge how far we've come as a family in terms of travel. If you've been following along with us for a while, you know that things used to be rough in this department. Ugh. Delays and cancelations (and other bad things 😆) from #LarkinLuck hit nearly every time we flew. Remember when we got stuck in Washington D.C. for three days with Baby Emma and zero luggage? Fun times!
Things are different now. Knock on wood, but #LarkinLuck has faded, and we no longer have babies. There are no more debilitating meltdowns, blow-out diapers, forgotten necessities, or spilled bottles to deal with. Sure, traveling with young children comes with its challenges. But wow. It's a LOT easier. And because of that, a lot of my anxiety re: flying has started to fade as well. Never once did my heart pound or race during our travels to or from Rosemary Beach, and never once did I send distress texts to my best friends, per usual. 😉 It was just good.
And I feel like that set the tone for the rest of the trip. Because it was good, too. Better than good, actually. It was GREAT. While we've had a relatively mild winter in Chicago this year, we bounded off that plane, tore off our puffer coats, and ran straight into the arms of Gamma/Mom and Pa/Dad. The humidity hit our faces (and my hair), nature flooded our senses, and Pa/Dad carried all our crap to the car. (Thanks, Dad.) Vacation had started.
Because we flew at the crack of dawn—which went so much better than expected—we did quite a lot that first day. We settled in, got dressed in warm-weather clothing, got ice cream in town, and then headed out to my dad's boat for our first Panhandle cruise.
You might remember this emotional post I wrote about my dad's first boat, which he bought when I was a kid. It was a little surreal to take Emma out on it when she was a baby, and then to take both my children out on this one many years later. I loved watching Lucy giggle on my father's lap, Emma snuggle with my mother, and Mitch desperately trying to spot dolphins in the surf. I loved docking and eating at a seafood restaurant, which reminded me of all our trips to Bubba Mac's when I was young. More than anything, though, I loved just being together—out on the water.
More soon. For now, here are some photos from that magical first day!
Shop the post:
Americana Sweater (There are both cropped and longer versions, and lots of colors!) / Dragon Diffusion Large Nantucket Tote (Tuckernuck has a bunch, too.) / Veja Sneakers (You can also find them here and here.) / Liberty of London Headband / Sunglasses / Newer Toothpick Jeans / Emma's Jeans, Sandals (they're back! Toddler version here.) and Sweatshirt / Girls' Blue Dresses and White Jean Jackets