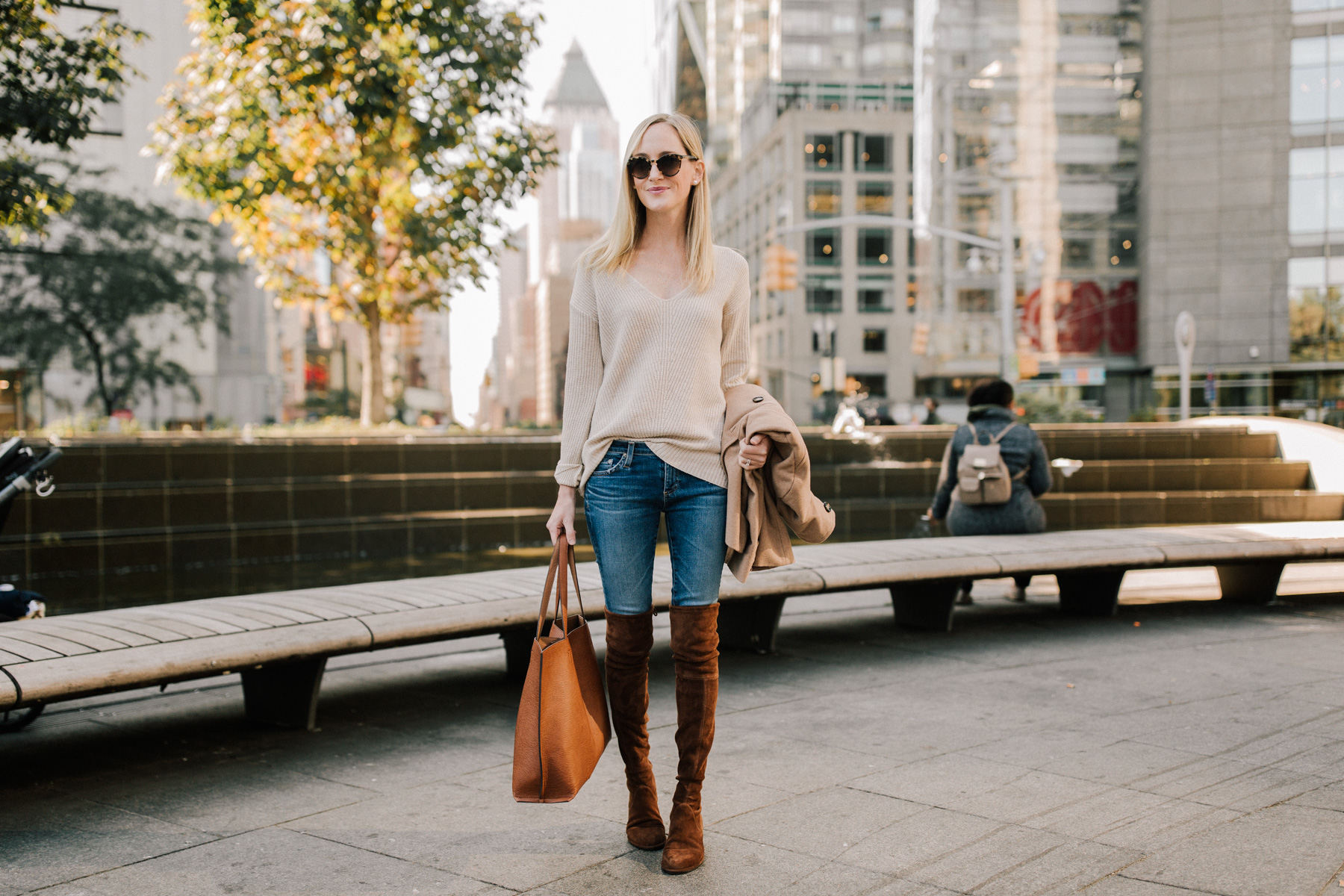 $45 Slouchy Sweater for Fall (It's a must-have! I'm wearing the XS here, and would recommend going with your normal size.) / $38 Peacoat (Have you seen the Kate Spade bow version?! This camel coat is on my wish list, and this one's a classic.) / AG Legging Jeans: They're back in stock! (This is my other favorite pair of super soft skinnies.) / Over-the-Knee Boots in Brown (Part of Bergdorf's Gift Card Event!), Navy and Black (More affordable here and here <– That pair is only $65!) / Emma's Jacket / $48 Reversible Street Level Leather Tote (So soft and holds a ton! Love this leather tote and the bow version, too.)
Okay, yes. You're seeing the same stuff–like this amazingly affordable peacoat and this soft faux leather tote–on repeat because I decided to go with the whole "less is more" mindset while packing for New York. I mentioned this on Insta Stories recently, but there's just so much required gear while traveling with a baby, and I couldn't handle having an overstuffed suitcase for this trip. So I went the more minimal route, and mixed and matched instead.
In order to not look like I was wearing the same outfit every day, I "created" the outfits beforehand, and took photos of them with my iPhone so I could reference them once I got to my destination. Makes me sound like a psychopath, but I didn't have to sift through my suitcase once; everything was organized and easy! Stress-free mornings at the hotel are key with a kiddo in tow.
(Also, don't think I'm some sort of packing genius. This was my first time doing this. 😂)
I'm going to do a comprehensive post on everything I brought on the trip in a few days, as my suitcase is still packed and in the corner of my bedroom, haha. For the time being, though, this was my travel outfit, which I wore to and from the airport. (Yes, twice. Pure magic that Emma didn't dirty it. And the boots are actually convenient, as they're easy to get off and I wear socks with 'em, which is less disgusting while walking through security.)
But before I talk about that, I have to call out the cuteness of the Columbus Circle location. Because Mitch and I shot my very first outfit post (I think?) there, and it's CRAZY to see how much things have changed since then.
First, I look like I'm 15. How does a person age THAT much in only 4.5 years?! And why was I so against wearing makeup?! Hello, Casper the Friendly Ghost (with freckles) and so many other problems.
Second, wow: I used to wear some really ridiculous stuff. Mitch, thanks for seeing past that. Love you. ;)
Third, I'm not sure how a person could mess up photos that badly, but I did it. Gold star!
Pretty comical, though. And fun to have this diary of sorts to look back on.
Anyway, a few quick notes: BEST SWEATER OF THE SEASON. It's only $45, it's completely itch-free, and it's just slightly oversized in that oh-so-perfect way. (For sizing purposes, I'm wearing an XS here.) My favorite way to wear it is tucked into one side of my jeans. (The best way to wear an oversized sweater, in my opinion, because it gives some definition to your waistline!) Enough about the $38 peacoat, because you guys already know at this point how obsessed I am with it. (Sorry. But if you're just reading this, go one size up! It runs small.) And the infamous $48 reversible tote makes another appearance. But it's just that good!
We snapped these pics on our way to get bagels on the Upper West Side, right before heading off to the airport. The Upper West Side is one neighborhood Mitch and I never lived in, but wanted to badly. We came SO CLOSE but backed out at the last minute in favorite of a huge place in Hoboken, which I suppose, in hindsight, was a mistake. But then again, that tough year led us to Chicago, and I'm forever grateful for that. But oy. #Regrets at the same time. ;)
Also, guys, we brought a dozen bagels home with us. And Emma and I already ate them all.
What's a couple of carb-lovin' girls to do?!
Shop the post:
$45 Slouchy Sweater for Fall (It's a must-have! I'm wearing the XS here, and would recommend going with your normal size.) / $38 Peacoat (Have you seen the Kate Spade bow version?! This camel coat is on my wish list, and this one's a classic.) / AG Legging Jeans: They're back in stock! (This is my other favorite pair of super soft skinnies.) / Over-the-Knee Boots in Brown (Part of Bergdorf's Gift Card Event!), Navy and Black (More affordable here and here <– That pair is only $65!) / $48 Reversible Street Level Leather Tote (So soft and holds a ton! Love this leather tote and the bow version, too.)
SaveSave