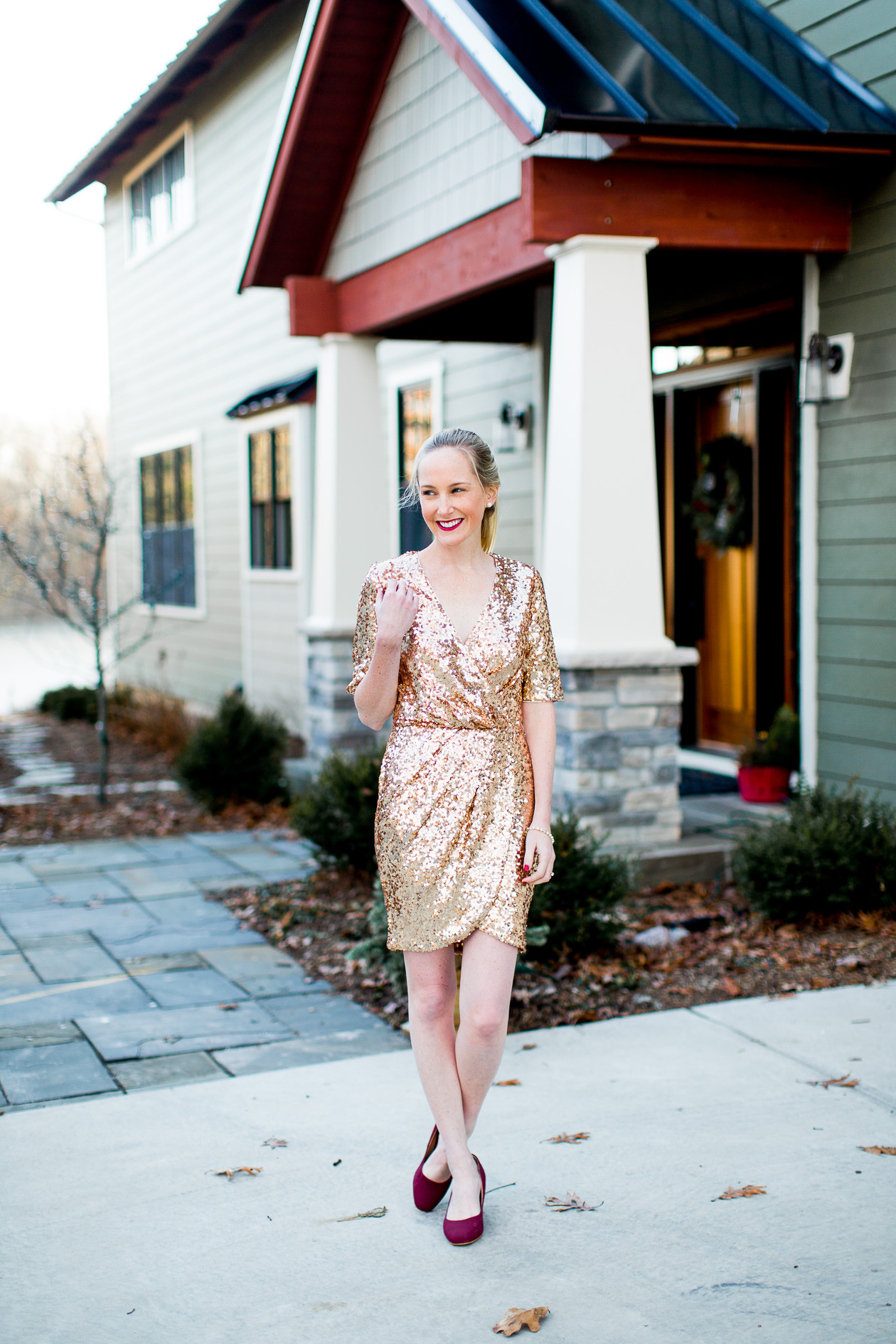 Sequin Dress (In navy here. FYI: It runs small! Also love this one.) / Kendra Scott Bracelet c/o / Stow Away Lipstick in "Cranberry"

Big sales to shop right now: Nordstrom Half-Yearly Sale (Shop my faves here) and Tuckernuck's Sale (Take an extra 25 percent off select sale items with code "FINALSALE." I love everything!)
Before Mitch and I got engaged, we celebrated New Year's in New York together. Being apart for Christmas was really hard (his family was in the Midwest and mine was on the East Coast), but knowing we had New Year's helped us through. We got all dressed up, had a pre-party at our apartment with friends, and then went on the Circle Line New Year's Eve Cruise around Manhattan. Sounds glamorous, but let me assure you: it was not. Haha! Good times, though. Except for the time you kicked that cab, Erica. ;)
Once Mitch and I got engaged, we started doing Christmas Eve/Day up in Vermont together with my family, and a week at my (now) in-laws' home in Illinois afterward. New Year's was included in that week, and I have to say: while it was a little sad to wave goodbye to the debauchery, it was also a bit of a relief. I mean, how nice does a casual, cozy night at the lake house–spent sipping champagne, playing games and watching the ball drop with family and a few close friends–sound?!
On New Year's, you'll usually find me in a sparkly top and black pants… and maybe a pair of pumps. This year, though, we're doing it up a little more, and I'm wearing this sequined dress, which I'm totally in love with. (It also comes in navy!) While I'm really not one to buy sequined dresses, I just couldn't help myself with this number. It drapes in all the right ways, and it has SLEEVES, making it much warmer than other party dresses I looked at. (See some of my other faves above.)
Word to the wise, though: it runs small. I'd say that the size 4 (which reads "XS" on the tag) fits like a 0 or 2. Also, if you have a small chest like I do–I quit breastfeeding and instantly shrunk… did I mention that?–you may have to pin the top or stuff your bra, middle school-style. But totally worth it! :) My dress is pinned in these photos, and I don't think you can tell at all.
Anyway, we celebrated Larkin Family Christmas yesterday and it was SO MUCH FUN. The whole gang's here: my two brothers-in-law, my sister-in-law, my nephew and my two nieces. We spent the morning lounging around the house and wrapping presents, a bunch of us went to the movies during the day, the early evening was spent unwrapping gifts and eating the most amazing meal ever, and the grownups spent the (later) evening around the fireplace, eating chocolate fondu. Overall, quite the perfect day. :) But how weird is it that we're now the grownups?!
And get ready for a ton of Christmassy photos of Noodle; we were separated for 10 days as she stayed at the lake while we were traveling. I missed my little hot dog so much, and I can't tell you how happy it made me to fall fast asleep with my arms curled around her. Noodle actually has a couple of blog posts coming out this week, so stay tuned, haha.
Also: I'd love to hear what you're doing for New Year's Eve! From quiet nights in to big trips, everyone's plans always seem to be so different, and I love that!
A couple of big sales to shop today:
Nordstrom Half-Yearly Sale (Shop my faves here)
Tuckernuck's Sale (Take an extra 25 percent off select sale items with code "FINALSALE." I love everything!)
Shop the post:
Sequin Dress (In navy here. FYI: It runs small! Also love this one.) / Kendra Scott Bracelet c/o / Stow Away Lipstick in "Cranberry"

Big sales to shop right now: Nordstrom Half-Yearly Sale (Shop my faves here) and Tuckernuck's Sale (Take an extra 25 percent off select sale items with code "FINALSALE." I love everything!)