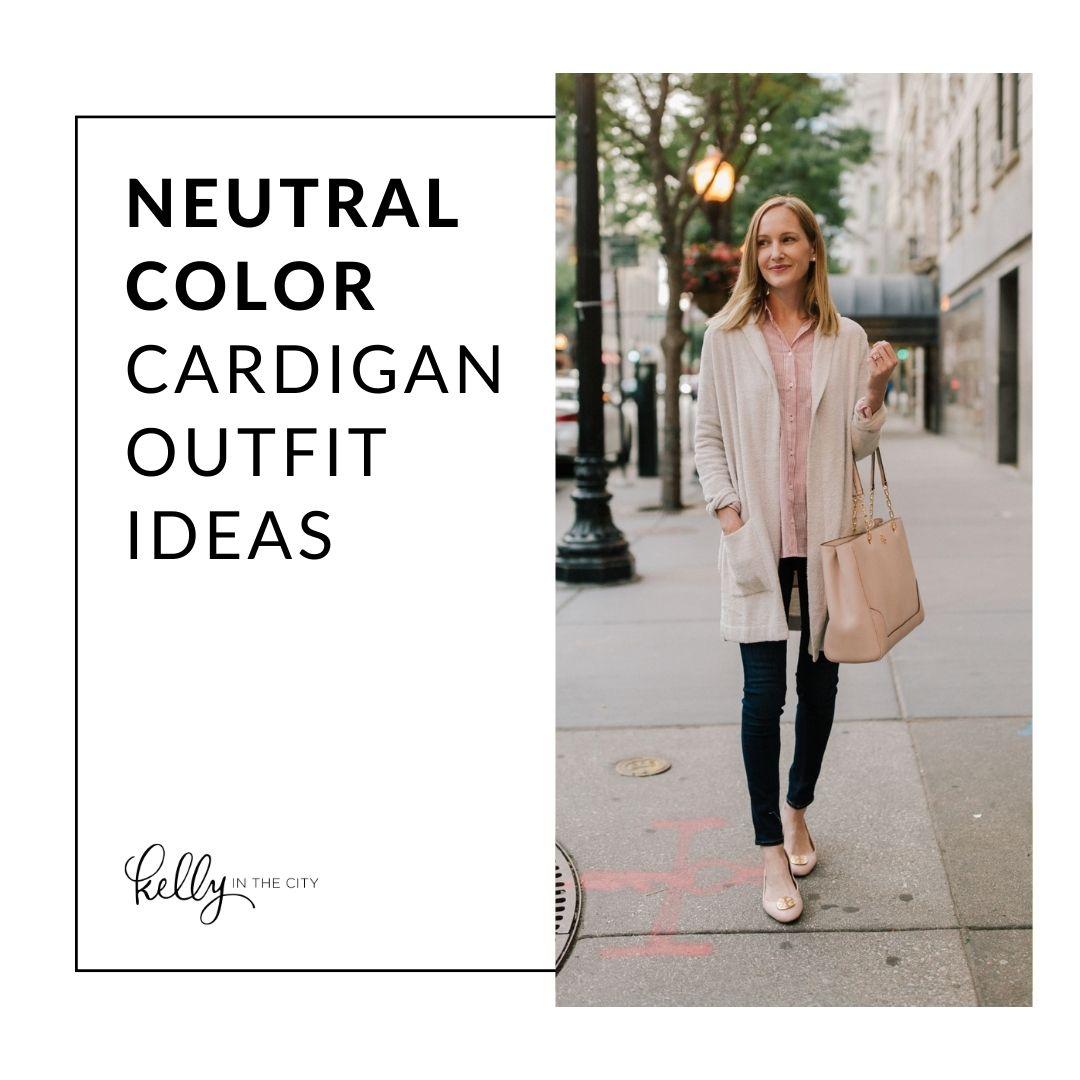 Hey! Hi! Hello friends – what's up? I'm just poppin' in to share my thoughts about one of my favorite style trends. 
Neutral colors have always been a staple in my closet, and a cardigan is no exception. Neutral, earth-tone pieces are the easiest to mix and match with those more bold colors, without causing your outfit to clash. Some of the most popular neutral colors include beige, cream, gray, white, and black. Although I also consider soft pinks, blues, and greens to be neutrals as well. 
Neutral colors look good at any time and place, whether you're going somewhere casual or to a formal event. This is why I firmly believe that neutral-colored cardigans are THE MOST versatile pieces of clothing to have in your closet. 
A cardigan can be layered, dressed up or down, and added to any stylish outfit without compromising any precious comfort or style. I have put together some cute and preppy neutral color cardigan outfit ideas for you, so you can rock this trend with confidence!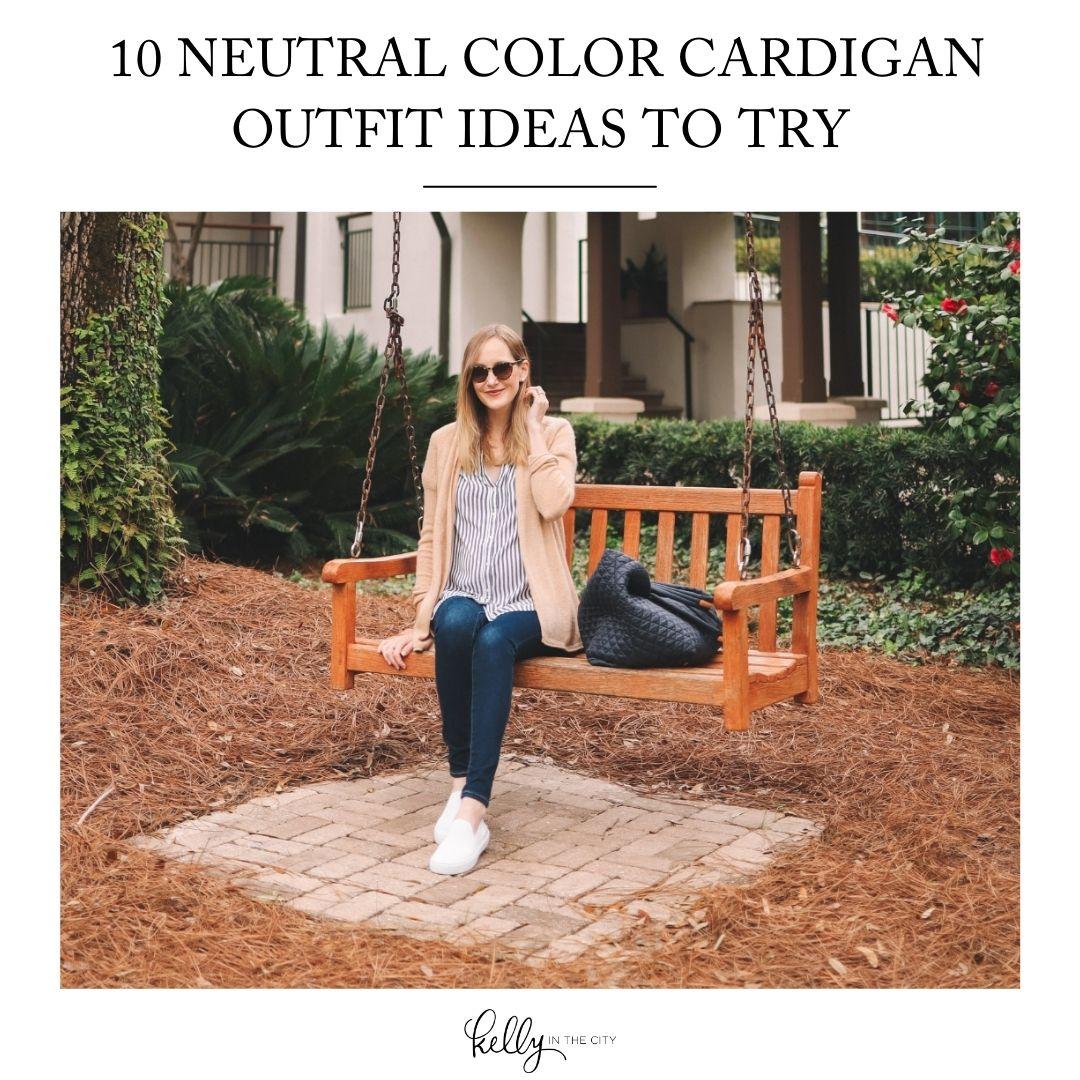 10 Neutral Color Cardigan Outfit Ideas
A Cable-Knit Cardigan with a Pleated Midi Skirt
I simply adore this outfit. The ribbed cardigan (similar option here), the pleated skirt, and the adorable little slingback pumps work together to create an absolutely adorable (and versatile!) look. And even more, the unique buttons on the cardigan add a whole extra level of cute and preppy. Pair it with these crystal and pearl studded earrings to give it a little sparkle. You can take this one to everything from brunch with the girls to your next holiday party!
Herringbone Stitch Cardigan with High-Rise Slim Demi-Boot Jean
I don't know about you guys but on cloudy and rainy days, or on those days I like to call 'lazy days', I love a simple outfit that keeps me cozy, but still confident. For this one, start with a neutral grey or white button-up cardigan. Then, just add these jeans and casual shoes like my Lodge Chukkas and you're good to go! Cozy and cute! 
Cashmere Patch-Pocket Cardigan Sweater and an Open Back Knit Dress
This is a simple spring outfit at its finest – a cashmere patch-pocket cardigan sweater paired with the most feminine Hope and Henry open back knit dress, and round-toe slip-on flats. This look is perfect for BBQ's, ball games, and everything in between. When I first learned how to style a cardigan, I was only focusing on fall and winter styles. Now, I can't stop obsessing over lightweight cardigan pieces that are the perfect addition to spring and summer dresses. Adding a cardigan that can be buttoned closed is perfect for your more form fitting dresses as it adds to your natural silhouette. If you don't already have a cashmere piece in your wardrobe, I highly suggest starting with a neutral cashmere cardigan. 
Cardigan Sweater with White Wash Denim Boot Jean & Wedge Sandals
This is the perfect brunch with the girls outfit. You can easily pull together a totally chic look with a darker brown cardigan and a pair of white jeans. As far as the top goes, simply add your favorite white tee or tank. Layering a waist-length cardigan with high-waisted jeans can create a sophisticated and stylish look that is perfect for springtime weather. And these wedges?!?!? They're a must-have for all your spring and summer looks! 
Belted Knit Maxi Dress with a Cardigan
You know that cardigan sweater that, as soon as you look at it, you can picture yourself wrapping up in it and sipping on some hot tea? That is exactly what this cardigan did to me. The knit maxi dress has the perfect hemline to add a skinny belt that accentuates your waist. Seriously, this brown dress is everything. Adding a layered necklace will make this solid-tone outfit pop! Neutral sandals are a soft spot for me, and this outfit is not complete without a pair.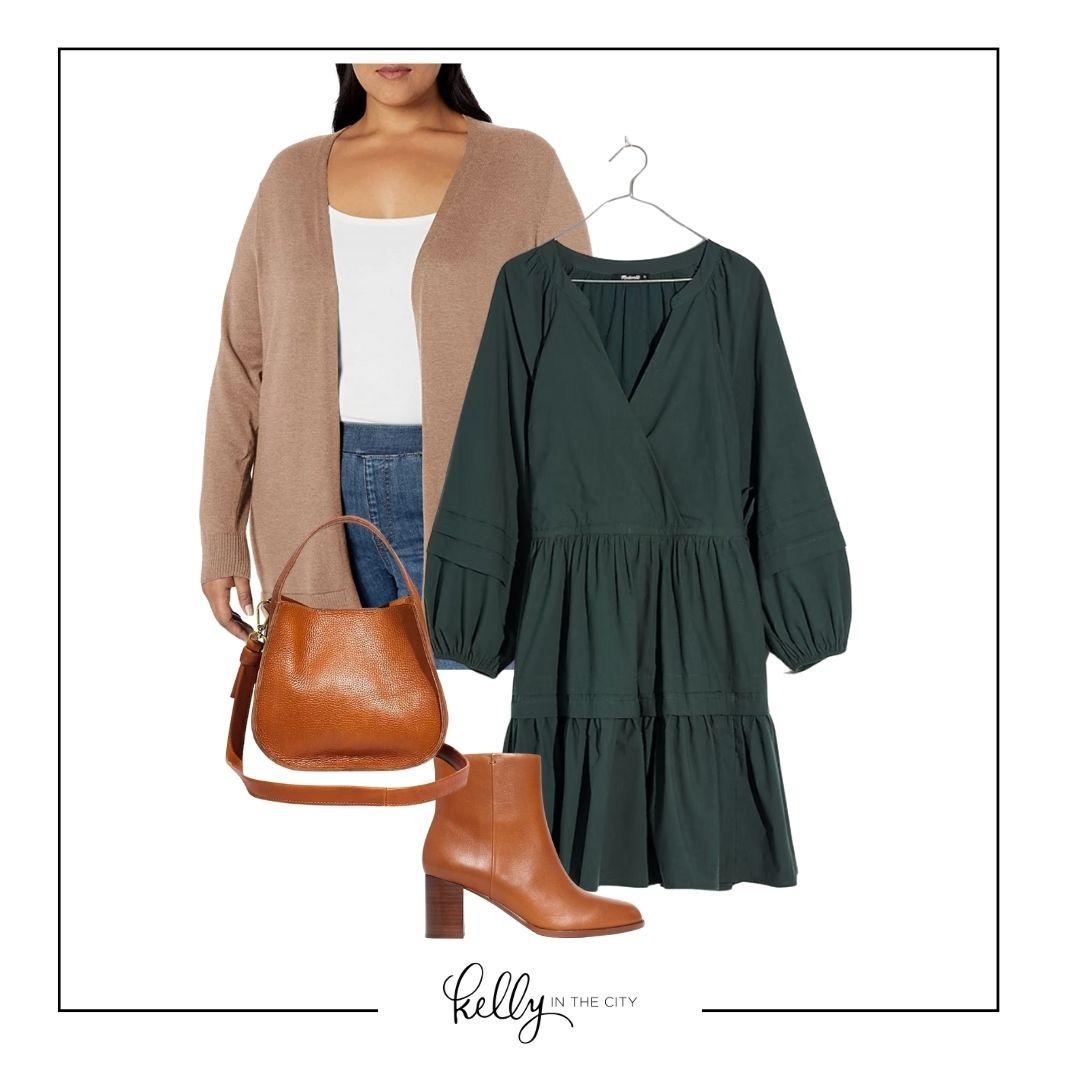 Lightweight Open-Front Cardigan with a Dark Green Poplin Wrap Mini Dress
Here's another dress option for your neutral cardigan inspiration. I started with this adorable green wrap dress – perfect for all your spring and summertime adventures. Next, I added the neutral cardi, these cute and comfy booties from Madewell, and a matching crossbody bag for all the essentials. I love this outfit for a picnic in the park or any outdoor date night activity. 
Draped Open Front Cardigan with a Turtleneck Sweater, Jeans, & Booties
I love the chic look of this open front cardigan with cashmere turtleneck, jeans, & booties. If you're looking for a neutral cardigan business casual outfit for work, this is a great option. I love the color scheme here and this is one of those looks that can easily transition from work to errands to happy hour and never skip beat.
Black Bobble Cardigan with a Classic White Boyfriend Shirt, Skinny Jeans, & Knee High Boots
Since most of the neutral cardigans on my list today are white, cream, brown, and tan, I thought I'd add at least one black one to mix it up. Because no matter how bold, black is still a neutral color especially when styled correctly. For this outfit, I paired a white button-up and jeans with a black Tuckernuck cardigan and brown knee high boots. And YES – brown and black totally compliment each other! Then to top off the look, I added the black Mara Bag. LOVE!
Knit Cardigan with White Long Sleeve Essentials Shirt, Jeans, & Sorel Explorer Joan Cozy Boots
If the cold weather is upon you, here is a neutral cardigan winter outfit you'll love. Start with a basic white button-up and jeans, then add this adorable white cardigan from Knit Your Love. The texture and design of this cardigan is so unique and it doesn't get much cuter than that. Finally, add the Explorer Joan winter boots and you're ready for whatever the weather throws your way.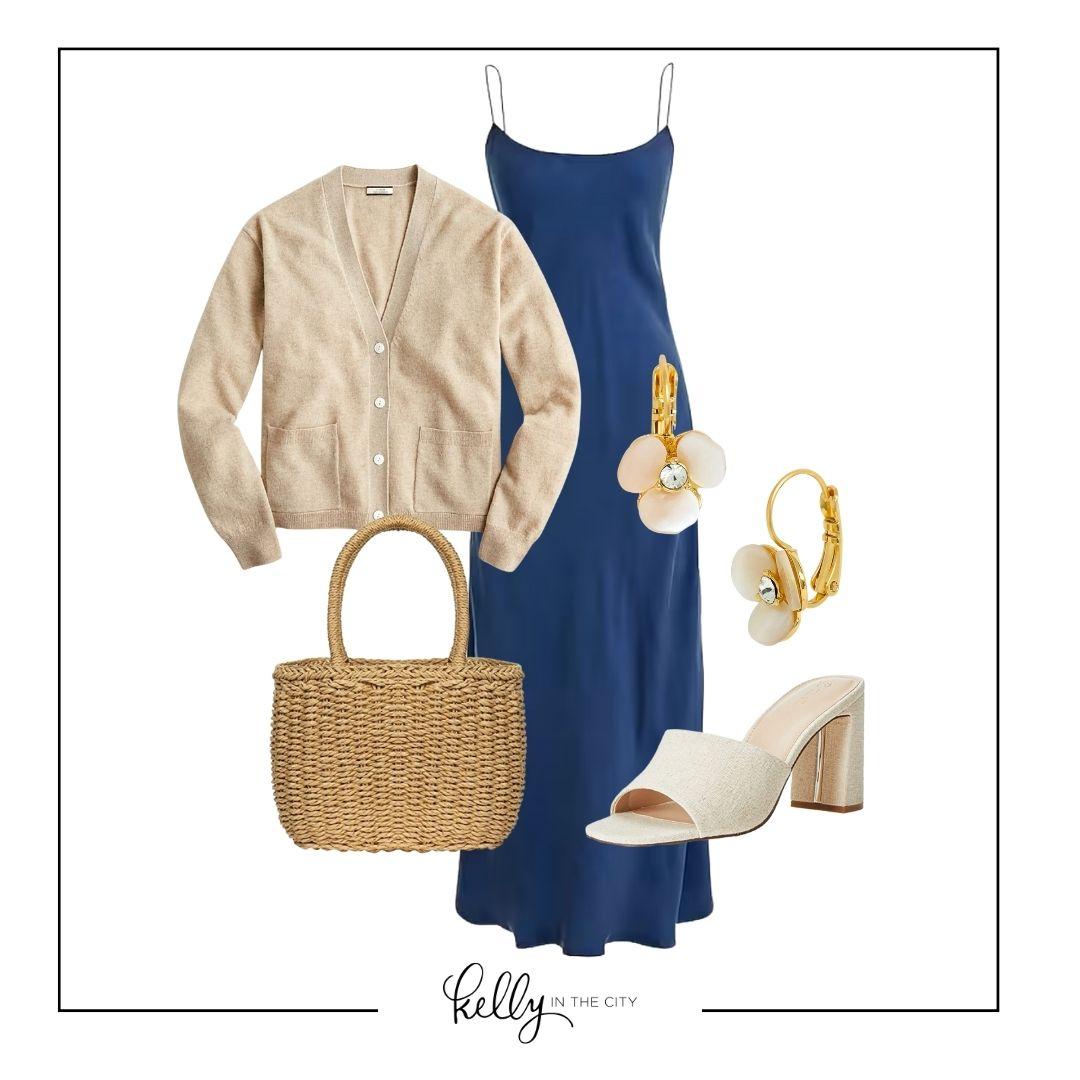 Beige Cardigan Sweater, a Sleek Navy Slip Dress, Straw Tote, & Chic Accessories
If your next date night is right around the corner, definitely consider this adorable navy slip dress and neutral cardigan outfit. This outfit is so soft and feminine and I love it. It really is one of those outfits where each piece truly adds its own unique element. The softness of the slip dress, the varying textures with the cashmere, drop earrings, a straw tote, and the mules – soooo cute! Swoon.
Do you have a cardigan look that you absolutely love? Tell me all about it!
I hope that these outfit ideas have given you some inspiration for your next cardigan ensemble. Now it's your turn to share – do you have a cardigan look that you absolutely love? I'd love to hear about it! For more preppy style inspiration, click here!