As we approach a YEAR in our house–how did that happen?!–I've been thinking about how far we've come with making it our own. :)
We currently have a list of mini home projects that we keep in our kitchen, and we've been trying to tackle one job per day. Very honestly, we've already failed that, haha. But we've crossed off five of the 30 tasks, and man, is it satisfying. All the little things we used to say "when we have time one day" about, you know?
A LOT of the seating in our home is from Serena & Lily, as the brand carries a ton of gorgeous natural pieces that seem to balance out all our white furniture. (Note: Everything on the site is currently 20 percent off! Use code "ATHOME.") I've learned so much over the last year in regards to design, and one of my most valuable takeaways has been how natural tones add dimension and texture to rooms. I'm definitely one of those people who would just go with blue and white in every room if left to my own devices; it's what I'm drawn to and I just can't help it! But I've made a concerted effort to include those natural tones… and WOW. It really makes the everything pop!
Here are a few new additions to our home:
We LOVE the Riviera Collection. We have it all over the place: in our kitchen, laundry room, play room, and backyard. And we just got this gorgeous sunwashed chair for Emma's new desk!
I decided to put a desk in her a few months ago, and now I'm so glad that I did since we're all now homeschooling. I wouldn't say that I'm doing a great job with it, haha… but you know. We're trying. (Emma's also in a three-year-old preschool program, so we're trying to not be too crazy. A few activities per day, and then a good deal of play!)
Anyway, we love the chair. She can climb up into herself, and it really goes with the whimsical style of her room. It also reminds me of summer–something that all Chicagoans need reminding of pretty often. ;)
I feel like this chair is a little bit out of my comfort zone, and I'll admit that I initially passed over it. But doesn't it scream California?! A big reason we loved this home so much was because I've long suffered from seasonal depression that's triggered by lack of daylight in the colder months. The office and master bedroom, though, are on the top floor and get a ton of natural light. It's a dream! We decided to go big with the decor and embrace a coastal California feel… and it affects me in the best possible way. I wake up happy, I'm happy while I'm working, and I'm happy when I hit the hay. And every time I sit in this chair, I dream about going back to Santa Monica. :)
HEART EYES.
Isn't it beautiful?! We were waiting for the perfect end-of-the-bed bench to come along, and when this beauty came out, I knew right away that I'd found it. I'm in LOVE. While we went with a neutral cushion because our wallpaper is a little busy, the cushion is super customizable, and I love all the available colors and patterns! This is where I sit down while I'm getting ready in the morning, and it's also where Emma prefers to lay when she wakes up WAY too early and we tell her that it's a no-go. (The other day she showed up at 4:30 a.m.! We were like, "Girlfriend. No. Climb in." And she was like, "No. I've got my bench." Ha!
The most beautiful desk chair in all the land! This one is a little heavier than the Riviera chair, so we put it up in my office. It's beautiful. I can't believe how well-made and substantial it is, or how comfy it is! I've spent a few 10-hour days in this chair, and no issues. Huge fan. I also love the woven detailing on the back as well as the gold detailing around the feet. And, of course, how the natural tones really make the white desk pop! (Striped cushion adorable too, no? 😉)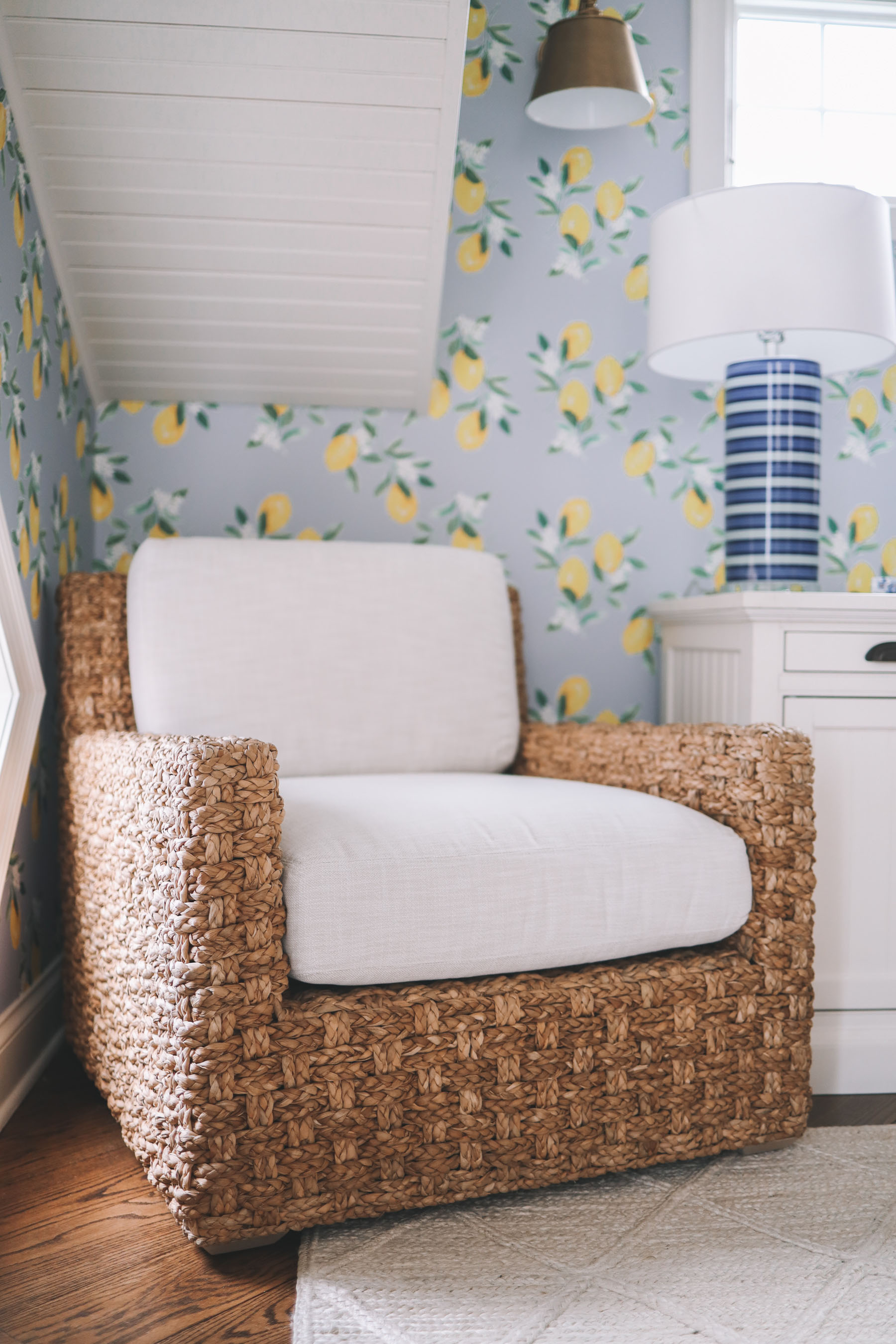 Okay, so we just received this… and we're huge fans. We moved the rattan chair into our bedroom on the other side of the dresser, and the Costa Chair is going to stay in the office. I do think things look a little too squished with this arrangement, though, so I'm going to move my desk to the wall with the large windows, and then put the chair in the right-hand corner when you walk into the room. Will update with photos soon; I love a good rearranging session!
Fun story: One night in college, my roommate (Beth) and I decided to rearrange our dorm furniture. We ended up wedging ourselves into a corner, and were unable to get out. We had to call Matt, her now husband, to come and rescue us… and then he gave us a stern talking to about the importance of measuring before rearranging. WHATEVER, MATT. (Okay, fine. He was right. 😜)

20 percent off everything on the site with code "ATHOME"
In collaboration with Serena & Lily; all opinions are my own. As always, thank you so, so much for supporting the partnerships that keep Kelly in the City up and running! Take 20 percent off everything at Serena & Lily with code "ATHOME."