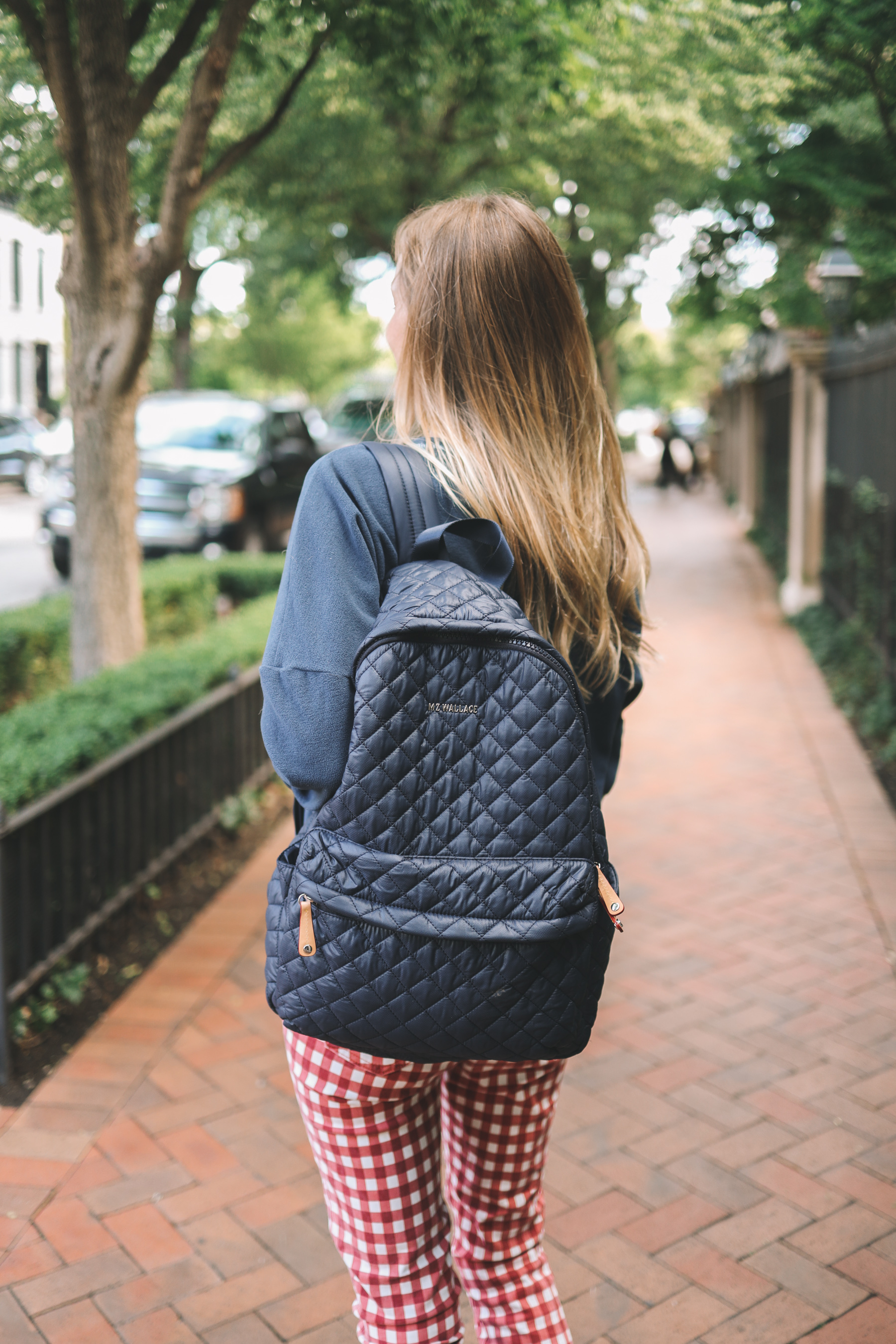 MZ Wallace Metro Backpack (Nordstrom also carries it. And here is the smaller City Backpack via MZ Wallace and via Nordstrom!) / Dudley Stephens Sweatshirt (And this is my most-worn navy Dudley!) / Gingham Pants (Old from Madewell, but J.Crew carries gingham jeans in navy, and my favorite navy gingham pants are on ridiculous sale. And check out Madewell's Roadtripper line. BEST JEANS EVER. J.Crew also has a cute pair of red gingham pants out right now!)
Hello, Perfect Backpack.
But seriously. The MZ Wallace Metro Backpack (also at Nordstrom) has been life-changing for me this summer! For a long time, I carried the Large MZ Wallace Metro Tote and loved it. I still love it! Since it's so squishy, I can shove it nearly anywhere, like under our stroller or under a plane seat. (Back when we used to fly. 😢) And while I still love it and get a ton of use out of it, my newest obsession is the Metro Backpack because it allows me to quickly get the girls what they need. It also allows me to be totally hands-free when we ditch the stroller.
I. Love. It.
And here's why:
It's washable. While I don't think MZ Wallace advertises this, the Metro collection is totally washable. I've thrown my stuff into the washing machine and everything–leather detailing included–has come out looking brand new. (Just be sure to air dry!) This is huge for me since I have little kids; bottles and snack packs explode in the backpack all the time and it's no big deal. LOVE bags that I don't have to stress about.
It works as a baby bag because it has pockets galore. A lot more than the totes do, actually! Three interior pockets (one zippered), one large exterior zippered pocket, and two side pockets that are great for quick access to bottles and my cell. (I know. Not the safest thing, but I have phone insurance so I take the risk. 🙈) The pockets really cut down on the time I spend digging around for stuff, and that makes me a calmer mom. ;)
It's squishy. Again, it can be shoved into small spaces… and it also doubles as a pillow for the girls if need be!
It's comfy. Doesn't hurt my back and it's soft. Even when I'm wearing dresses, the straps don't bother my shoulders. They also don't slip off.
It's pretty. It's all-around lovely looking! It's obviously not as nice as carrying a true purse, but it's certainly an upgrade from a Jansport or whatever, haha. I think it looks fine with nicer outfits, too. :)
Mitch doesn't mind carrying it. This is a big deal. You never want a baby bag that only YOU are willing to schlep around.
I have the Metro Backpack in "Dawn," but black may be more versatile for some. (You can find the black one on MZ Wallace's site or via Nordstrom.)
Also, you can get a 15 percent off discount code if you sign up for MZ Wallace e-mails. (Bottom left-hand corner of the site.) So if you're a first-time purchaser, definitely take advantage of that!
Btw: The Metro Backpack is the largest backpack that MZ Wallace offers. The brand also carries the City Backpack (smaller) and the Small Metro Backpack (smallest).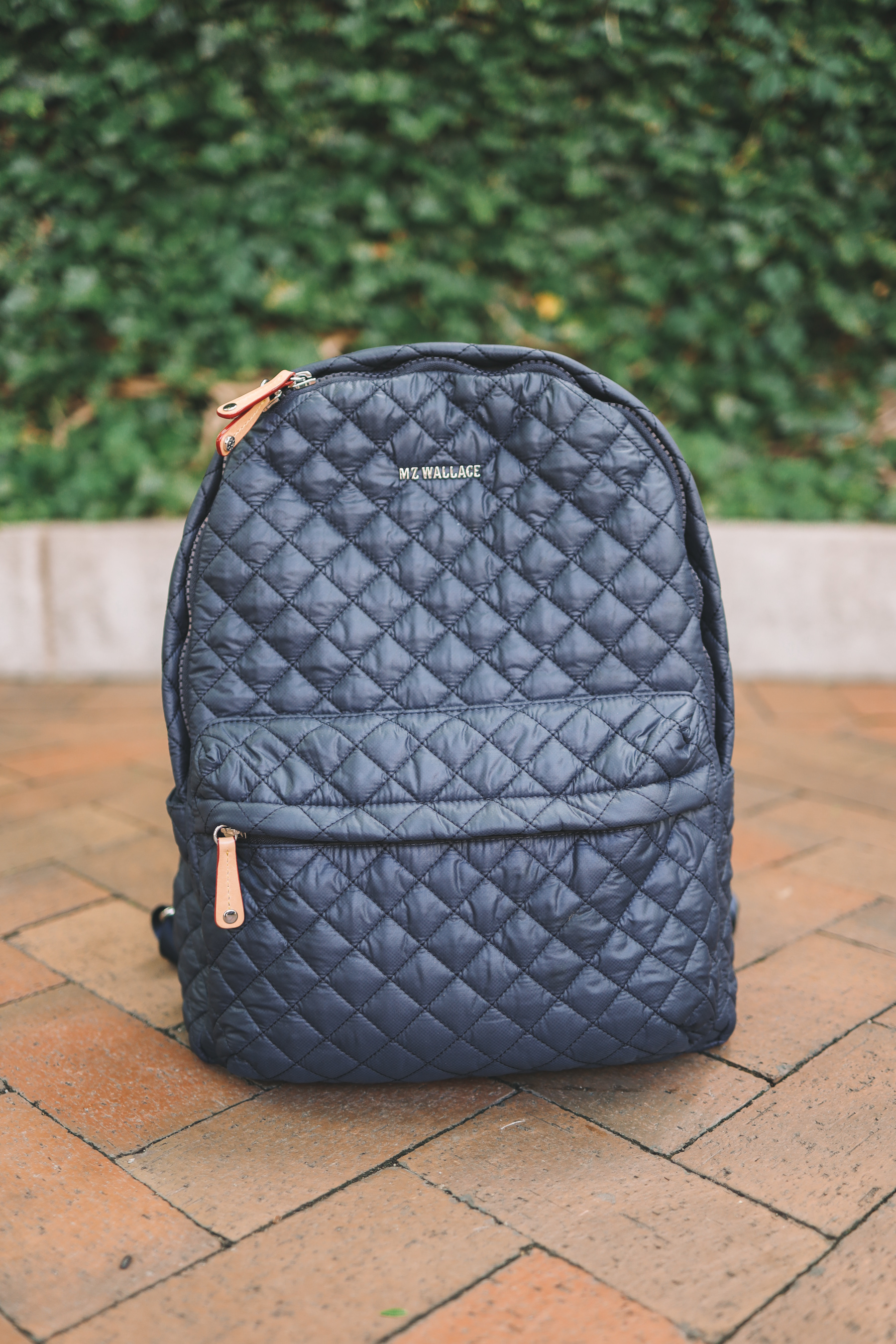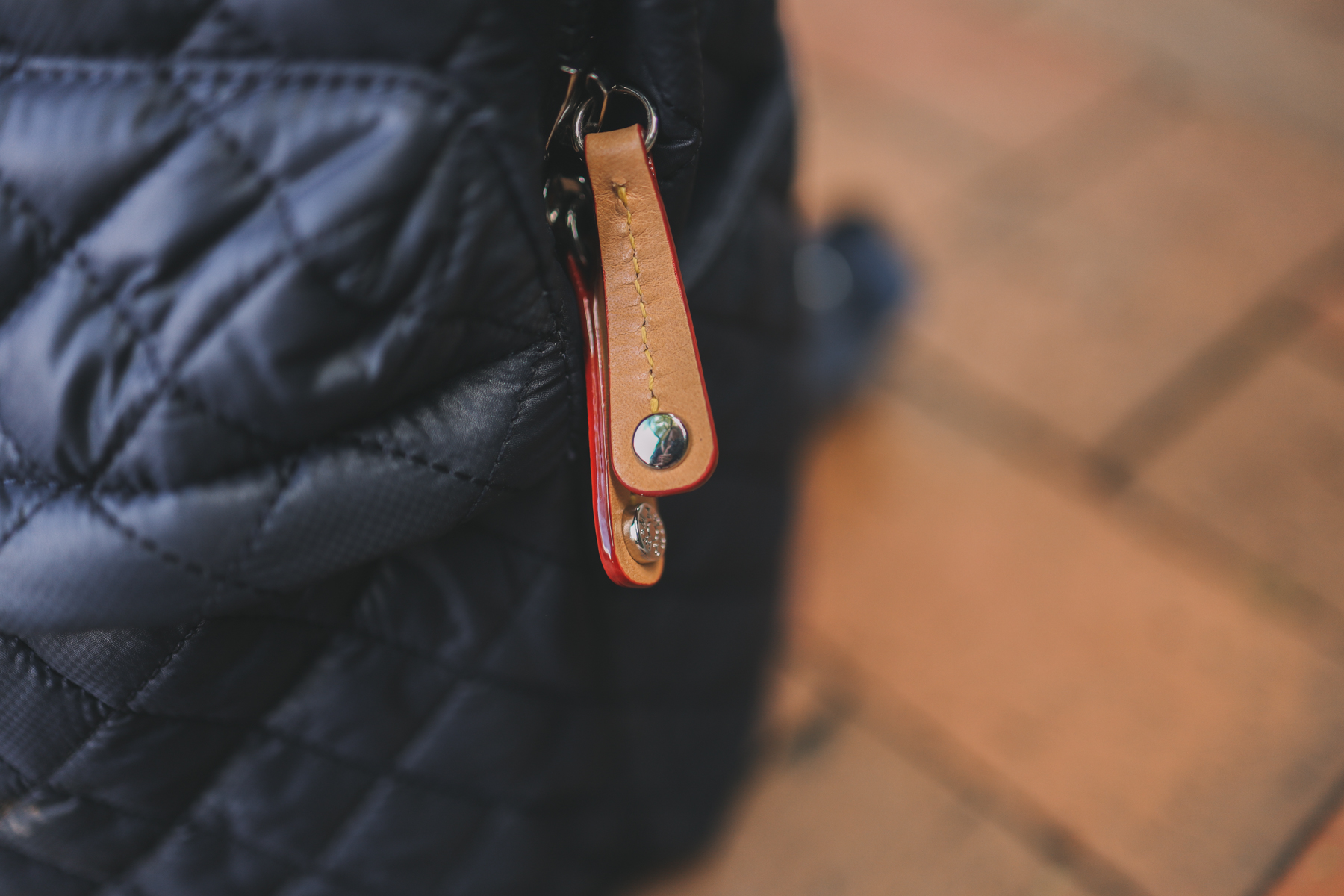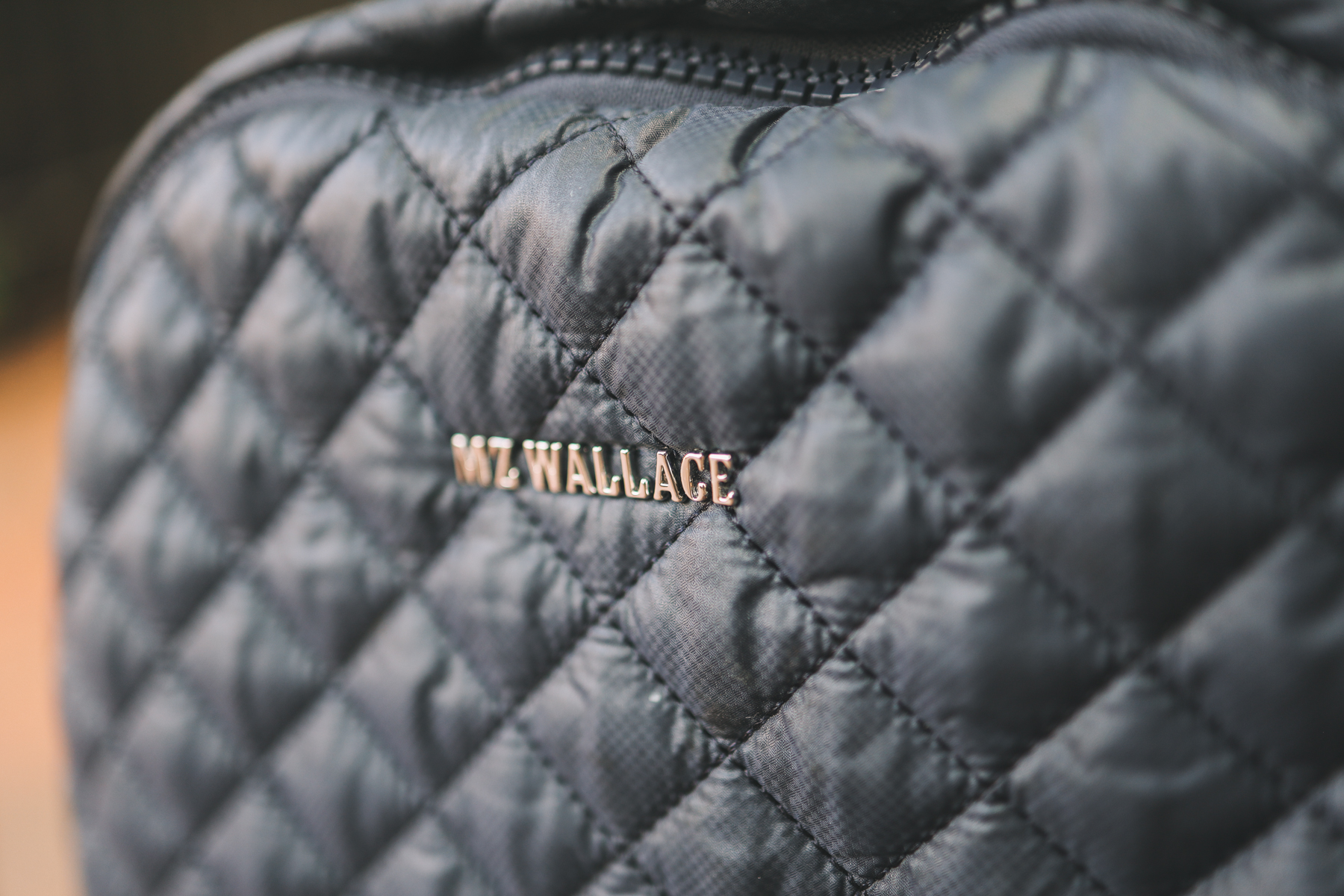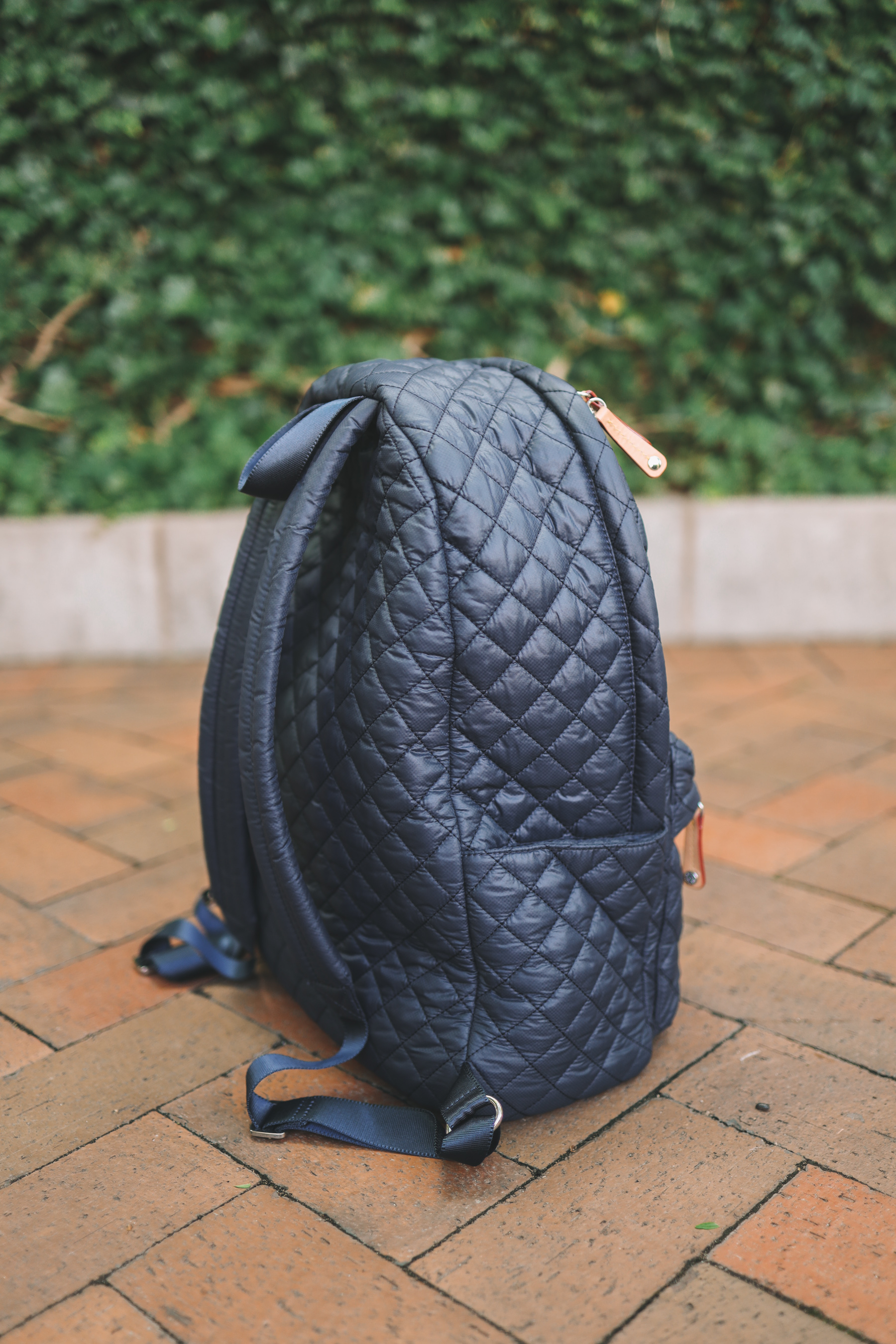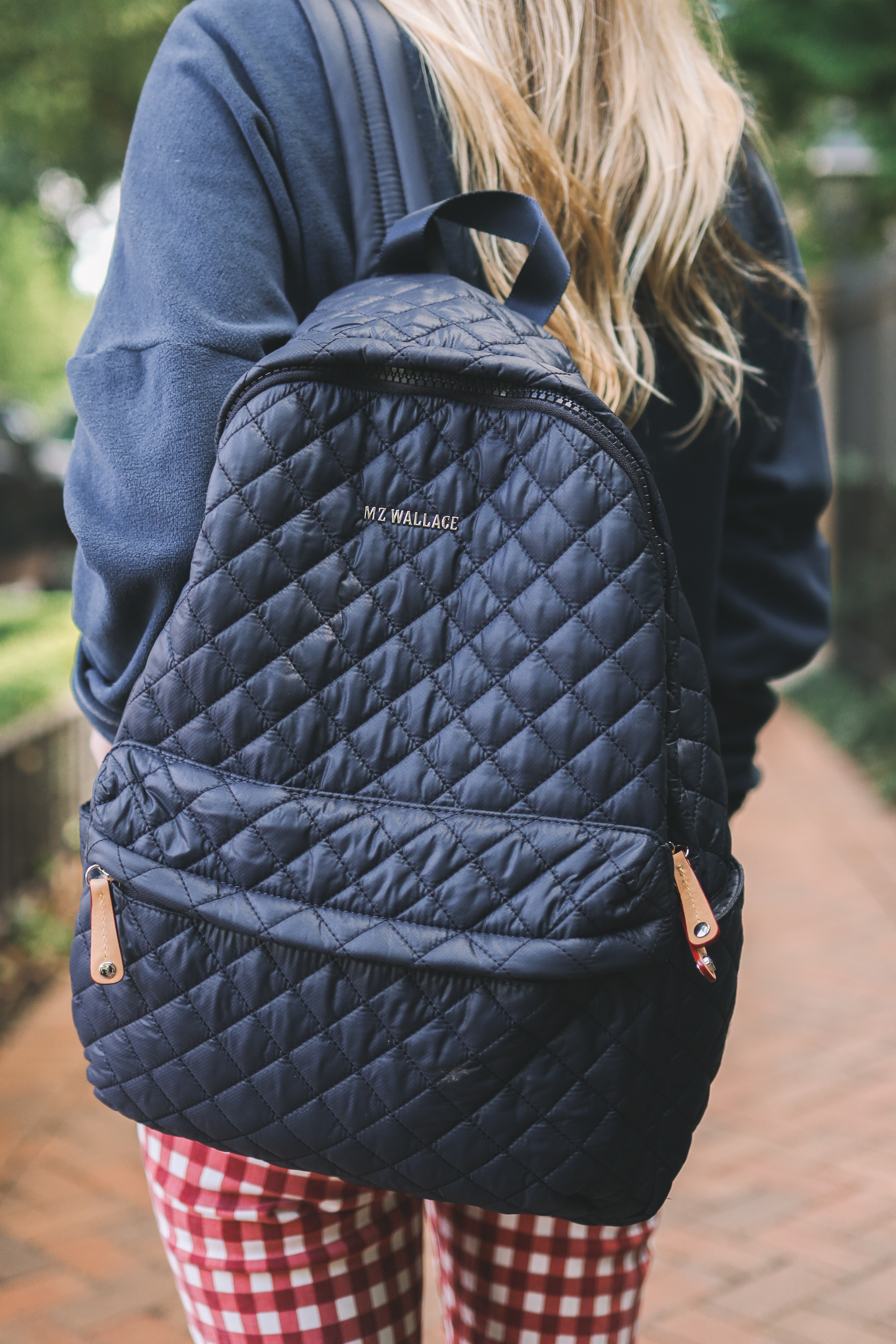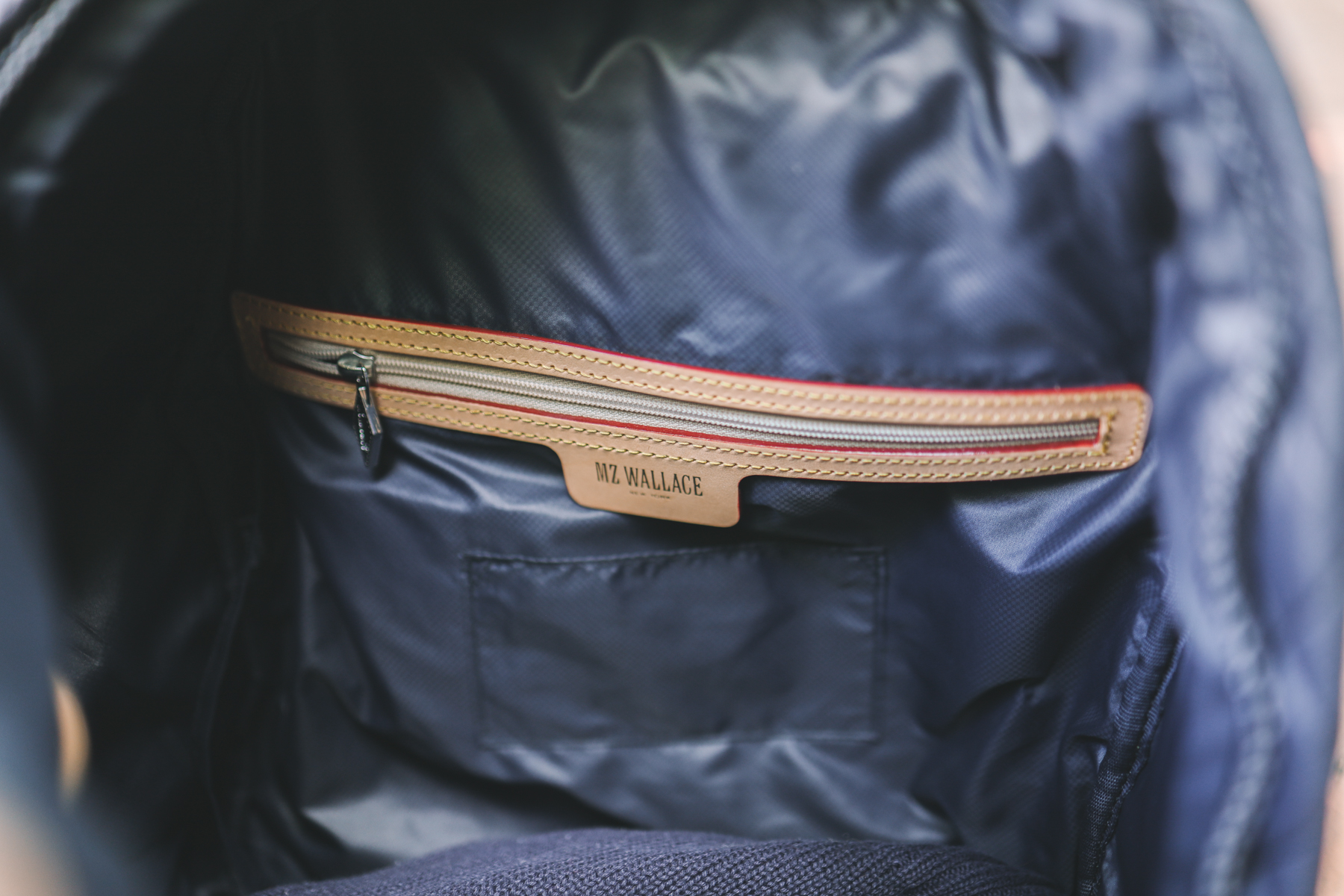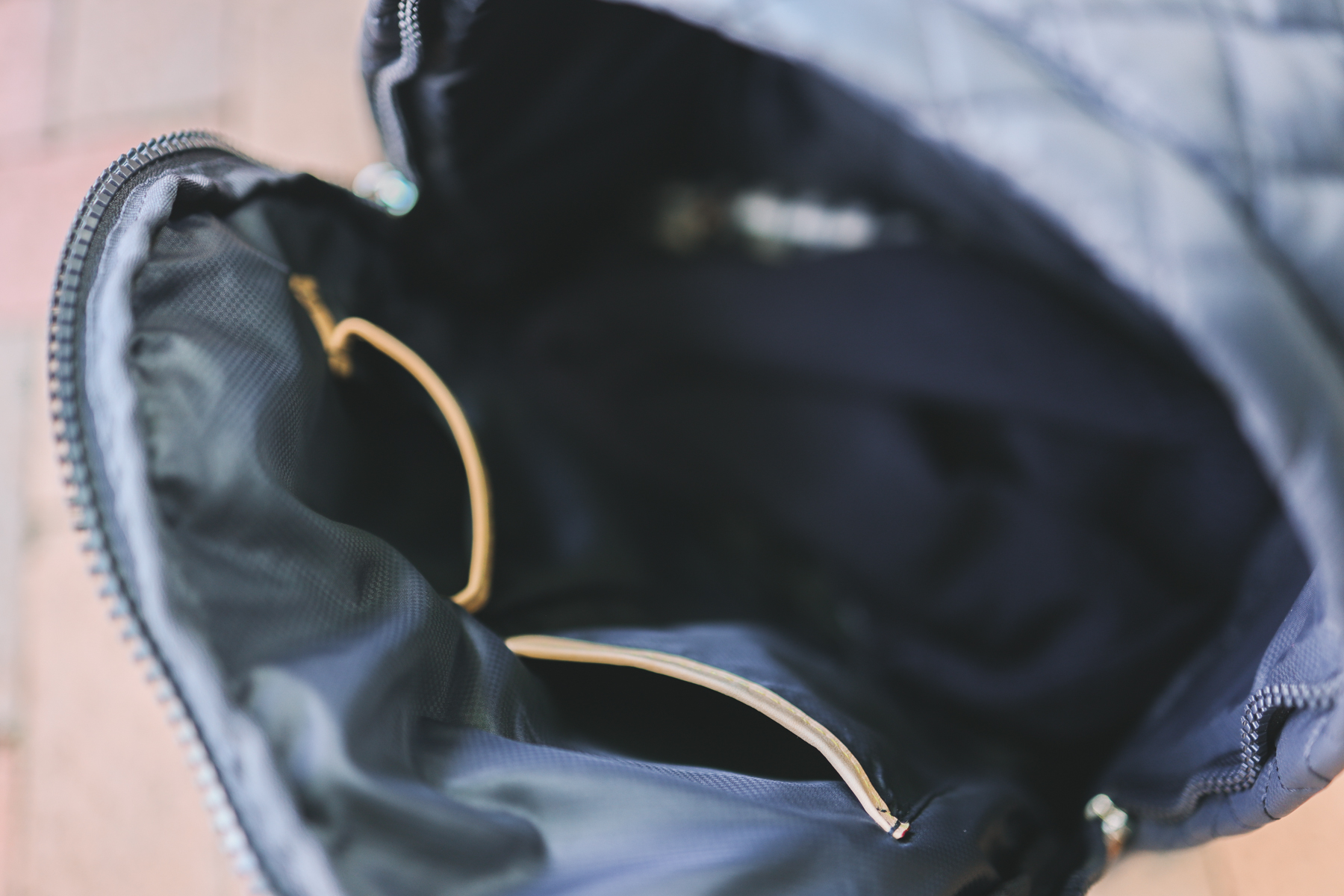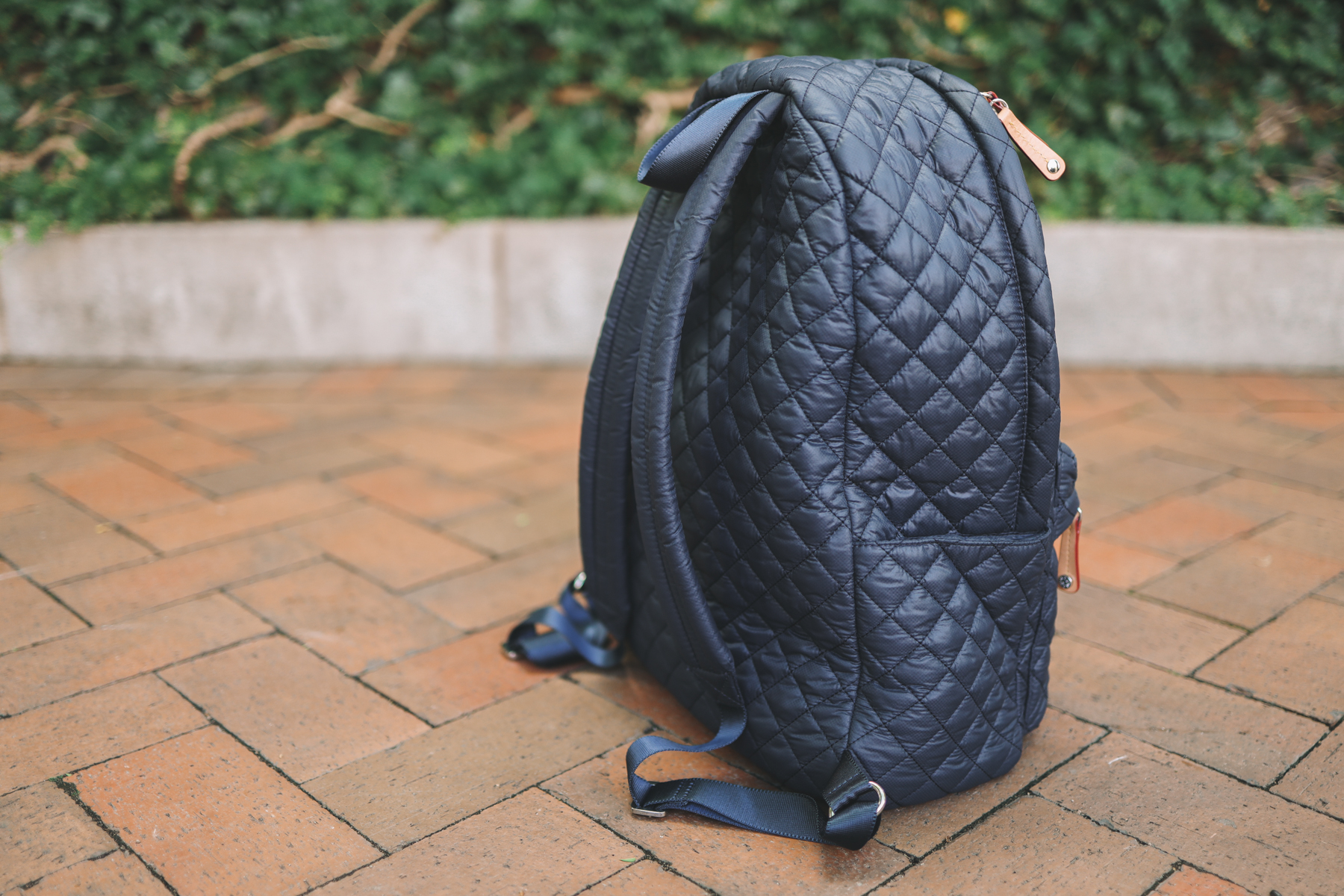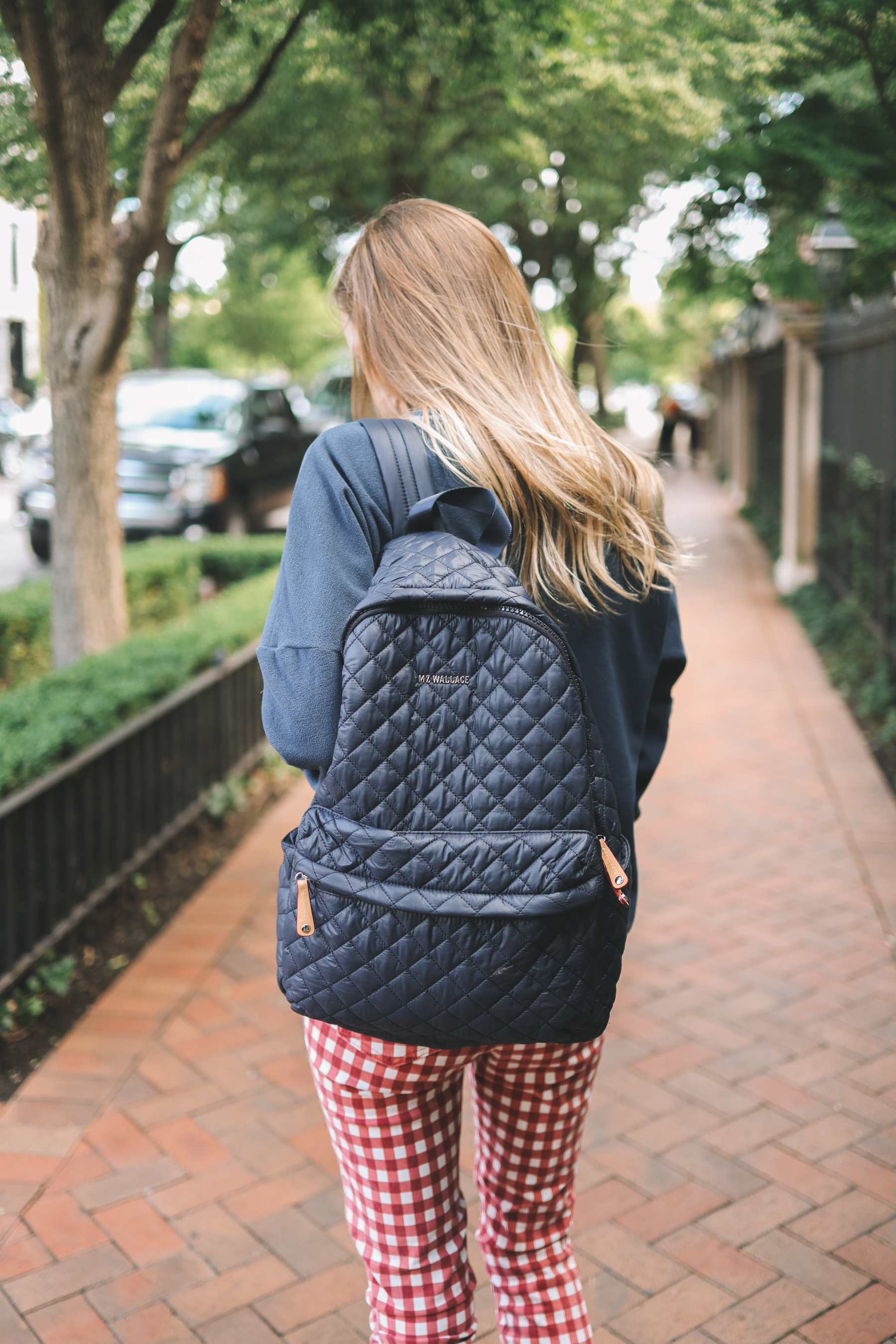 Shop the post:
MZ Wallace Metro Backpack (Nordstrom also carries it. And here is the smaller City Backpack via MZ Wallace and via Nordstrom!) / Dudley Stephens Sweatshirt (And this is my most-worn navy Dudley!) / Gingham Pants (Old from Madewell, but J.Crew carries gingham jeans in navy, and my favorite navy gingham pants are on ridiculous sale. And check out Madewell's Roadtripper line. BEST JEANS EVER. J.Crew also has a cute pair of red gingham pants out right now!)