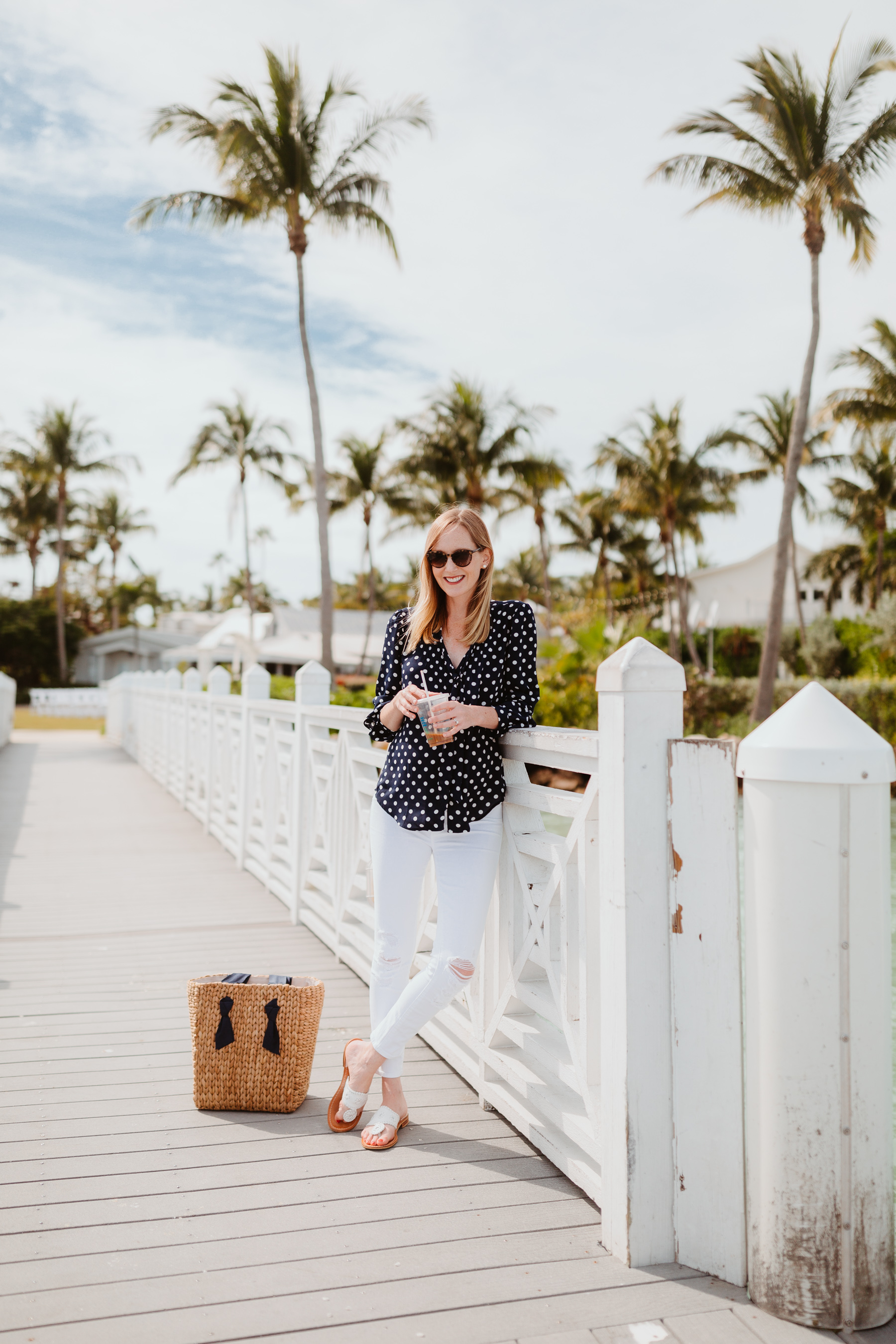 J.Crew Navy Polka Dot Top (Similar style here. Also love the Dreamy Pajamas—the softest PJs I own, which also come in stripe—and this bathing suit in navy polka dot right now!) / Pamela Munson Woven Tote (This one is the cutest, too. More affordable option here.) / Jack Rogers / J Brand Maternity Ankle Jeans (I highly recommend Old Navy's Rockstar maternity white jeans, though, if "full panel" doesn't bother you! And my favorite non-maternity white skinny jeans are from Rag & Bone. Looking for a deal? BlankNYC carries fabulous white skinnies for only $88!)
These photos were taken on the grounds of the South Seas Island Resort on Captiva, where we stayed for our second leg of the trip. Isn't it stunning?! We arrived late at night and really couldn't see much as a result, but when we awoke in the morning, we were like, "WHAT?" The resort's website is beautiful, but the pics just don't do it justice. At one point, Emma was literally skipping around, and she said, "Mommy, Daddy, this is so nice!" We couldn't stop laughing.
You'll see more about the South Seas Island Resort soon, but I wanted to focus on this simple outfit in today's post.
You probably saw this top more than once if you were keeping up with me via Instagram Stories while I was in Florida. ;) It was really the only dressier top I brought on the trip, and since our stay was unexpectedly (and fortuitously) extended, I wore it to lunch and dinner several times! I love it. I'm about to sound legit crazy, but navy polka dots are just so much cuter and classier, IMHO, than black polka dots, hahaha. But navy ones are so much harder to find in adult sizes!
The Best Navy Polka Dot Finds:

I've included a bunch of my navy polka dot favorites above, but I can't recommend the top more!
Why?
First, it looks and feels like silk but it's actually polyester, which means it's machine-washable. I love my silk shirts—especially Lilly Pulitzer's year-round Elsa top, which goes with everything—but I'll admit that I don't reach for them often, as dry-cleaning is a hassle and expensive. So despite the negative connotation of the word "polyester," a great one is truly indispensable.
Second, it has some character. The little tie around the neck can be worn loosely (like how you see it in these photos) or in a bow, which is really cute. It's also not one of those annoying ties that always hang to one side and make you look disheveled. It falls straight down!
Third, you kind of can't go wrong with the sizing on the top. I went two sizes up to accommodate for the bump, but my mom tried multiple sizes—her usual and then one down and one up—and they kind of all worked for her?! Which makes me happy because once I have the baby, I'll still be able to wear mine. :) While it's necessary to invest in some pieces that I'll only be able to wear while pregnant (like maternity pants and bathing suits), I really love those more versatile ones that I can repurpose post-baby, too.

Boom! Is this not the cutest woven tote you've ever seen? It was definitely an investment considering that it's not leather, but I fell hard for it, and used it every day while in Florida. I love those navy straps, how sturdy it is in general, and the size. I brought it to dinner every night but I also used it as a beach and baby bag, and it held everything I needed for both Emma and myself. (Mitch requires nothing in life. Most of the time, the man doesn't even wear sunglasses, whereas I think my sensitive blue eyes would shrivel up if I didn't have them on every time I step into the sunlight. So not fair, haha.)
Pamela Munson has a lot of other cute bags that are available now, but I've included all my favorites (at lots of different price points!) above. My best recommendation for an everyday tote, though, would be this one from Nordstrom. The quality is great and the price is fair!

Description taken from this recent post.
Another staple. After my recent KonMari closet clean-out, very few sandals made the cut. But my Jacks did! They're timeless, and what I reach for most on vacations and during the warmer months. If you haven't purchased a new pair in a few years, you'll be happy to hear that the company made the sandals a LOT more comfortable a few seasons back. Whereas the soles used to cause me a lot of pain (mostly in the heel area), I now don't have any issues. So nice!
(Sizing: TTS. I used to go up a half size in Jacks about three years ago. Now, though, I order my regular size, which is a 7.5. It seems like the brand changed its sizing slightly!)

Description taken from this recent post.
My first pair of distressed jeans! I was having a really hard time finding a pair of white skinnies for this trip, and ended up ordering these on account of the awesome reviews I found somewhere. I wasn't a huge fan of the rips, but they were SO SOFT and comfortable that I ended up keeping them… and I wore them nearly every day on the trip! (Luckily, our Airbnb in Marco Island had a washer/dryer, which was super helpful.) They're an investment as well… but I'm obsessed with white jeans and wear them so often that I felt I'd get a lot of use out of them.
That said, Old Navy's Rockstar white skinny jeans are fabulous and much more affordable, and what I would recommend if you can handle full-panel maternity pants. I'm not a fan, as they seem to cut off circulation for me and I tend to have accidents when wearing them because they take some effort to get off, which isn't the best when you go from 0-10 in roughly 30 seconds in regards to needing to use the bathroom while pregnant. (TMI?) Still, I know many fellow preggos who will only wear full-panel, and if you're in that category, get the Rockstars! They're much more wallet-friendly, and they're super soft. They also don't stretch out throughout the day.
Note: I normally go one size down in maternity jeans because I've found that most of them run on the bigger side. Did that with both the J Brand and Rockstar jeans, and it was the right decision. You might, however, want to order two sizes so you can compare, and then send back whatever doesn't work. Nice to have options!
Btw: My favorite non-maternity white skinny jeans are from Rag & Bone. Looking for a deal? BlankNYC carries fabulous white skinnies for only $88!
Did I miss any great navy polka dot products that are currently available? Let me know and I'll add 'em to the carousel widget!
xx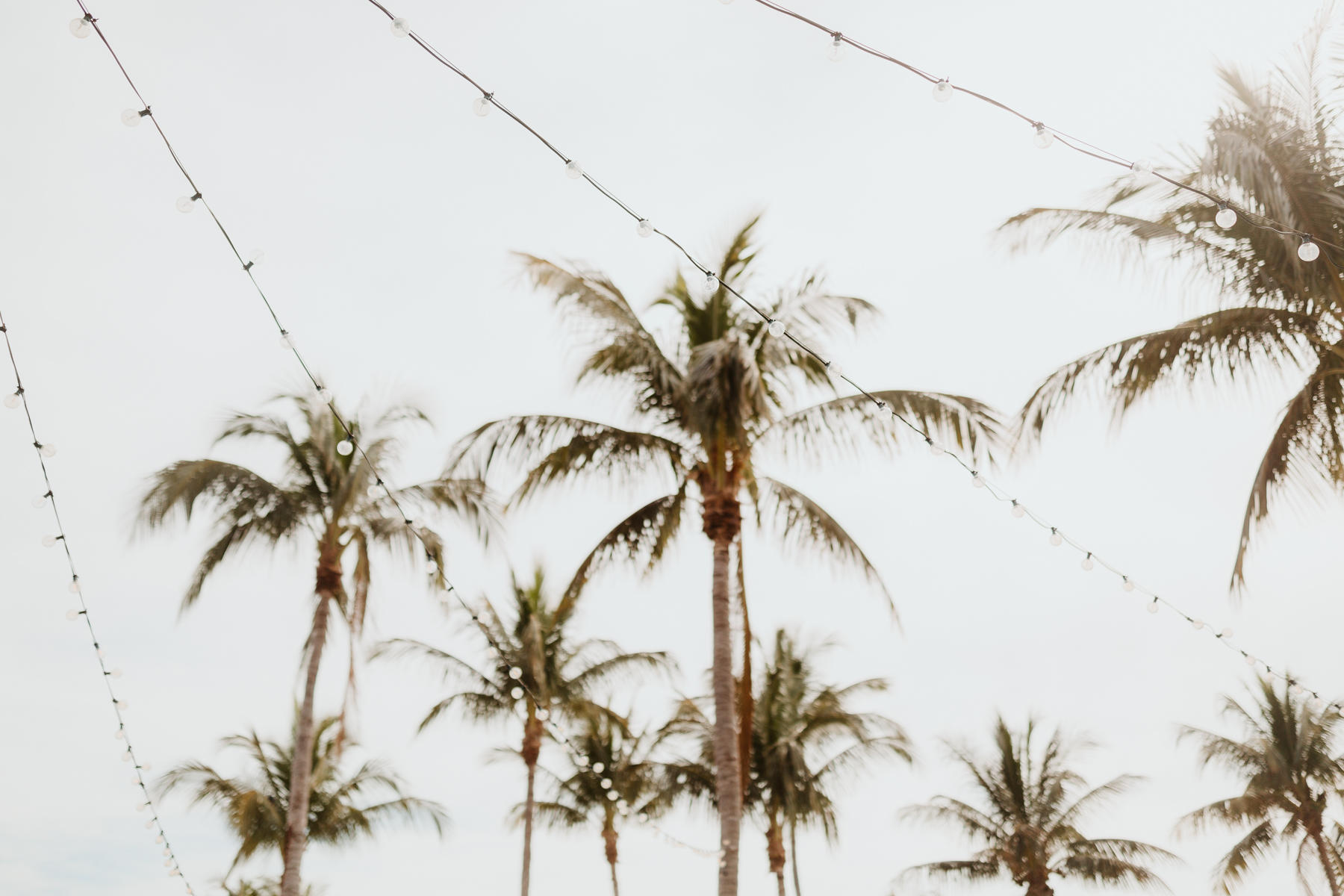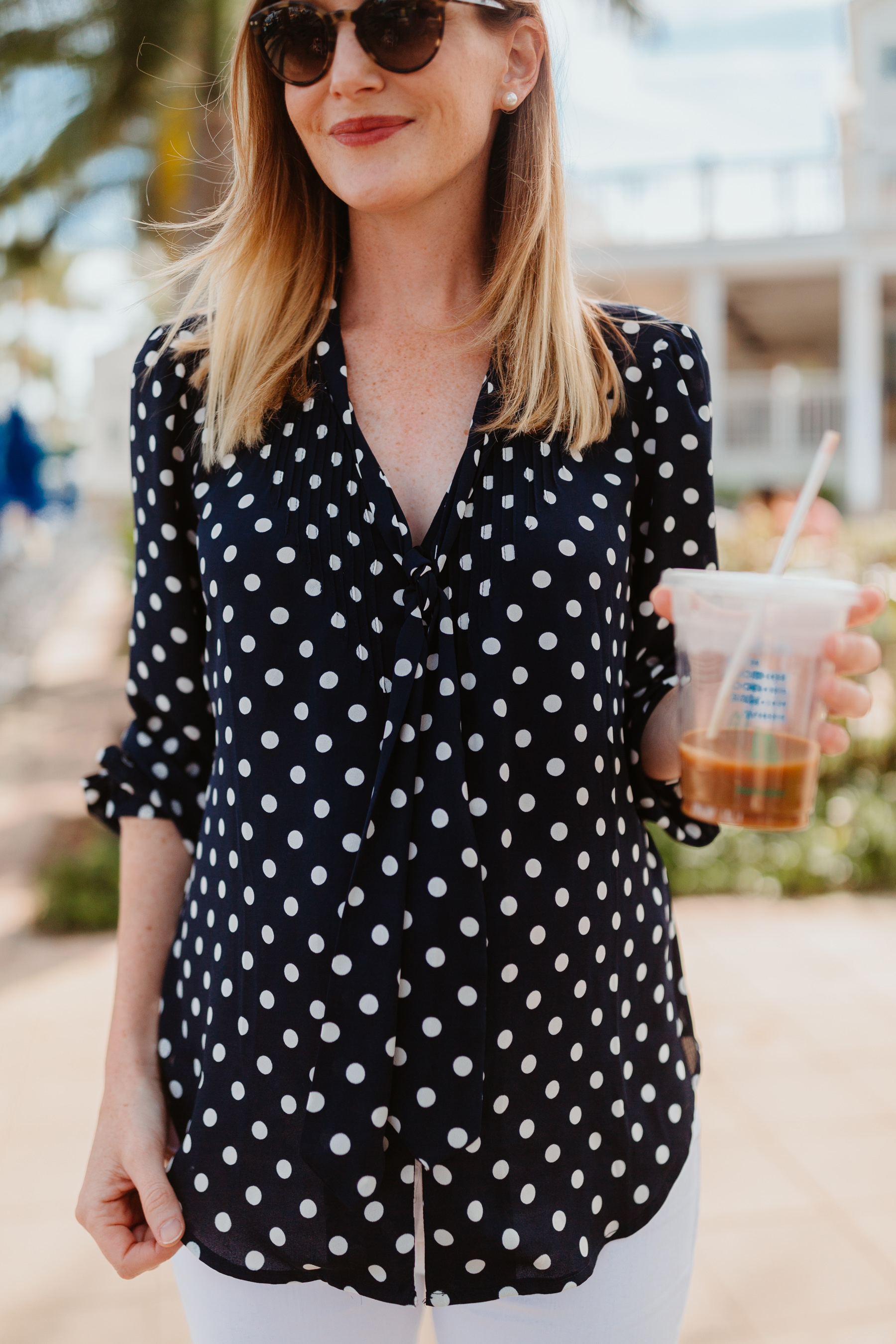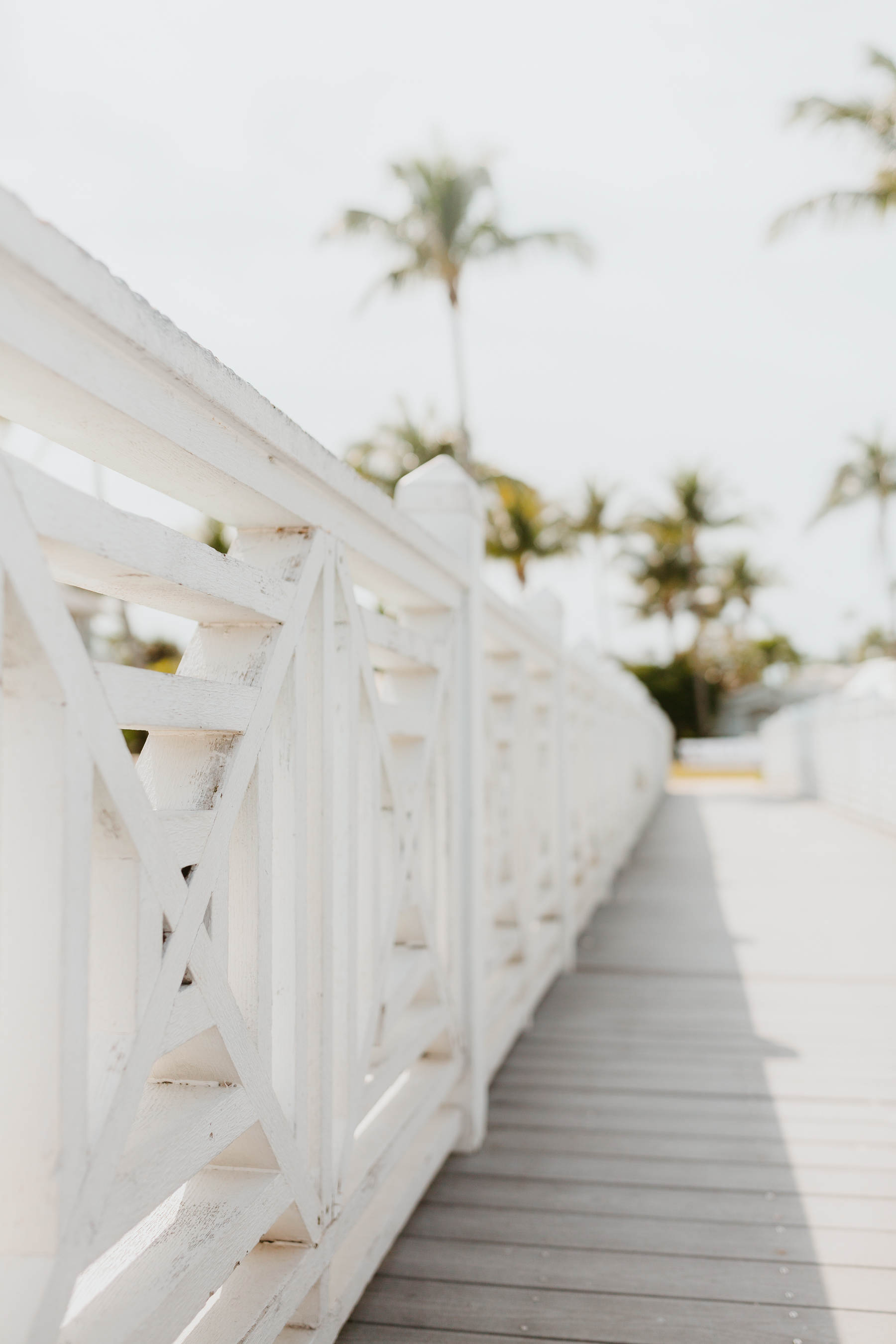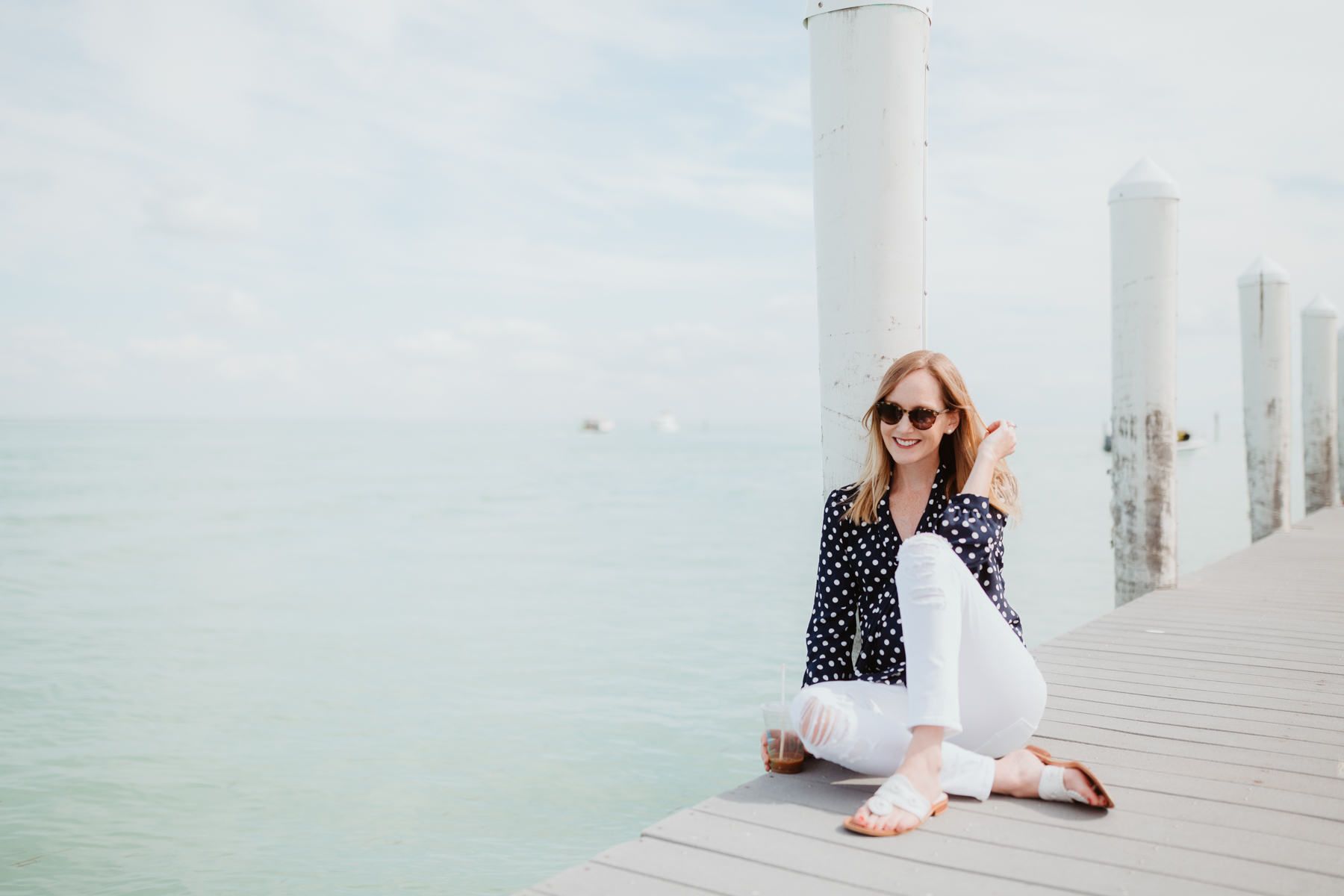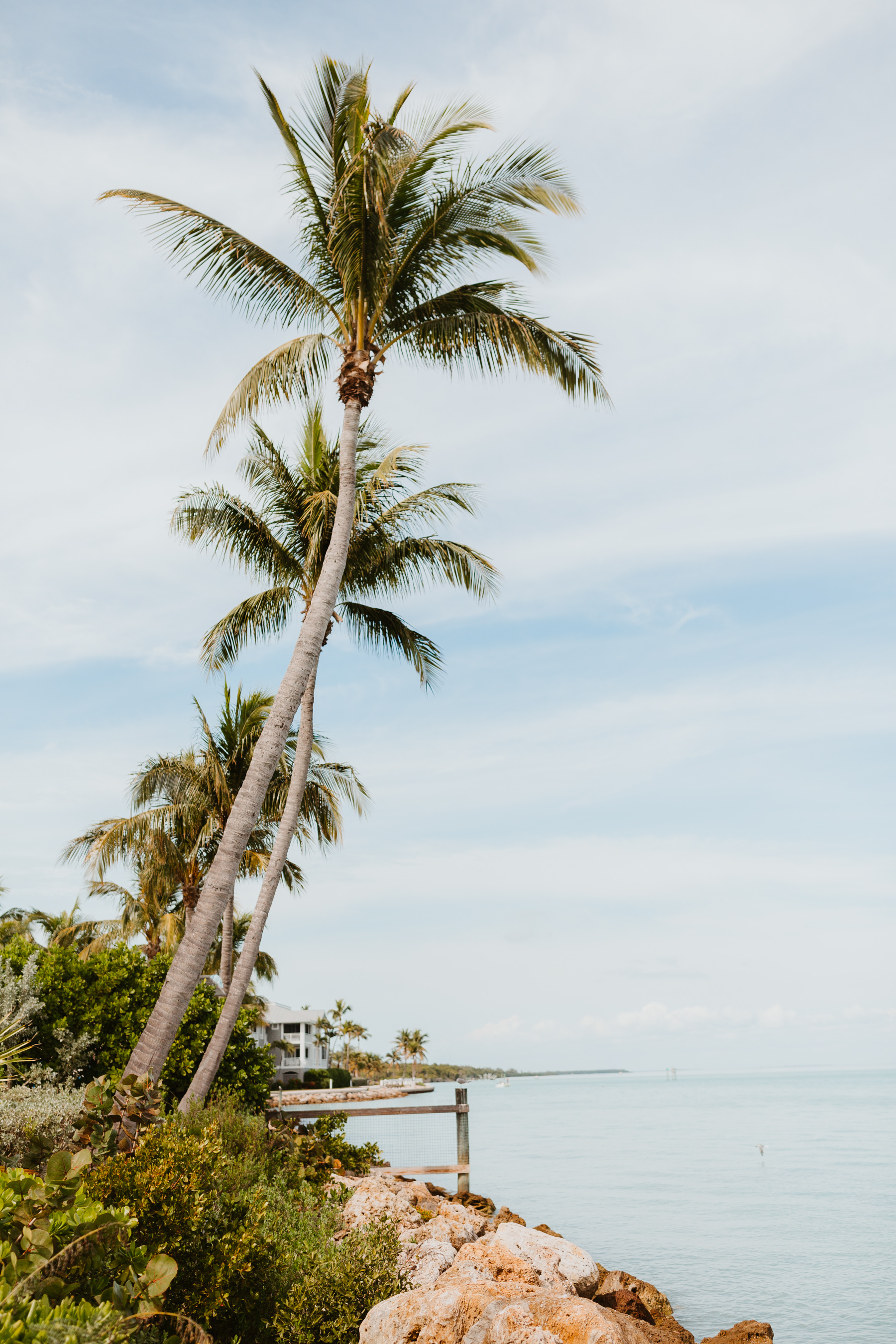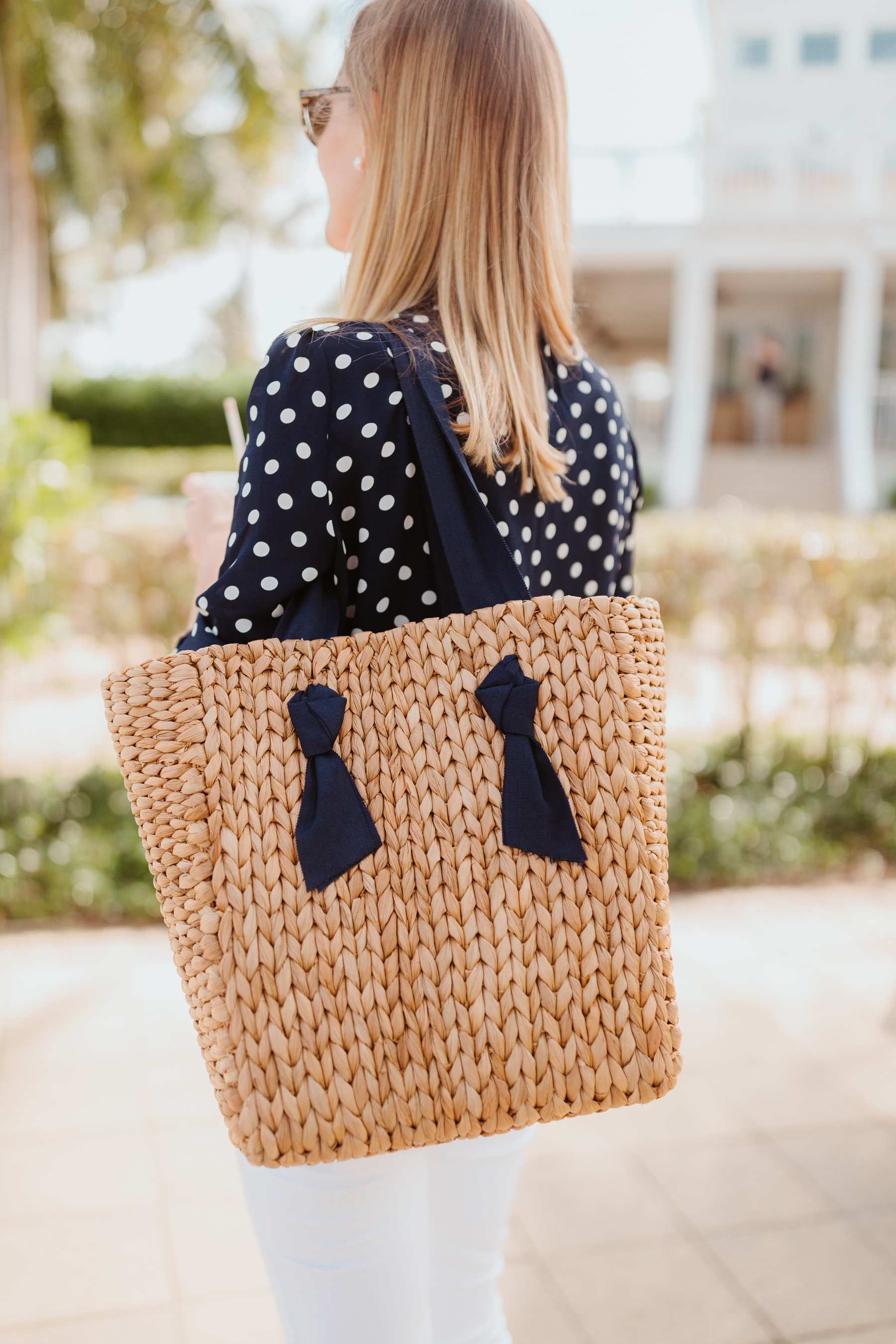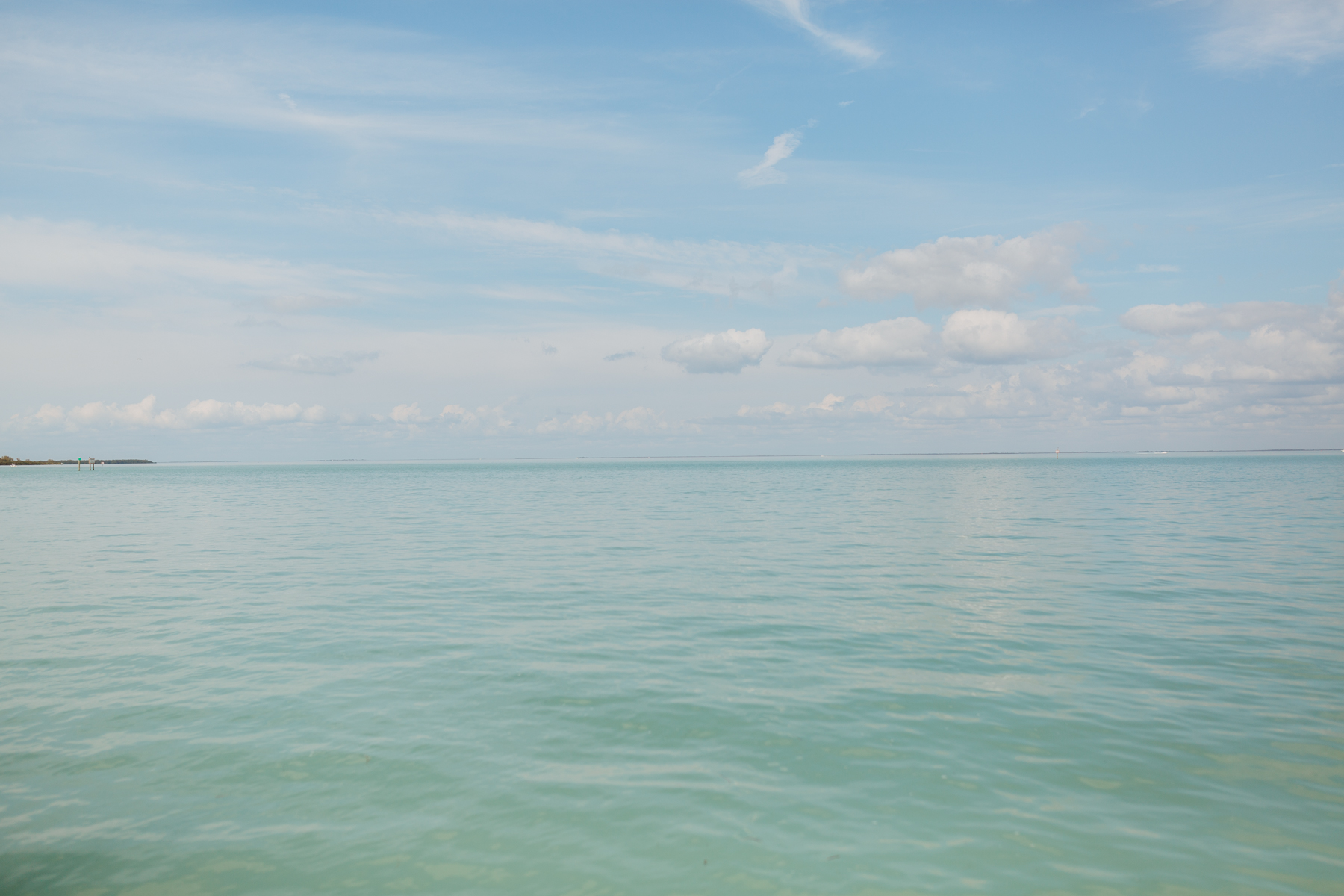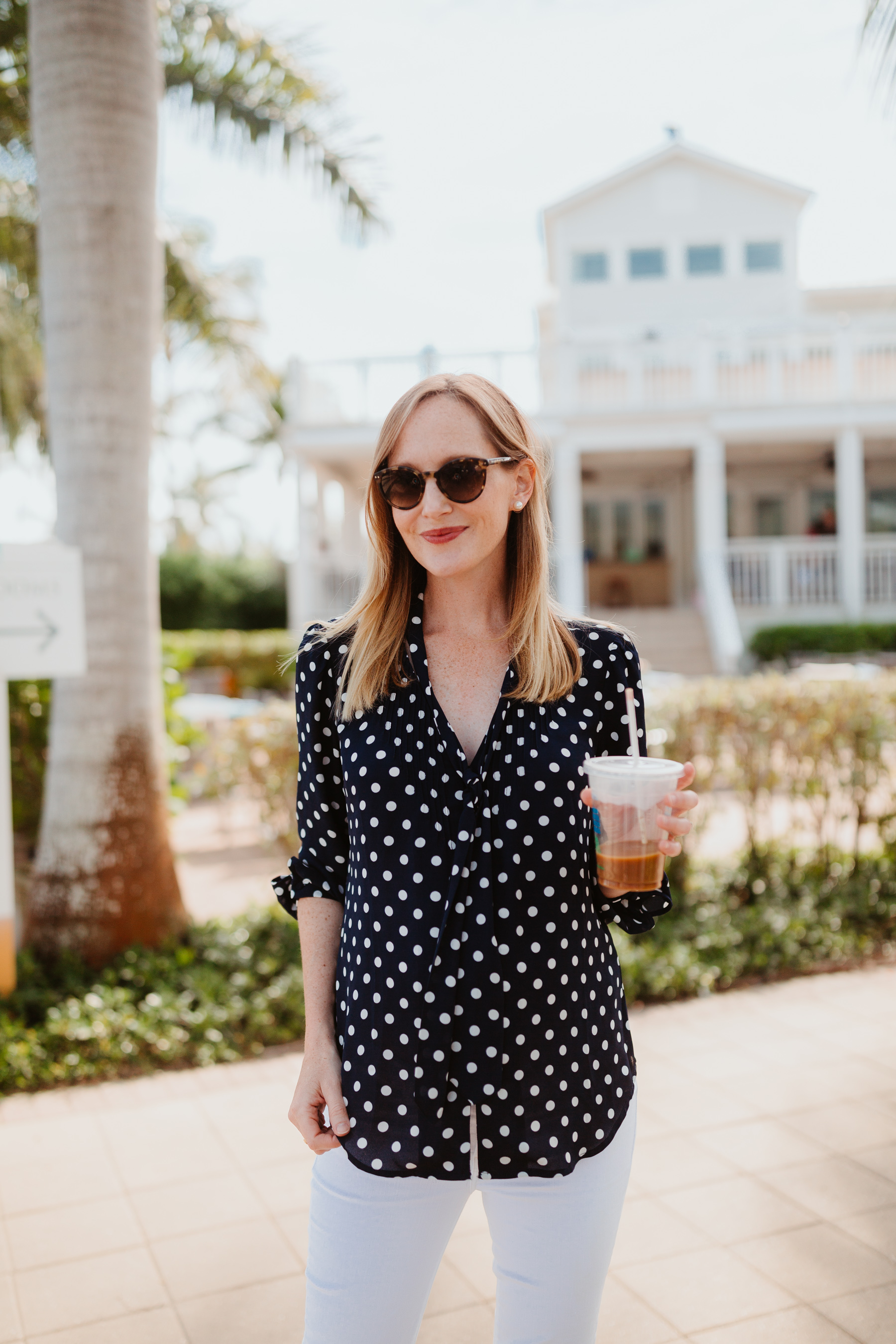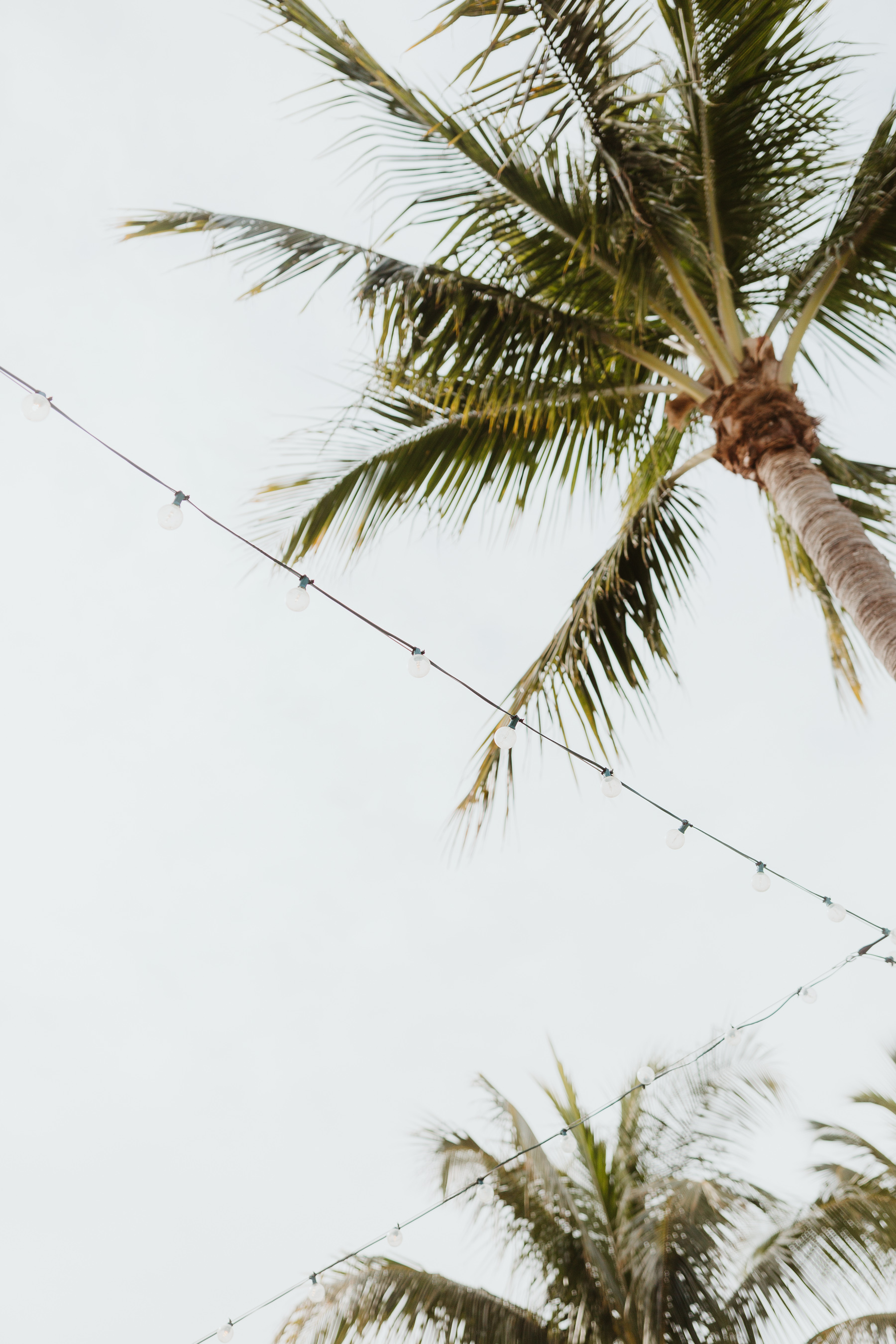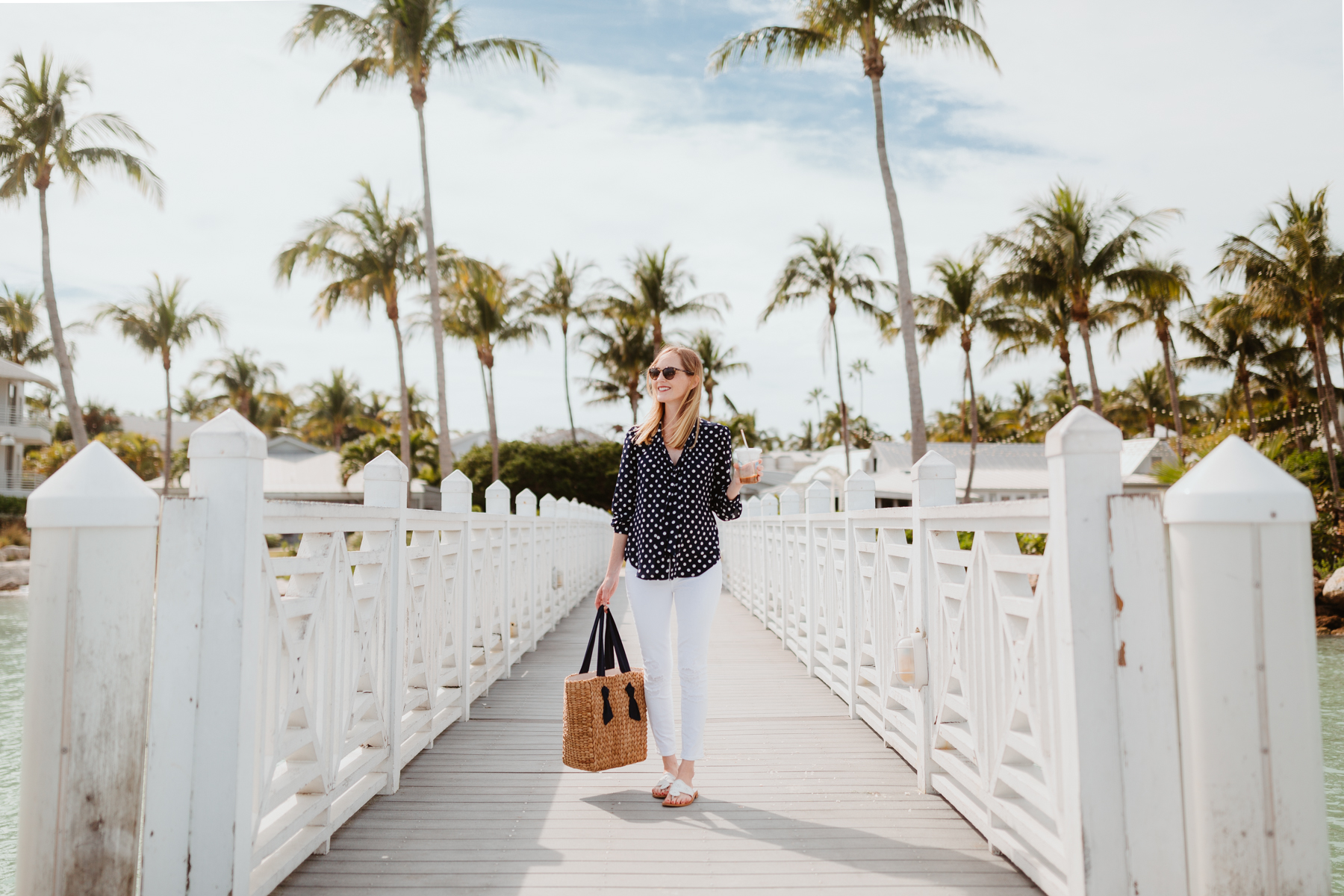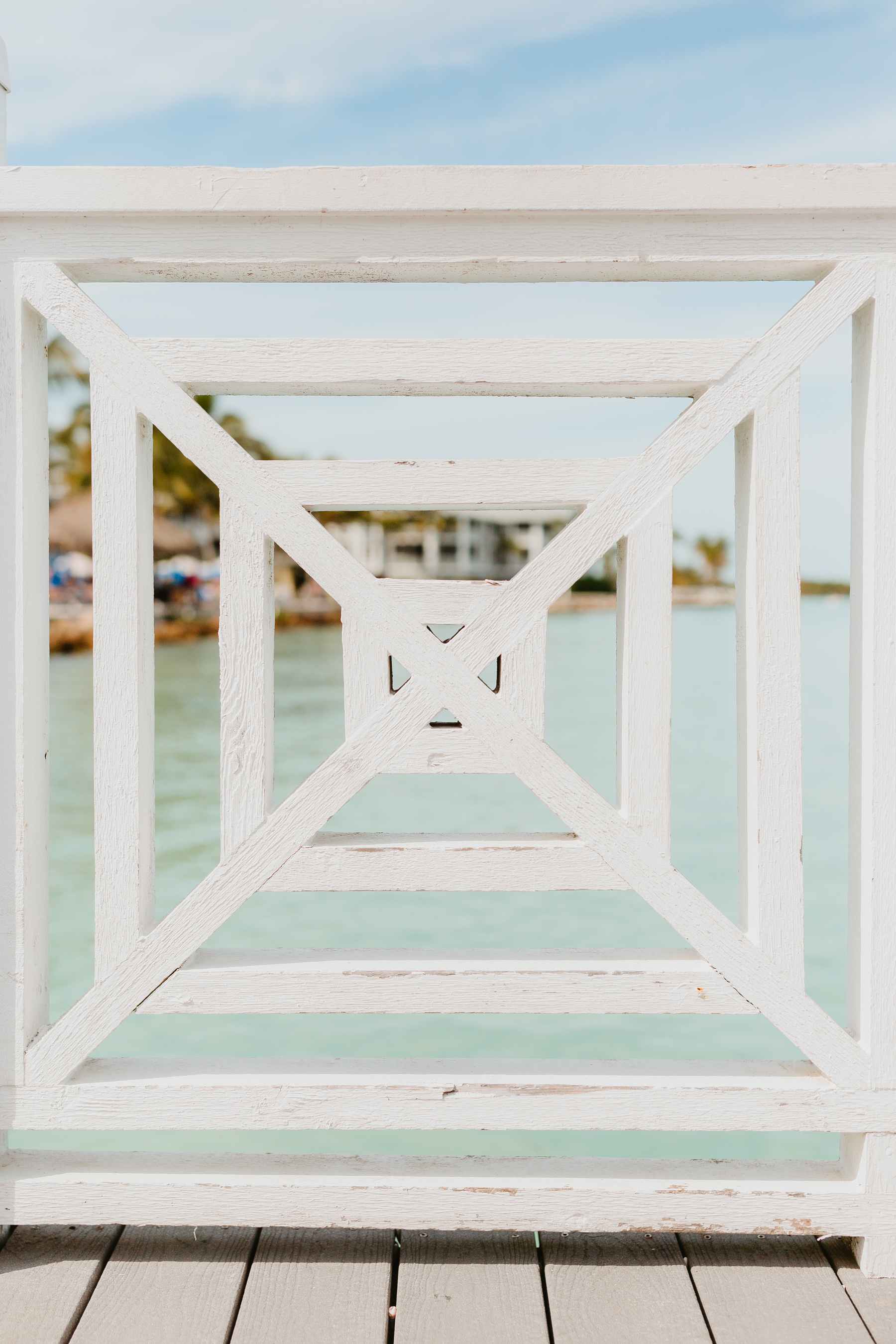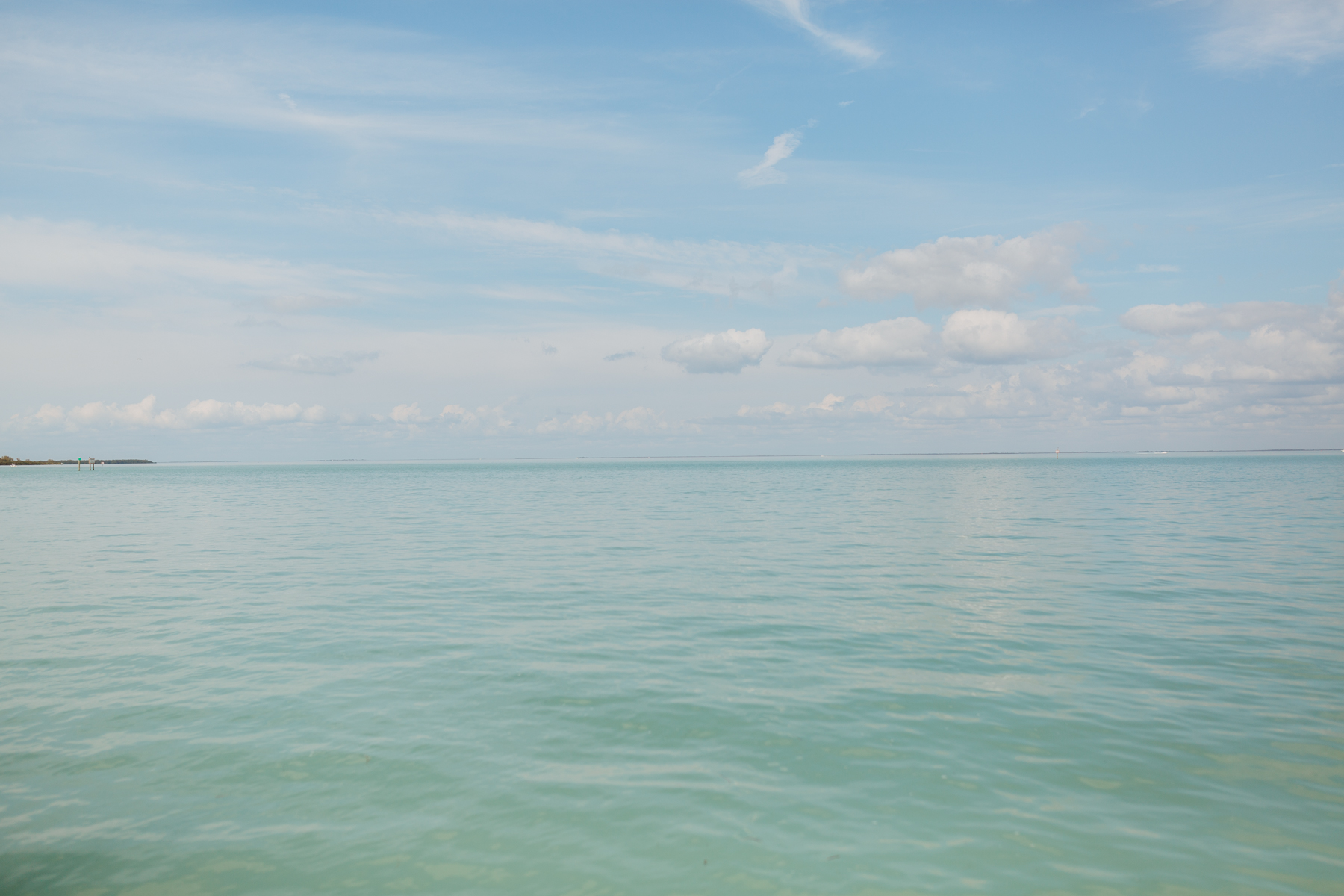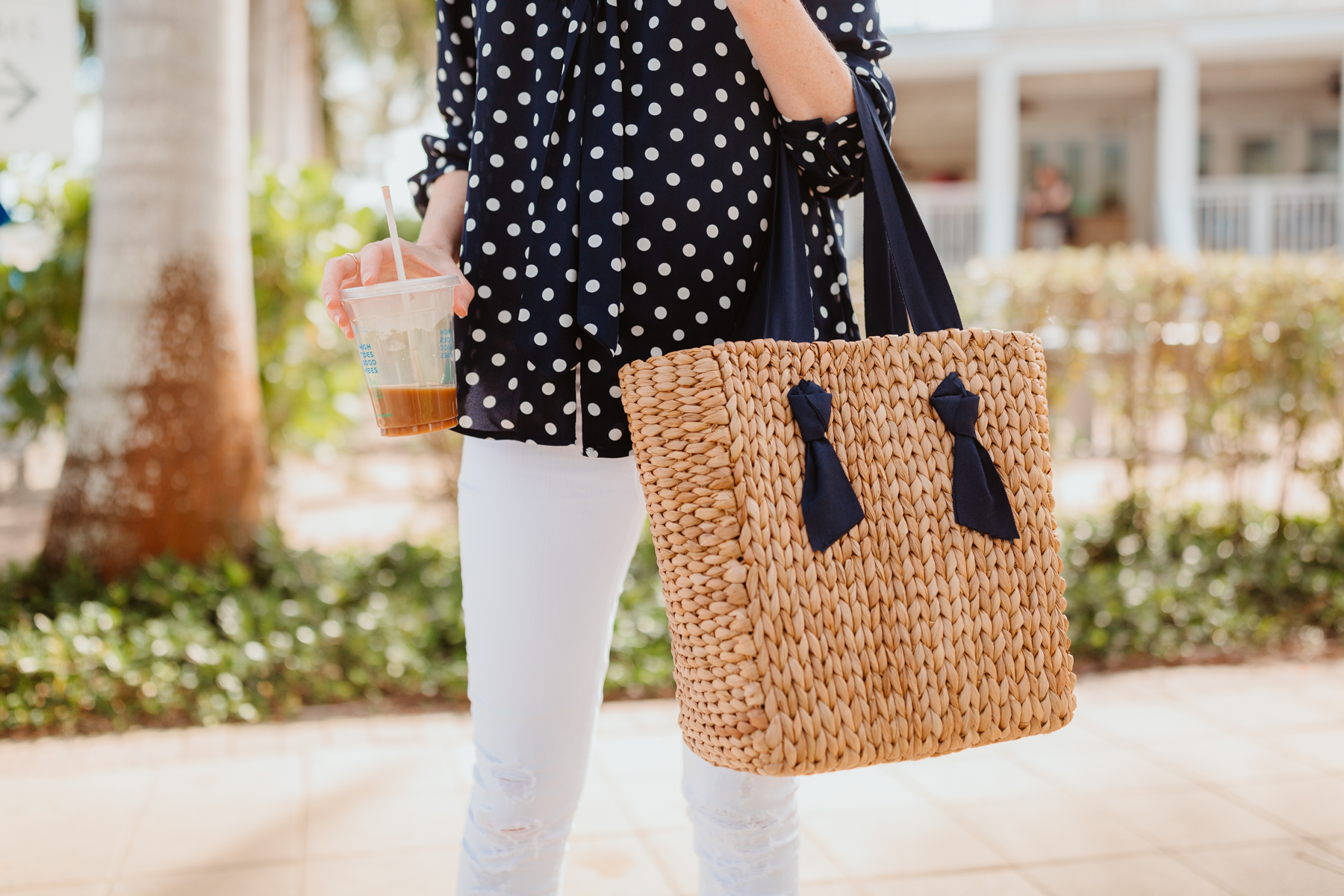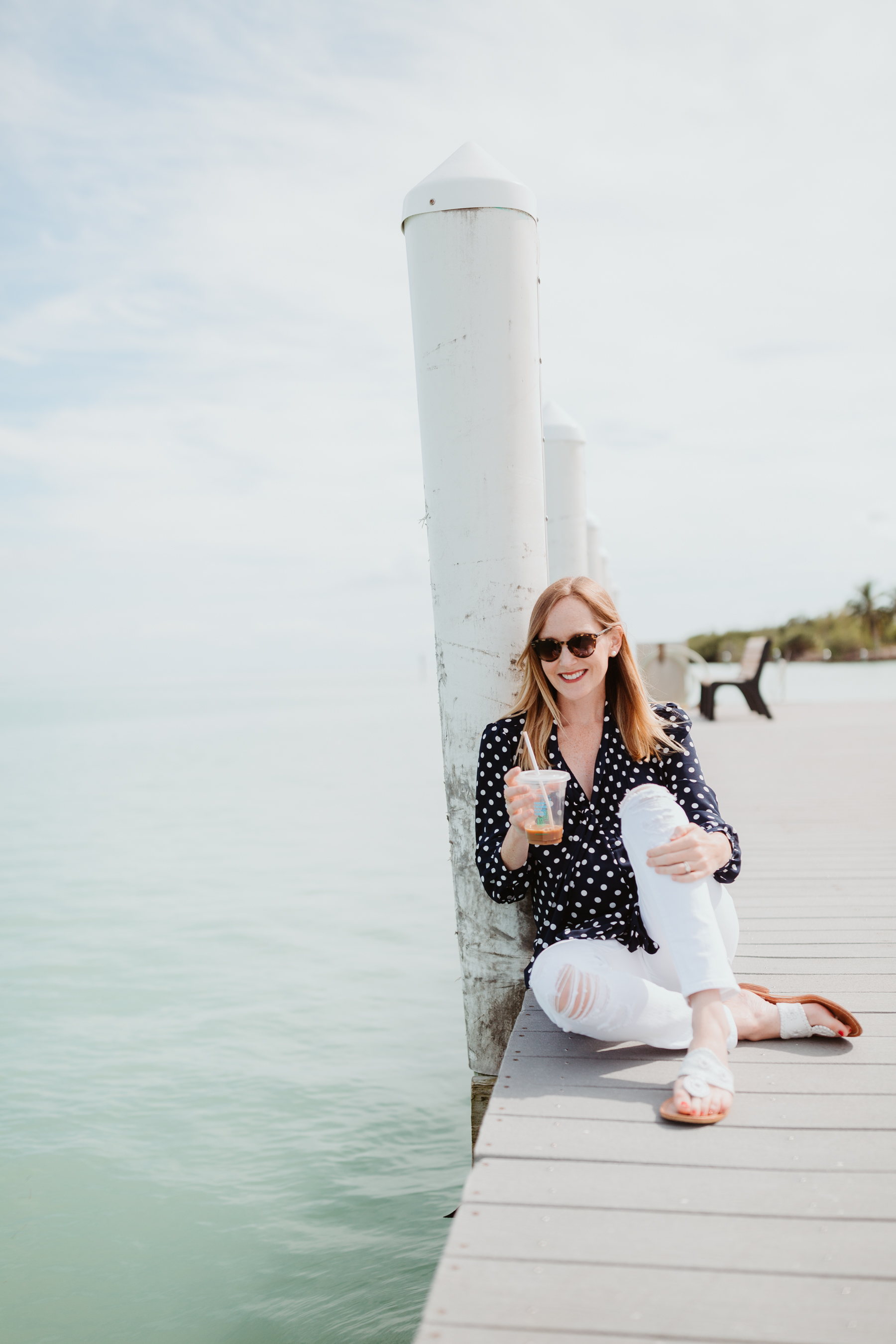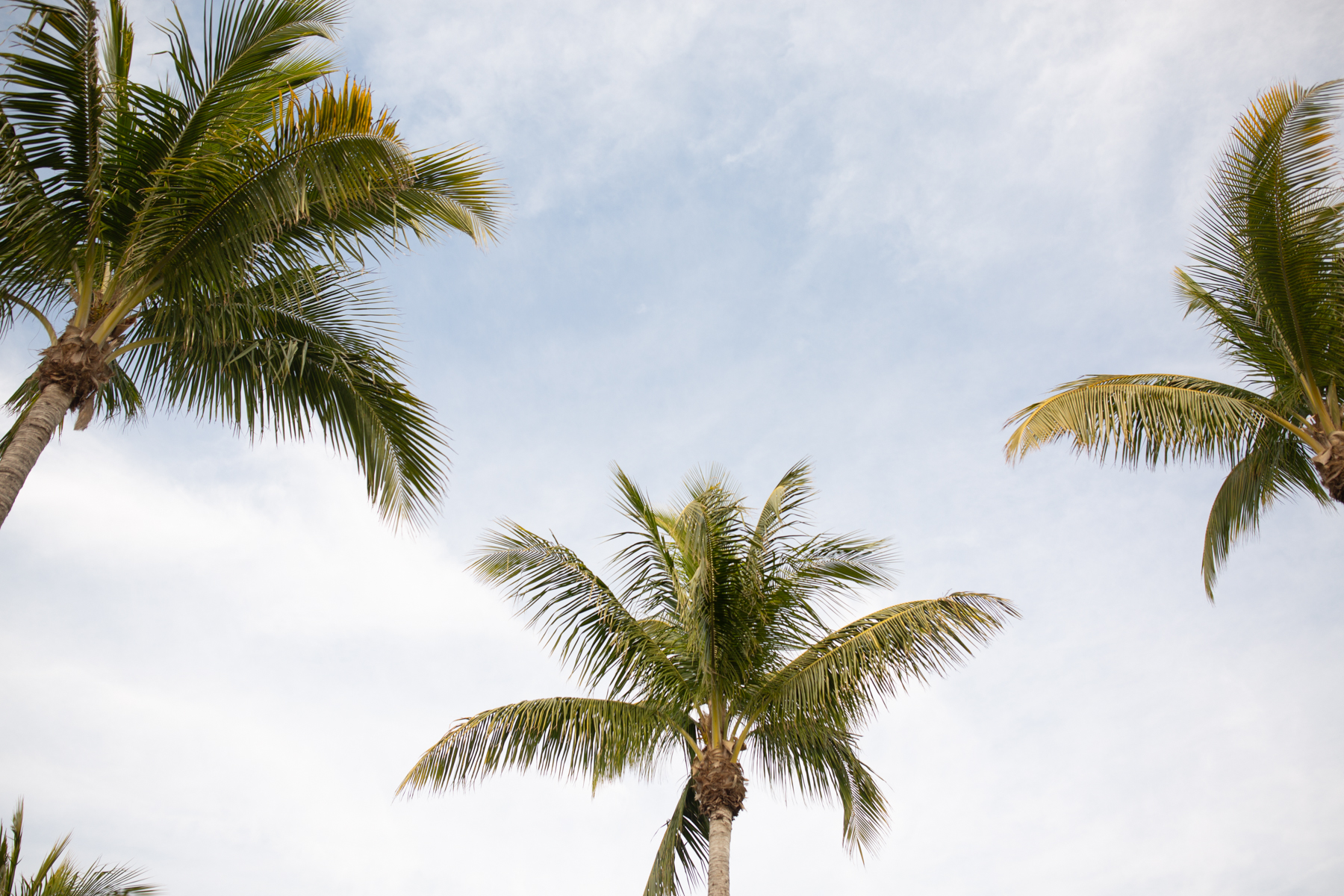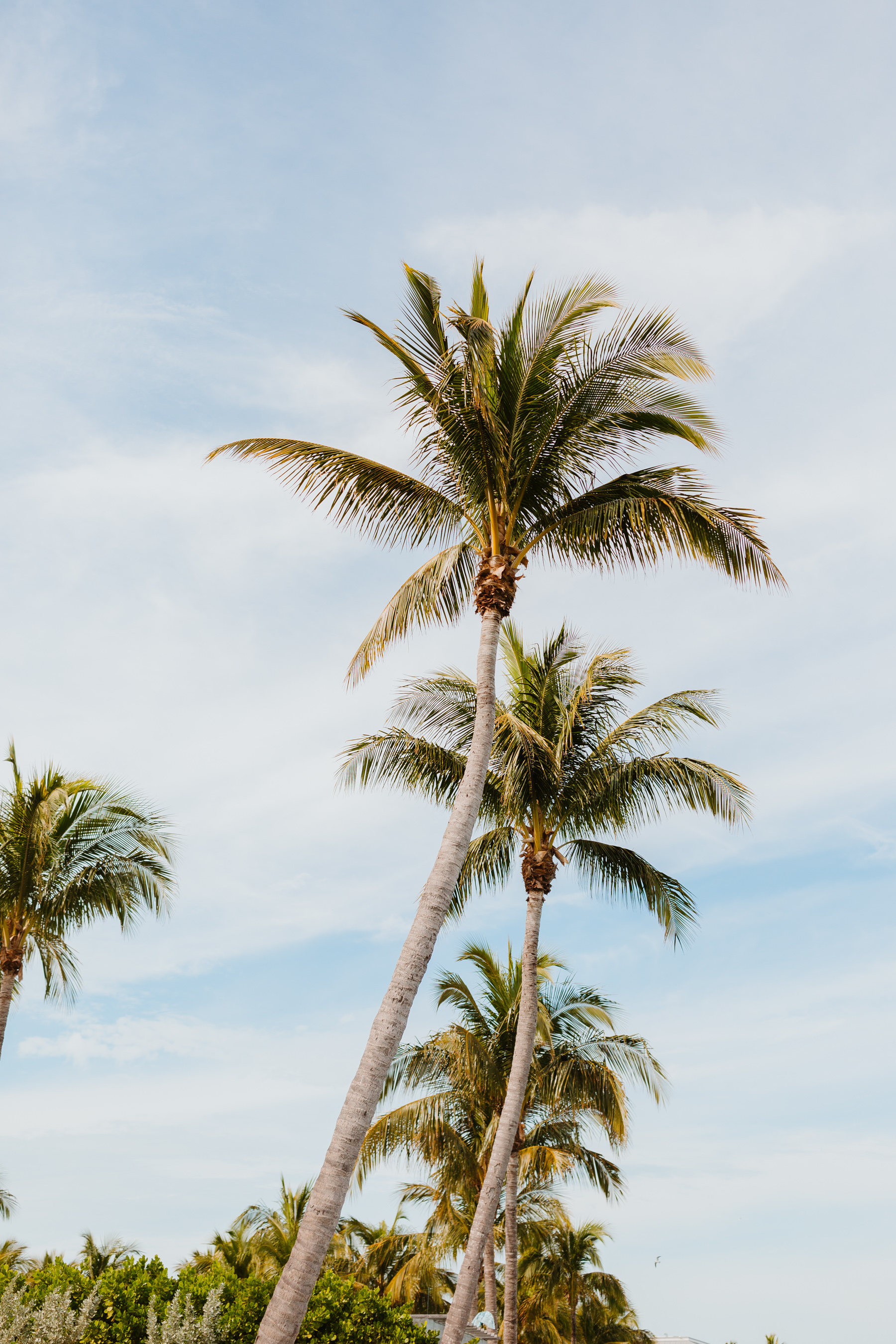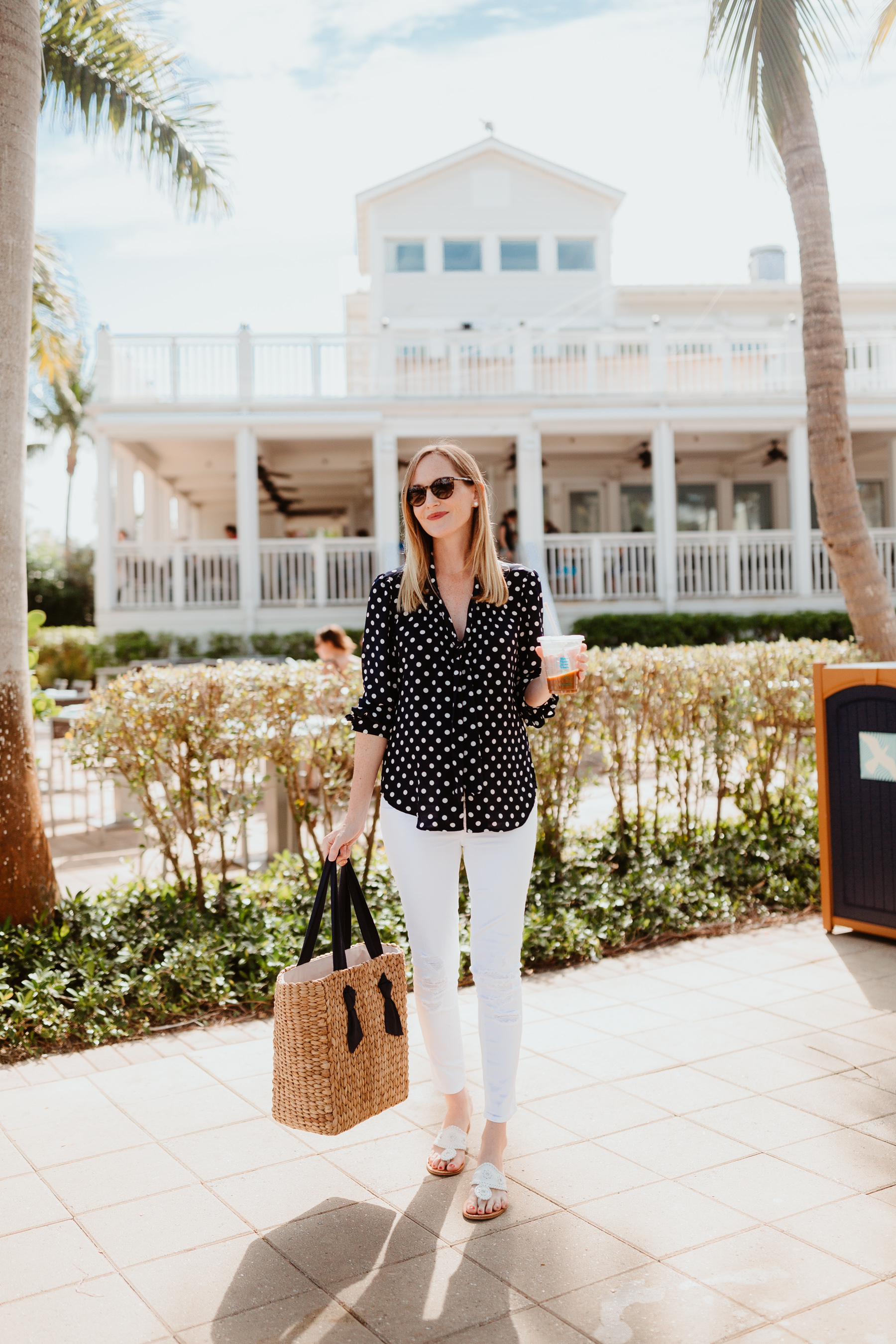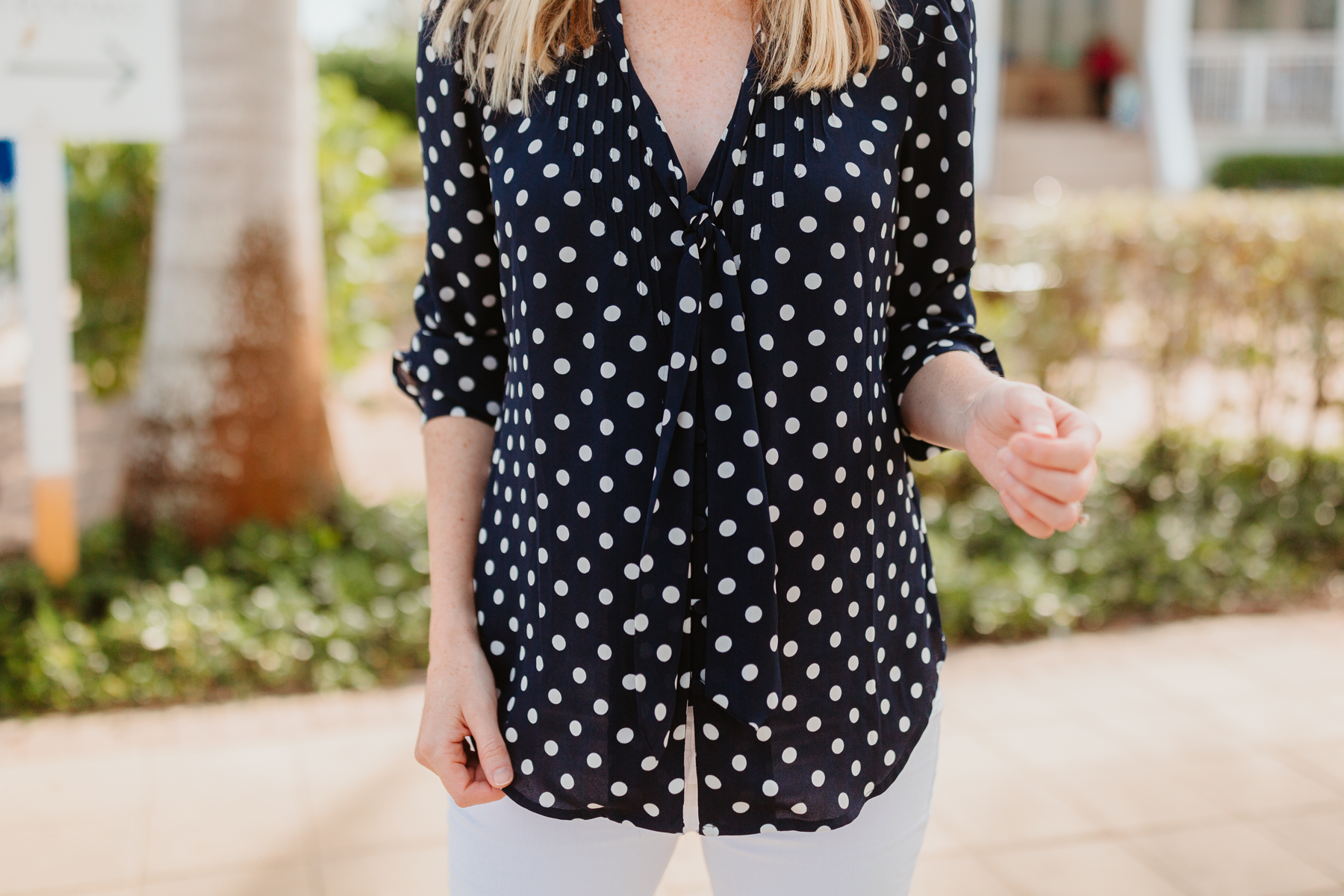 Shop the post:
J.Crew Navy Polka Dot Top (Similar style here. Also love the Dreamy Pajamas—the softest PJs I own, which also come in stripe—and this bathing suit in navy polka dot right now!) / Pamela Munson Woven Tote (This one is the cutest, too. More affordable option here.) / Jack Rogers / J Brand Maternity Ankle Jeans (I highly recommend Old Navy's Rockstar maternity white jeans, though, if "full panel" doesn't bother you! And my favorite non-maternity white skinny jeans are from Rag & Bone. Looking for a deal? BlankNYC carries fabulous white skinnies for only $88!)