Mitch here!
Spring has sprung and so have my shins from their pants prison. Longer days, warmer temperatures and the looming end to a global pandemic have me planning some delightful spring outfits, and today I'm here to share what I've found for a perfectly simple men's capsule wardrobe.
What is a capsule wardrobe?
A capsule wardrobe uses a few staple pieces that can be rearranged into dozens of successful outfit combinations. This guide focuses on transitional spring looks with an emphasis on versatility, comfort and simplicity. Hopefully it can be used to refresh a tired wardrobe or to start from scratch!
Where to shop
J.Crew: As far as I'm concerned, J.Crew is the best value in the men's clothing game. Most of the items in this guide are from J.Crew and for good reason. For guys who are looking for specific pieces or need general wardrobe help, J.Crew is the place. It's like having a personal shopper.
Nordstrom: This retailer carries everything, has incredible customer service, and features the most dead-simple return policy around. (They'll take stuff back months—or sometimes even years, haha—later. It's not quite as curated as J.Crew, but if you know what you're looking for, Nordstrom likely carries it.
Amazon: The Everything Store now includes an impressive array of private label fashion lines. Amazon also offers free at-home try-ons with their Prime Wardrobe service.
LL Bean: No brand offers a better mix of classic design, clothing quality and legendary customer service than LL Bean. Their focus on rugged materials is perfect for transitional weather months.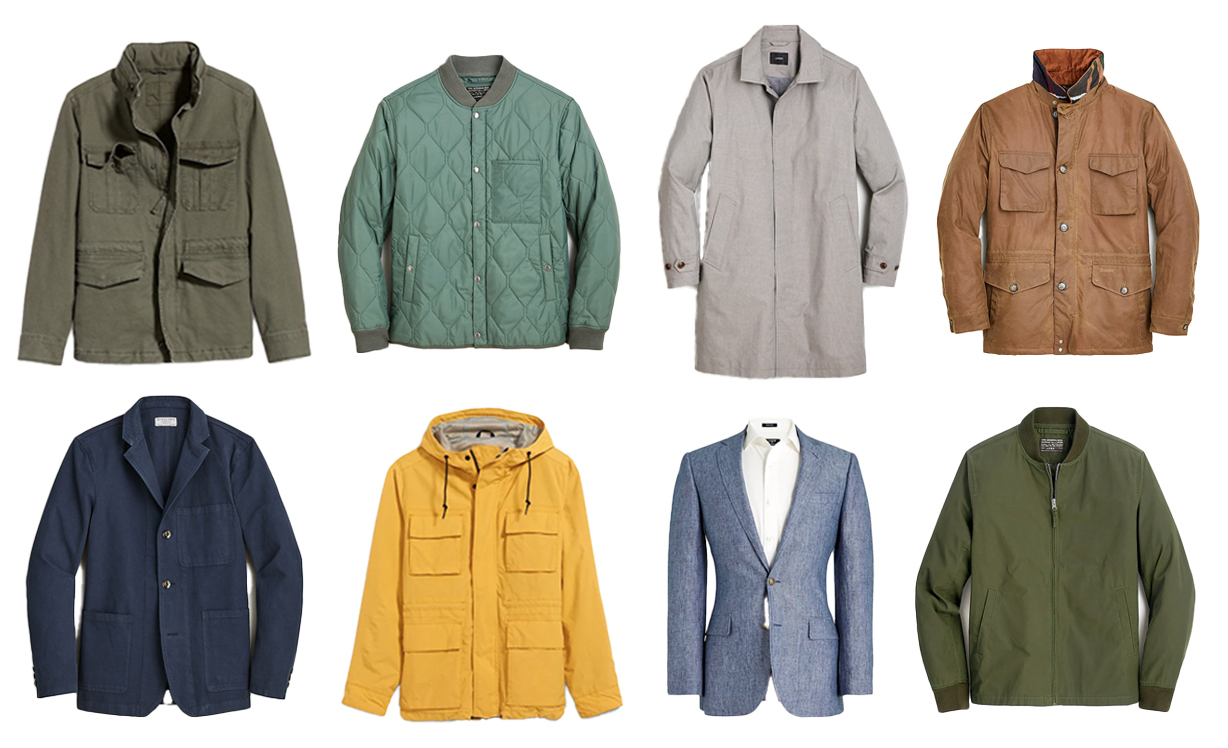 Utility Jacket / Quilted Base / Trench / Barbour / Chore Blazer / Rain Jacket / Linen Blazer / Bomber
Coats and jackets
Spring weather is unpredictable. And as hard as you plan your outfit, it will likely get covered up with a coat. So let's start this wardrobe out with some thoughtful and stylish coat options that'll keep you warm and enhance—not cover—your spring outfit at the same time.

White Polo / Blue Polo / Short-Sleeve Henley / Long-Sleeve Henley
Casual shirts
It's time to make your "comfy clothes" your actual clothes. Proper polos or henleys can make it look like you actually got dressed for the day—plus it'll save you the hassle of having to change after your wife sees what you put on for the day. Spring wardrobe pro (ha) tip: Hang your casual shirts on a hanger in the closet to keep them wrinkle-free.

Chambray / White / Seersucker
Short-sleeved shirts
The short-sleeved button down is the hero of my spring wardrobe. It's comfortable on those gloriously warm days and easily layered on those nasty cold ones, and it pokes out a fancy little collar under a sweater if you get chilly. I'm done rolling up long-sleeved shirts. It's so annoying and uncomfortable and it looks like crap. This spring, I'm short-sleeving. Period.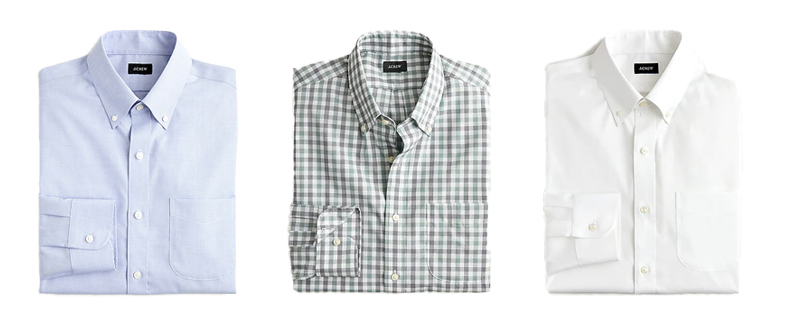 Dress shirts
The end to our year in pajamas is in sight. Luckily, an easy rotation of three dress shirts is all you need. A great fashion pro tip is to have your shirts tailored to fit your body type. (Despite owning lots of them, I've never bought an off-the-rack shirt that fit just right.) A quick tailoring job can make even a cheap shirt look incredible!

Pullover / Hoodie / Ragg Wool / Crewneck
Layers
Spring weather is unpredictable no matter where you live. I plan each spring outfit with layering pieces in mind and these pullover, hoodie, heavy wool and crew neck options should have you covered. The key is to find something that's comfortable enough to wear all day, warm enough to wear into the night, and fashionable enough to, you know, look fresh.

Basic tees
No matter the season and no matter the weather, basic pocket t-shirts are the key to any men's wardrobe post. This spring, I realized that I hadn't bought myself new t-shirts in 10 years despite wearing one nearly every day. Don't be like me. Buy new t-shirts. You'll look better.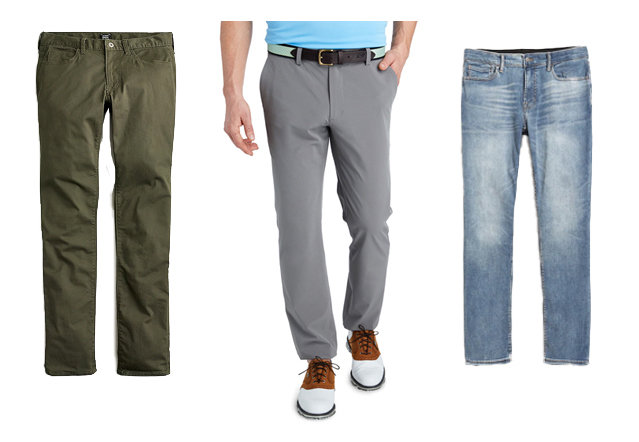 Pants
Even I'll admit that some spring weather calls for pants. Simple dark chinos, a comfy stretch pair, and perfectly fitting jeans are all you need. And while I didn't include zip-off pant shorts here, I applaud you if you're a fan.

Shorts
The great short length debate continues. In my experience, a 7″ inseam will result in the fewest comments from the wife and the least "short short" jokes from random strangers on the street. I've also included a pair of swim trunks here just in case you live far, far away from Chicago.

Sneaker / Clog / Sandal / Derby / Bean Boot / Boat Shoe / Rain Boot
I recently reassessed my shoe closet and I was surprised at exactly how many shoes I need. Casual sneakers, comfy clogs, flip flops, dress derbys, mud-proof Bean boots, boat shoes and rain boots are the minimum varieties of shoes I need for the spring. Pick and choose what you need and go from there.
Shoes

Watch / Backpack / Belt / Umbrella / Sunglasses / Hat
Accessories
Parka-less outfits allow for accessorizing and here are a few basic options for your spring wardrobe. A Shinola watch and brown leather backpack would take any outfit to the next level. Also this stretch woven belt from J.Crew is stylish and comfortable all at once. Warby Parker is the best option for sunglasses or you can opt for a basic ball cap to keep the sun out of your eyes. Also, shout out to the classic duck handle umbrella. Quack quack.
Mitch. OUT!