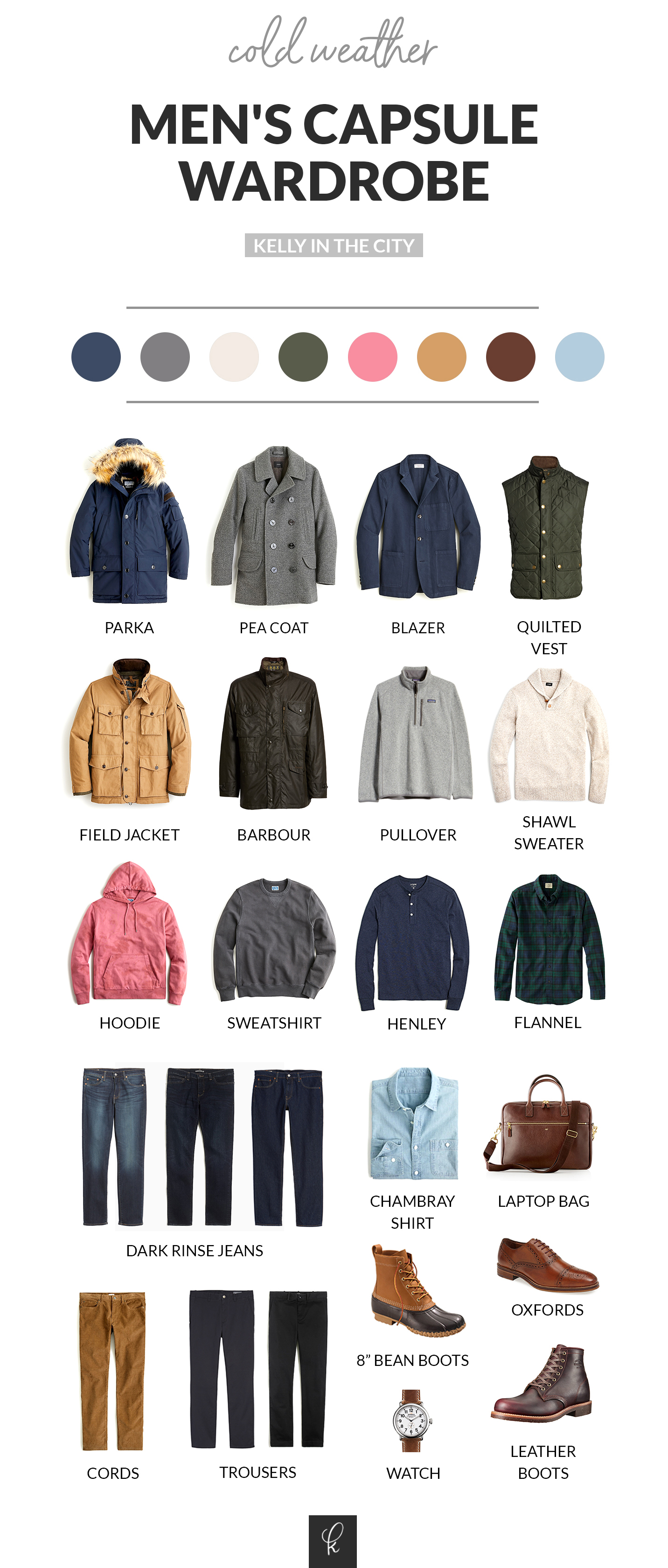 Mitch here!
The Chicago winter is here and my wardrobe isn't prepared, as evidenced by our Instagram Stories. I wear shorts until Christmas, and this year, Kelly is putting her foot down. No more winter shorts, Mitch.
She's probably right, as much as I hate to admit that. My All-Year Capsule Wardrobe got me this far, but I'm anticipating a brutal winter. So I went about designing a capsule wardrobe to start dressing like an adult and less like a 13-year-old, and this is what I came up with.
Capsule wardrobes are made from versatile essential elements that can be rearranged into a season's worth of outfit combinations. As you may have gathered from the title, today's post is meant to keep the average guy stylish and warm until this godforsaken winter is over.

Where to shop
J.Crew: J.Crew remains the undisputed champion of capsule wardrobe creation. You'll notice that the majority of the items found in this post are from J.Crew and J.Crew Factory. When I set out to add pieces to my wardrobe, J.Crew is the first place I look. The quality is great, most of the stuff is timeless, and it's easy.
Nordstrom: When looking for more variety and specialized pieces, Nordstrom is a great option. They carry it all, offer incredible service, and have a ridiculously wonderful return policy that we really utilize.
Men's Cold Weather Capsule Wardrobe
It doesn't matter how well-designed a winter outfit is if it gets tucked under a dumpy old parka the second you walk out the door. The parka is the most visible piece of any winter wardrobe, and this one is stylish and warm.
I'm a pea coat convert. They're surprisingly warm and far more stylish than their bulkier counterparts. It actually improves an outfit and works for professional and casual occasions—for whenever those start up again.
Nothing competes with a blazer as a means to class up an outfit. It's appropriate all the time: a walk around the neighborhood, a dinner with friends, or taking your kids to the movies. (What?) Blazers are also warm and comfortable, and an easy way to look put-together even when you're not.
In better times, a simple blazer could get me through an winter night out in the city. I'd deal with a winter blast in and out of cabs and restaurants in exchange for no more coat checks ever again. I love J.Crew's Chore Jackets in that their casual, unstructured an comfortable. Also very affordable.
This Chore Jacket is the item I grab most out of my closet. I wear it so often that my wife makes fun of me and my brother actually said, "Wow. You really like that jacket." I wear it with jeans, shorts, cords—you name it.
In Chicago, we live for those "weather-breaking" days when the winter takes a breather and the sun shines for a few minutes. It's never warm enough to go without a jacket, but giving the parka a rest in favor of a lighter coat like this Mechanic Jacket is heaven.
Waxed jackets are surprisingly warm and when placed on top of a layered outfit, they can get you deep into the winter. I've worn the same Barbour for five years in a row and if that doesn't scream capsule wardrobe, I'm not sure what does.
The undisputed king of layering, quilted vests are stylish and warm. They look great tucked under a series of increasingly desperate layers, and also look great as an accessory after all that stuff is peeled off.
The shawl sweater is a simple outfit piece that frankly, I never thought I'd own. But something clicked and I'm planning to shawl this sweater all winter long. (?) You know my motto: Shawl sweater and jeans and you're dressed for the day.
The people have spoken, and the Patagonia Better Sweater is the hero of the winter. It's warm, comfortable and never wrinkles. I think it's the most-worn piece in my closet.
The hoodie took over the world. It is now appropriate to wear a hoodie to nearly any event from weddings and to graduations to date nights and big important meetings at work. I'm not sure if this is right; I've just been stuck in my house since March. Also, this Terry Hoodie is the best hoodie I've found.
In all the hoodie hubbub, the humble crewneck has fallen on hard times. I currently have one crewneck in my closet and I wear it so often that Kelly hides it from me. So I need another one, and I'm thinking this one could work. Crewnecks are the perfect transitional piece for those awkward in-between weather days and they quickly bulk up any outfit when it's time to hit the frozen streets.
There's just something about a chambray shirt. It looks great tucked in for a more formal occasion or untucked when casual. It's the staple of any guy's winter wardrobe and then it falls right into a spring wardrobe as well. Just be careful not to wear it with jeans for fear of a Canadian Tuxedo look. Although I hear that's in now.
Here's a tip from a guy who lives in a ridiculously cold city: If you're ever in a situation where you're planning on being outside on a proper cold day, put an LL Bean Flannel on as your first or second layer. I've worn this thing out by itself on milder Chicago winter days. It looks fantastic on its own and it's bullet proof when it comes to those coldest winter days and the messiest toddlers.
I'm new to the henley game, and I'm sad that I've been missing out on them for all these years. It's basically a t-shirt but warmer and it's socially acceptable to wear to dinner. That's a lazy man trifecta and an absolute must for the capsule. Kelly also always compliments me when I wear one so there's that.
A darker denim feels right in the winter, and two or three pairs of these can carry a guy through a particularly long season. Jeans work with literally anything so a solid denim game is essential. Man, we've really got a capsule going now.
Trousers are tailored pants. They'll give your lower parts a sense of formality and we can both agree it's about time for that. Trousers are great and all but what you really need here is a working relationship with your neighborhood tailor. They'll take each of the items in this guide to the next level and they're surprisingly affordable.
I wore these pants to a dinner party a few years ago and they were such a hit that each guy bought themselves a pair as a result. Kelly calls them my hot pants and I loudly repeat this fact every time I put them on.
Flex and stretch materials will go down as the greatest innovation in men's style history. Will their help you can finally throw away those unfortunate and uncomfortable khakis occupying the deepest corners of your dresser. These Flex Khakis are wrinkle resistant, flexible where you need them to be and surprisingly stylish…for khakis.
If I wear cords, I get compliments on my outfit. Of course, the only people I see are my wife and kids. But they like me in cords. And that's good enough for the capsule.
Oxfords are far more versatile than you'd guess, and this year, I'm relying on the casual oxfords, jeans and a blazer thing a lot. These Johnston and Murphys are a great value for the price and look even better after a few wears.
I'd be hard-pressed to pick another item from this list with such a great mix of style and function as these boots. I feel sort of invincible when I put them on and like I'm some kind of old-man super hero stomping around in my fancy leather boots. It's fun so boom they're in the capsule.
I mean, this is Kelly in the City. You didn't think I was going to leave Bean Boots out did you? They're so warm that I wear them without socks. Best waterproof boots ever.
I only get one shot at accessorizing, so a little splurge on a watch is fine. I wear my Shinola around the house and check it frequently like I'm late for a meeting. It always elevates my outfit and annoys my family. It's the perfect addition to the capsule.
I keep this Mark & Graham Briefcase next to my desk so I can look at in and dream of hustling around the city and dropping into coffee shop meetings and stuff when the world sorts itself out. That's really the essence of the capsule. It's like an optimistic prepper's guide to 2020 fashion.
Mitch. OUT!