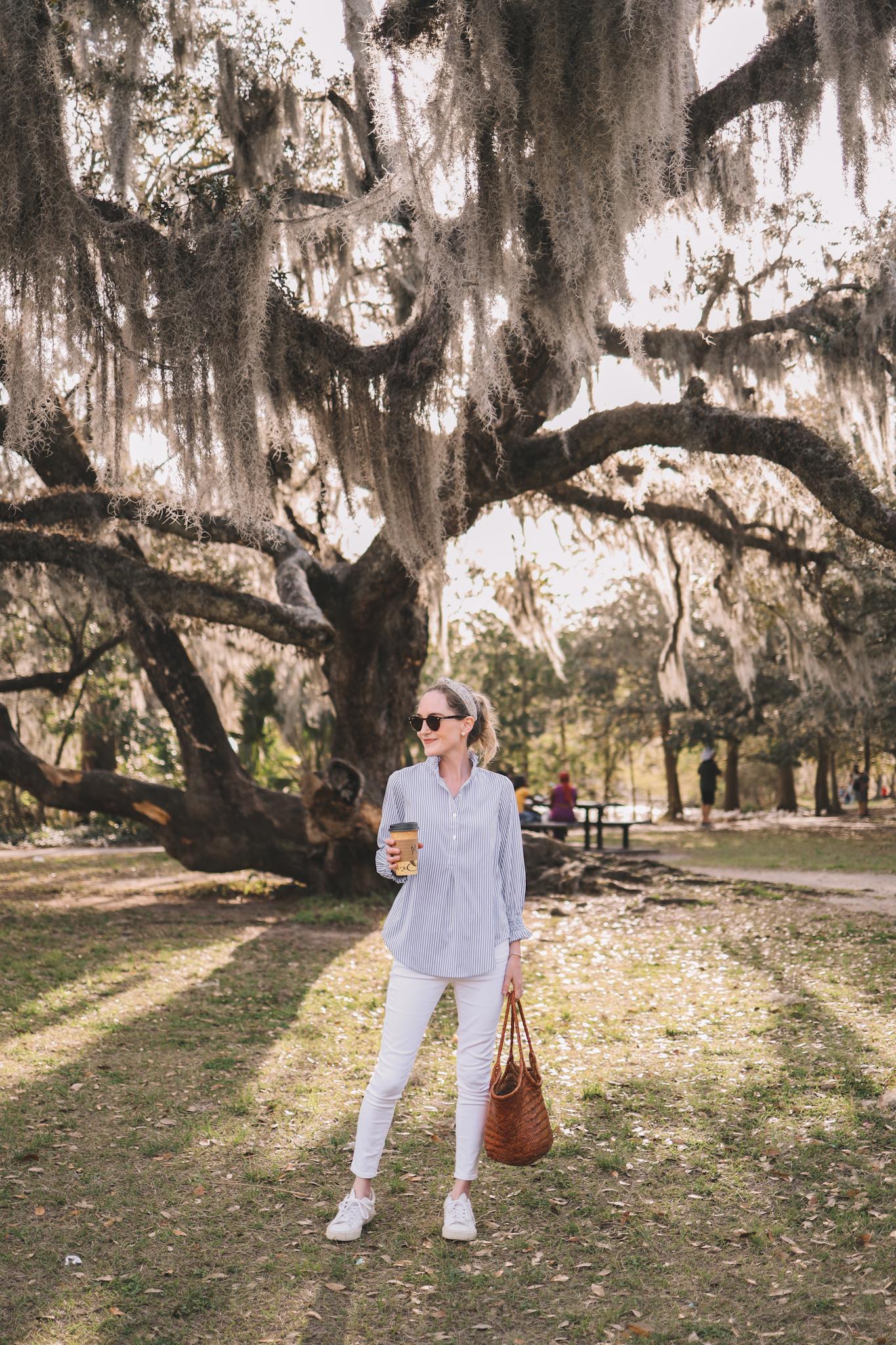 Tuckernuck Teagan Top (I have it in the stripe, but I love the black and the white as well! If you're looking for a great striped top, try this one, which is nearly identical. It runs big so size down!) / Dragon Diffusion Large Nantucket Tote (Tuckernuck has a bunch, too.) / Old Skinny Jeans (But this is the newer pair! And these are awesome and very affordable.) / Veja Sneakers (You can also find them here and here.) / Liberty of London Headband / Sunglasses / Faux Diamond Tennis Bracelet
Hello there! Mitch and I drove from Rosemary Beach, Florida to New Orleans to visit my brother and sister-in-law, and help with some design stuff in their gorgeous new home. It's roughly a 4.5-hour drive, but sans kids, it's really not that bad. 😉 Special thanks to Mom and Dad for watching aEmma and Lucy! They loved every minute of their special time with Gamma and Pa.
During the day, while Patrick and Kim were at work, Mitch and I roamed around the Uptown and French Quarter Neighborhoods. But we also ventured out to City Park. Since my brother lives off Audubon, we're frequently there… but had never been to City Park before. We grabbed beignets and coffees from Cafe Du Mondo, walked a beautiful bridge, and admired the live oak trees. Next time I'd love to visit the botanical gardens and the NOMA!
Anyway, I wore one of my easiest travel outfits, consisting of pieces that can be dressed both down or up. Here are the details:

Never have I loved a striped top more. I love the ruffled collar, smocking around the cuffs, and the perfect drape of the material. Sadly, the stripe is currently sold out, but the black and the white as fabulous as well and both in stock! (Sizing: Generous. I went down one size. However, order your normal size if you prefer room in the shoulders and bust area.)
If you're looking for a great striped top, try this one, which is nearly identical. It runs big so size down. J.Crew Factory also has the cutest short-sleeved option for a song. Finally, I love "The Striped Essential Icon Shirt" by Rochelle Behrens. It's a classic! (I size up in that brand.)
My friend Carly convinced me to buy this bag last year, and I love it so much that I've since retired all my other woven bags except for this one, which I use for summer/vacation dinners. What's the point since the Dragon Diffusion (weird name 😆) tote is perfection?! Whereas most woven totes are stiff and scratchy, this one is unbelievably soft; "comfy," in a sense. It also goes over my shoulder perfectly, and doesn't slide off. The quality is off the charts, and I feel like the color allows me to carry it year-round! Tuckernuck has a bunch of Dragon Diffusion bags, too, in case you want to look at other styles. :)
White Skinny Jeans
Luckily, my white skinny jeans from last year are still in good shape. (It's a miracle!) But now's the time to invest before the good ones sell out. (I know. EARLY. But every girl needs a solid pair!) The ones I'm wearing here are sold out, but this is the newer pair: a classic cut. And these are awesome and very affordable.
Pretty sure I'll never stop singing the praises of my Veja sneakers. They're just trendy enough that I feel like a (somewhat) cool mom in them, but they also blend in with the rest of my wardrobe. You can read my full review on them in this blog post, and if they're sold out here, you can also find them here and here.
Nearly all headbands give me a headache. But they're essential for my frizz-prone hair, especially when visiting my family in the South. Thankfully, I discovered this Etsy seller a couple of years ago—and now I own three great basics that are on constant rotation in Rosemary Beach and New Orleans: this one, this one and this one. Literally zero pain.
I've been wearing these for years. They're great. But my sister-in-law recently found these very similar ones for $14.99 on Amazon, and they're just as good. 😆 So you know that when I eventually lose my Ray-Bans or Lucy destroys them, I will be getting those as a replacement!
BEST. EVER. Friends and family are constantly gasping at it. It looks so real. (As does Lucy's faux diamond ring.)  And for the most part, we've found that our faux diamond jewelry really holds up if we don't shower/take baths with it!
xoxo
Shop the post:
Tuckernuck Teagan Top (I have it in the stripe, but I love the black and the white as well! If you're looking for a great striped top, try this one, which is nearly identical. It runs big so size down!) / Dragon Diffusion Large Nantucket Tote (Tuckernuck has a bunch, too.) / Old Skinny Jeans (But this is the newer pair! And these are awesome and very affordable.) / Veja Sneakers (You can also find them here and here.) / Liberty of London Headband / Sunglasses / Faux Diamond Tennis Bracelet