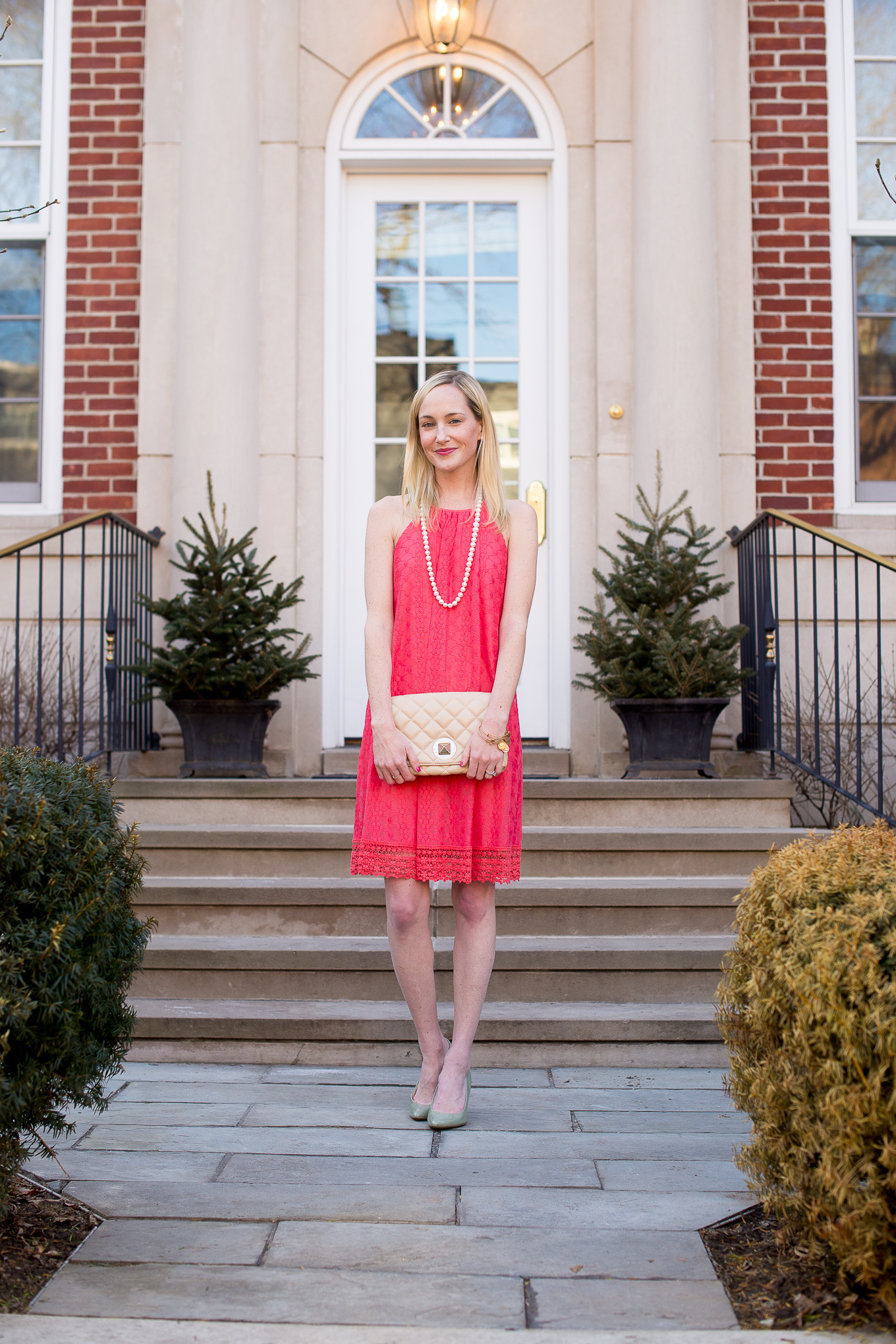 Maggy London Dress (c/o) / Kate Spade Bag (Old, similar here, here and here) / Hazel & Marie Pearl Necklace (c/o) / J.Crew Pearl Earrings and Schoolboy Blazer (Not pictured, but I swear I was wearing it! I can't wear dresses in the spring without it.) /Alex & Ani New York City, New Jersey and Nantucket Bracelets (c/o) / Franco Sarto Pumps (Old, similar here… Perfect, right?!)
Maggy London has quickly become one of my favorite affordable designers, and this little number–the Coral Lace Trapeze Dress–is my current obsession. I've always been wary of trapeze dresses, worried that they'd look horrifically unflattering and tent-like. But Maggy London's take on the style is perfect. The dress hangs in all the right ways, and I'm obsessed with its high neckline and vibrant coral color. It goes without saying that it's also ridiculously comfortable! I foresee many a spring and summer day spent in this dress. ;)
Don't you think you need one, too?! Hop on over to my Instagram account, and enter to win your own Maggy London Coral Lace Trapeze Dress. All you have to do is follow @kellyinthecity and @maggylondon, and tag a friend in my Maggy London photo. (As I'm writing this, it's not up yet. But it'll be posted in the A.M., as soon as I'm "with it." Fair warning: I'm not a morning person, haha.)
Good luck!
Anyway, the weekend is already off to a great start. Last night, after snapping these photos, Mitch and I went to State with some friends, and had such a blast. I mean, half off the entire menu on Thursdays. How can you beat that?! And so great to catch up with some of my favorite Chicagoans. :)
This afternoon, I'm working downtown with a friend (probably over wine, I'll admit!), and then grabbing dinner with her. On Saturday, Mitch and I are scoping out Chicago's Saint Patrick's Day scene, as we're absurdly Irish, and things apparently get kind of crazy here. (ARE THESE PHOTOS EVEN REAL?!) Later, we're having dinner at a gorgeous restaurant, which I'll actually be doing a post about soon… so stay tuned! And as for Sunday, we're thinking another trip to the Art Institute is in order. (Seriously: museum memberships make for the best gifts! Thank you, family!)
Goodness. Isn't life so much more enjoyable when the ice defrosts?! I feel like a new person…
Happy weekend, all!