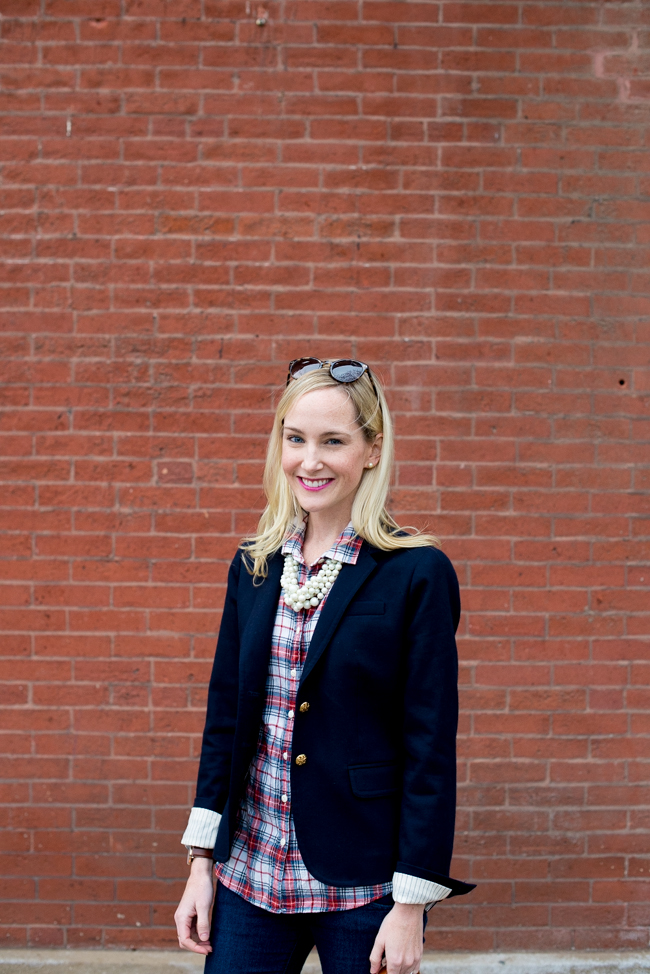 Hoytie Toity Designs Bow Flats (c/o — Take 10 percent off with code "KELLY10") / Hudson Jeans (Best jeans ever.) / J.Crew Blazer, Shirt (Last seen here, but I'm obsessed with this new one!), Necklace and Earrings (Oops. Sometimes it just happens, you know?) / Madewell Tote (See other styles here, and J.Crew's version here! Tip: The Madewell Transport Tote almost never goes on sale. However, Shopbop carries it, and Shopbop does have sales. Wait for one! Then bring your tote to a Madewell store during one of the brand's "free monogramming" events. #worthit) / Daniel Wellington Watch (c/o) / Kate Spade Sunnies (Old, newer styles here)
A few weeks ago, I grabbed coffee at Floriole, an adorable coffee shop in Lincoln Park, with Cynthia from Sensibly Sharp. (She's an Atlanta native, but was in town for business.) It was my first time meeting her, but she and I gabbed incessantly for over two hours… which was so nice. At the time, I was feeling a little down in the dumps, and I was missing home like crazy. Hanging out with Cynthia was awesome, though, and for a couple of hours, I completely forgot about everything I was sad about. Isn't it wonderful when you connect with people so incredibly quickly? :) Thank you, Cynthia! It was lovely meeting you, and you're such a sweetheart.
Anyway, Cynthia is killin' it on the entrepreneurial front! She has her own line of shoes–Hoytie Toity Designs–available for purchase on Etsy. Each glittery pair is handmade, and features gorgeous silk chiffon bows on their toes. Love Hoytie Toity sparkly footwear as much as I do? Use code "KELLY10" to take 1o percent off your next order!
In other news, daylight/photography problems solved. A huge thank you goes out to my friend Jess from The Golden Girl Blog (yes; she's the spitting image of Blair Waldorf… #jealous) for taking my photos today! What a hilariously fun time. You're the best, girl. (P.S. — Check out Jess' recent post on her one-year "blogiversary." It's adorable!)
…aaaaand it's almost Friday. Just keep swimming, ladies. Just keep swimming. :)