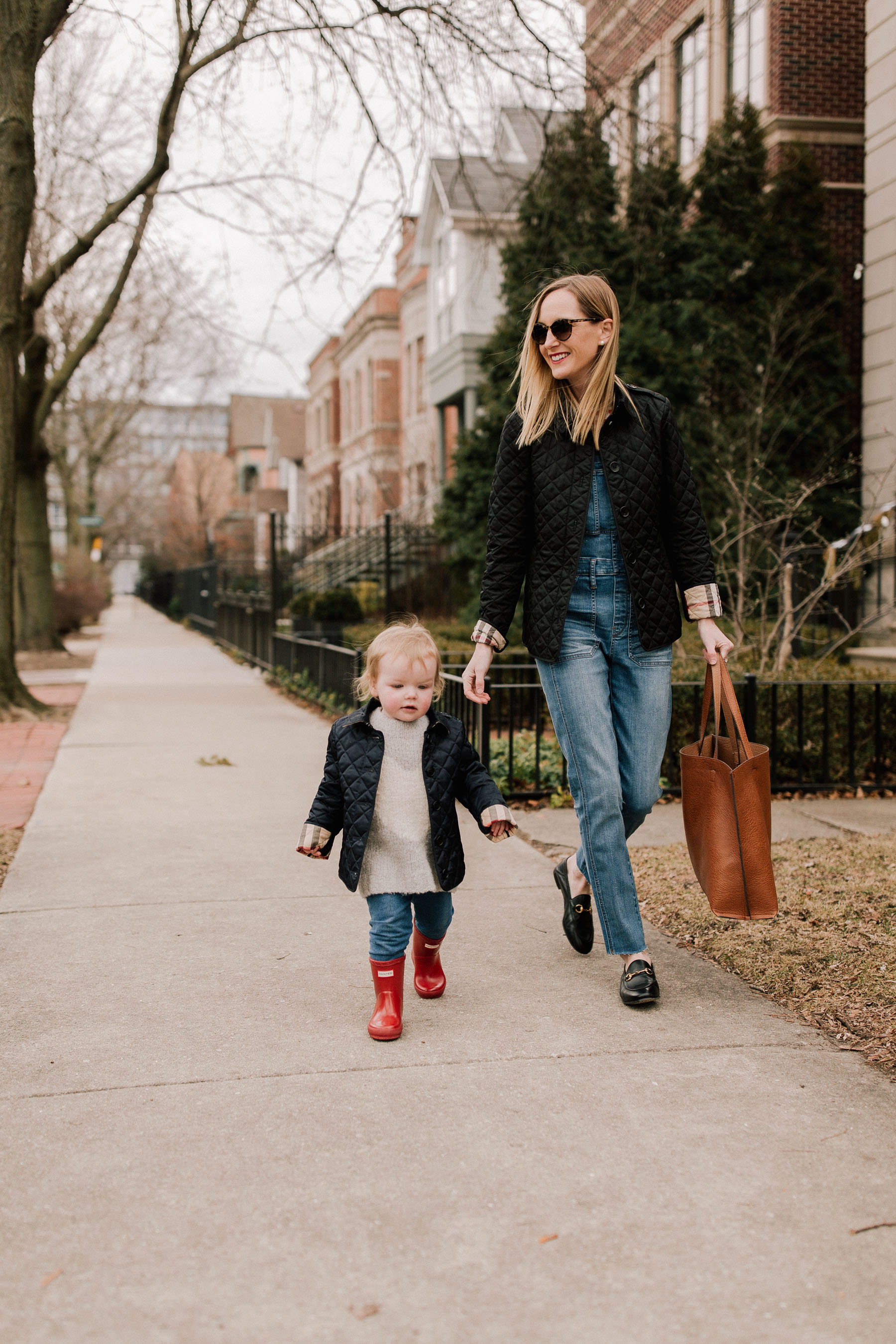 Gucci Loafers (Also love the Sam Edelman version!) / Madewell Overalls / J.Crew Striped Top (Also love this one, this one and this one.) / Faux Leather Tote (Only $48! Real leather version here.) / Similar Sunglasses / Initial Necklace / Burberry Jacket / Emma's Burberry Jacket / Emma's Hunter Boots / Emma's Sweater (Sold out. But have you heard that Nordstrom carries Crew Cuts?!)
I'm an emotional mess this week. 🙈
On Thursday, I'm embarking on two back-to-back trips, and while the first is with Mitch, I'll be apart from Emma for just over a week. I'm SO excited about both adventures, and I can't wait to share details soon. But I'm also a little panicky. Will I miss important milestones? Will Emma be sad? Will she be totally fine and not miss me at all? Will she FORGET WHO I AM?!
I know it'll be fine; I know I'll come home next Friday night and everything will fall back into place and we'll have the best weekend together. But sheesh. This whole parenting gig is a lot more emotionally trying than I envisioned it would be. And I thought I was a hot mess in my 20s! I suppose this is life. Or, at least, it is for me. A constant battle of trying to appear normal and put-together when I have SO MUCH going on inside my heart. ;)
Del Frisco's (down on Oak Street) actually invited us to dinner last night so we could have some fun "together time," and it was the BEST. If you missed it, it's on my Instagram Stories right now!  Before that, though, we took a long stroll around Lincoln Park so Emma could get some fresh air and Noodle could get a walk in before the snow came.
It probably comes as no surprise that the whole family is dressed in Nordstrom, as we do most of our shopping there. I love that the retailer has a fantastic mix of luxury pieces and very affordable ones. Added bonus? I can dress the whole family there! One-stop shopping is the best at this stage of life for the Larkins. ;)

A little about my outfit:
I've spoken about this before, but my black Gucci Brixton loafers are the most comfortable shoes I've ever owned. This is because they have flexible backs which allow for their transformation into mules. I think they look a bit "off" when I do that, so I wear them as loafers only. But those flexible backs are heavenly! My feet have given me problems my whole life, and the backs of most shoes cut into my heels. But as I've previously mentioned, I walked five or six miles around New York City on my first day of Brixton loafer ownership, and I experienced zero pain or rubbing. They felt like I'd broken them in years ago.
The Brixtons are pricey, but I know they'll last for many, many years to come. I've also noticed that when I own investment pieces, I tend to not purchase much else. Investment pieces almost always stand the test of time, and because I love them so much, I'm not tempted to shop for new things. Who needs another tote or a new pair of shoes when you have those that you adore?! That said, it took me years to finally splurge on the Brixtons, so if you're not ready, Nordstrom carries a ton of other similar styles. My favorite is this pair by Sam Edelman! (Love them in white for spring, too!)
Sizing help: I normally wear a size 7.5 in flats, but I took a size 7 in the Brixton loafers because of the flexible backs, which stretch and give. My friends who own the shoes also went down a half size.
BAH. Never thought I'd wear overalls, but these are perfect. They're insanely soft and stretchy, and SO comfortable. I also love that they make a statement with minimal effort. Oh, and they're awesome for play sessions. Sizing: I would go up a size! I normally wear a size XS in Madewell, but I went with a small in the overalls as I found them to be a little tighter in the waist. (Side note: obsessed with these loafers by Madewell. Classics!)
I've had my Burberry jacket for years now, and it remains a go-to. It instantly classes up the most casual outfits, and I really typically get three seasons of wear out of it. I love it so much that I miiiiight have purchased a matching one for Emma this year, haha. For the adult version, I would go one size up, and for the girls' version, I'd go two sizes up unless your toddler is smaller. (Emma is 1.5 years old and wearing the 4T here. It's a little big, but I want her to be able to wear it as long as humanly possible!)
I use this tote CONSTANTLY. As it's only $48, I don't worry about it… and because of that, it's taken quite the beating. Still, it looks brand new! If Kelly and Emma can't destroy this tote, neither can you. (It holds SO MUCH, btw.) If you're looking for a tote that features real leather, I'd recommend this one. I use it on days when I'm working at coffee shops. ;)
Never underestimate the power of the striped tee. I have more of 'em in my closet than I'd like to admit, but I wear them constantly! They pull outfits together, they're crazy comfy, and I can dry them all the way when I buy a size up. (Do it! Makes life so much easier.) Looking for more options? I also love this one, this one and this one.
Hope you guys have a wonderful day! Tune back in tomorrow for a special post. :)
Shop the post:
Gucci Loafers (Also love the Sam Edelman version!) / Madewell Overalls / J.Crew Striped Top (Also love this one, this one and this one.) / Faux Leather Tote (Only $48! Real leather version here.) / Similar Sunglasses / Initial Necklace / Burberry Jacket / Emma's Burberry Jacket / Emma's Hunter Boots / Emma's Sweater (Sold out. But have you heard that Nordstrom carries Crew Cuts?!)

This post was sponsored by Nordstrom, but all opinions are my own. As always, thank you so, so much for supporting the partnerships that keep Kelly in the City up and running!