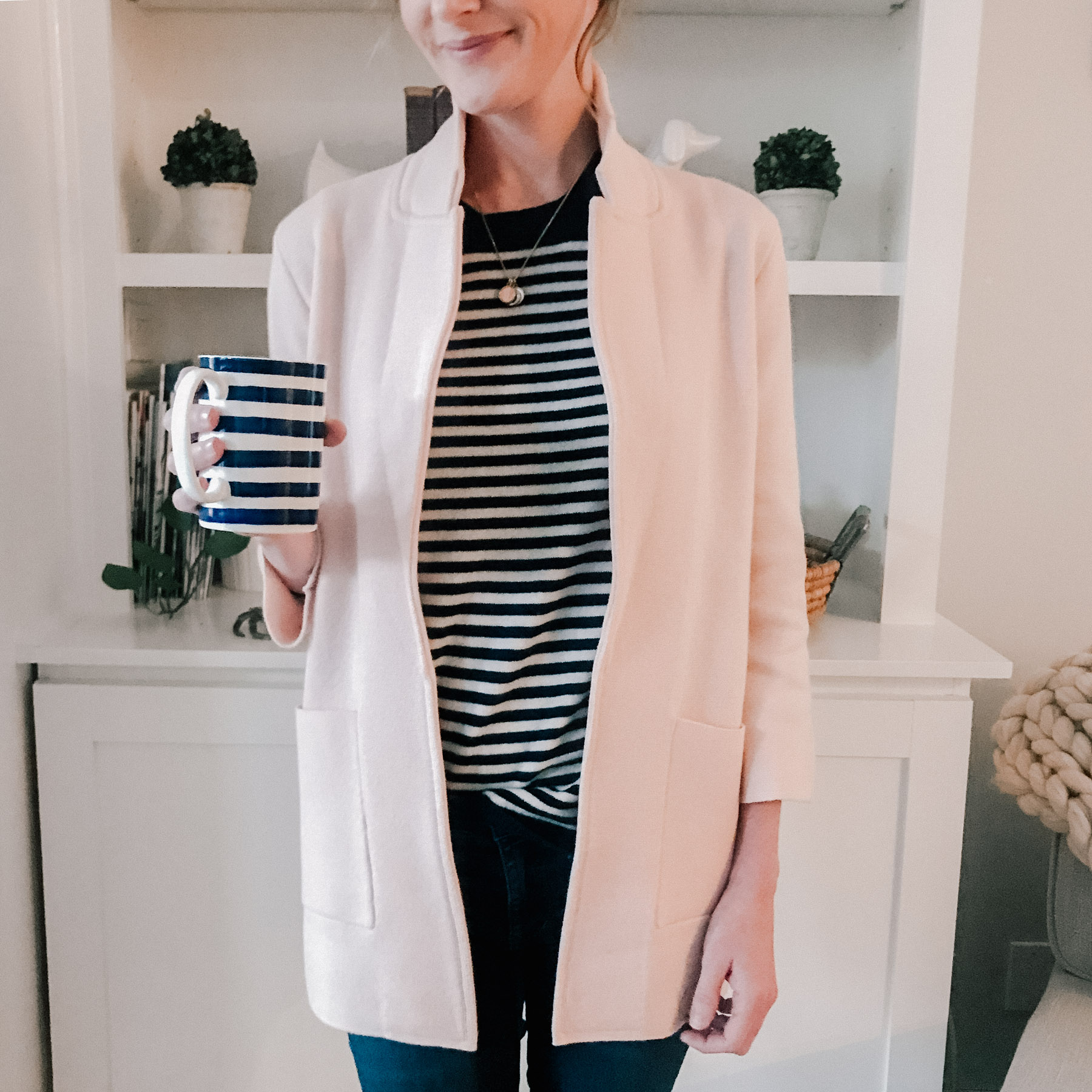 Sweater Blazer (Also here. Runs very big. Size down!) / Navy Striped Cashmere Sweater (But also love this striped unisex sweater and this striped number, too.) / Mark and Graham Initial Necklace c/o (The perfect Mother's Day present.)
I'm really trying to get back into the Life Lately series, as I love showing you the "regular" or behind-the-scenes side of our lives–the stuff that makes up our day-to-day, but doesn't necessitate a full blog post. :) Here's last week's, in case you missed it. (It's long. Don't say I didn't warn you, haha!)
The last couple of weeks have been all about playing catch up–with our home, with work, and with friends. The freezing/snowy weather has been a challenge, and it's definitely been getting to us. But everyone's been making a concerted effort to get together and utilize the indoor activities that Chicago has to offer. I love that about Chicago. There's this awesome understanding that we're all in this together.
Anyway, here's what we've been up to: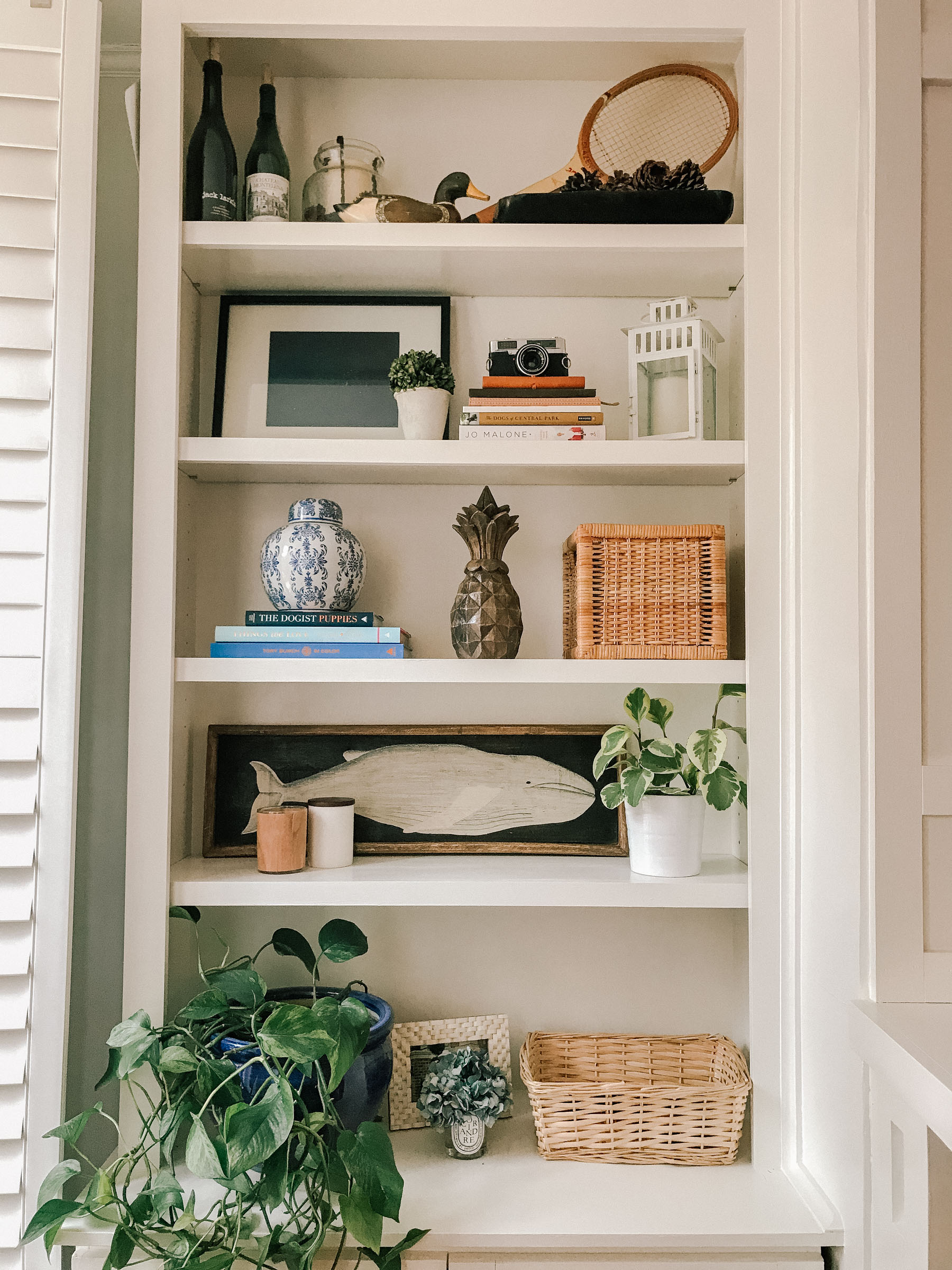 I've been working on styling our bookshelves. Seems like such a simple thing, but it's proven to be more difficult than I thought it would be. ;) Even just finding cute stuff has been challenging! Most of what you see above is from HomeGoods or stuff that we've had for a long, long time… but I should highlight my friend Cassandra's night sky print.
Cassandra is my favorite photographer in Chicago, and she has an amazing Etsy shop. She just started selling presets through it, and I couldn't recommend them more! I currently edit my photos on my own, but I adore Cassandra's style and I'm excited to do some more experimenting and share the results with you guys. :)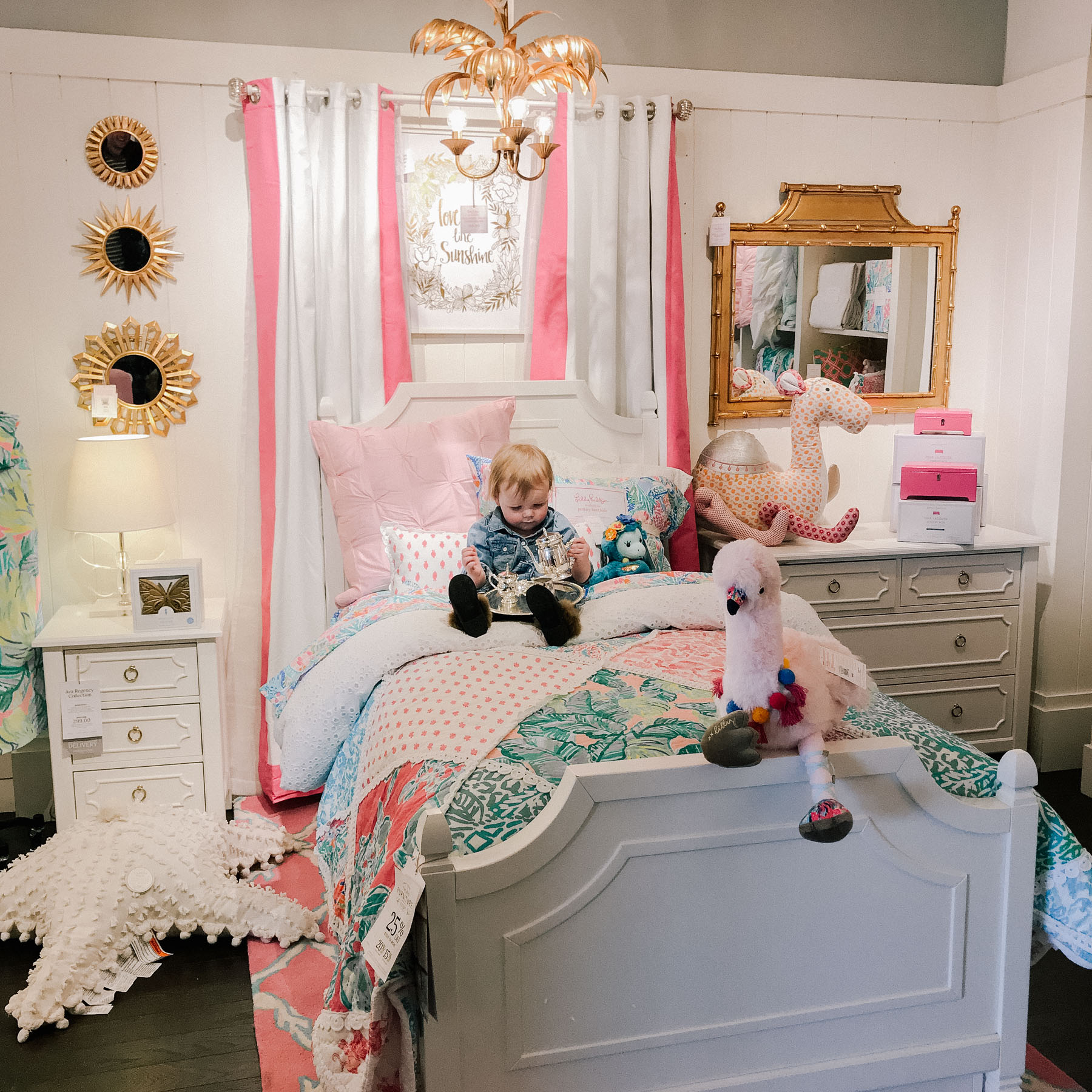 We recently visited Pottery Barn Kids to check out the Lilly Pulitzer collaboration. And now, of course, I'm left wanting to redecorate Emma's bedroom. When I first decorated the nursery, I was operating under the assumption that I was having a boy. But lo! I had a girl. And now I'm yearning for pink and girliness–especially because Emma gravitates toward all that. We'll see, though! Emma's nursery is adorable, but couldn't you see it decked out in Lilly?!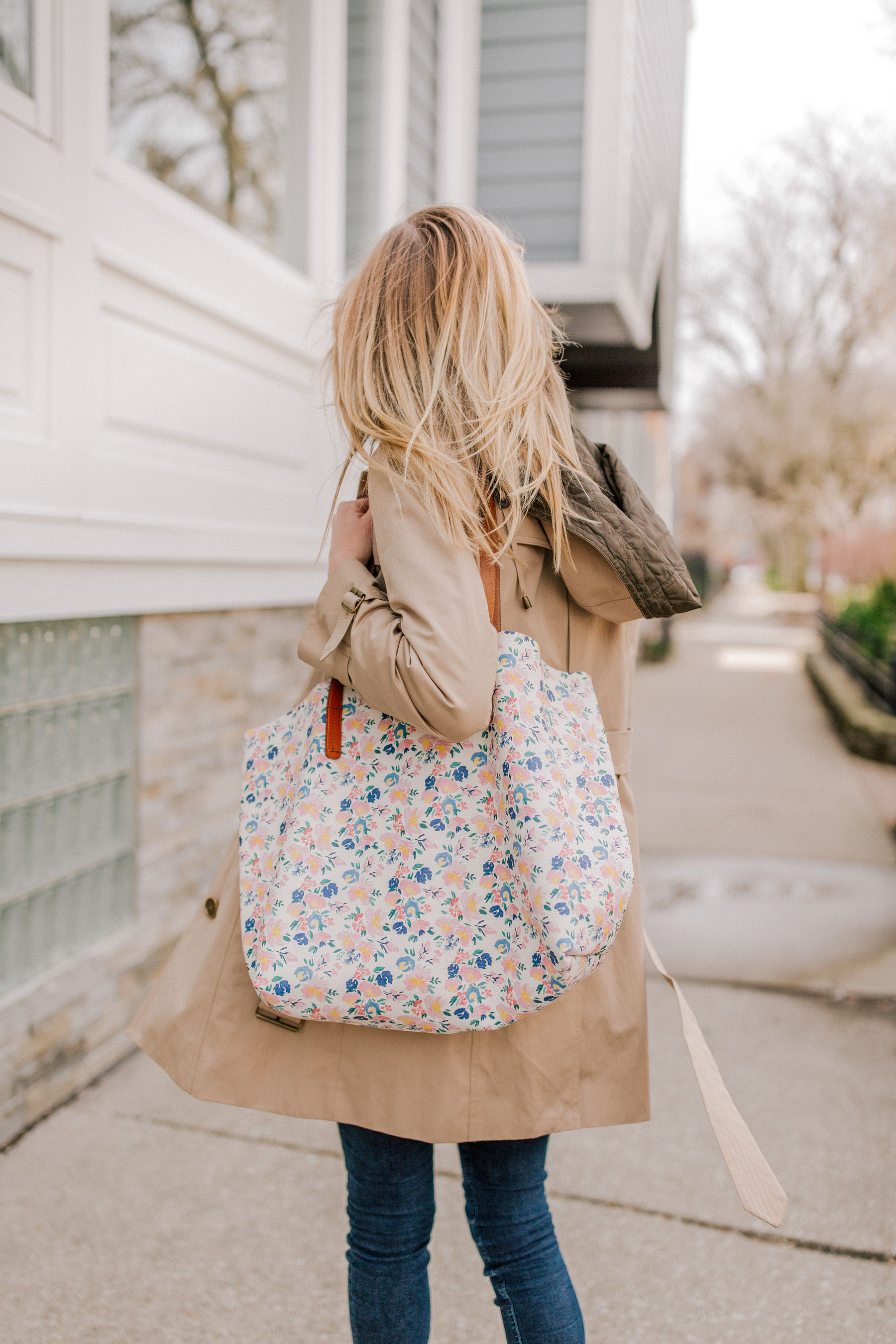 Mark & Graham x Caitlin Wilson Tote (Love the crossbody, too!) / Favorite Trench Coat (SO warm because it has a quilted liner. Adore the double-breasted version as well.) / Sperry Loafers (Not pictured but they're all I've been wearing, as I'm sure you've noticed. So comfy and they run totally TTS. Looking for an alternative? Try this pair!) / Jeans / Striped Top (How cute are the bows?! And just ordered this classic striped shirt.)
We had one day last week when temps hit 70, and it was magical. Mitch and I ditched all our adult responsibilities and spent the day with Emma at the park. I have a full post on the day coming up this week, but gosh we were all happy. Emma was quite literally covered in melted chocolate and screeching with joy!
Newer version of Emma's Chambray Shirt / Loafers (Also here.)
Last week, we went to "Tunes with Tim" at Monica and Andy on Halsted with Shaheen, Trevor and Zain. It was the cutest. Emma was actually pretty apprehensive at first, mostly because we woke her up from a nap so we could make it in time. But after a while, she really got into it, and was bangin' her tambourine just like the rest of 'em! After the jam session, we all headed over to Blue Door Farm Stand for dinner. So lovely to see our friends again!
PS: Did you read Shaheen's most recent post on her big move? It's absolutely heartbreaking, but I'm also so happy for her. (Though there's still time to change your mind, Shaheen! Waaaaa!)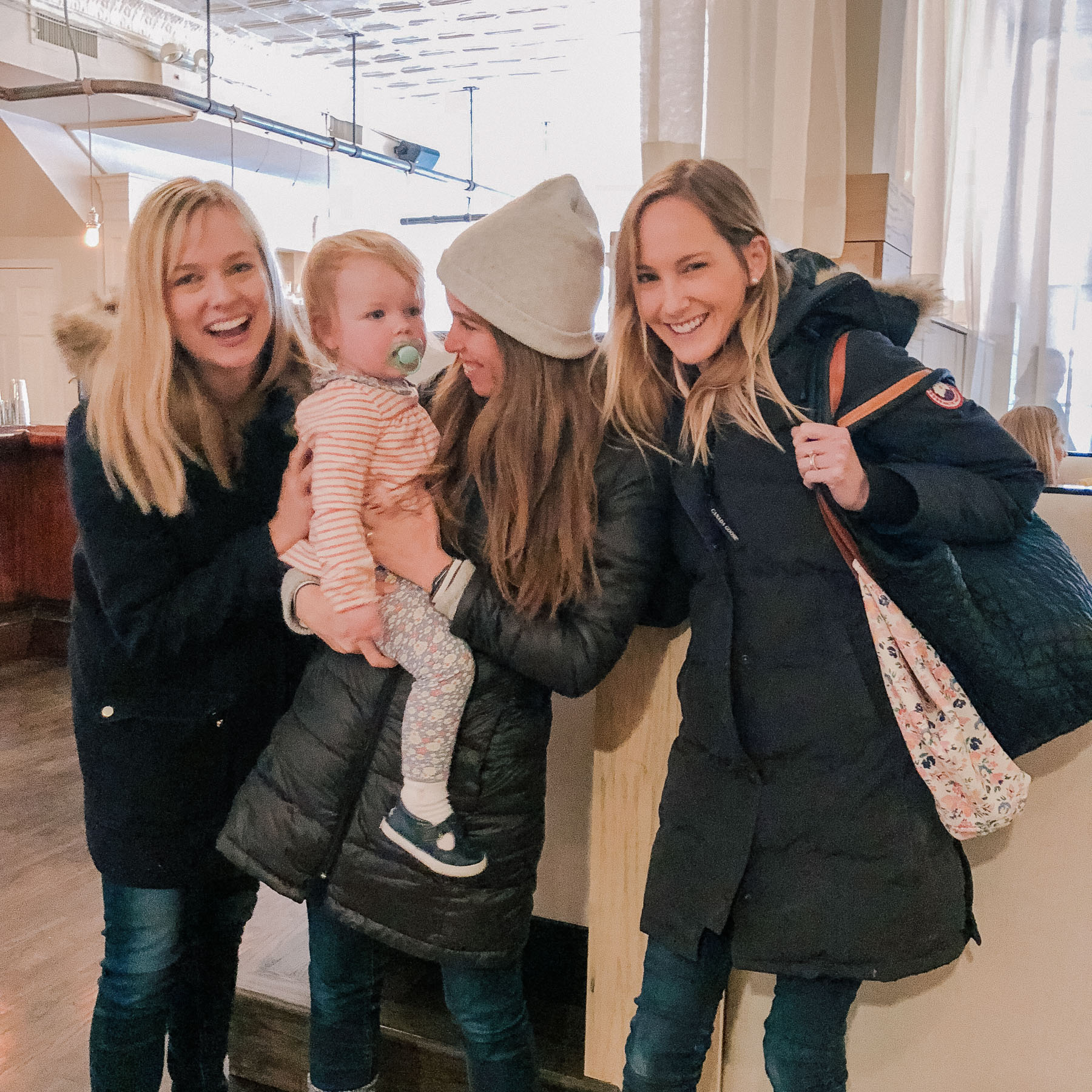 Mark & Graham x Caitlin Wilson Tote (Love the crossbody, too!) / MZ Wallace Quilted Tote (I use this as a baby bag, but it's a great day-to-day tote, too!) / Emma's Outfit / Ralph Lauren Mary Jane Sneakers
Yesterday, we grabbed lunch with Kira, Tom and Maya at Range in Lincoln Park. SUCH a great time. It'd been so long since we'd all gotten together; we were obviously away for a while, Kira and Tom had been in Italy meeting their beautiful niece, and Maya has some very long commutes to and from work every day. But it was truly wonderful to catch up. Looking forward to everyone staying put for the next couple of months so we can have more good times!
Emma's Striped Bathing Suit / My Red Bathing Suit / My Navy Bathing Suit
The best way we've been combatting the cold is by going swimming every week. We've been going to Midtown Athletic Club and Lakeshore Athletic Club, and Emma LOVES it. I'm so happy that we're introducing her to the water at an early age, and there's nothing like being in an 80-degree room when it's snowing outside!
Btw: I'm crazy about this swimsuit. I originally bought it in navy, but I loved it so much that I got it in red, too. I have a very long torso, and I can't believe how well it fits and how comfortable it is. It's also padded, and it's extremely flattering because of the ruched middle. It's somewhat low-cut, but I'm totally comfortable in it because it doesn't move out of place (at all), and the rest of the suit is so conservative. Couldn't recommend it more! Wish it came in patterns.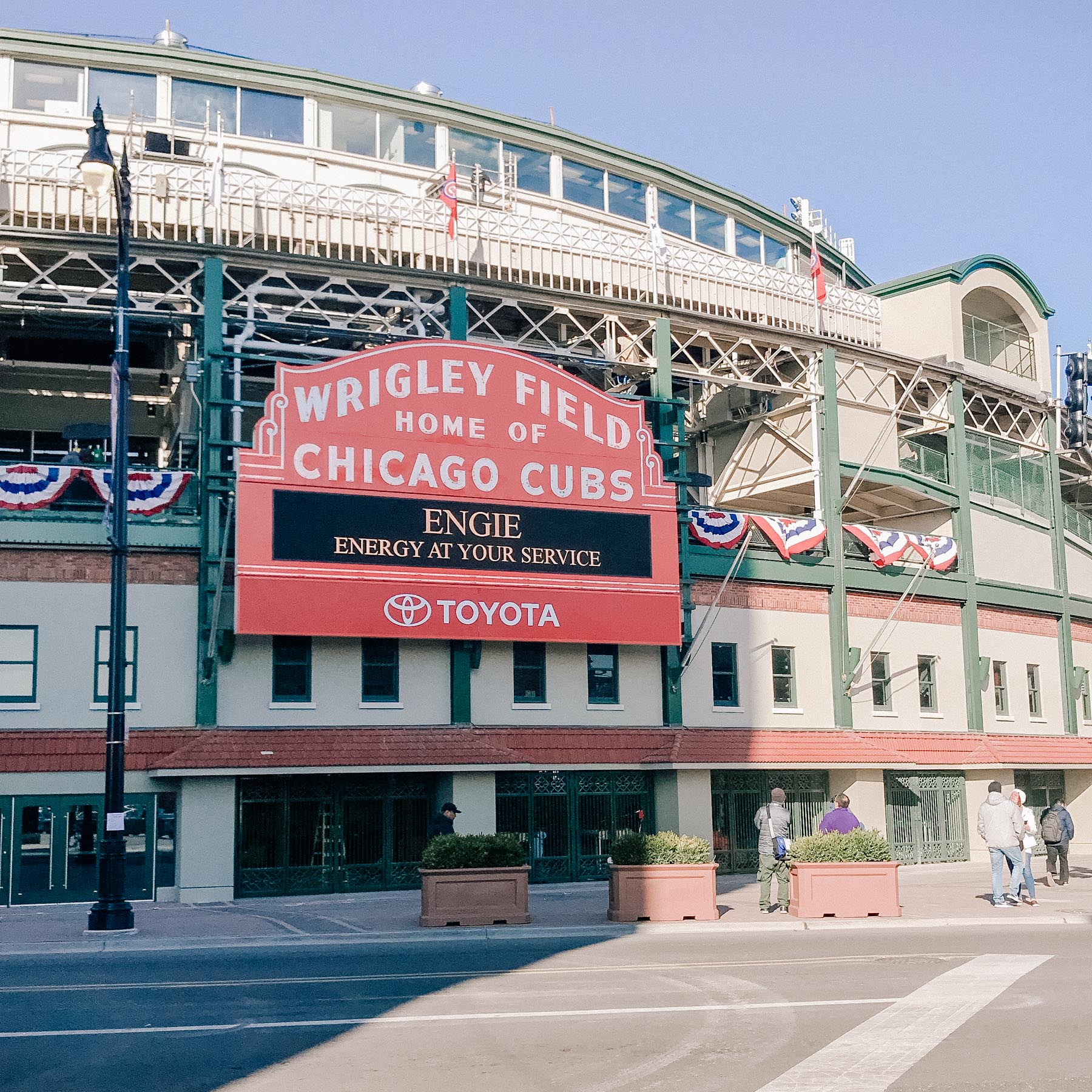 Last week, when it was warm, we ran up to Wrigley Field to celebrate the beginning of the Cubs' season. Since then, the team had to postpone a game due to snow, haha… but hey. It's beginning! And we had a great day. We went to Rizzo's Bar and Inn, which is a new restaurant right across from the stadium. It makes you feel like you're outside because of the all-glass ceilings! (Are we sensing a pattern?!)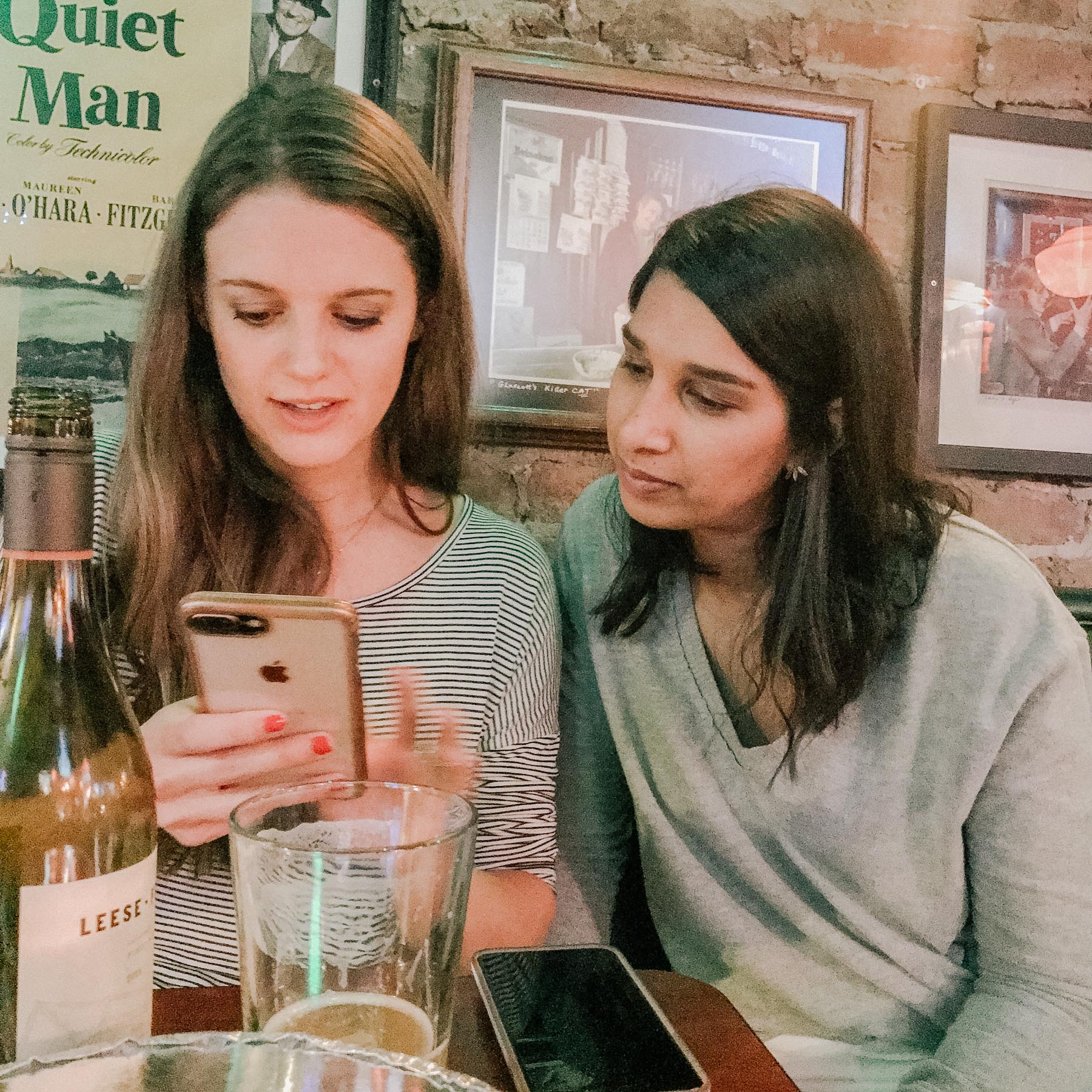 Can't believe that this is the only photo I took, but I had a long-awaited girls' night with Jess, Blair and Shaheen at Athenium Room in Lincoln Park last week, and now we're really trying to make them an every-other-week kind of thing. SO MUCH FUN and so much laughter. I love my Chicago girlfriends so much, and I know that no matter what, we'll always be close. Even if we have to travel to Kentucky to all be together. <3 Can't wait for sleepovers and Derby parties!
Also, I have no idea what's going on in the above photo. But this was taken sometime around 1 a.m., which is SO unlike us these days. What can we say? We're cool moms! With a really cool younger friend. ;)
Loafers (Also here.) / Houndstooth Leggings / Denim Jacket / White Button-Down
Our neighbors are wonderful, and over the last couple of years, we've become close with a few of them! Around the corner from us are our friends Barbie and Jordan, who have two kids around Emma's age. We actually spent New Year's with them this year, and it was one of the best New Year's celebrations we've ever had. (We really appreciate friends who are good with ringing in the new year with pizza, wine and sweatpants, haha.)
Anyway, we caught up with them last Friday night, and it made our week. I'm not sure how to explain this, but whenever we have a fun Friday or Saturday night get-together at our houses, I can't stop thinking about how lucky I am. Lucky to have my family. We're lucky to have parent friends who know how to have fun. We're lucky to have kids in our neighborhood that Emma loves so much. :) Lucky.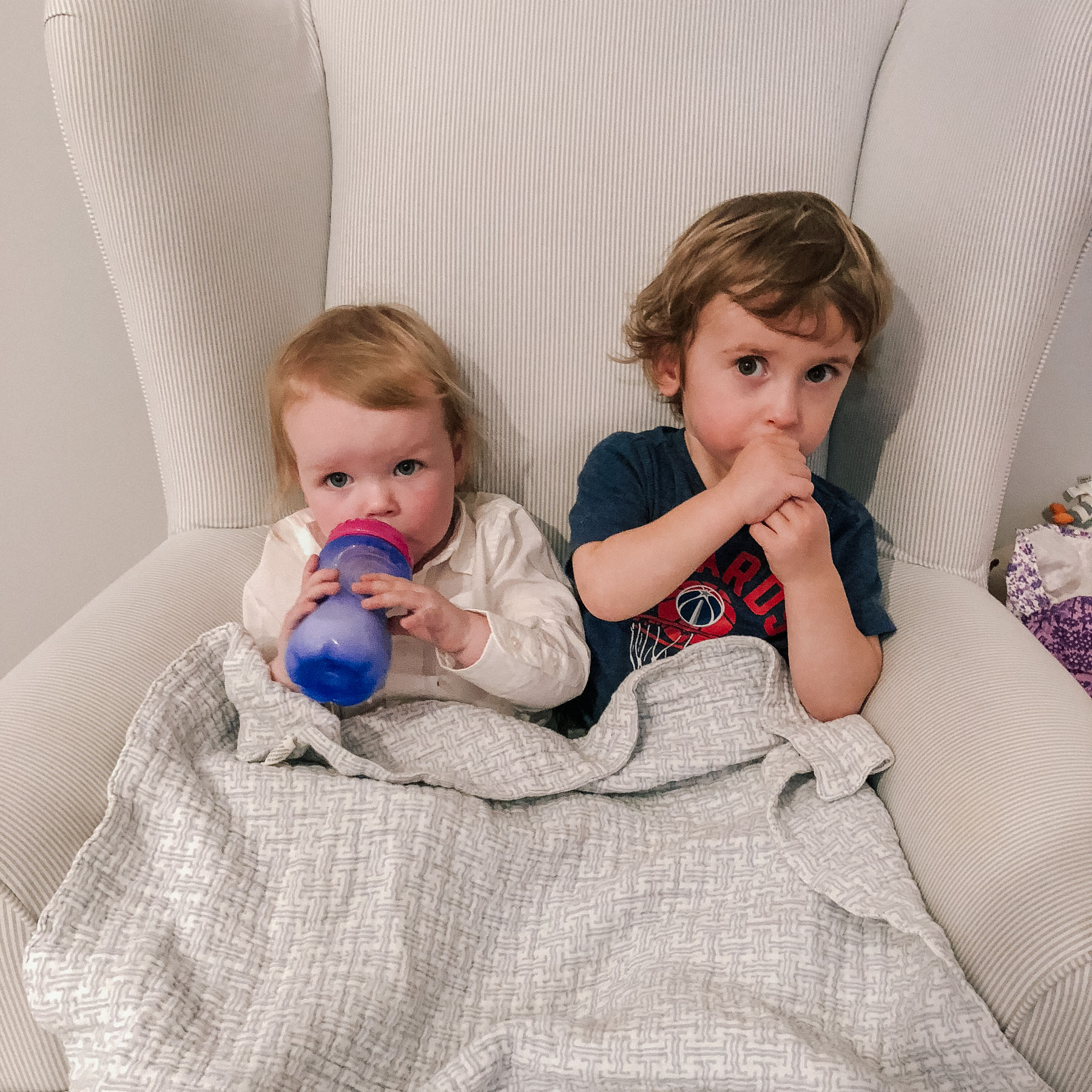 How cute are these two?!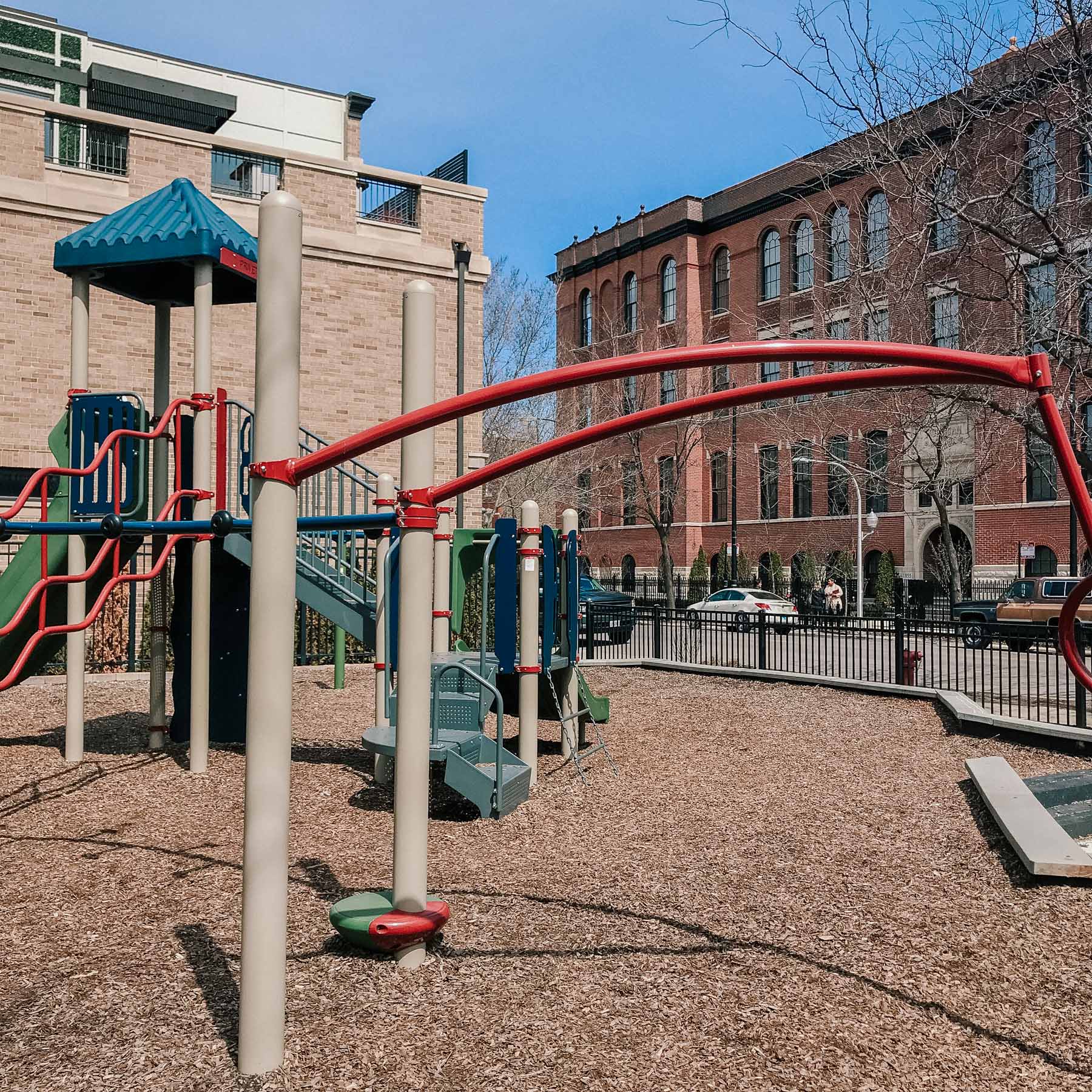 Last weekend, we spent a day roaming around the neighborhood, getting nothing accomplished, and it was the BEST. A little chilly, but we played at the playground for about an hour, and Emma was in heaven.
If you saw our Instagram Stories, you know that Mitch was in heaven, too. ;)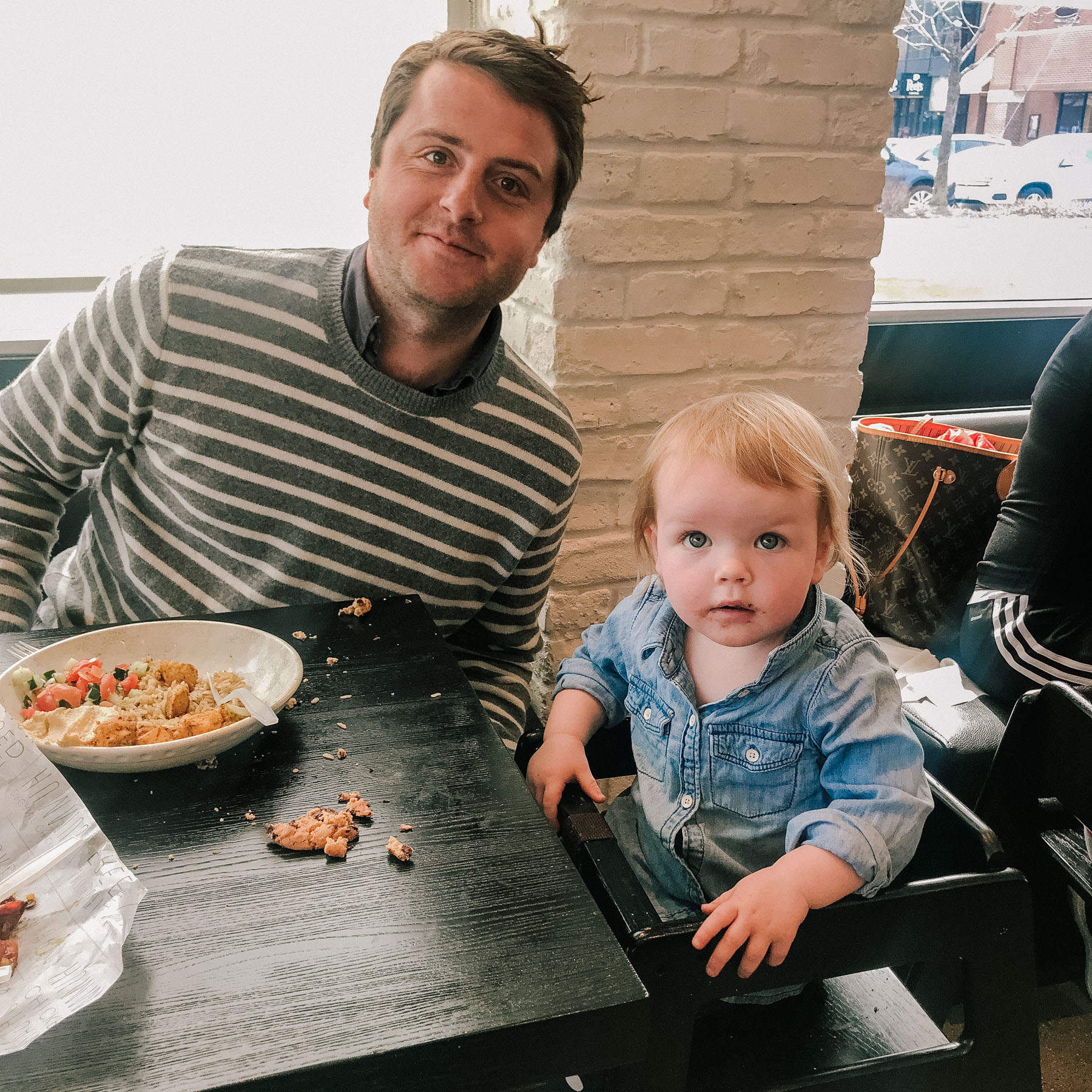 Chambray Shirt / Old Polka Dot Leggings / Faux Gucci Loafers
Weekend lunch in Lincoln Park! We ordered Emma her own meal and she only ate cookies. Last time we do THAT.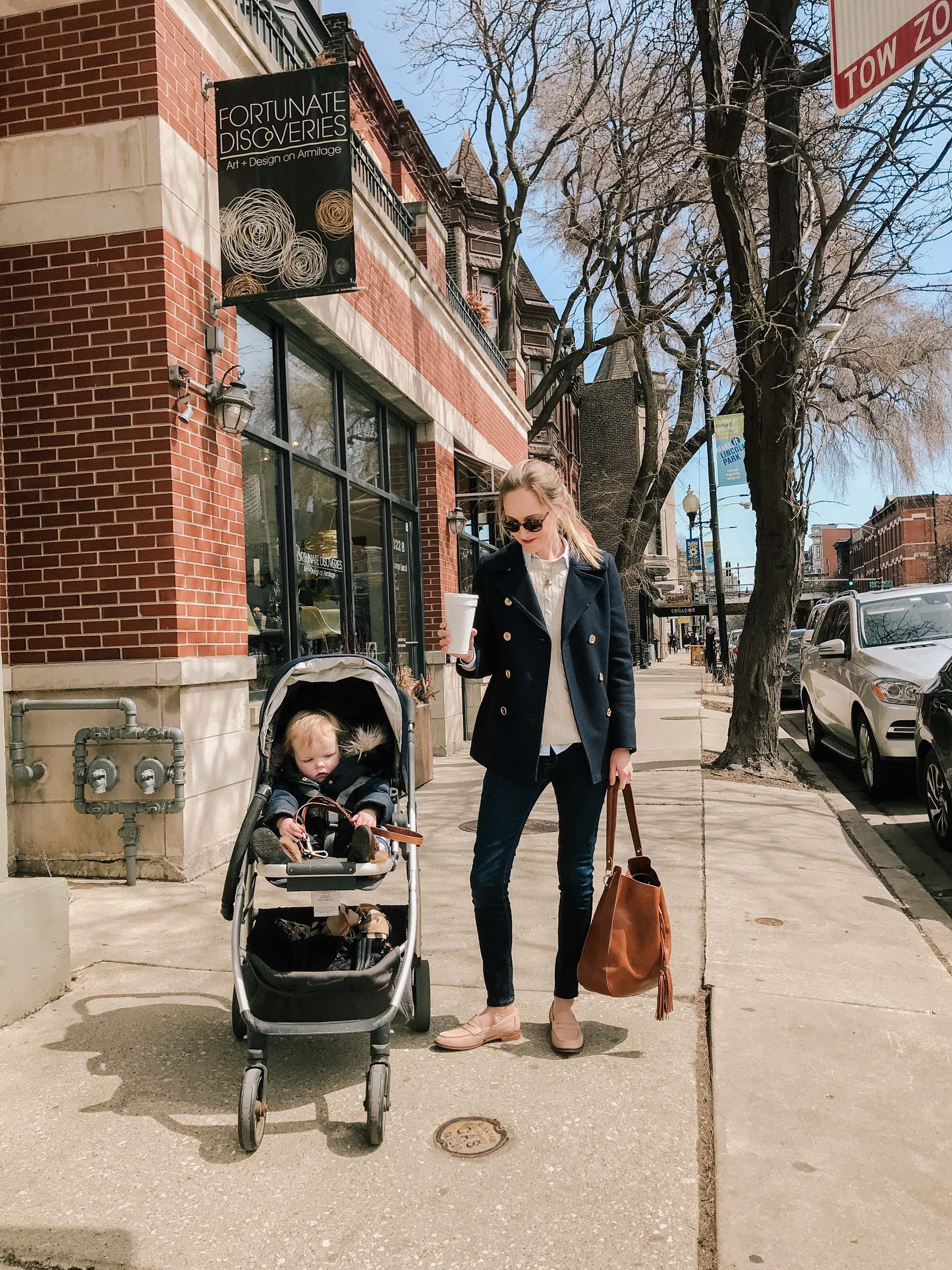 Navy Pea Coat / Joules Bag / Sperry Loafers (Not pictured but they're all I've been wearing, as I'm sure you've noticed. So comfy and they run totally TTS. Looking for an alternative? Try this pair!) / Emma's Chambray Shirt & Faux Gucci Loafers / Jeans / Mark and Graham Initial Necklace c/o (The perfect Mother's Day present.) / Cable-Knit Sweater / Chambray Shirt
Same day, but here we are on Armitage. Can't wait to trade my winter wardrobe for my spring one, if I'm ever able to do that! (At this point, I think we're going to skip over the season and go right into Summer. But we'll see.)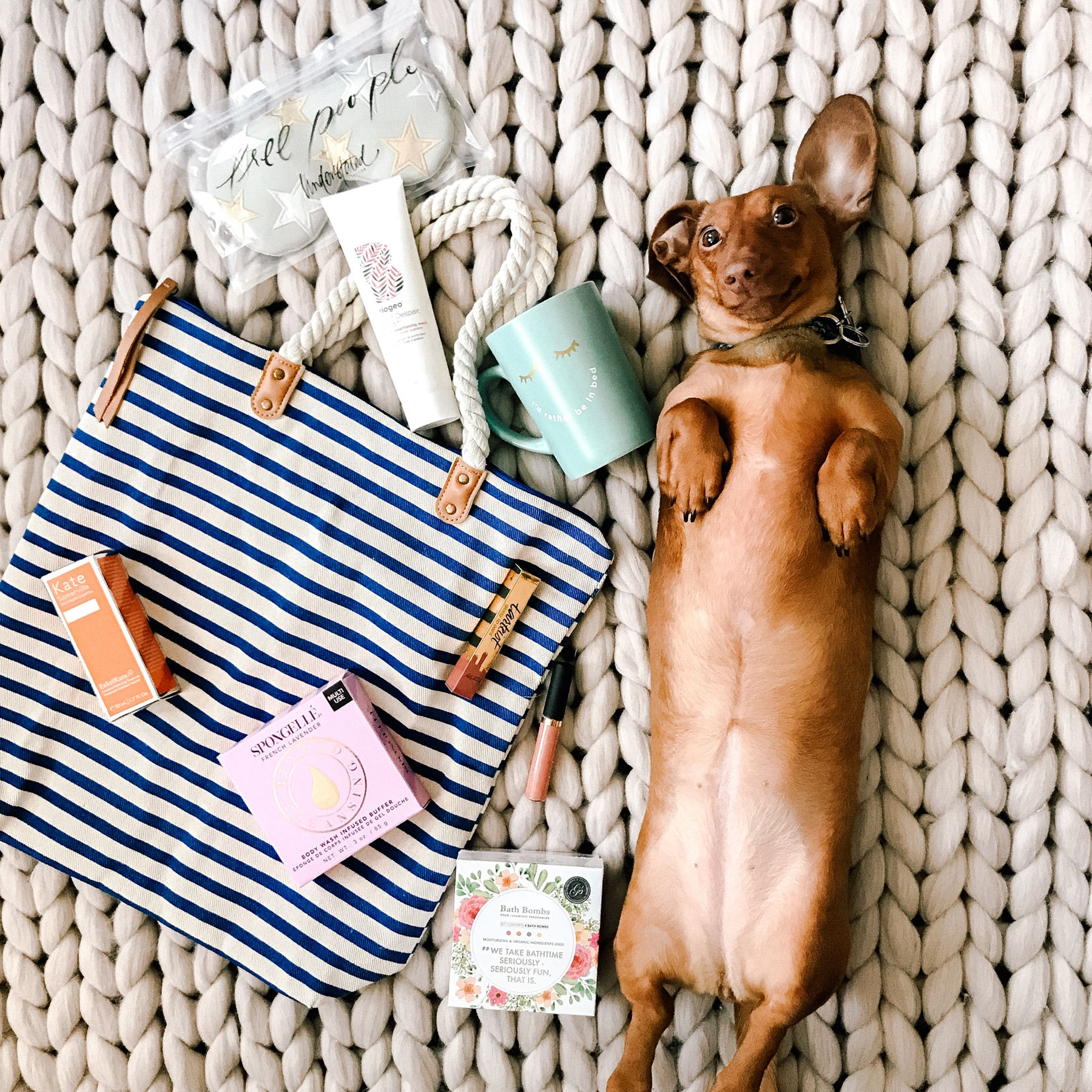 When you're trying to get photo shoots accomplished but your dog keeps getting in the shot.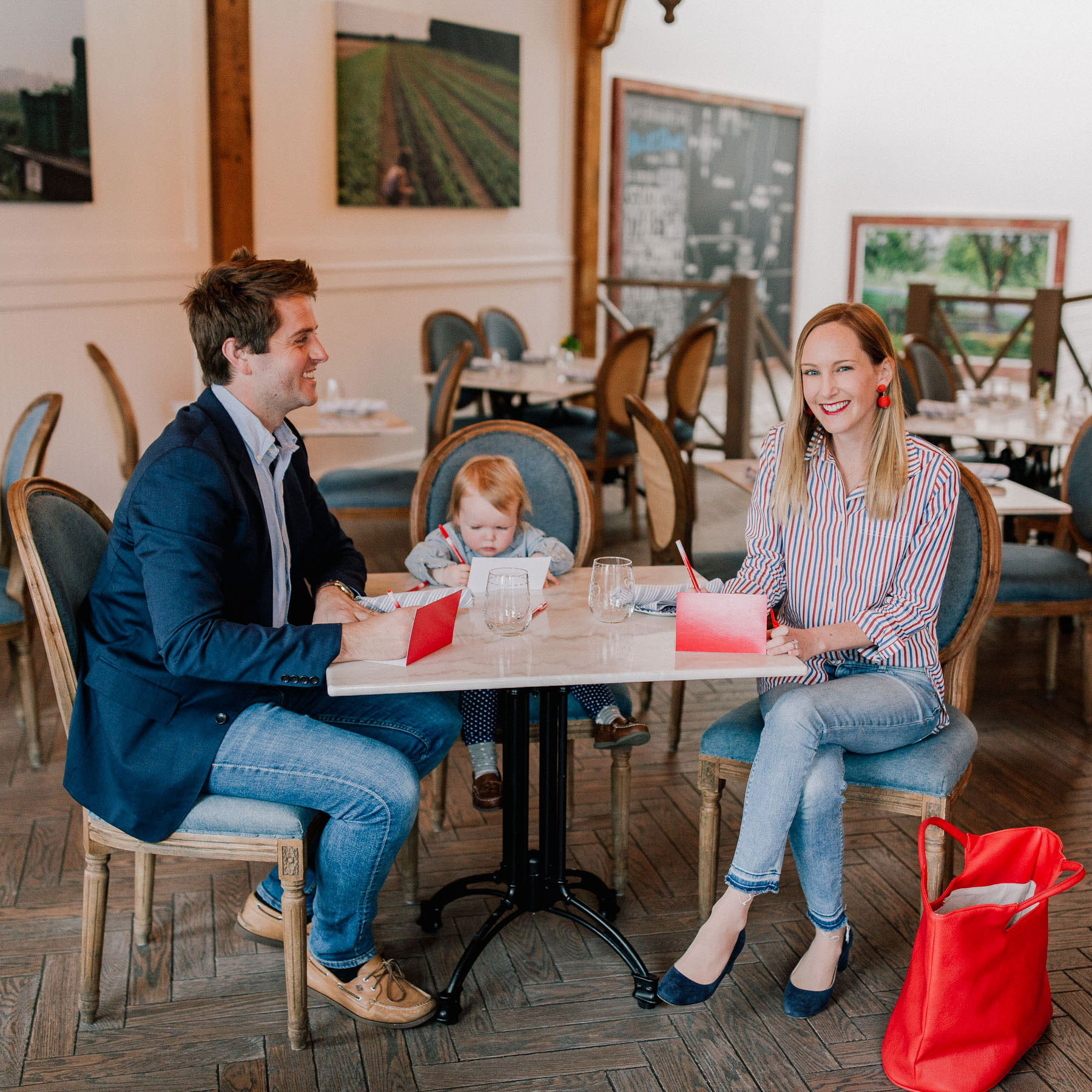 Striped Shirt (Also available here.) / Navy Pumps / Tuckernuck Tote and Earrings c/o / Similar Jeans Here and Here / Mitch's Sperrys (I have the same ones!) / Mitch's Blazer
Shaheen took these last week right before dinner at Lincoln Park's Blue Door Farm Stand. Such a fun night, and I can't wait to go back! (One of Chicago's most stunning restaurants, btw. You have to go!)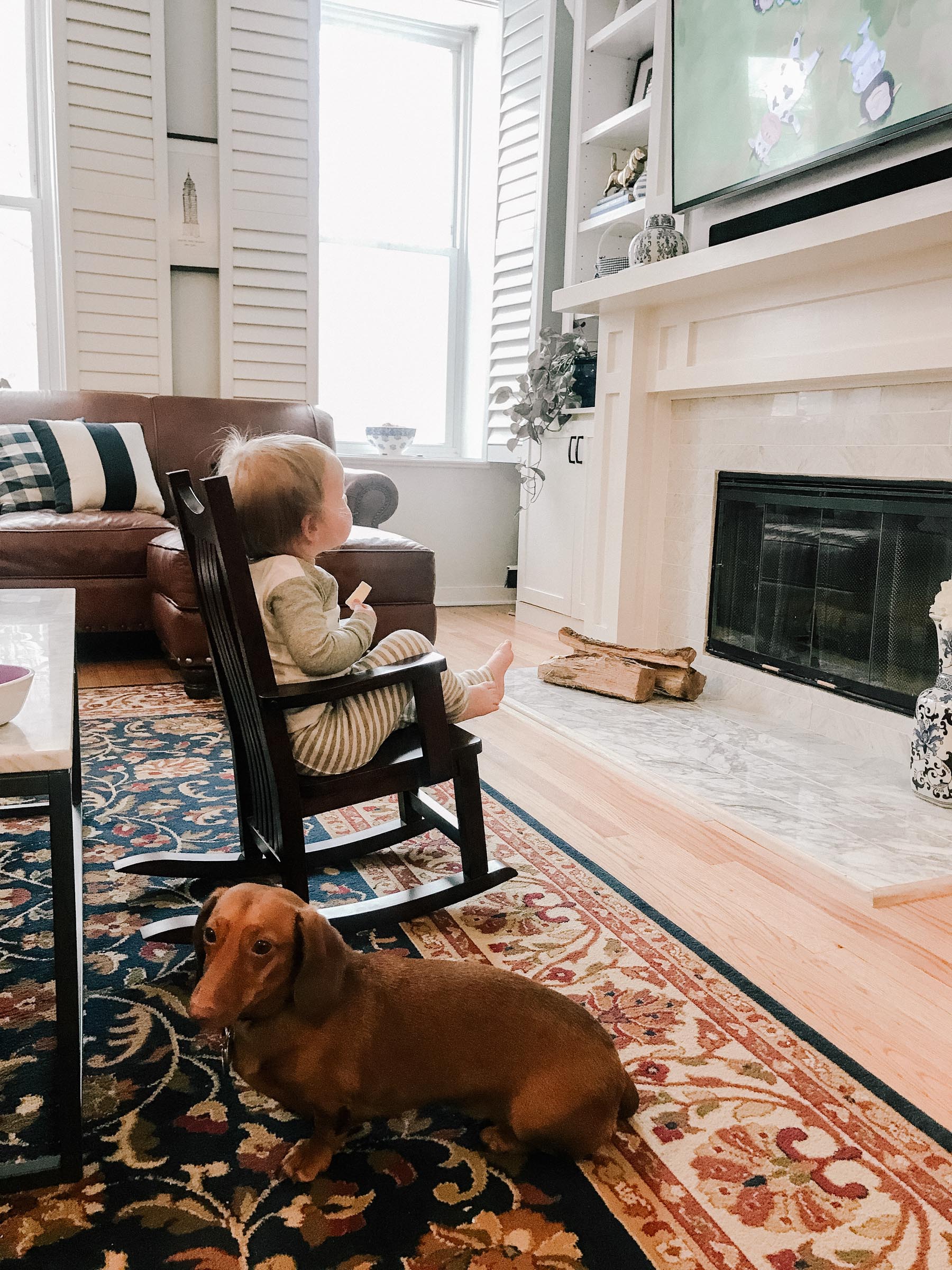 Snowy mornings. Our really good friends Kim and Glen gave Emma this rocking chair when she was first born, and she's currently obsessed with it. :) Thanks, guys!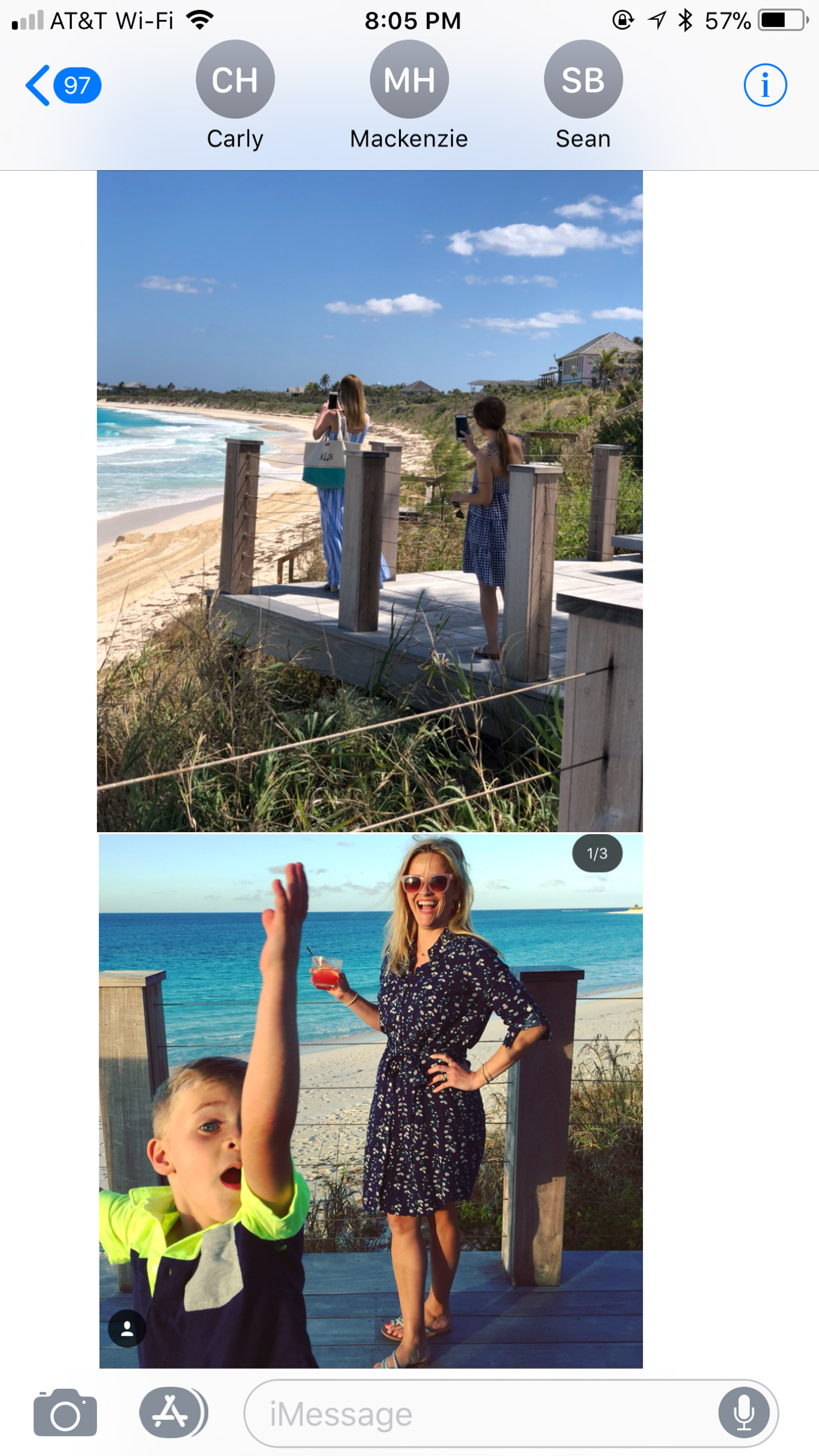 Carly sent this Mackenzie, Sean and me recently. You can read more about my trip to the Abacos here, but I loved seeing Reese Witherspoon's pic in the same spot! (LOVE her, haha!)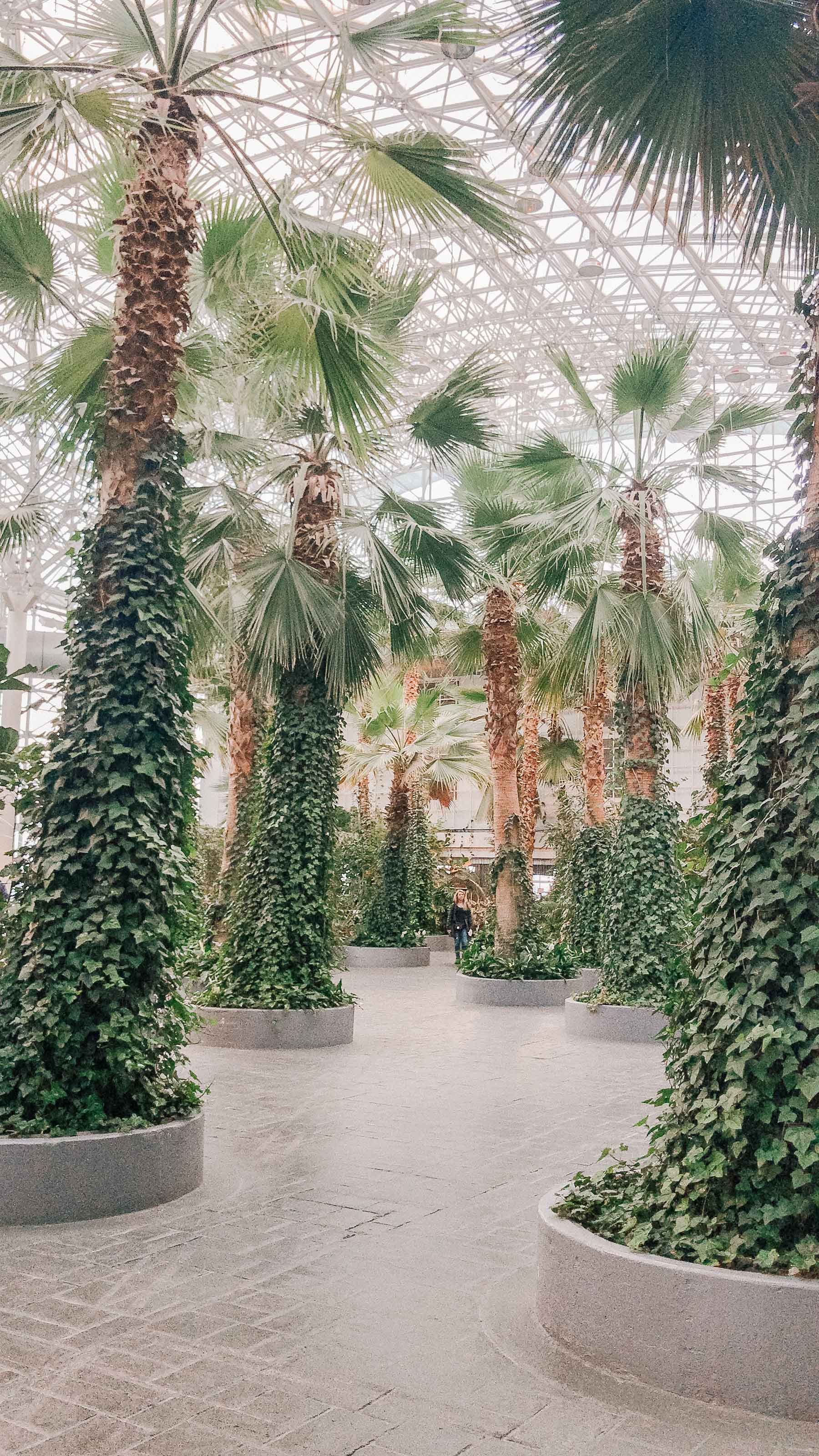 Another way we've been escaping the cold is by visiting Crystal Gardens on the reg. It's in the same complex as the Children's Museum, so we simply stop there before and spend an hour roaming. Emma's favorite is walking under the fountains. Certainly makes me feel like I'm in Florida!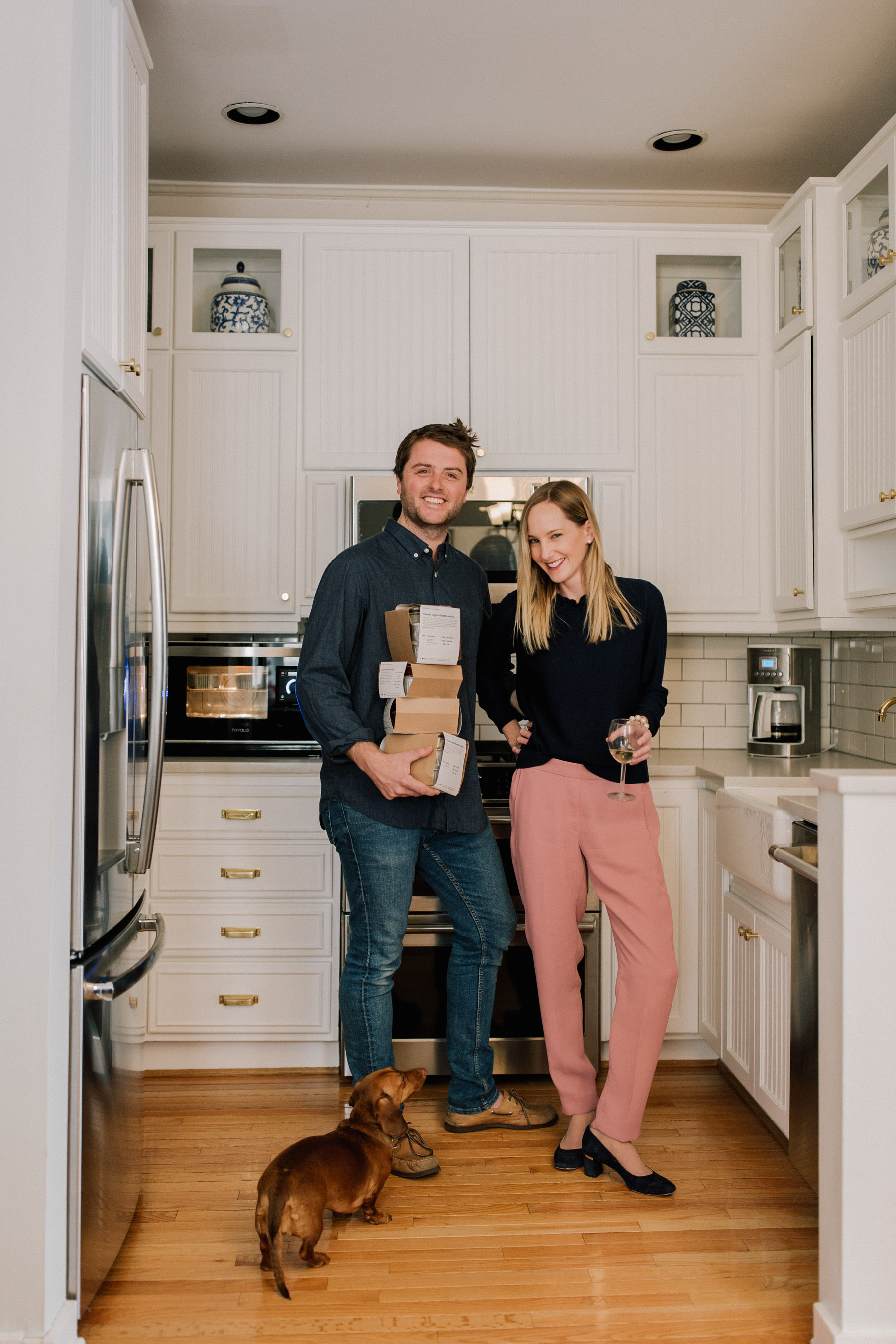 Best Dress Pants Ever (Here's the J.Crew version.) / Navy Pumps / Ruffled Sweater (Also here.) / Mitch's Sperrys (I have the same ones!)
Mitch and I took this photo for a recent collaboration with Tovala, but it ended up being a funny outtake and I kind of love it. Btw: this is the remote we use with our camera and it works flawlessly!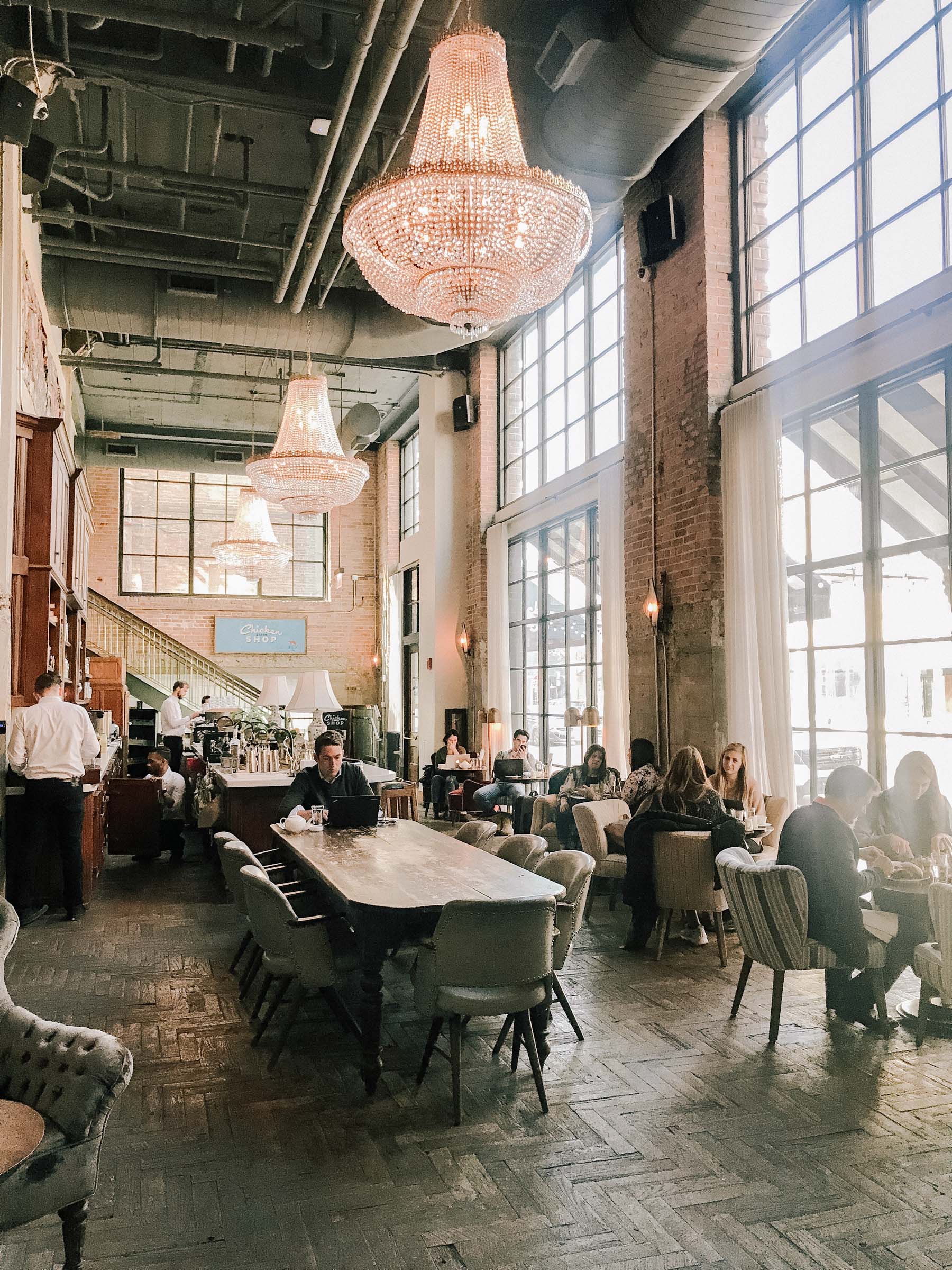 I had a couple of meetings at Soho House in the West Loop last week, and they left me wondering why I don't work there more often. So gorgeous!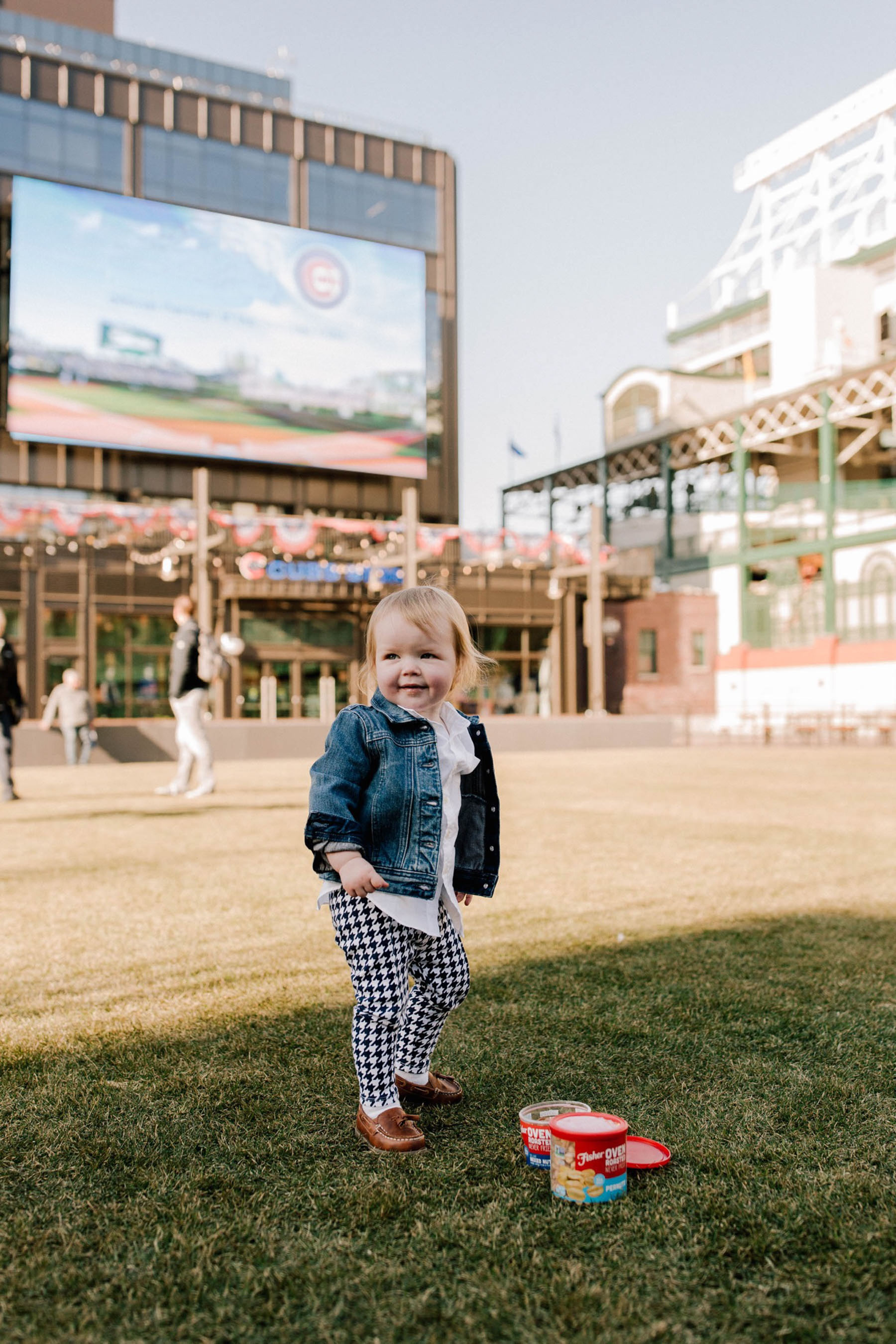 Loafers (Also here.) / Houndstooth Leggings / Denim Jacket / White Button-Down
Here's that day at Wrigley again! So looking forward to warm weather so Emma can run around every day. :)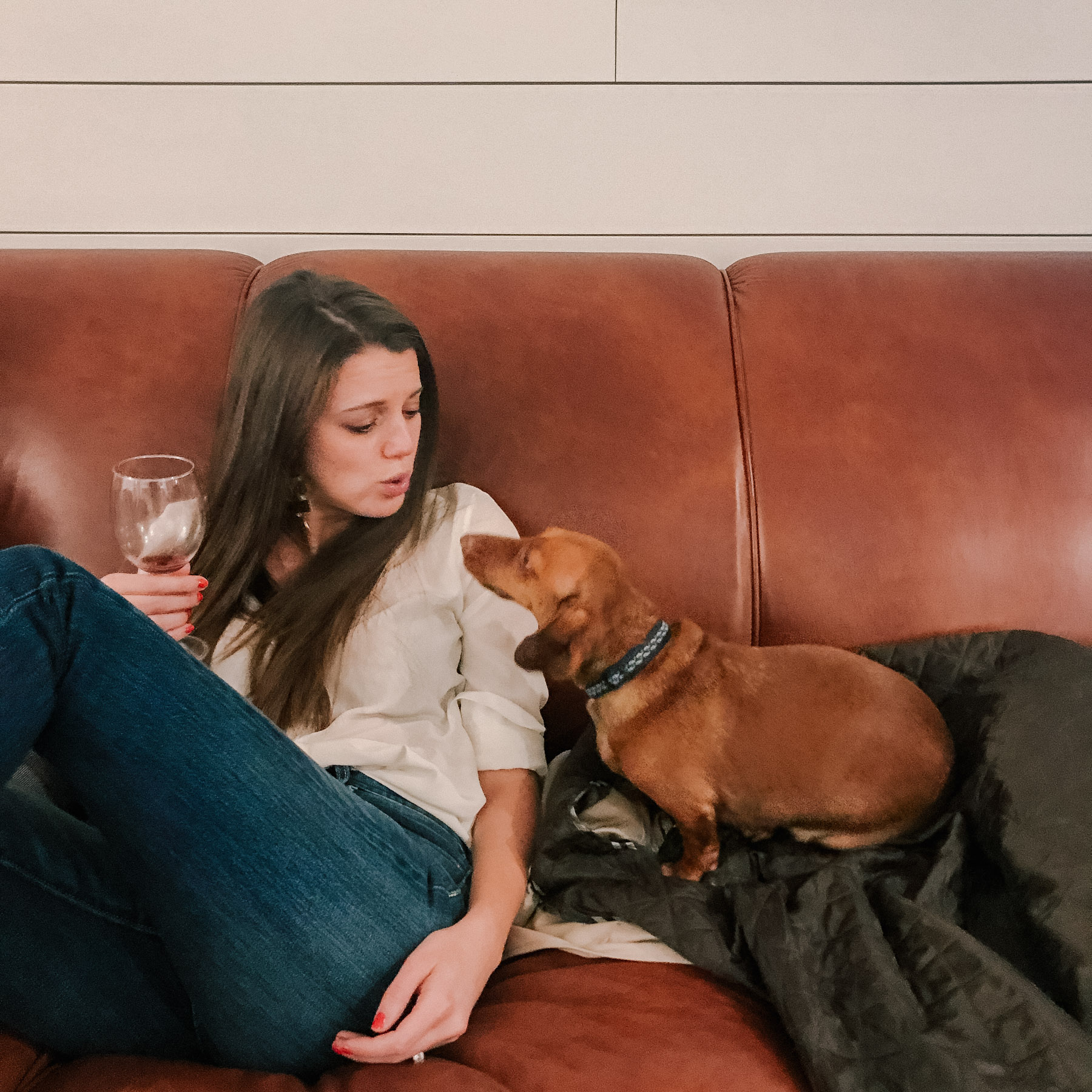 Jess and Neal came over on Friday and it was the BEST. :) We've had completely opposite travel schedules over the last few months, and it's been really sad not seeing them regularly like we used to. Still, I love the fact that we pick up right where we left off when we do get together. I guess that's what it means to have best friends. ;)
Side note: Jess and Noodle have a very special relationship. It has also been suggested to us that we write a FULL blog post on it. And I can't lie: I'm considering it.
Another note: A big thank you goes out to Neal, who helped so much with rearranging/decorating our bookshelves. The duck looks so much better in its new location!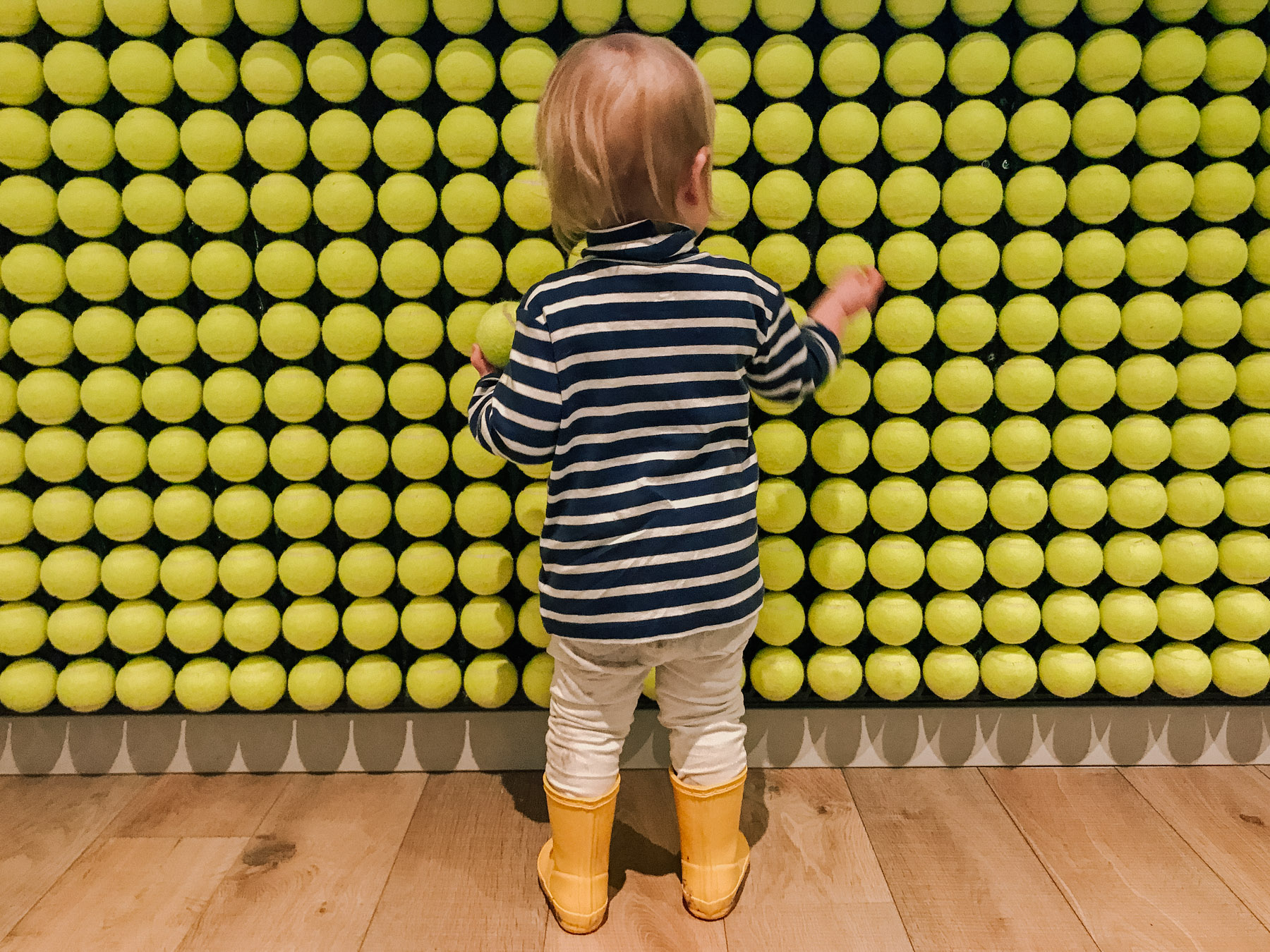 Afternoons at Midtown Athletic Club!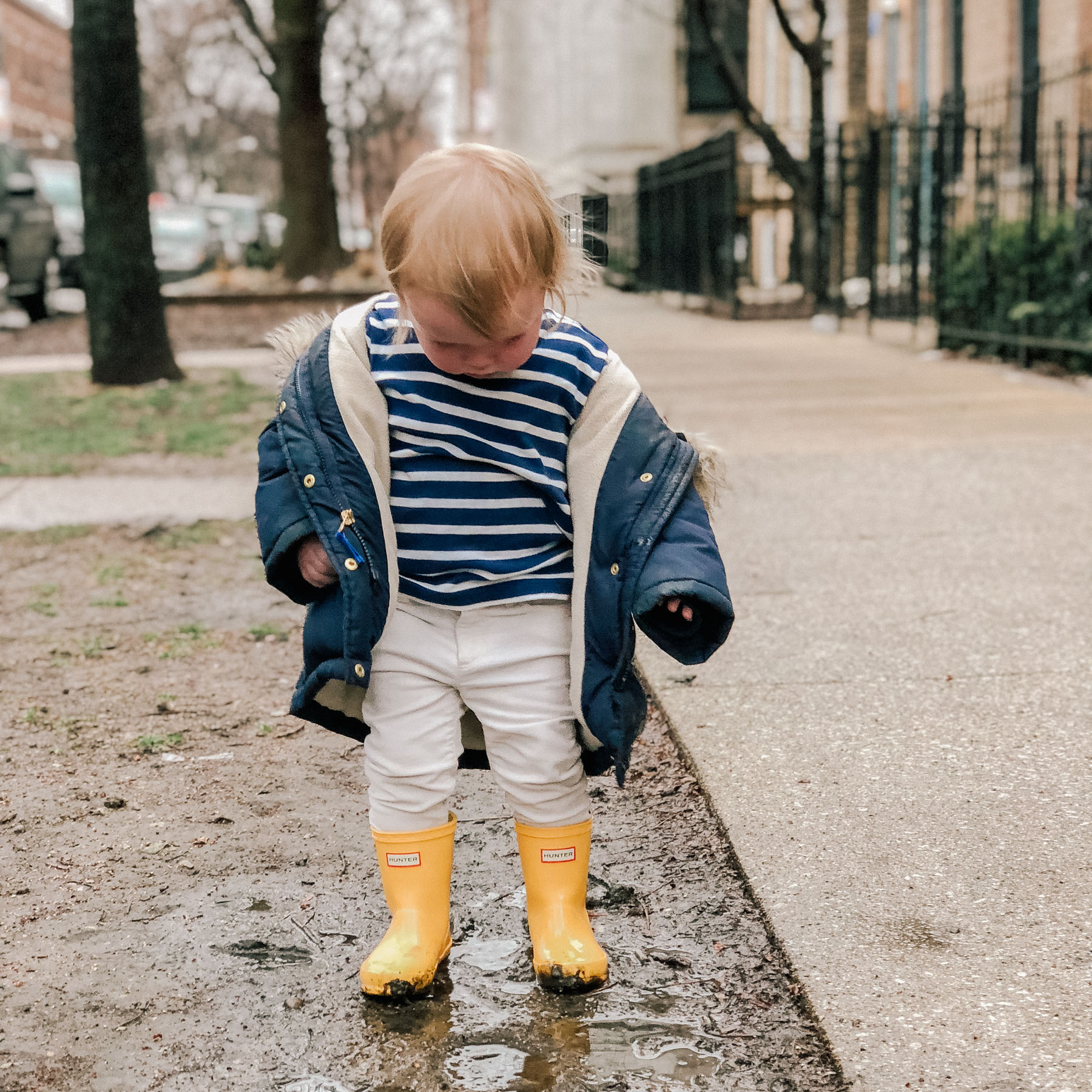 Splish splash in the mud. Spring, we're ready for you!
SaveSave